Mustard Chicken is one of the easiest chicken recipes I have tried. Pan-seared chicken that is drizzled with a homemade mustard sauce that is bursting with flavor. Pair with your favorite sides and you have a dinner fit for guests!
What is your favorite cut of chicken? Though I'm fond of all varieties, I tend to lean towards chicken breasts. I always have a few packages of boneless, skinless chicken breasts on hand. They are like a canvas just waiting for you to add your own unique twist or in this case, flavor. I like recipes that have simple, easy to find ingredients. This recipe for Mustard Chicken is definitely one of those meals!
Mustard Chicken
A juicy, perfectly seasoned chicken breast topped with a creamy mustard sauce. The sauce tastes delicious paired with your veggie side dishes like steamed asparagus or broccoli.
Can I Double This Mustard Chicken Recipe
Impress your family with a restaurant-quality meal without the hefty price tag! If you need to feed more people, just double (or triple) the recipe. This would be a great main dish to serve at a dinner party!
Craving More Recipes with Mustard
For another tasty mustard recipe, check out my Brown Sugar Dijon Pork Tenderloin. I also have a number of easy chicken recipes you might enjoy like Lemon Herb Slow Cooker Chicken, Cheesy Chicken, and Broccoli and Creamy Chicken & Rice Casserole.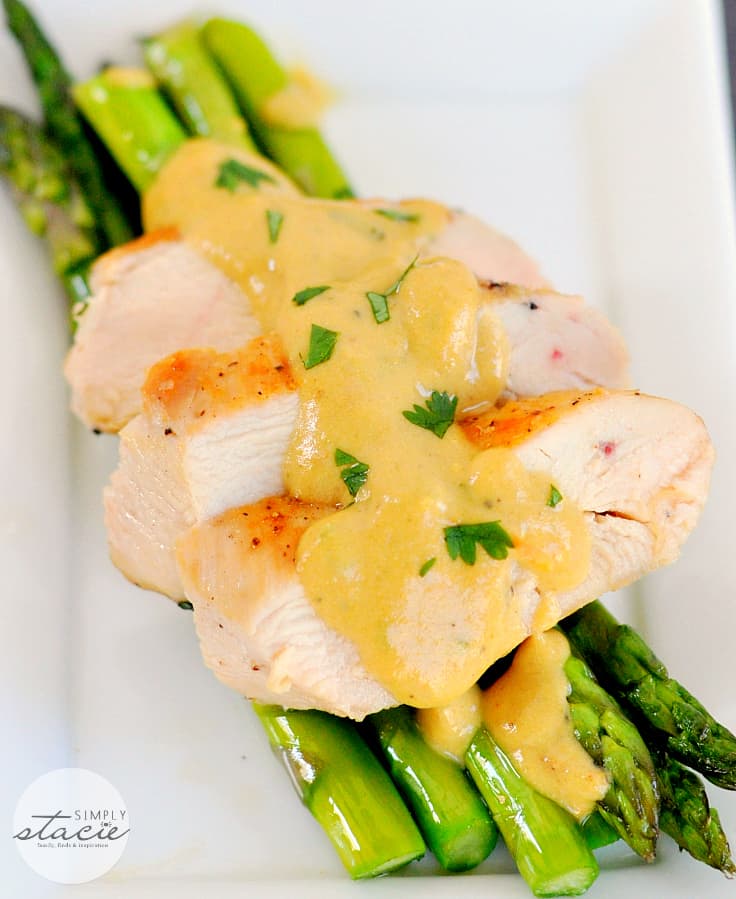 How Long Does It Take to Cook Chicken Breast in Skillet
You will want to cook your chicken 5-7 minutes on each side, so anywhere from 10-14 minutes. Now depending on the size of your breasts will depend on your cook time. So keep that in mind. Thicker meat will take longer, whereas thinner will cook up a lot faster. The internal temperature of the chicken should reach 165 degrees to ensure it is fully cooked.
Can I Use Chicken Tenderloins for this Mustard Chicken Recipe
Sure. Just make sure that you cut down the cooking time to fit the size of your chicken. Tenderloins are a lot thinner and smaller in size so they will cook faster. Follow the same internal temperature requirement to ensure your chicken is done.
If you use any chicken that is bone-in, just make sure to add time to cook your chicken. Meat with bone will take longer to cook.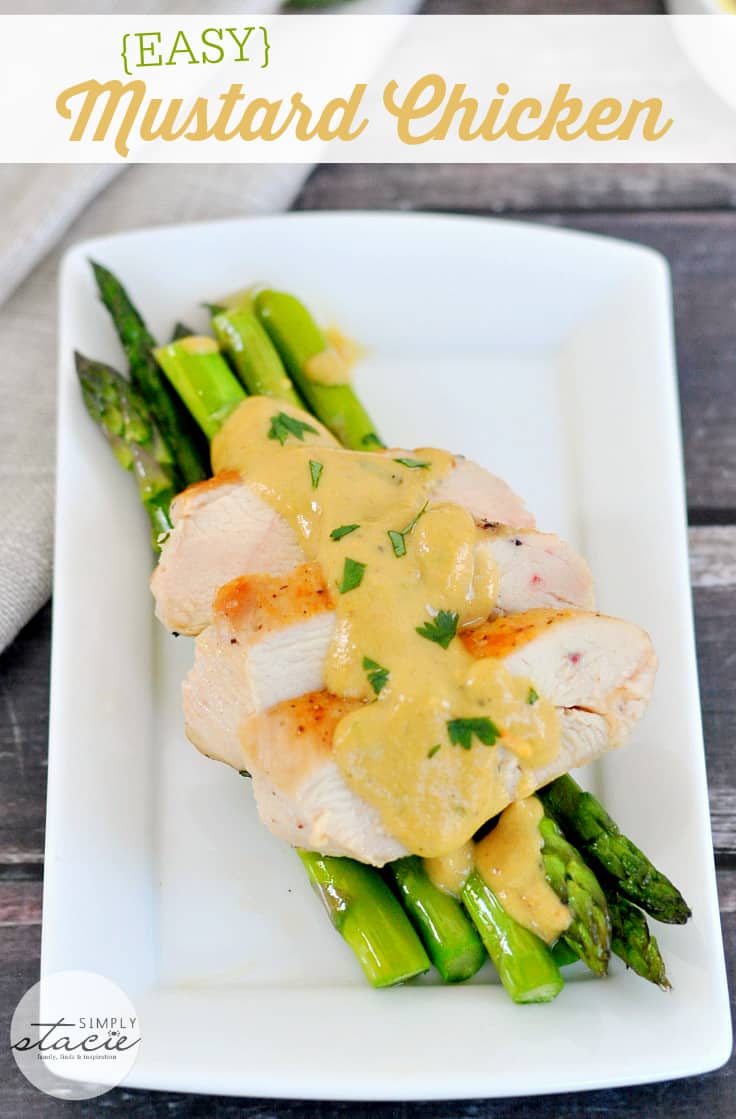 How to Tell When Chicken is Done
The biggest way to tell is to insert that meat thermometer and check that your thickest part of your chicken breast is reaching that 165 degrees. Then you also want to watch that the juice that runs out is clear. If you see it is white or even offers a pink tinge the chicken is not done.
Why Should You Let Chicken Rest Before Cutting and Serving
Chicken is a meat that can dry out rather fast. I always recommend allowing your chicken to rest for around 5-10 minutes. This will allow your chicken to hold in that moisture, so that first slice offers a delicate and moist chicken as you want.
I always remove the chicken from the pan and place on a plate or platter. Then cover with foil, and finish up dinner, then plate and serve.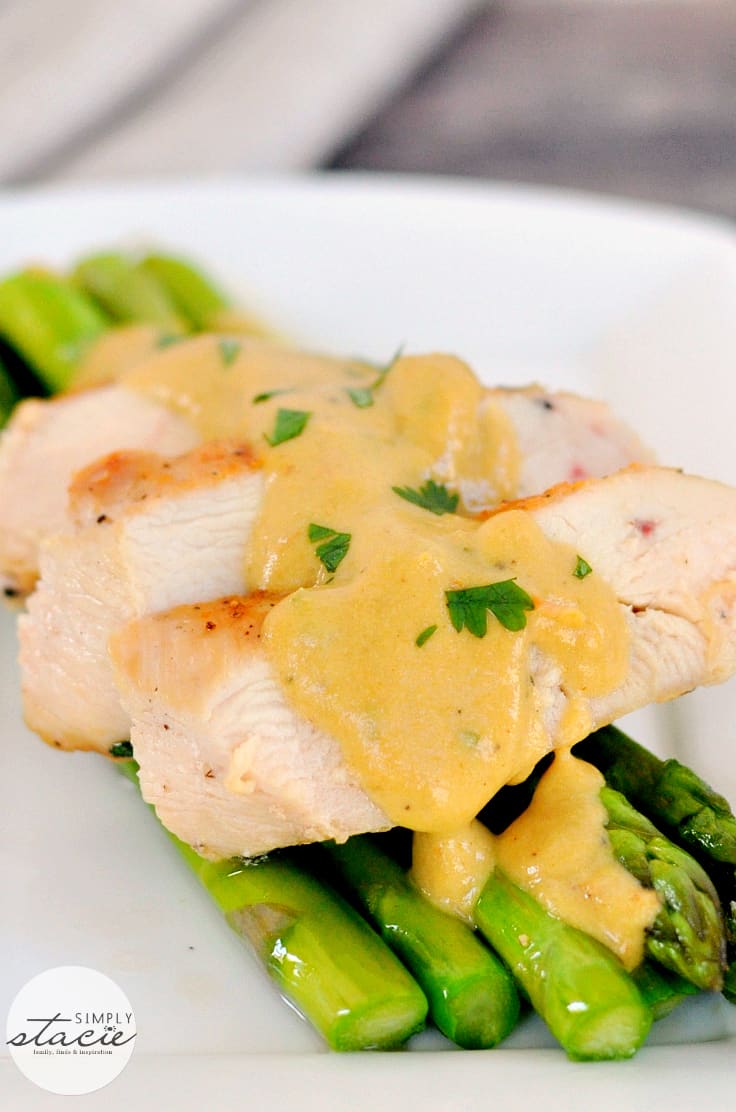 How Long Will Chicken Breast Store in Fridge
You can store your chicken in the fridge up 2-3 days. That is what experts recommend but I always recommend using your best judgment in terms of if your chicken looks bad or you are questioning it. When in doubt, toss it out.
How to Make Mustard Chicken
Start by seasoning your chicken and then place in a large skillet with a little oil. Cook over medium heat for about 5-7 minutes for each side. Once the chicken is done and the juices run clear, remove from pan to keep warm.
Then in the same pan add your chicken broth, and use it to scrape away any bits off the bottom of the pan, Add in your other ingredients whisking and then let it simmer for a few minutes. Whisk until the sauce begins to thicken. Then pour over the chicken and serve.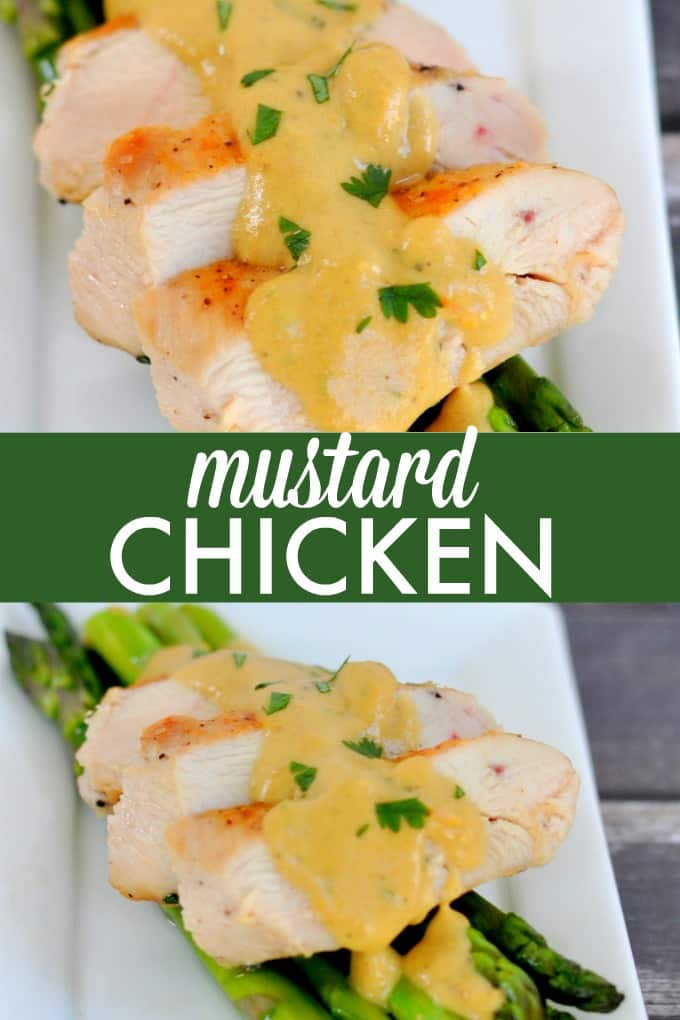 What to Pair with Mustard Chicken
Vegetables
Fresh bread or dinner rolls
Green Salad
Pasta Salad
Baked Beans
Or any other favorite side dish
Best Way to Reheat Chicken
Chicken can dry out rather fast. This recipe I have found is best when you take a baking dish and drizzle bottom with a tiny bit of oil. Lay chicken down, and cover with foil. Then place in an oven at 200 degrees and warm it low and slow. This can take 20 minutes or so.
It will help keep your chicken moist and warm it up. Then drizzle over some mustard sauce and enjoy.

You'll also like this Hawaiian Chicken.
What is your favourite chicken recipe?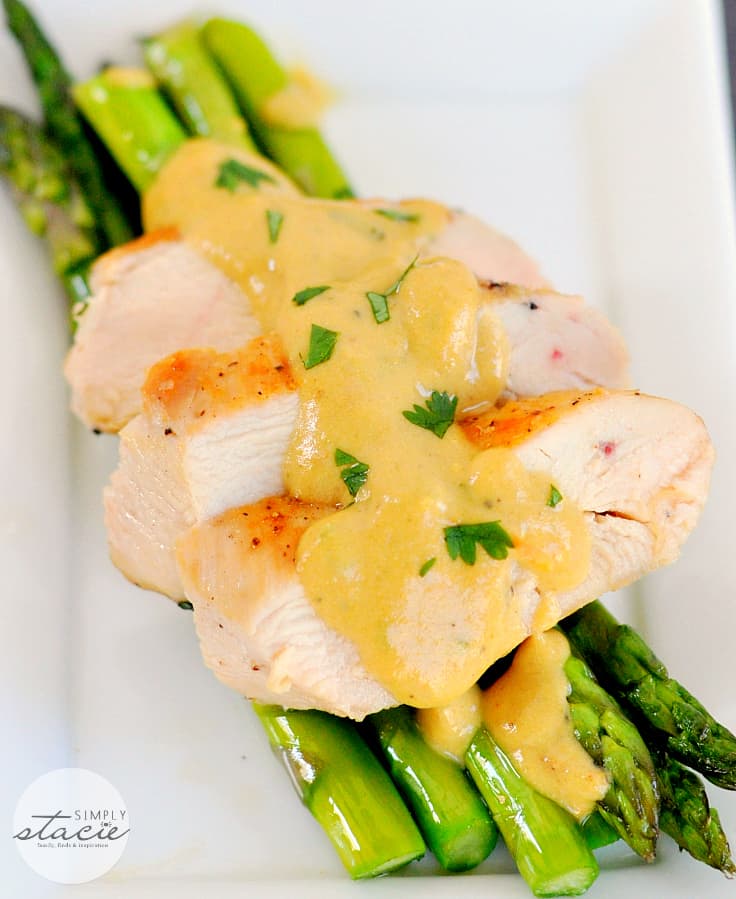 Mustard Chicken
This 6-ingredient meal goes with any side dish! The creamy Dijon mustard sauce with tarragon is also great with salmon.
Ingredients
4 chicken breasts
1 tbsp oil
1⁄4 cup chicken broth
1 tsp tarragon
3 tbsp Dijon mustard
1⁄4 cup milk
salt and pepper
Instructions
Season chicken breasts with salt and pepper. In a large skillet, heat oil over medium heat. Cook chicken breasts over medium heat for about 5-7 minutes on each side or until done. Remove from pan and keep warm.
Add chicken broth to the pan, scraping the bits from bottom of the pan. Whisk in tarragon, Dijon mustard and milk. Let simmer for 1-2 minutes, whisking constantly, until thickened. Serve over chicken breasts.​
Recommended Products
As an Amazon Associate and member of other affiliate programs, I earn from qualifying purchases.
Nutrition Information:
Yield:

4
Serving Size:

1
Amount Per Serving:
Calories:

246
Total Fat:

9g
Saturated Fat:

2g
Trans Fat:

0g
Unsaturated Fat:

6g
Cholesterol:

104mg
Sodium:

532mg
Carbohydrates:

2g
Fiber:

1g
Sugar:

0g
Protein:

38g