No-Bake Nougat Bars are a simple and easy dessert to whip up. Salty, sweet nougat bars that are always a hit to everyone who tries a bite. Just 6 ingredients are all it takes to make these homemade nougat bars.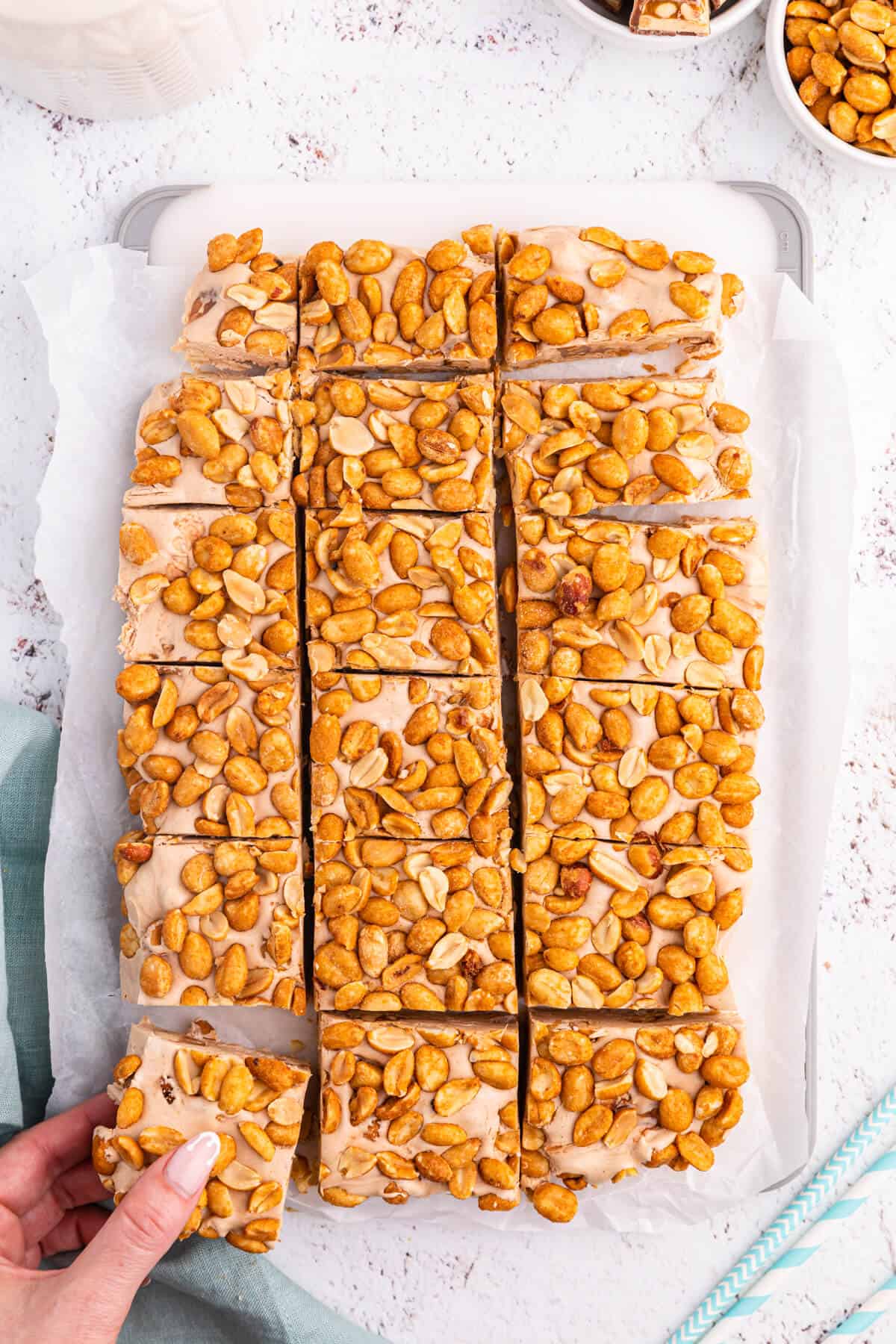 Ready to get holiday baking? Good, me too! It's one of my annual traditions. Every year I make several of our favourite sweets (these No-Bake Chocolate Peanut Butter Haystacks are a family fave) as well as trying some new recipes. The easier the recipe, the better. I'm the queen of no-bake desserts!
One year, I went all fancy (at least in my world) and made a variety of desserts that required a candy thermometer. They were yummy, but time is precious and maybe I'm a bit lazy because I've never felt the desire to make them again. That's one reason. The second is that I ruined a pot making fudge…let's not go there.
These No-Bake Nougat Bars will not ruin pots nor do they require any baking. Unless you count using your microwave which I think technically doesn't count.
They remind me of the nougat you'll find in a chocolate bar like Snickers or Oh Henry. They also have Snickers Bites in them.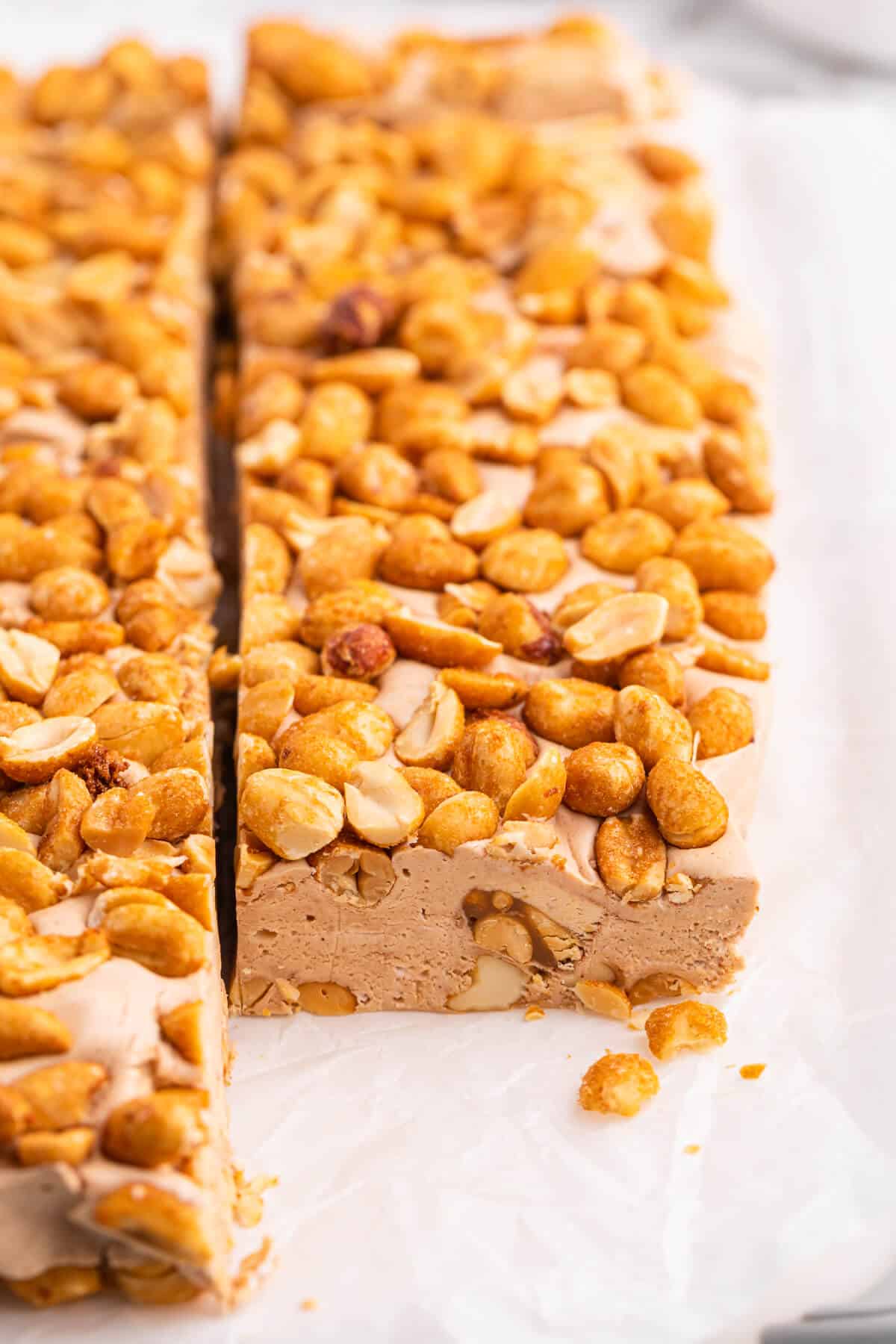 What Type of Peanuts to Use for Nougat Bars
The recipe star is definitely the peanuts. These squares are PACKED with peanuts. I used the dry roasted variety, but any kind that you have on hand will work. Honey roasted is also tasty.
This recipe uses an entire jar of Fluff! If you don't have Fluff where you live, look for a marshmallow creme. It's usually found where the ice cream toppings are at the grocery store.
We always have a jar of Fluff in our pantry because John likes his Fluffernutter sandwiches. He wasn't too happy about me using an entire jar from his stash. He'll get over it though.
One thing to note is that this dessert is very sticky! What's up with me lately making all these sticky desserts? I swear I didn't plan it that way. Anyways, keep some wet wipes near the dessert table if you serve this at your holiday parties. The taste makes up for the messy fingers.
I have been baking so many sweets lately that I've been giving some away to friends and family. They are more than happy to take them off my hands.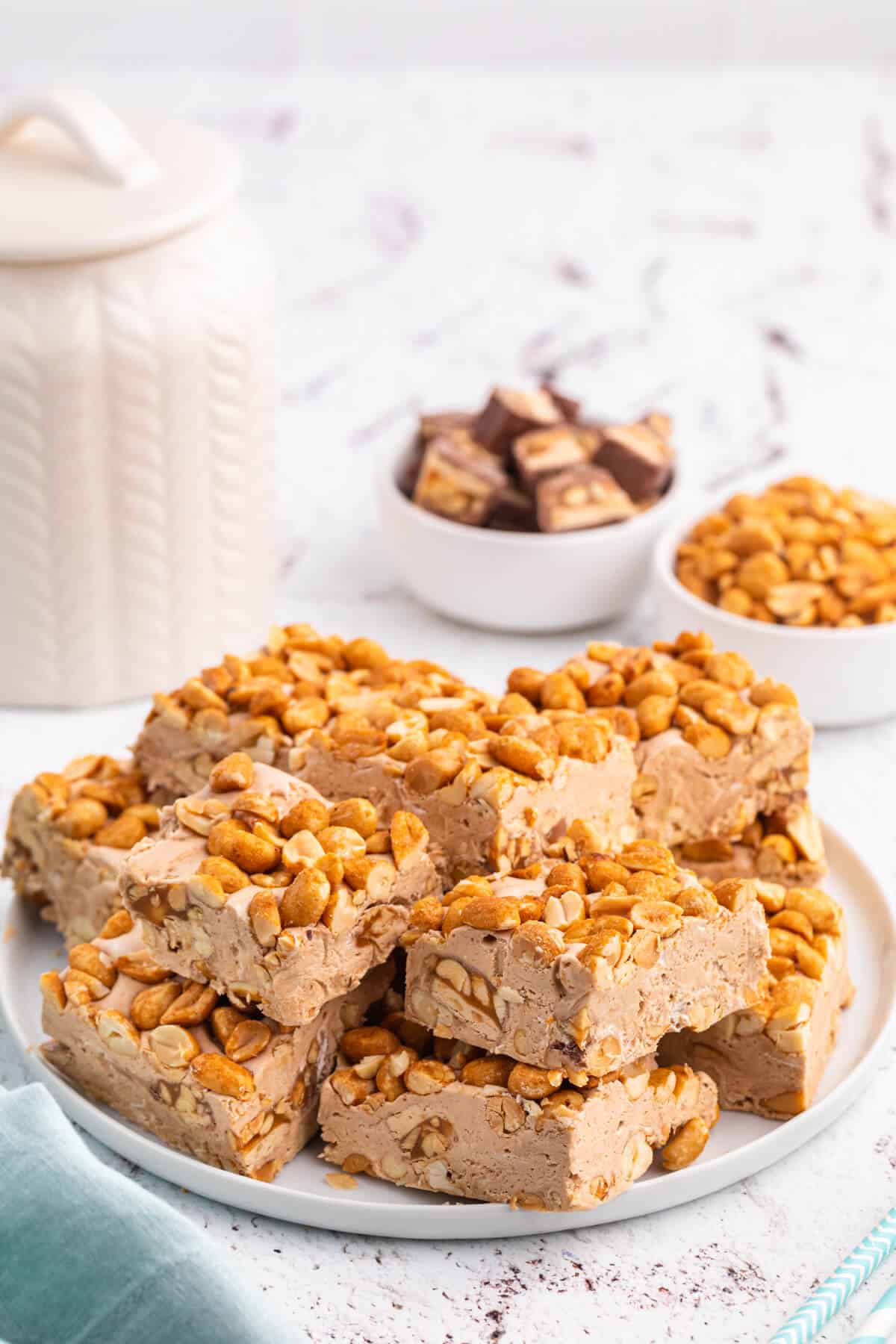 Is Sweetened Condensed Milk the Same Thing as Evaporated Milk
No, you want to make sure it is sweetened condensed milk. Evaporated milk is a different texture, it is thinner and sweetened condensed milk is sweetened and thicker in texture.
Just make sure to reach for the right item or you will find your nougat will not turn out properly.
Can I Make These Nougat Bars Ahead of Time
Yes, you sure can. As you will see in the recipe, it takes 3 hours for these bars to set up. I would recommend making these the day before you plan to serve or even the morning of when. That way you ensure they have enough time to set up.
You can slice and have them ready so all you have to do is put out on a platter and they are ready to go.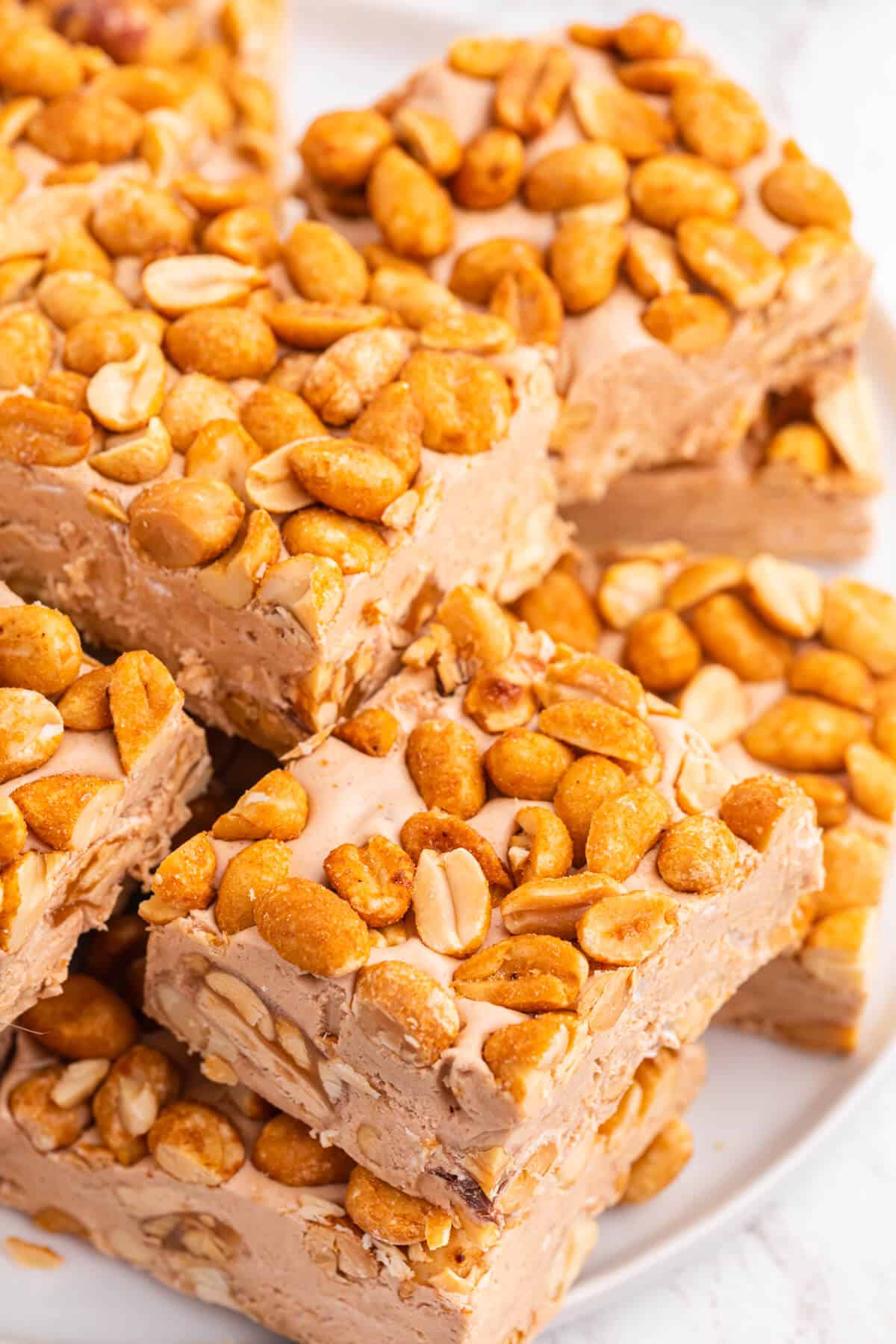 Is Nougat Soft or Hard
Depending on what recipe you use will depend on how the texture is. For my nougat bars, they are a softer and chewy nougat. You have that nice crunch factor of the nuts and bits of Snickers in each bite.
It gives you that perfect sweet and salty combination.
Looking for more easy desserts
No-Bake Cherry Tarts | If you love cherry you might love these bite-size cherry tarts. Sweet cherry pie filling in little bite-size graham cracker crust.
Blueberry Upside Down Cake | We all love a good upside-down cake. Here is a blueberry version that is brightly colored, sweet and loaded with flavor.
Reese's Lava Cake | This lava cake gives you chocolate and peanut butter in every single bite. A gooey lava cake that is going to be a hit to anyone who takes a bite.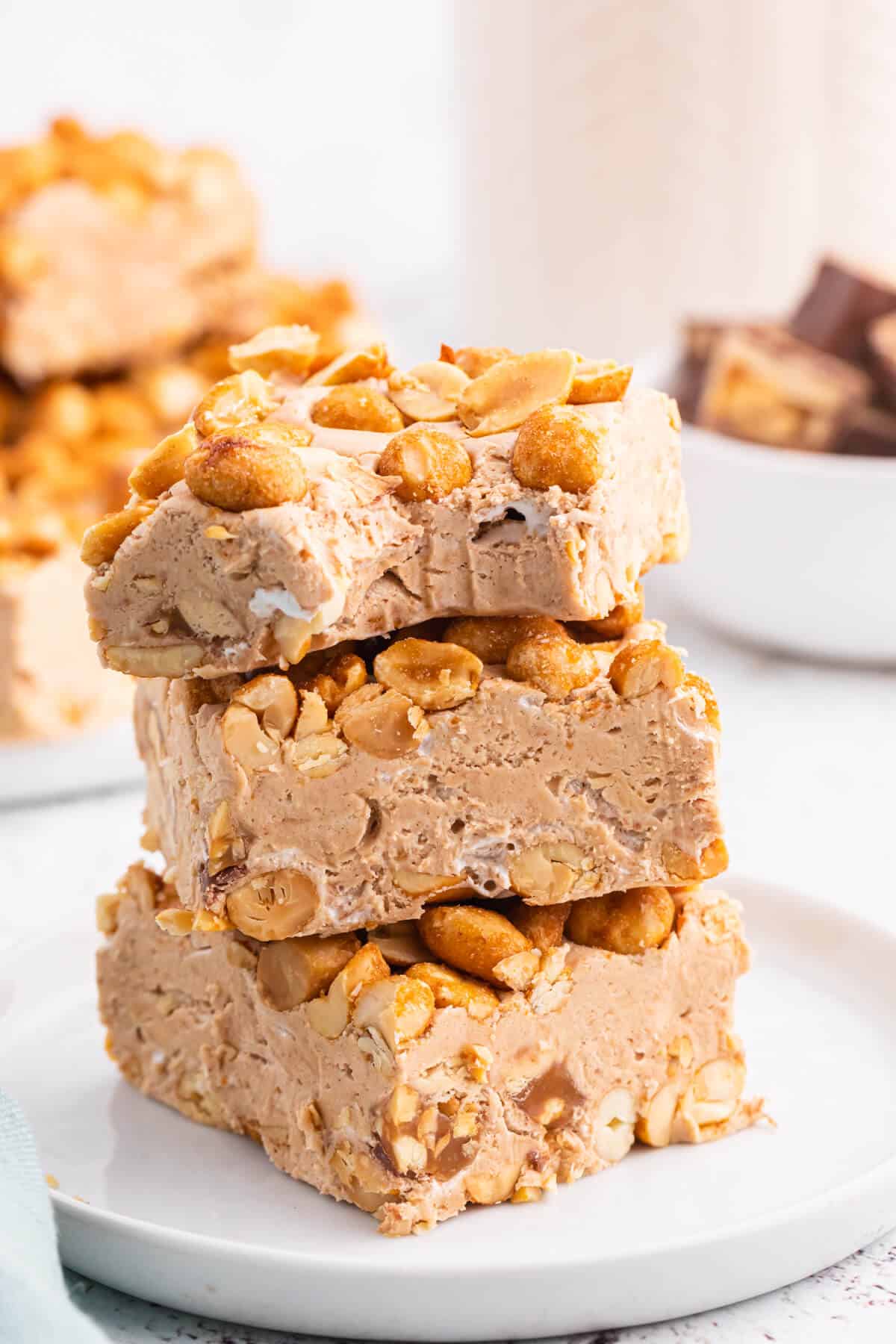 Can You Freeze Nougat Bars
The one thing to know is with nougat you can lose texture when frozen and it can weep a bit. Now, I have not tried to freeze these bars but you are more than welcome to give it a try and see how they hold up. Just make sure to freeze in a freezer-friendly container for up to three months. Then thaw in the fridge before you plan to serve.
You'll also like these Goldfish Drops.
Do you make any no-bake holiday treats? If so, do you keep them for your own household or do you share them with friends and extended family?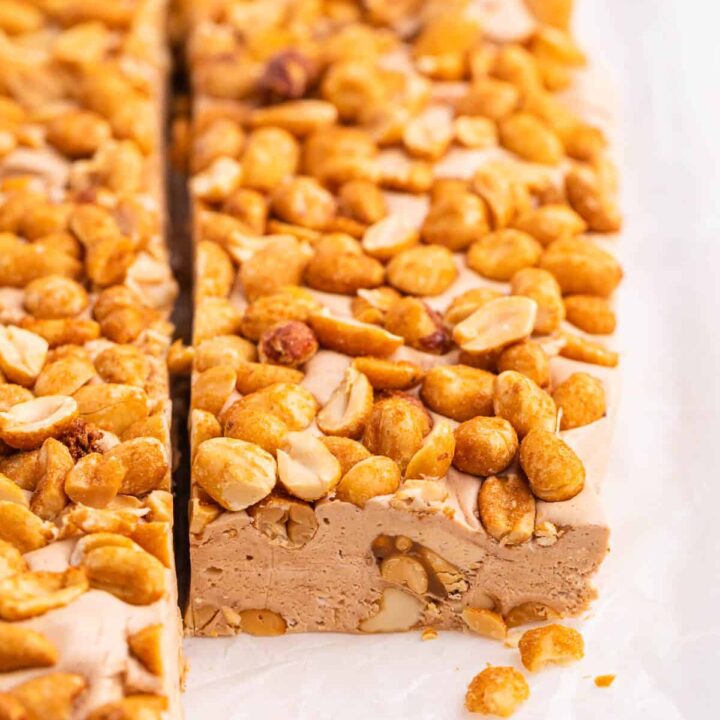 No-Bake Nougat Bars
Total Time:
3 hours
15 minutes
Skip the oven tonight! Whip up a batch of these salty and sweet bars that your family will love.
Ingredients
3 cups honey roasted peanuts
1 (10oz/270g) package Reese's peanut butter chips
2 ½ tablespoons salted butter
1 ¼ cup sweetened condensed milk
1 cup marshmallow fluff
4 Snickers bars, chopped into ½ inch chunks
Instructions
Grease a 9×13 baking pan with cooking spray. I also lined mine with parchment paper so it would be easier to remove (and clean the pan!).
Spread 1 ½ cups of peanuts on the bottom of the pan. Set aside.
In a medium sized bowl, add peanut butter chips and butter. Heat in the microwave for 1 minute at medium power. Stir. Heat again on medium power for another 20 seconds. Stir. Continue to reheat at these intervals until mixture is melted. Be careful to not burn it though! Mine melted after I stirred it together.
Pour in the sweetened condensed milk and stir to combine. Heat in the microwave for 1 minute on high.
Stir in Marshmallow Fluff and Snickers bars.
Pour mixture into baking pan. Sprinkle with the remaining 1 ½ cups peanuts.
Refrigerate for 3 hours or until set. Cut into squares.
Recommended Products
As an Amazon Associate and member of other affiliate programs, I earn from qualifying purchases.
Nutrition Information:
Yield:

24
Serving Size:

1
Amount Per Serving:
Calories:

236
Total Fat:

14g
Saturated Fat:

4g
Trans Fat:

0g
Unsaturated Fat:

9g
Cholesterol:

10mg
Sodium:

113mg
Carbohydrates:

24g
Fiber:

2g
Sugar:

20g
Protein:

7g