Apple Spice Smoothie
A creamy Apple Spice Smoothie is just what the doctor is ordering this fall season. A creamy apple smoothie that is rich, creamy, and downright a sweet treat. I used soy milk for a dairy-free smoothie recipe.
An apple a day keeps the doctor away. Or so they say anyways. I keep a supply of apples in my fridge because I eat one almost every day. My faves are Red Delicious. I was curious to see what apples would taste like in a smoothie. I had some unsweetened applesauce leftover from a recipe I made in the summer and decided to throw a few ingredients in the blender and see what I came up with.
The verdict? A yummy fall smoothie is otherwise known as an Apple Spice Smoothie.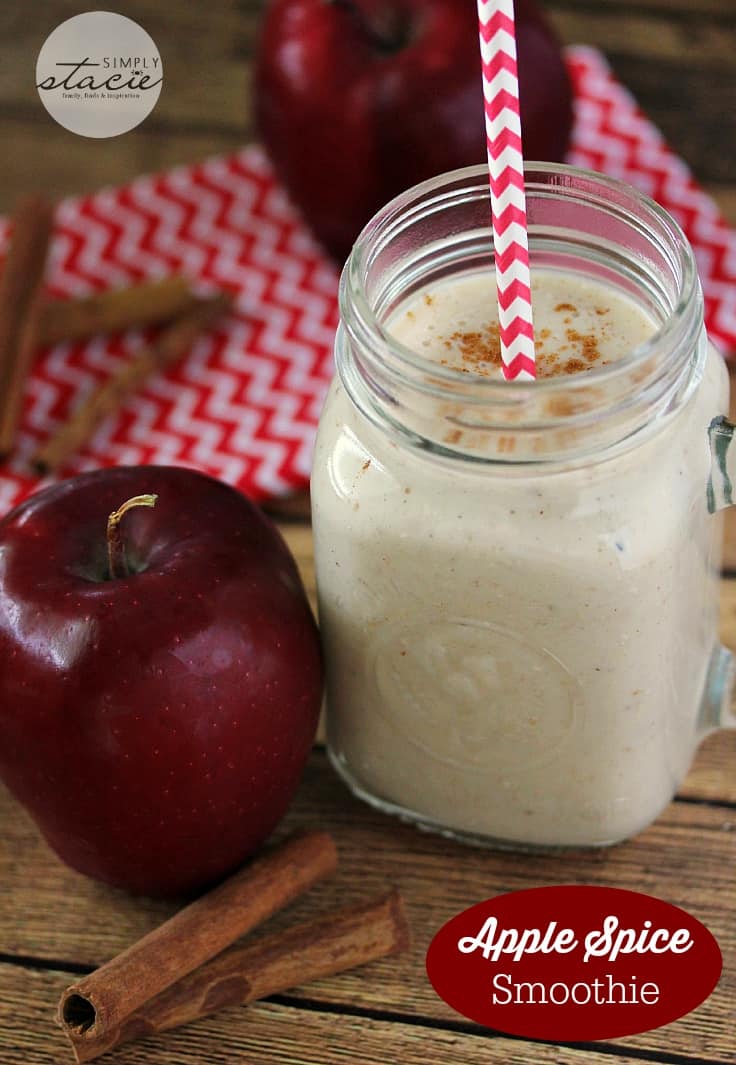 Apple Spice Smoothie
It's dairy-free because I used some vanilla soy milk. I like the flavour it adds to my smoothies. I also used unsweetened apple sauce, but if you only have the sweetened kind, it will work too.
Secret Ingredient in Apple Spice Smoothie
I also added in some vanilla extract and some cinnamon. The secret ingredient is the oats! Did you know that you can use oats to thicken up your smoothies? It adds a little bit of texture to your drink too.
What Can I Use Instead of Banana in A Smoothie
Bananas are great to make your smoothie nice and creamy. Avocado would also work too and offer even more added nutrients to your smoothie recipe. You could even toss in some tofu in replace of banana if you wanted.
Can You Use Regular Apples in Apple Smoothie
I'm curious to try cut up apples in my blender, but I'm not sure how well it would work. My blender isn't a Vitamix which I'm sure can take on an apple, no questions asked! Until I can get my hands on a Vitamix (they are pricey!), I'll make do with apple sauce. It's still delicious and healthy!
If you try to use a regular apple I suggest peeling and coring your apple and then see how it works. I can't say it will work because I haven't tried it but I think it should be okay if you have a powerful blender that will chop up the apple.
More Smoothie Recipes
For more smoothie recipes, try these variations.
I also have several apple recipes like Maple Apple Pudding, Apple Cheddar Quick Bread, Caramel Apple Dump Cake and Baked Apple Baklava.
Can I Add Protein Powder into Smoothie
Of course, you can add any protein powder you like into a smoothie. For this one, I would recommend vanilla so it would blend well with the other flavors in this smoothie recipe. But if you have say a caramel flavor and curious go ahead and add in a serving size as directed on the package.
How to Make Apple Spice Smoothie
Add in your ingredients into your blender. Then blend until the smoothie is nice and creamy in texture. If you find it is too thick add in a splash of milk to help thin it up. If you find your smoothie is on the runny side then toss in some extra banana or oats to thicken it up a bit. Do little bits at a time so you slowly adjust the texture of your smoothie.
How to Store Leftover Apple Smoothie
If you have leftover smoothie, you can store in an airtight container in the fridge for up to two days. This is best when you drink within the first 24 hours, but it will store for a bit longer. When you get ready to serve, just give it a good mix to help incorporate the flavors and ingredients back together.
Can I Double this Smoothie Recipe
Of course! If your blender has the room for a double recipe go right ahead. If you plan to serve a larger group of people just batch make the smoothie. Then pour the smoothie into a container and store it in the fridge until you are ready to serve.
This would be a tasty drink to serve with brunch, after a workout session, or treat for say daycare or even a playdate.
Looking for more apple recipes for fall
Apple Spice Cake | This cake is incredibly moist, full of tender bits of apple and of course the classic apple spice. One of my favorite cakes to make in the fall.
Easy Apple Cake with Butterscotch Sauce | Okay, this cake is another tried and true. The butterscotch sauce really brings out so much flavor in this tender and moist cake.
Deep Dish Apple Pie with Crumb Topping | Looking for the perfect pie recipe to make for a family gathering? Here is one of my favorite apple pie recipes. The tender and flakey crust, rich apple filling topped with a crumb topping that is heavenly.
Do you ever use apples in your smoothies?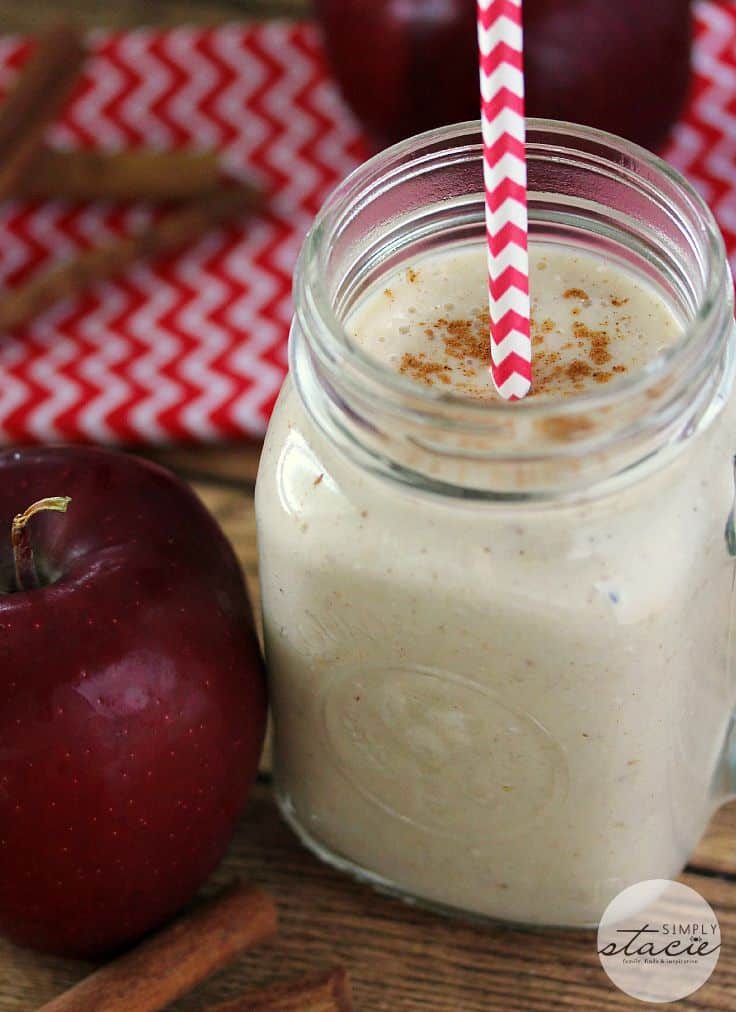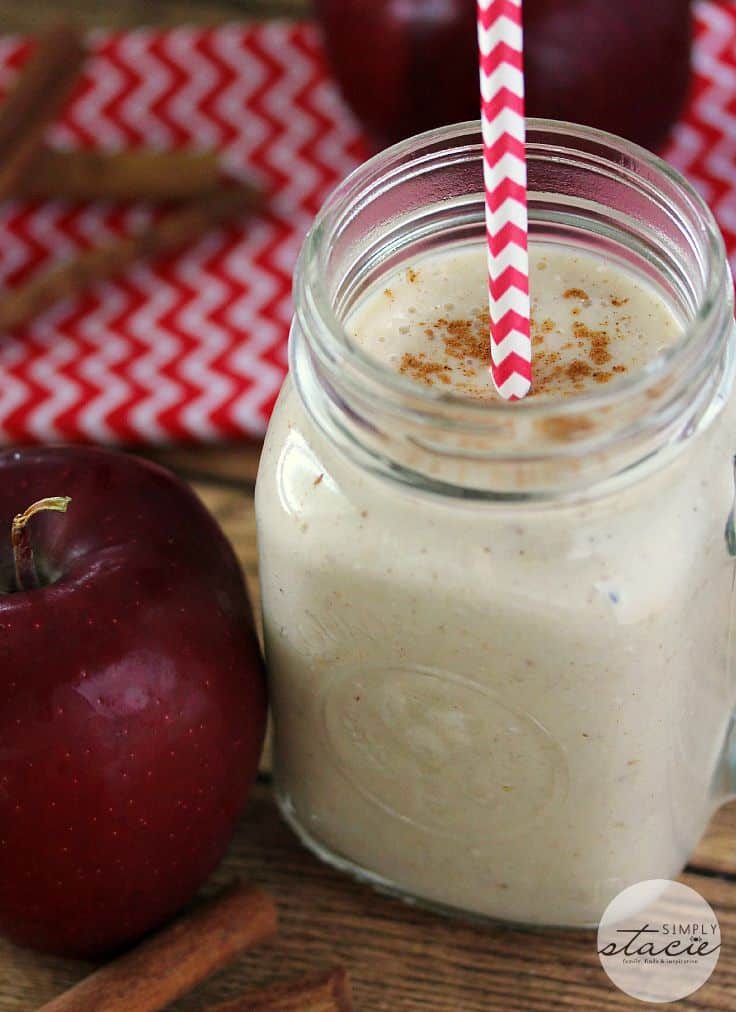 Apple Spice Smoothie
Yield: 1
Prep Time: 5 minutes
Total Time: 5 minutes
The secret ingredient in this thick and delicious smoothie is oats! A great way to add some fibre to your day, and it tastes amazing.
Ingredients
1 cup unsweetened apple sauce
1 banana
1 cup vanilla soy milk
1/4 tsp vanilla extract
1/4 tsp cinnamon
1/4 cup oats
Instructions
Add all ingredients into a blender and blend until smooth. Sprinkle cinnamon on top before serving, if desired.
Recommended Products
As an Amazon Associate and member of other affiliate programs, I earn from qualifying purchases.
Nutrition Information:
Yield: 1
Serving Size: 1
Amount Per Serving:
Calories: 389
Total Fat: 5g
Saturated Fat: 1g
Trans Fat: 0g
Unsaturated Fat: 1g
Cholesterol: 0mg
Sodium: 102mg
Carbohydrates: 79g
Fiber: 9g
Sugar: 45g
Protein: 10g