I'm not sure how I went this long in life without never making refrigerator pickles before! I'd assumed that making pickles required special canning equipment and would take months before they'd even be ready to eat. Wrong! Refrigerator pickles couldn't be any easier. You only need a few basic ingredients like cucumbers, obviously, vinegar, spices, sugar and a mason jar. Oh and a fridge – can't forget that too! They are ready to enjoy in a mere four days.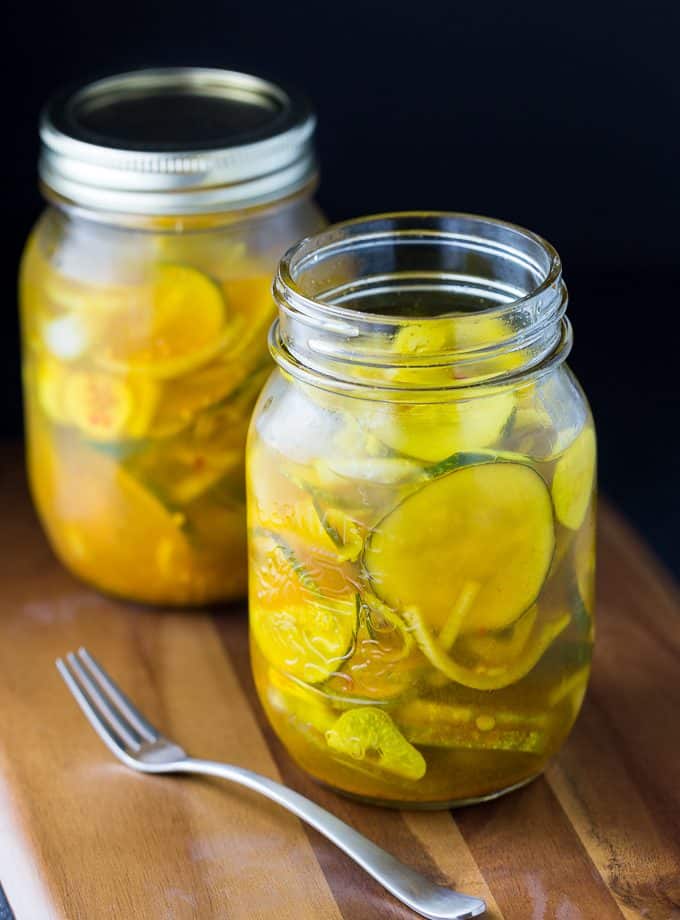 Refrigerator Pickles
My Grandma June made the absolute best pickles and I'm pretty sure they were refrigerator pickles. I remember eating them with a fork out of jar while standing in front of the fridge. Sadly, she passed away without leaving the recipe behind. I wish I had it because I'm still craving her pickles to this day.
This post contains affiliate links.
In my recent Craftsy course, Love Your Vegetables, our instructor showed us how to make these amazing refrigerator pickles. I saw a basket of fresh cucumbers at the grocery store for $3.99 and figured I'd give them a shot. I ended up making two kinds: bread and butter and just plain ol' pickles. I couldn't believe how easy they were to make. And the taste! Oh the taste. So so good.
These Refrigerator Bread & Butter Pickles have a spicy kick to them. My cousin, Allie, tried them and remarked that they had "bite". I like that they are a bit on the spicy side.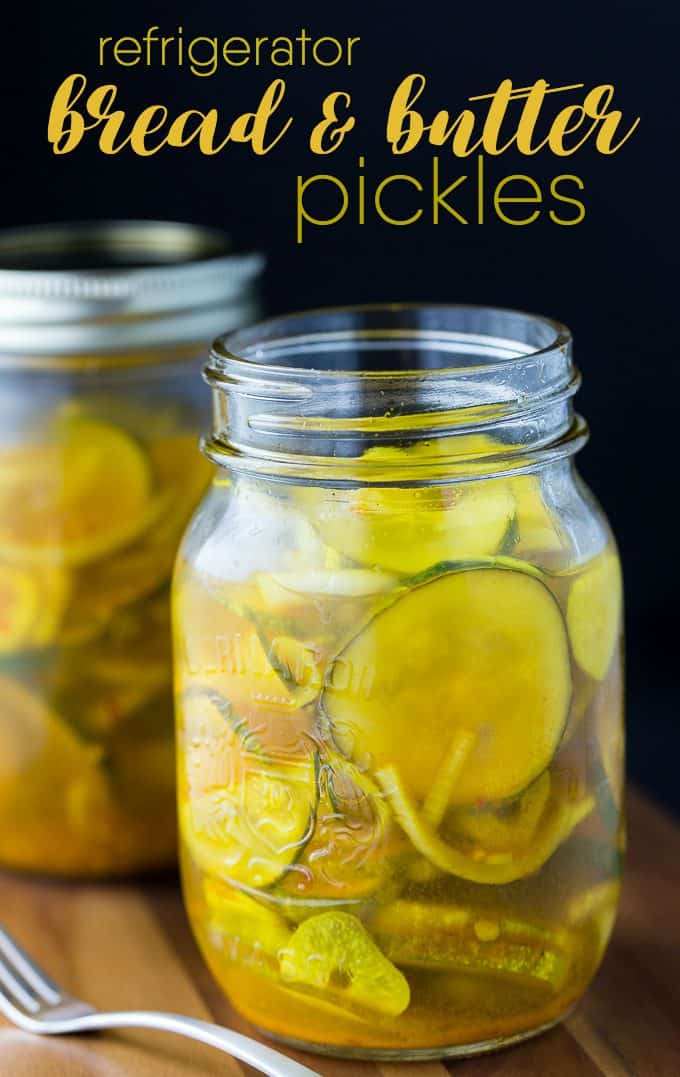 The other pickles are more tame and won't leave you running for a glass of water. I used pickling spice I picked up at Bulk Barn. They are super simple to make too.

Next time I make them, I'm adding in fresh dill. Our store was out so I couldn't add it in, but they still tasted yummy.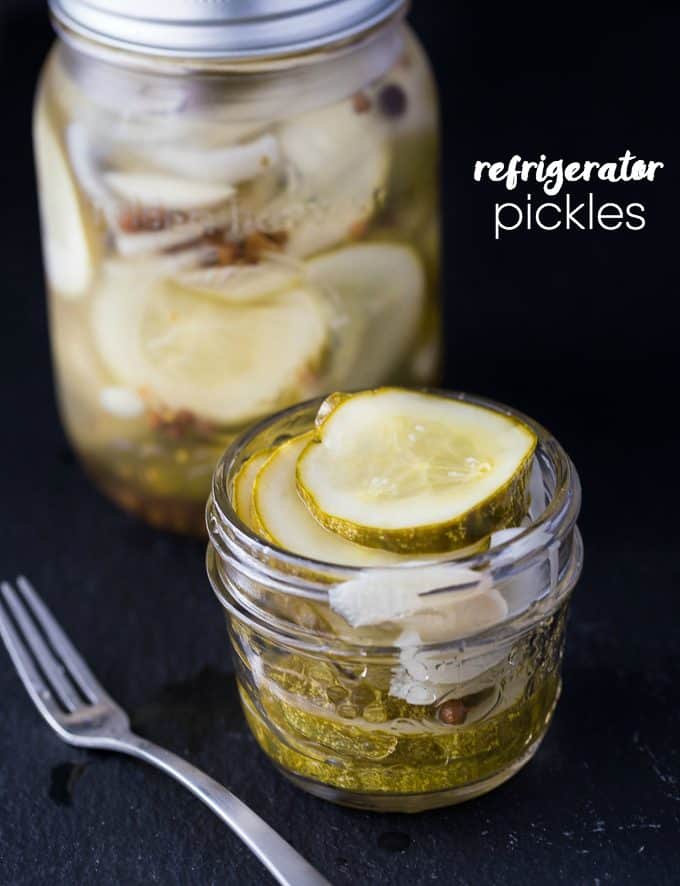 Out of the two varieties, my faves are the Bread & Butter pickles. They are addicting! The two jars I made lasted about a week in my house. Everyone enjoyed them.
Have you ever made refrigerator pickles? I'd love to hear what's in your recipe.
Refrigerator Pickles
Total Time:
4 days
6 minutes
Making pickles couldn't be any easier! They taste delicious and ready to enjoy in just four days. No special equipment required.
Ingredients
Refrigerator Bread and Butter Pickles
4 cups cucumbers, thinly sliced
1 onion, thinly sliced
1 1/2 cups white vinegar
3/4 cup sugar
3/4 tsp salt
1/2 tsp mustard seeds
1/2 tsp celery salt
1/2 tsp turmeric
1/2 tsp red pepper flakes
1/4 tsp pepper
4 cloves garlic, peeled and thinly sliced
Refrigerator Pickles
4 cups cucumbers, thinly sliced
1 onion, thinly sliced
1 1/2 cups white vinegar
3/4 cup sugar
3/4 tsp salt
2 tbsp pickling spice
4 cloves garlic, peeled and thinly sliced
Instructions
Both Varieties
Divide sliced cucumbers into two mason jars and top with sliced onion.
Bring vinegar and the rest of the ingredients to a boil in a pot on the stove. Boil for 1 minute and remove from heat.
Pour vinegar mixture into each mason jar, evenly. Let cool with the lid off until it reaches room temperature.
Place the lids on the mason jar and refrigerate for four days before enjoying. Store in the fridge up to one month.
Recommended Products
As an Amazon Associate and member of other affiliate programs, I earn from qualifying purchases.
Nutrition Information:
Yield:

12
Serving Size:

1
Amount Per Serving:
Calories:

129
Total Fat:

0g
Saturated Fat:

0g
Trans Fat:

0g
Unsaturated Fat:

0g
Cholesterol:

0mg
Sodium:

346mg
Carbohydrates:

30g
Fiber:

1g
Sugar:

27g
Protein:

1g