Don't be afraid to pucker up. If dry, chapped lips have you down, then you'll love this easy DIY recipe! This Raspberry Lip Scrub is only three ingredients: fresh raspberries, raw sugar and fractionated coconut oil. Another bonus is that if you accidentally get some in your mouth when you're scrubbing, it won't taste awful.
Grab some fresh raspberries. You'll only need four since this recipe makes a small amount. Eat the rest 🙂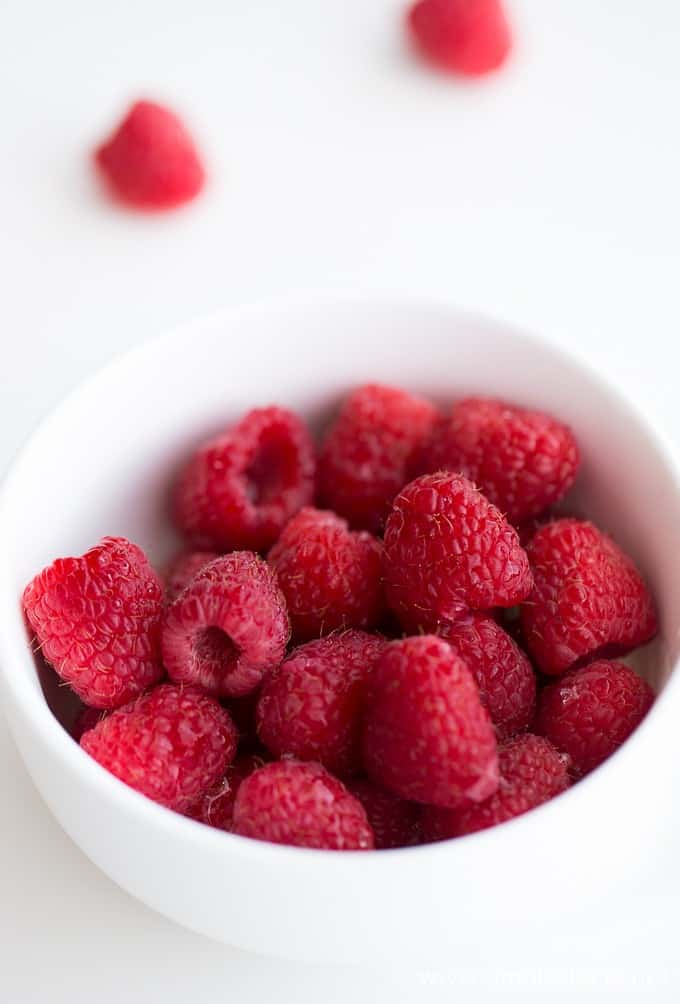 This post contains affiliate links.
I bought some raw sugar at Giant Tiger. I like it because it has more grit than white sugar and holds its shape better in the scrub. If you can't find any, don't sweat it. Use white sugar or brown sugar in its place.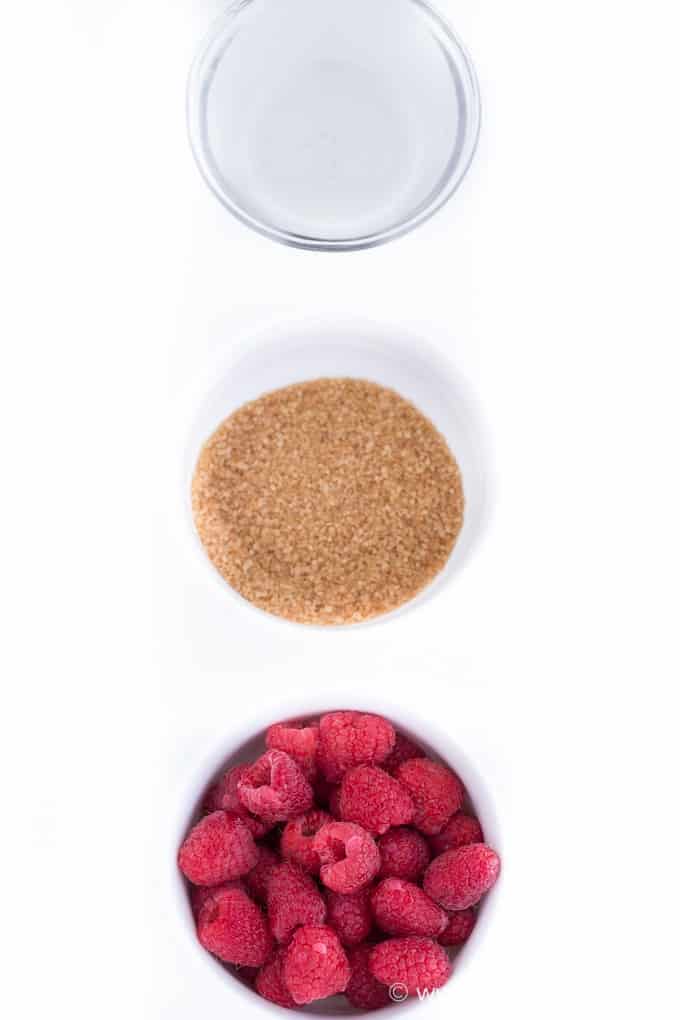 Fractionated coconut oil is the carrier oil I used. I love this stuff in beauty products!
I used a fork to mash up my raspberries. You don't need any fancy equipment. It looks a little like jam…
Put all your ingredients into a bowl and stir combine.
Feel free to tweak my directions to reach your desired consistency. I like mine with a bit more grit than oil.
Last year I bought these little tins on Amazon and I knew they'd eventually come in handy. They are the perfect size for this DIY lip scrub. They come in a 10 pack and are 2oz each.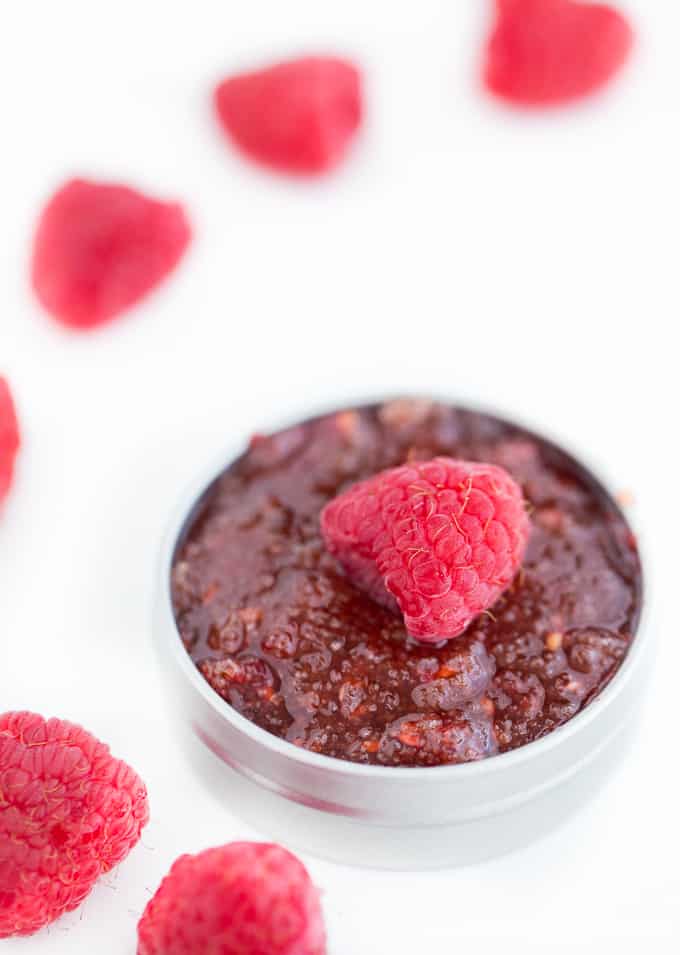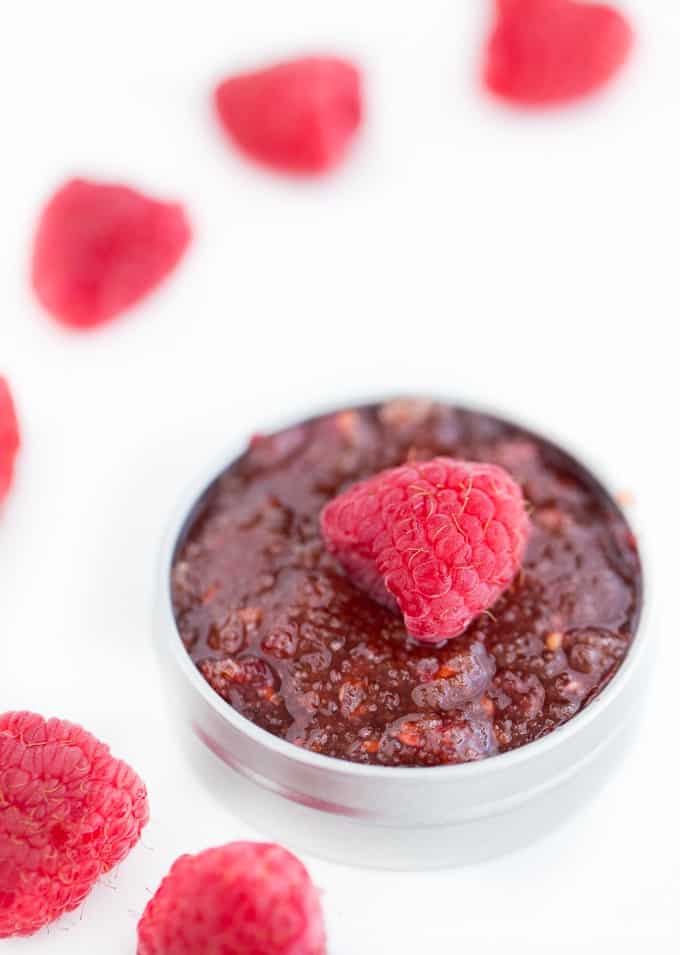 As I was making this scrub, I remembered a strange thing John told me a few years ago. We were talking about reasons for breaking up with someone and he told me he ended a relationship with a girl in high school because she had chapped lips! Say what?!
He said he tried to drop a subtle hint by giving her chapstick as part of a gift. Eek! I asked him if he'd break up with me if my lips were chapped. Yikes!
Ingredients
To use – moisten lips with a warm wet cloth. Gently rub in a small amount of lip scrub. Remove with warm water and pat to dry.
My lips are exfoliated and soft now that I've been giving them a little TLC. I haven't received any complaints from the chapped lip police (aka hubby) so I think I'm ok!
How do you take care of your lips in the winter months?
Raspberry Lip Scrub
Get soft, kissable lips with this simple DIY beauty recipe. It's made with three natural ingredients that you may already have in your home!
Materials
1/8 cup + 2 tbsp raw sugar
1 tbsp fractionated coconut oil
4 raspberries, mashed
Instructions
Add ingredients to a small bowl and stir together. Add more/less sugar and/or oil until you reach your desired consistency.
Put in a small jar and store in the fridge up to a week.
Notes
To use – moisten lips with a warm wet cloth. Gently rub in a small amount of lip scrub. Remove with warm water and pat to dry.
Recommended Products
As an Amazon Associate and member of other affiliate programs, I earn from qualifying purchases.