I was wandering through the Valentine's Day section last week at Walmart to pick up some decorations. As you would expect, there were aisles of chocolate goodies. I couldn't resist grabbing a few bags. Hershey's Hugs and Kisses were a decent price so I picked up a few of them. The kids like them and I knew I'd be able to use them in some Valentine's Day recipes.
Like this one! Hugs & Kisses Rolls. They are perfect for the occasion with a name like that.
I used the ever popular Pillsbury Crescent Roll dough like I have many times already on this blog. The stuff is SO easy to work and versatile. I usually keep a few cans of it in the fridge when a recipe idea hits.
The inside is stuffed with Hershey's Hugs and Kisses. I used two Hershey's Kisses and two Hershey's Hugs in each roll.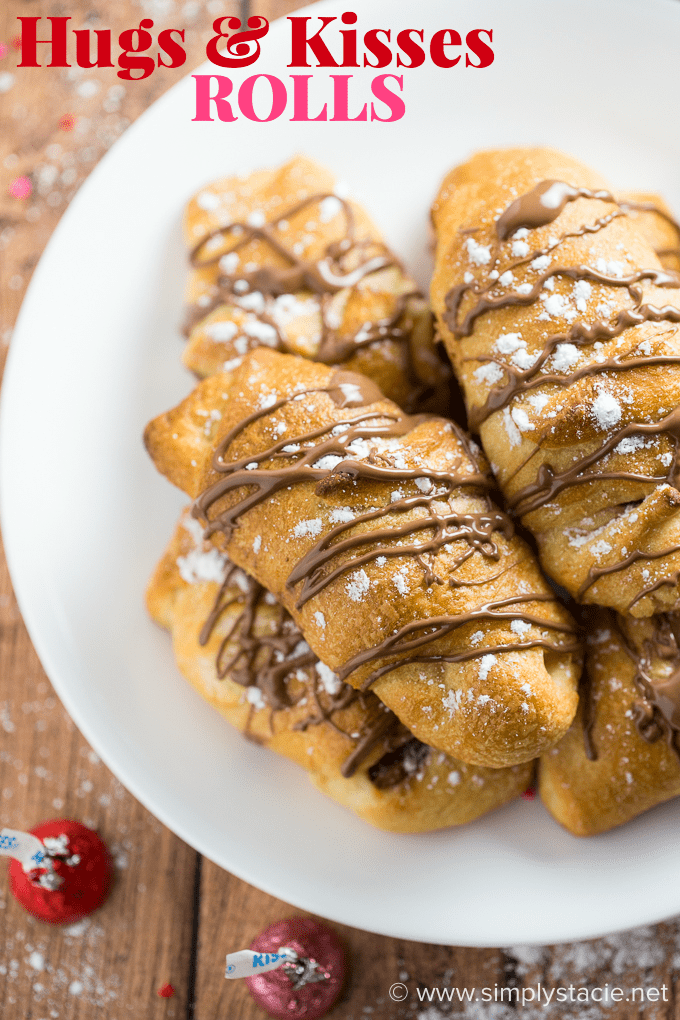 The luscious white and milk chocolate melts inside while the dough is baking to a beautiful golden brown. Though they'd be find to serve as is, fresh out of the oven, I wanted to pretty them up for the pictures. I added some icing sugar (aka powdered sugar) and melted Hugs & Kisses drizzle. I find they drizzle a lot easier than melted chocolate chips. I'll keep that in mind if I ever want a chocolate drizzle again for another recipe.
Another option is to make only a Kisses Roll or a Hugs Roll instead of combining the too. You can't really see the white chocolate from Hugs because the Kisses overtakes it. Not that I'm complaining though!
Serve them for dessert or even as a decadent breakfast with your mug of coffee. They are a bit like a chocolate croissant! I find them best served warm and fresh out of the oven! Mmm melted chocolate.
Do you enjoy easy dessert recipes?

You'll also like these Pretzel Hugs.
Hugs & Kisses Rolls
Imagine melted Hershey's Hugs and Hershey's Kisses tucked inside a warm crescent roll. Add a little powdered sugar and chocolate drizzle and you have yourself a heavenly treat! The perfect indulgence.
Ingredients
Cooking Spray
1 can Pillsbury Refrigerated Crescent Roll Dough
20 Hershey's Kisses
20 Hershey's Hugs
1 tbsp powdered sugar
Instructions
Preheat oven to 375F. Grease a baking sheet with cooking spray.
Separate Pillsbury Crescent Roll dough along the perforated edges. Place the triangles on a baking sheet.
Place two Hershey's Kisses and two Hershey's Hugs in the centre of each triangle along the widest edge. Roll up starting at the widest edge and tuck in any loose dough hanging out after you roll them up.
Bake for 10 to 12 minutes or until golden brown.
Remove from the oven and place on a cooling rack. Sprinkle each roll evenly with powdered sugar.
Melt 4 Hershey's Kisses and 4 Hershey's Hugs in a microwaveable bowl for 1 minute. Stir. Microwave an additional 15 seconds, if necessary. Stir. Repeat until it's melted. Drizzle chocolate mixture over top of the rolls with a small spoon. Serve warm.
Recommended Products
As an Amazon Associate and member of other affiliate programs, I earn from qualifying purchases.
Nutrition Information:
Yield:

8
Serving Size:

1
Amount Per Serving:
Calories:

838
Total Fat:

48g
Saturated Fat:

28g
Trans Fat:

0g
Unsaturated Fat:

6g
Cholesterol:

44mg
Sodium:

330mg
Carbohydrates:

99g
Fiber:

4g
Sugar:

70g
Protein:

11g