I can now cross the living room off my list of things to do in my house. Someone asked me if we were working on the whole house and the answer is yes. I've been saving up for a long time to do it and now I have some help to get it all done. I've already posted my master bedroom makeover, and upstairs bathroom makeover. Today I wanted to share my living room makeover!
When we bought the house, the living room was painted a soft yellow and had burgundy accents. There's three windows in the room and all had really dark burgundy curtains. There is also a built-in bookcase and it was painted burgundy as well. I'm not crazy about burgundy. I find it really dark and it made the room looked dated.
Over the past couple years, we've poked away at the makeover. I received a gorgeous black leather sectional from La-Z-Boy last year and it's still the nicest thing I own! We also installed a woodstove in the living room to help with heating of the house. Oil heat is insanely expensive here in the winter.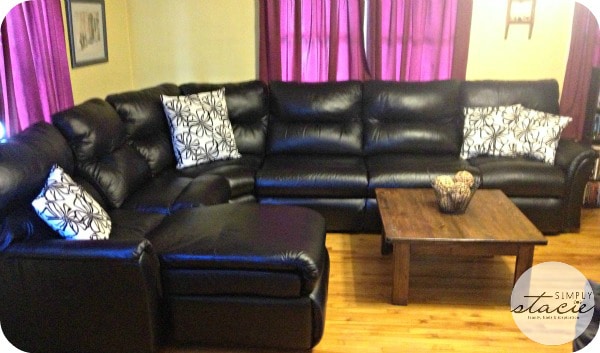 The room is large and has beautiful hardwood floors and I love the built in bookcase, but the colour really had to go. At first I thought I would paint the bookcase black because it would be easier to cover the dark colour already on it. Then I thought some more about it and thought lighter would be better. It would brighten up the room and I was up for a painting challenge. And boy was it a challenge! I never want to paint again after that not-so-little task.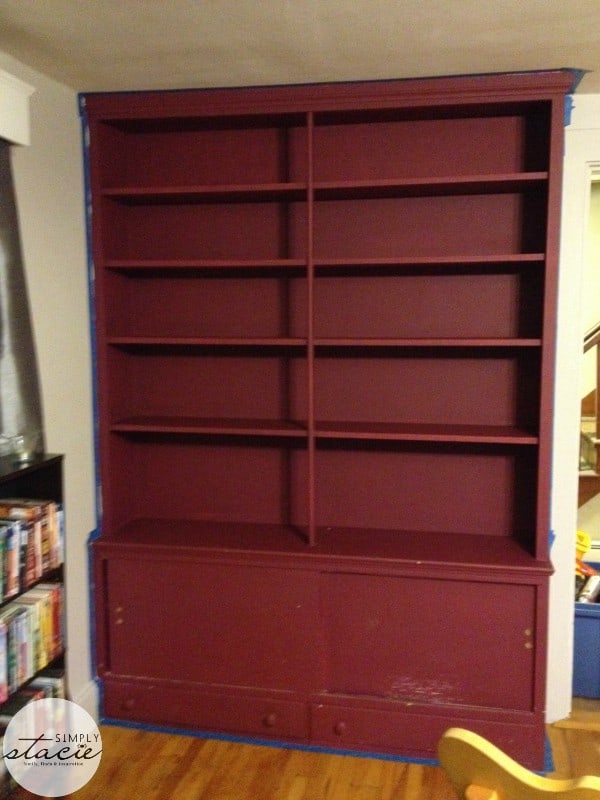 We lightened up the walls with a more neutral colour. It's more like a taupe/grey and matches much better than the yellow.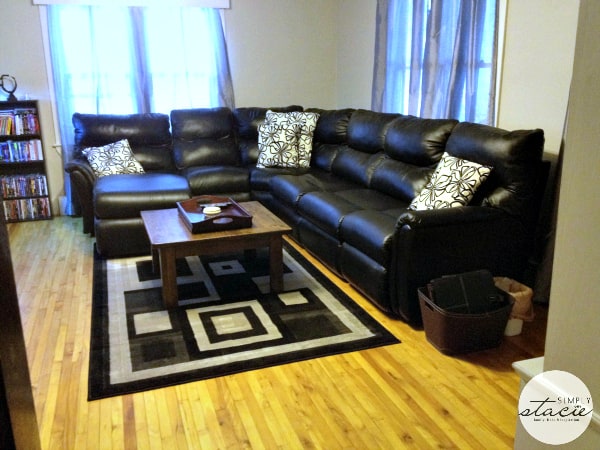 I picked up a 5×8 area rug at Walmart online though I couldn't find it on their site when I went to write this post. It was 49.88 + HST with free shipping. Yes, I lugged that home from the post office. It wasn't heavy…just awkward to carry!
The pillows I bought last year at Walmart when we got the couch. The coffee table was given to me by my parents years ago. It's solid wood and sturdy and I don't mind it.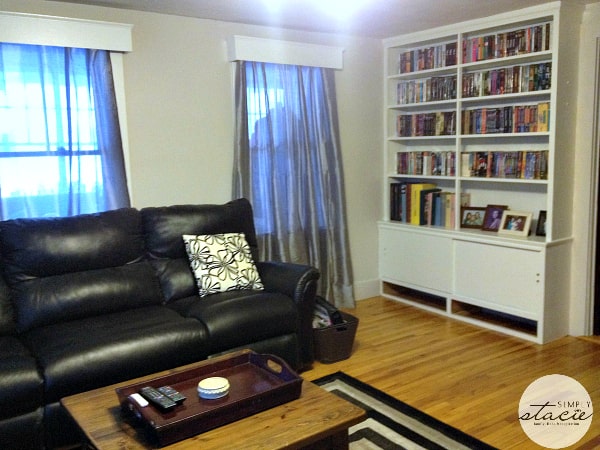 My mom mailed me the curtains from Ontario. She loves to decorate so I've been texting her pictures and getting her advice on what to get for each room. She picked up the curtains at Walmart. Yes, we shop at Walmart a lot! I live in small area so there's not many stores here.
That old desk in the corner with the fishtank on top of it was an older project of mine. It used to be white and had stickers and kid's marker all over it. I painted it and bought new hardware for it.
For the bookcase, I primed it first and then it took three coats of paint to cover it all. There's only one issue with it now. The two bottom drawers will not go back in. John needs to shave the wood down a little so they'll fit again.
The woodstove was given to us awhile back by John's mom. It was their old one and was still in good condition. It saved us from having to buy one. We put up a tile heat shield which is required here for insurance purposes. That woodstove really puts out a lot of heat. It's cookin' in here when it's going! Sometimes I even find it too hot (oddly I prefer the cold vs. the heat).
Even though that room is now pretty much done, I've still got a number of rooms still to do. I was hoping to get everything finished by Christmas, but it doesn't seem like that is going to happen. Hopefully it will be all done early in the new year! Keep your eyes open for more posts!