In 2009, John decided he wanted to renovate the master bedroom. However, when he said renovate he really meant it and trust me, it's been a LONG process. As he was ripping off the drywall, he discovered the exterior walls weren't insulated. Pretty much none of the house is so that's why we are working room by room insulating the exterior walls. Then we decided to rip out a wall and make the room even larger. So our four bedroom home became a three. Check out what it looked like before. Warning: it's a hot mess.
At Blogher last year, I won a $3000 bedroom makeover from Leggett & Platt. Since we'd already started the master bedroom, we put the money towards it. I think that was the biggest prize I've ever won. I was beyond shocked when I got that email!
The walls were gutted and the old, gross carpeting and lineoleum was ripped out exposing a softwood floor. John rented a floor sander from Home Hardware, but it didn't get him the results he wanted. Here's what it looked like after John tried to do it himself.
The guy at Home Hardware recommended someone with a professional floor sander who could come and refinish the floors. Their sander worked way better.
When they were done, the result was impressive. I could see things finally starting to come together.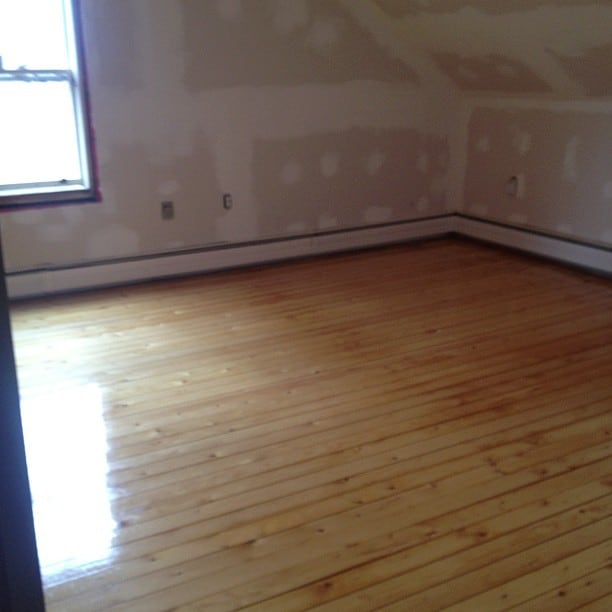 John said the next room we do he won't do the floors until after the painting is done! Live and learn right?
He painted the ceilings first.
Then the walls were primed and painted with two coats of Benjamin Moore Paint in Silverfox.
The hardest part was cleaning up the floors. I must have swept and washed them at least three or four times with Murphy's Oil Soap before I was happy.
We bought a six piece bedroom set back in October and it had sat in my dining room in boxes until the room was ready. Last weekend, we finally got to put it together. I got it at Rewards Furniture for $999 plus tax. It included a headboard, footboard, two night stands, dresser & mirror and chest.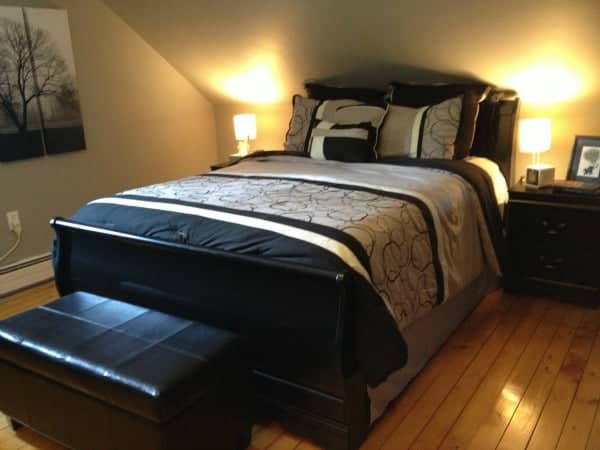 A couple weeks ago, we went to Home Furniture and purchased a Queen size mattress. We'd only had a double bed before and with John being over 6 feet tall, we really needed a bigger bed. The one I got was a Serta iComfort. It wasn't cheap though and cost more than the furniture. I wanted something that would be good for John to sleep on with his back issues.
I bought two table lamps for our night stands at Walmart for $14.99 each.
I wanted a bookcase for storage. I bought a 5 shelf bookcase from Walmart a few weeks ago for $39. I plan to put everything in baskets on the shelves so it's out of sight.
On my dresser I put 5 Lumaness Candles from 100Candles.com. They are all white with mirrored lids and look really sharp. They kind of give the room a "spa" feel.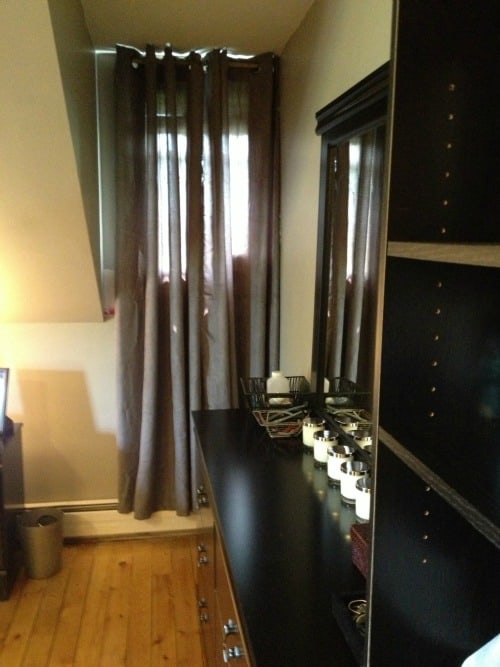 My mom picked up our comforter set a couple months ago in Halifax when she was down for a visit. It's black, grey and white. Last week I picked up some white sheets at Walmart: Springmaid Egyptian Cotton Sheets (600 thread count). I think they were about $79.
My parents were down again on Friday and they brought with them a full load. My mom loves decorating so she had been picking things up for my room. She brought me a desk and chair, an ottoman for the end of the bed, a picture to hang on an empty wall and six panels of grey curtains for our three windows. We picked up curtain rods last night at Walmart and John hung them up today.
The room is not quite complete yet though. John still needs to finish the closet and put on the trim.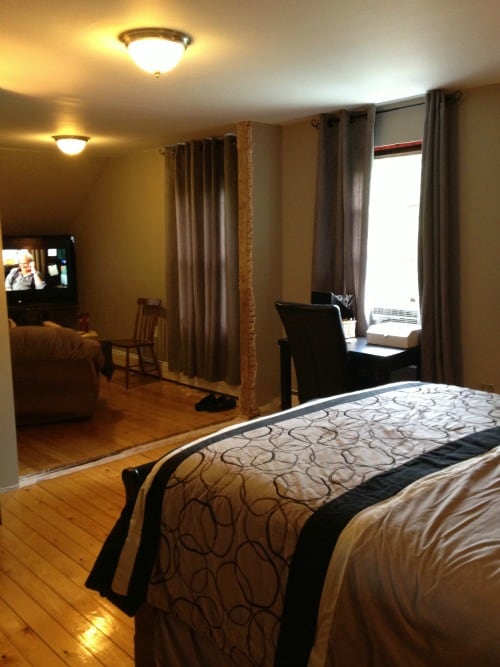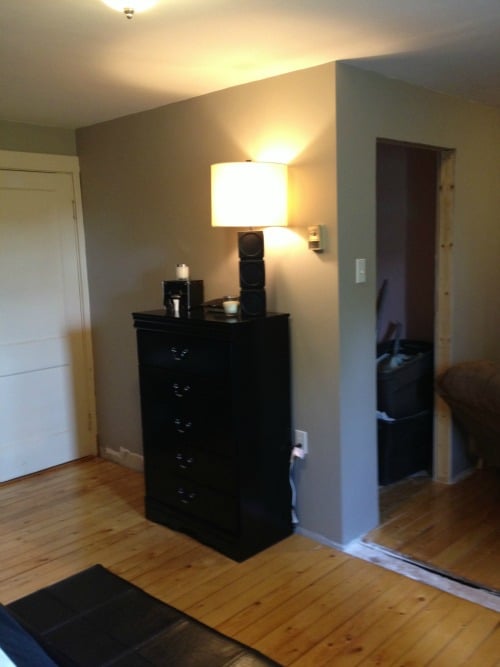 I couldn't be happier with my new bedroom. It's like my oasis in a house full of renovation chaos. Finally one room is done (well almost done)!