The first thing I think about every year as I flip the calendar from December to January is how I'm going to keep my household organized and running smoothly. (Okay, I actually start thinking about that in October.) I like to keep vital emergency information nearby, keep track of school information and all of our passwords, and write down a plan for weekly chores and other cleaning and decluttering I like to tackle throughout the year.
That's why these printables are my favourite and I look forward to creating them every year, as much as for you as for myself. I'm still a big believer in actually writing information down, making copies, and making sure everyone knows where mom puts the plans.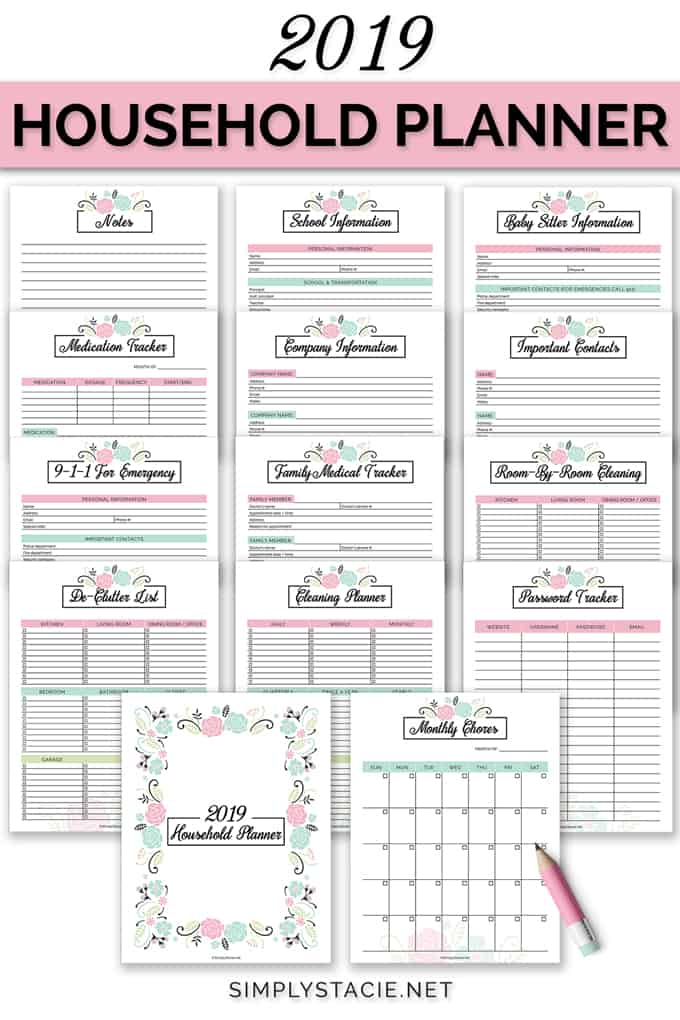 Print out these 14 Household Planner Printables and make 2019 your most organized year yet!
Household Planner
Password Tracker
I cannot tell you how many times I've lost a password. I try to use the same one, or variations thereof, as often as possible. But even those get confusing. Oh, now I need at least eight characters AND one of them has to be lowercase AND one of them has to be a symbol AND one of those symbols has to be a hieroglyphic? Forget trying to remember them all and just write them down. (But to be on the safe side, I do try to put the password printable away from sight every time I use it, just in case.)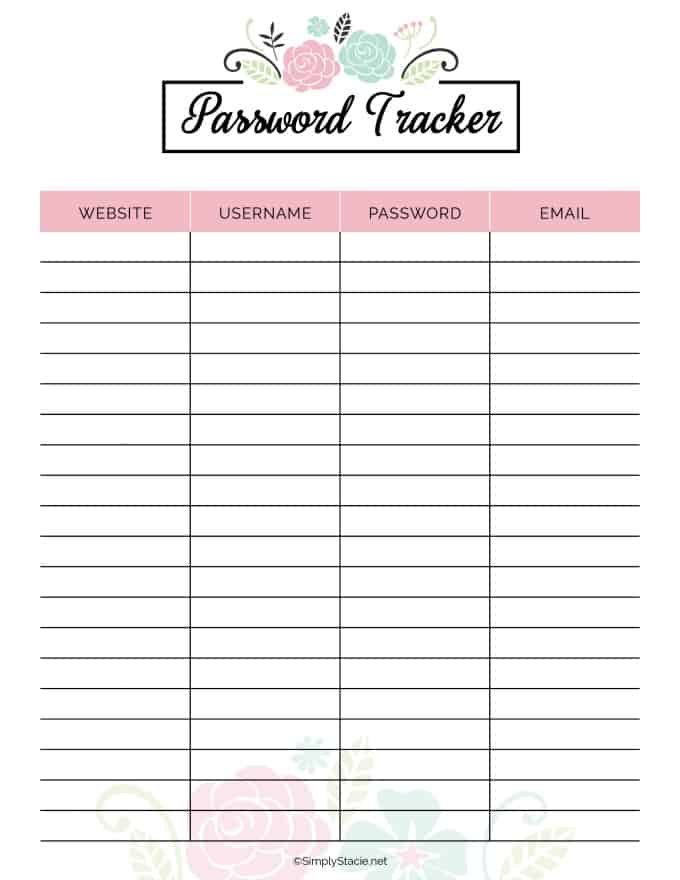 Monthly Chores
How many times have you said to yourself, "I swear I just…(vacuumed under there, dusted that top shelf, scrubbed the shower)" only to either a) ignore it for another week, or b) go ahead and do it again, which may have just wasted your valuable time? Stop all that wondering and wasting with a monthly chore calendar. It's the first of the month? Time to scrub the kitchen sink and forget about it for another four weeks.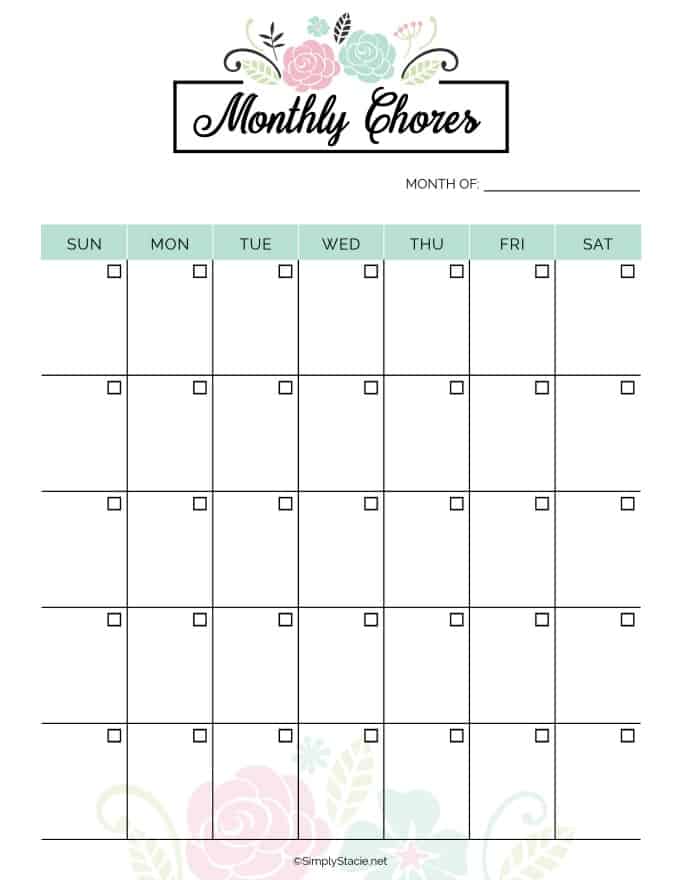 De-Clutter List
If you don't manage your clutter regularly, you could find yourself on one of those hoarder shows. All kidding aside though, this is one of those household chores that can easily get away from you. Manage it by writing down what needs to go and when.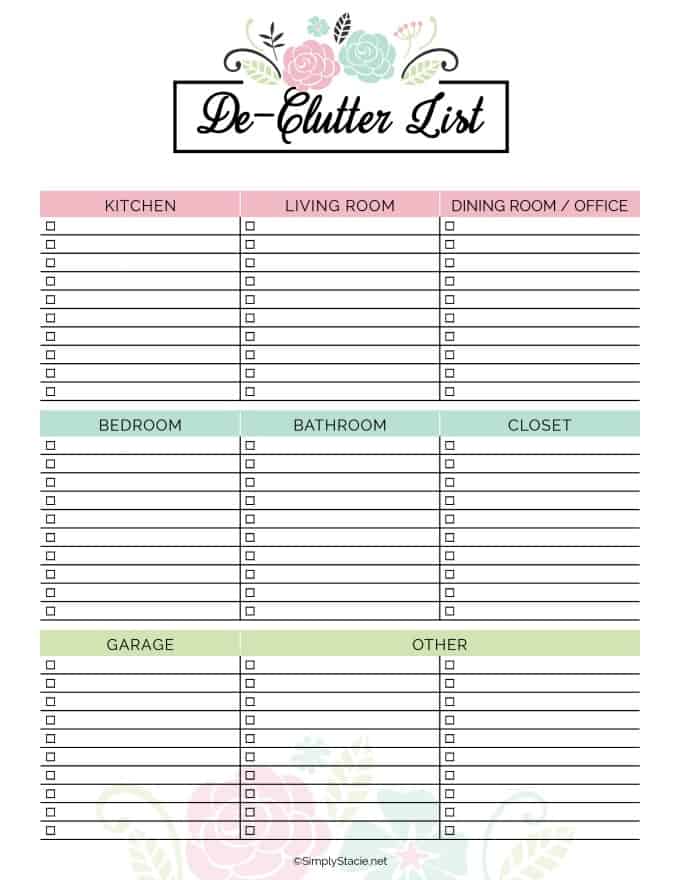 Cleaning Planner
When the kids were little, they used to argue over who had to do which chore every single time. Take the guesswork out of who does what and when with the 2019 cleaning planner. Whether your chore is daily, weekly, monthly, or only twice a year, you'll be sure to get to it all if you write it down and refer to it often.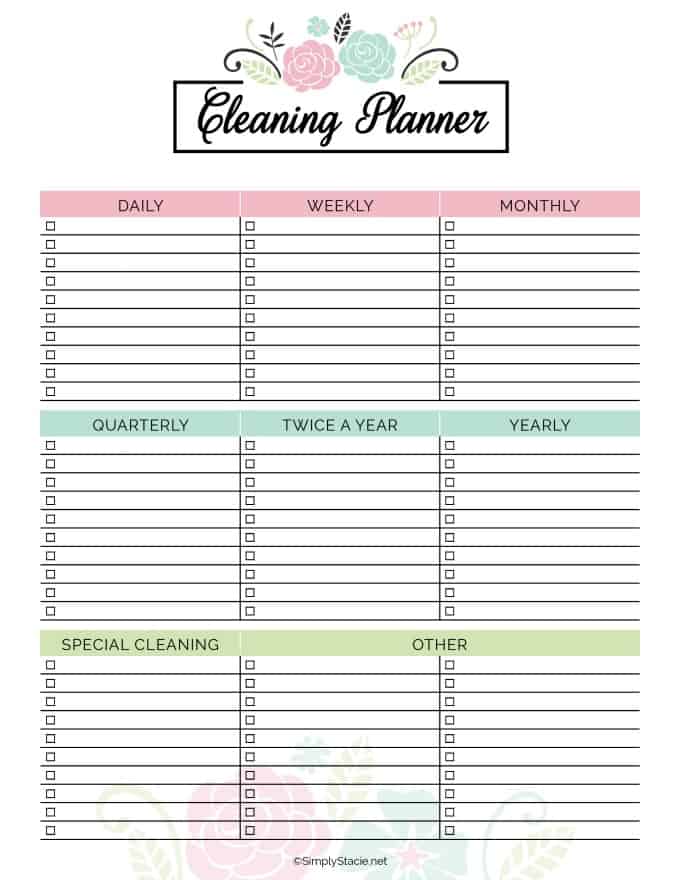 Room-by-Room Cleaning
Now you know when your children see they're on kitchen duty that week, there will be no guesswork as to what tasks they need to do exactly.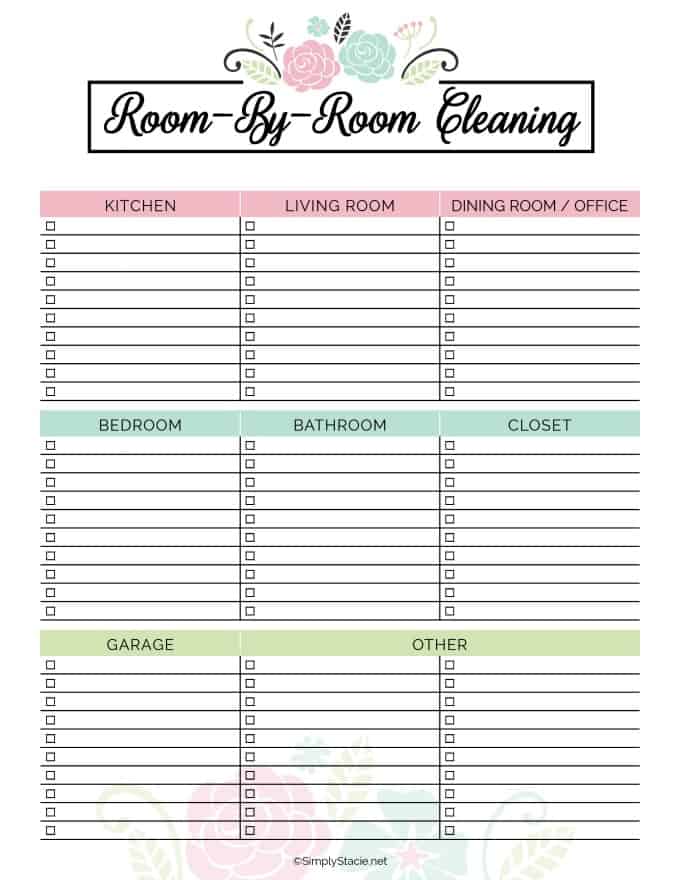 Family Medical Tracker
Since a lot of doctor's appointments have to be made so far in advance these days, they can easily sneak up on you and before you know it, you're rescheduling for another month (or more) down the road. Keep all of your appointments in one place so you can be sure to get to them on time, the first time.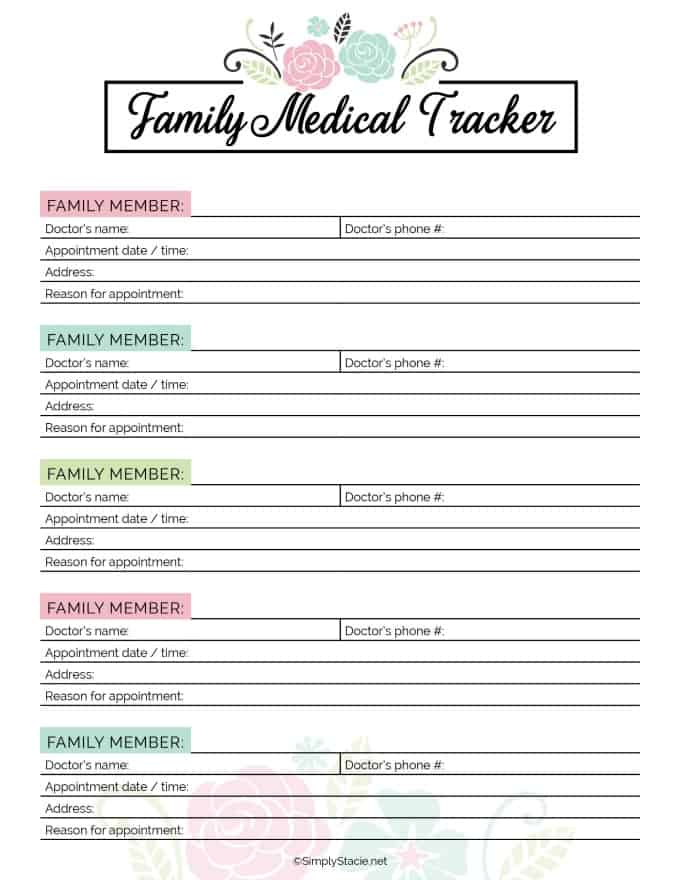 9-1-1 for Emergency
The crucial information you write down on this printable is perfect for anyone, but I think especially any children living in your house. They know to call 9-1-1, but what else might they (or anyone else) need to know? If you're not there to furnish an insurance card, this can save you a lot of paperwork and phone calls down the road. Plus, other important phone numbers, allergy and medication info, and more will be there at your your family's fingertips, right when it's needed.
Important Contacts
This is a great reference tool for when you are filling out paperwork and can't remember who you listed as an important contact on the last form you filled out. Now you can keep them consistent and up-to-date throughout the year.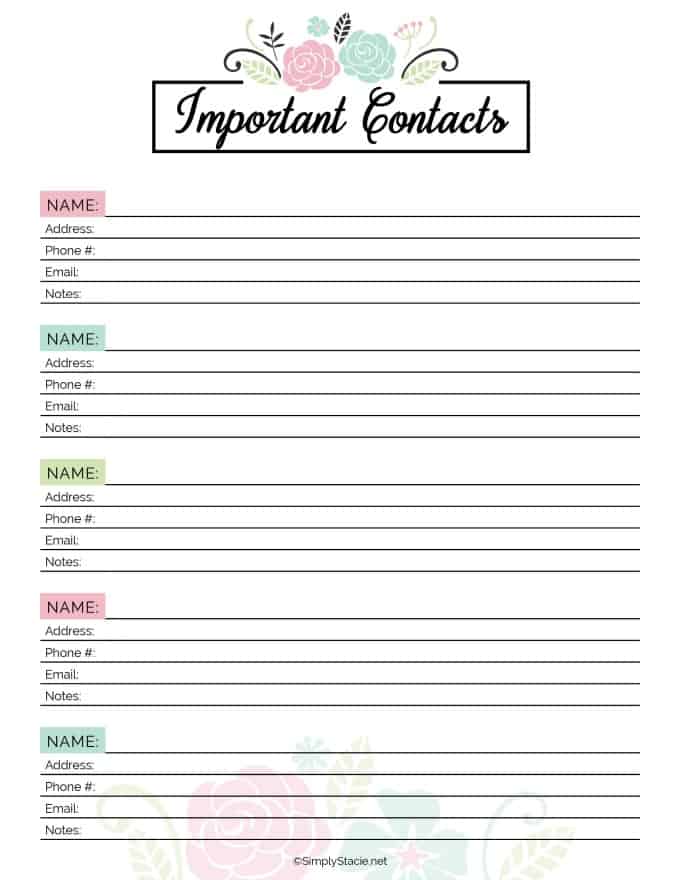 Company Information
Who can remember their spouse's company address? I know I can't. But there are times when I need it and I can't wait till I get a response back from a text, so instead, I can simply check this printable.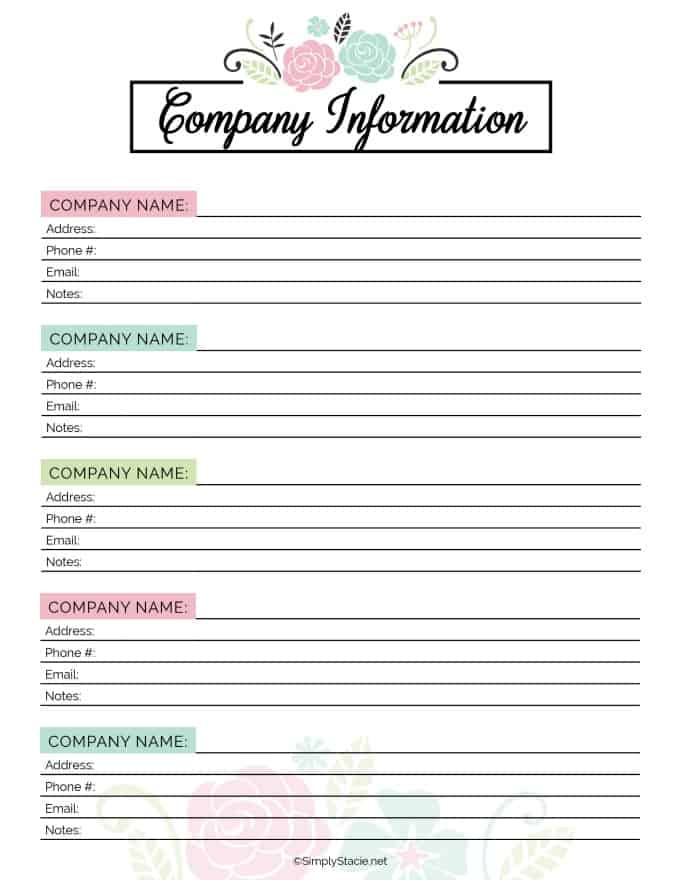 Medication Tracker
If you or someone in your household has a medical condition, keeping track of the what and when can be stressful. I like to tape this one to my bathroom mirror for easy, daily reference.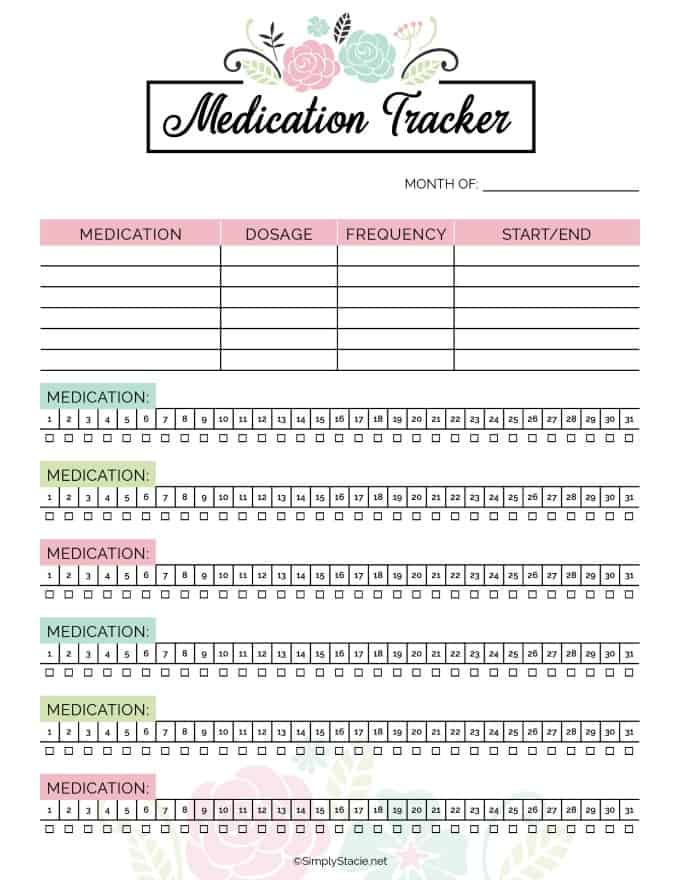 Baby Sitter Information
Enjoy your time out away from the kids knowing that the baby sitter has everything he or she needs just a phone call away. You can also write down crucial information like, "No sugar after 6 p.m." so that you know they won't be awake and wired when it's your turn to go to sleep.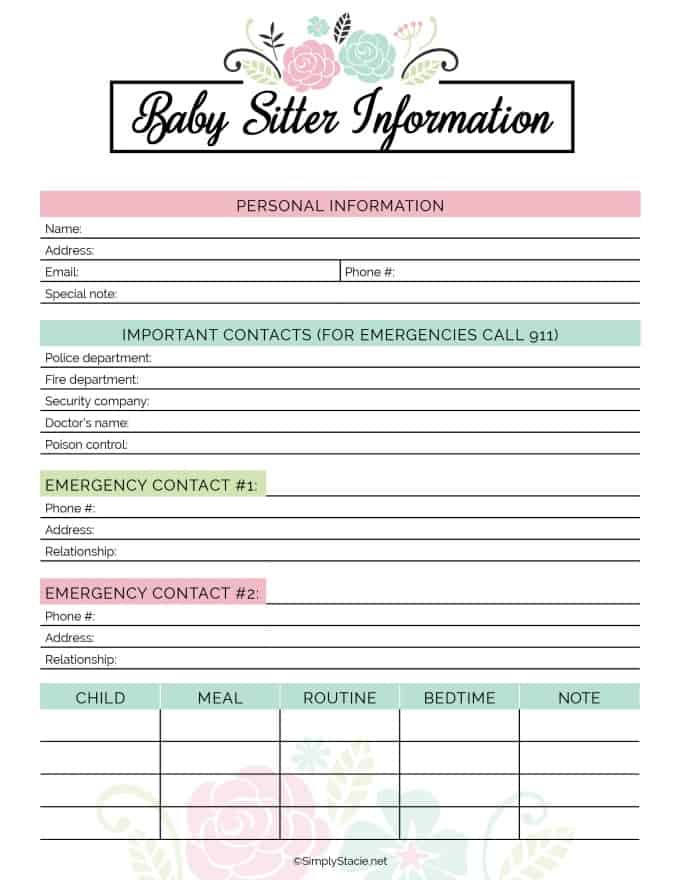 School Information
Know not just when the bus comes, but who to call for playdates, that locker combination when your son forgets it and has a book he absolutely needs for homework, what days your daughter has an after-school activity, and more with this printable.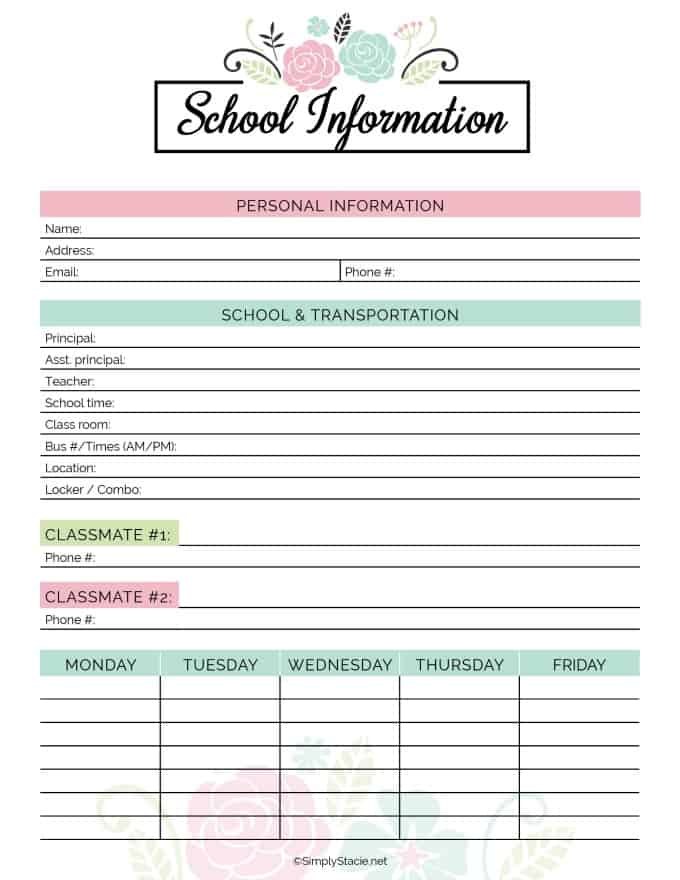 Notes
For everything else, I print out a stack of these notes at the beginning of every year and use them regularly and with abandon — you know how I love my notes and lists.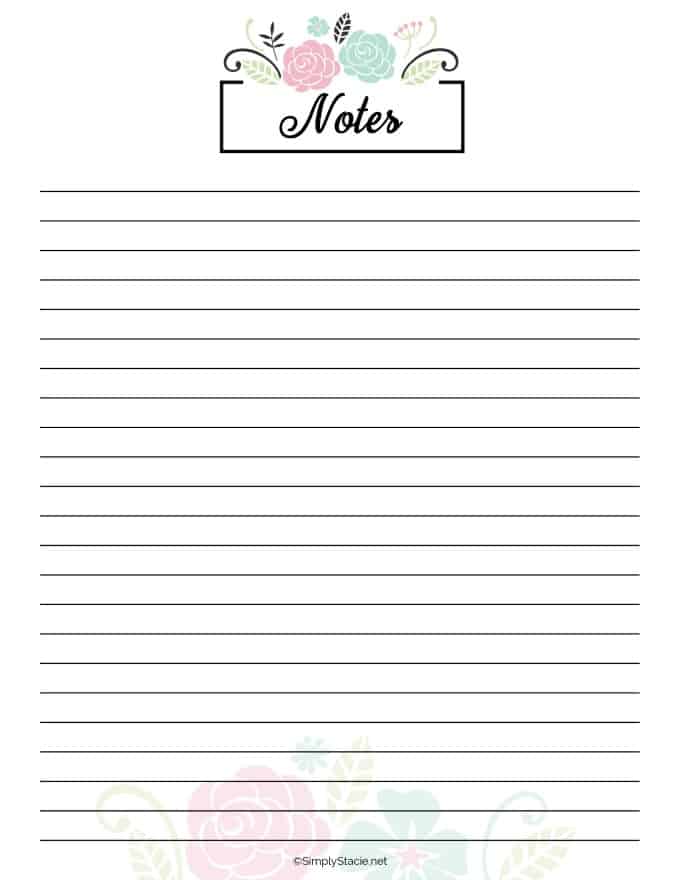 Update: My 2021 Household Planner is now in stock in my new shop! I also have a 2021 Organizing Bundle with all the printable sets.
You might also like this 2019 Meal Planner, 2019 Financial Planner, 2019 Fitness Planner, 2019 Yearly Calendar.