What came first the chicken or the egg? In the recipe I'm sharing today, it's the chicken! I love a good brunch recipe like these Chicken and Egg Ramekins. Not only are they easy to make in pinch, but they are also low carb. I also earned brownie points with my family who quickly gobbled them up and asked me to make more. I love it when that happens!
I'm an early bird, but my kids and John love to sleep in on the weekends. By the time they get out of bed, it's closer to lunch than breakfast. On the weekends in my home, it's brunch time at around 11 to 11:30 am! I'm not complaining because I get a few quiet, peaceful hours to myself while everyone snoozes.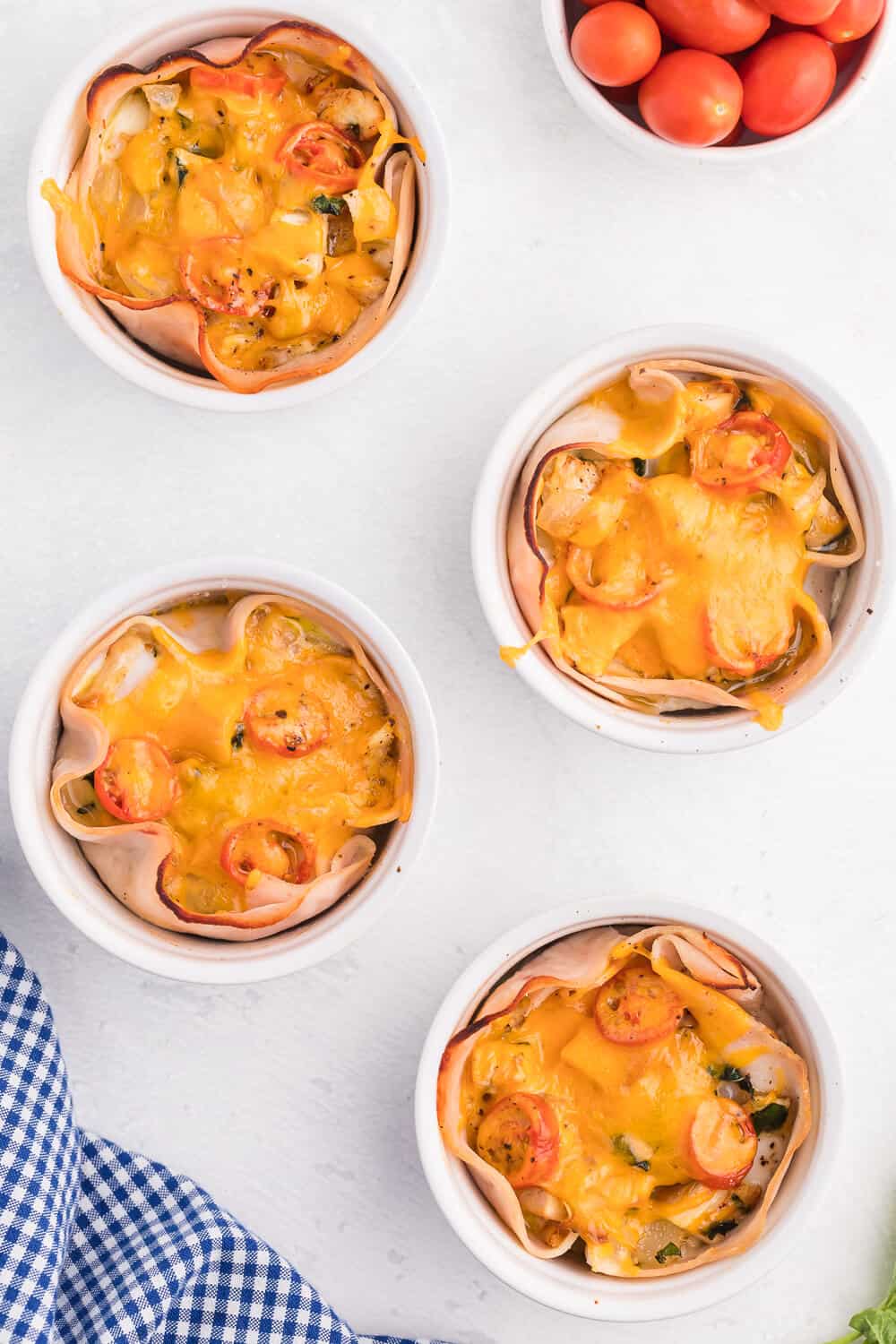 Chicken and Egg Ramekins
I've made eggs in a muffin tin many times, but haven't tried them in ramekins. I discovered this delicious brunch recipe on the Chicken Farmers of Canada website. It's fun to switch things up a little and try something different. Sometimes, it pays off and in this case, big time. I'm still dreaming of this recipe and how good it tasted.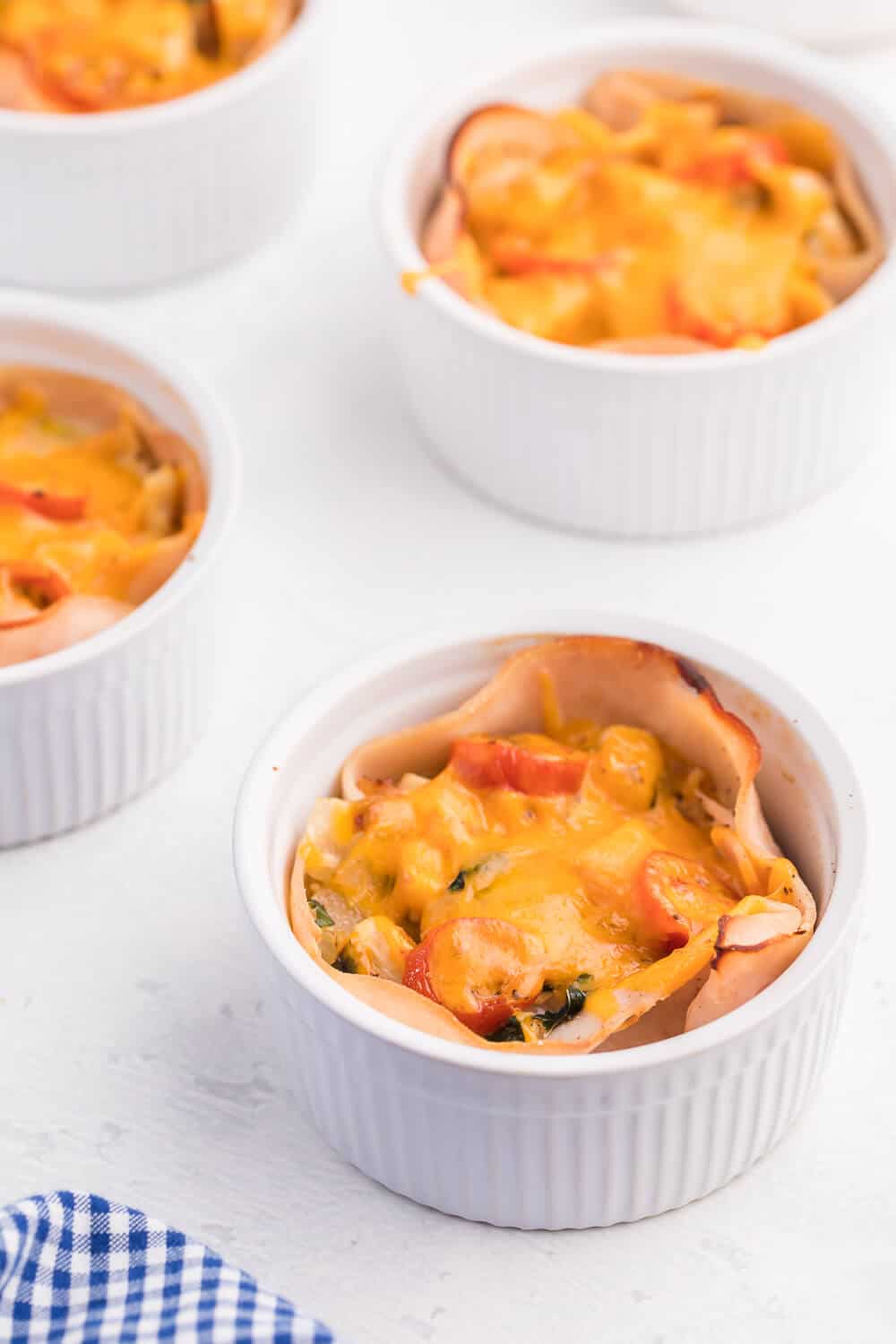 This recipe would be great for leftover chicken or even rotisserie chicken you pick up at the grocery store. I had some cooked chicken breasts leftover from the previous night's meal so I used what was left in this recipe. Easy!
To assemble these beauties, layer a couple slices of deli chicken in a greased ramekin. Crack one egg, yolk and all. Then top with cooked chicken, onions and basil, cherry tomatoes and cheese. I sprinkled ours with freshly ground pepper too.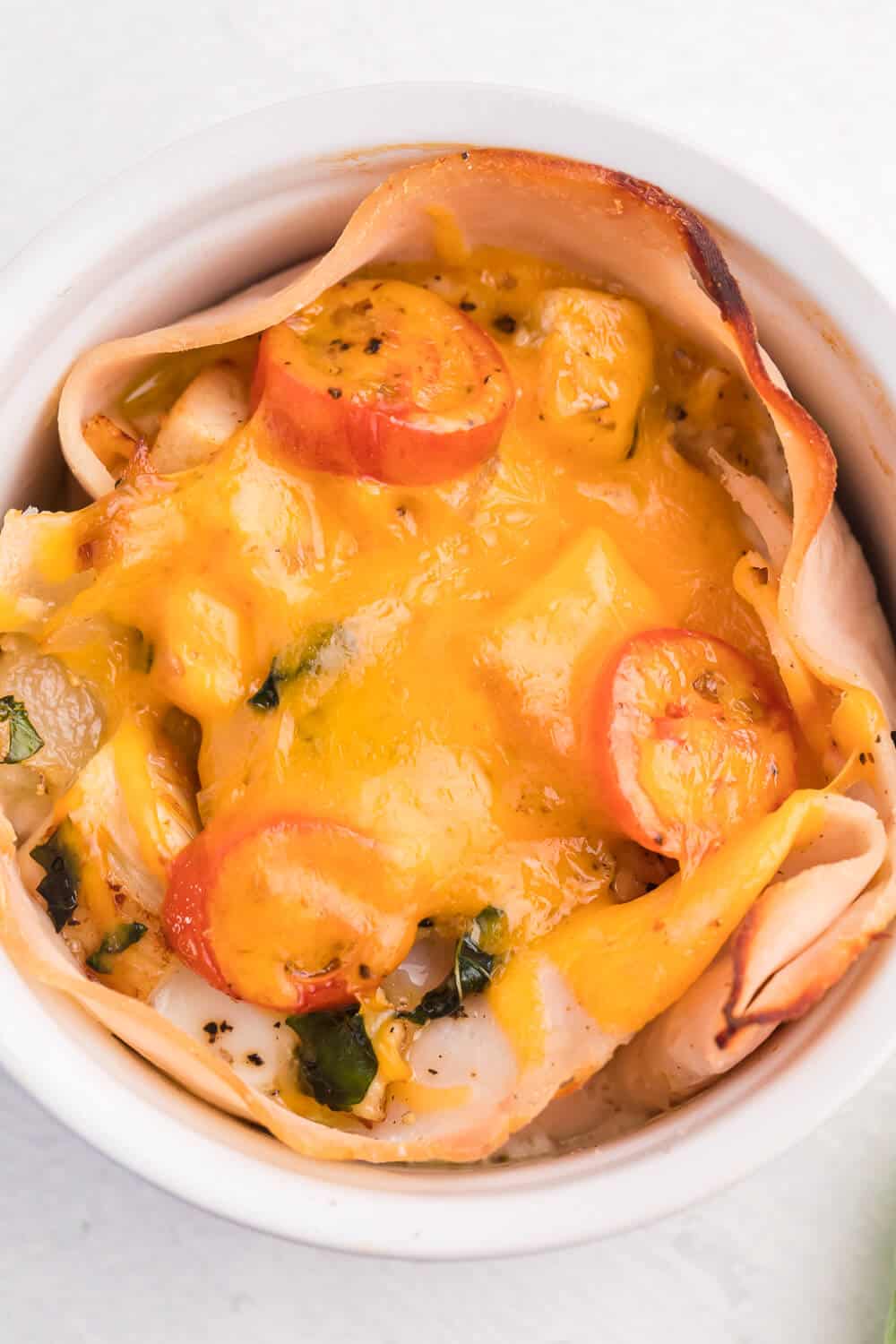 Helpful Kitchen Tools
This post contains affiliate links.
With Easter and March break coming up, you may be on the hunt for brunch recipes. I hope you consider trying these Chicken & Egg Ramekins. Take my word for it – they are delish! Some other brunch recipe ideas are Chicken and Cheese Breakfast Muffins, Savoury Asparagus & Chicken Bread Pudding and Speedy Breakfast Quesadilla. My fellow brand ambassadors will also be sharing yummy brunch recipes this month so keep an eye on the #chickendotca hashtag to find out their recommendations.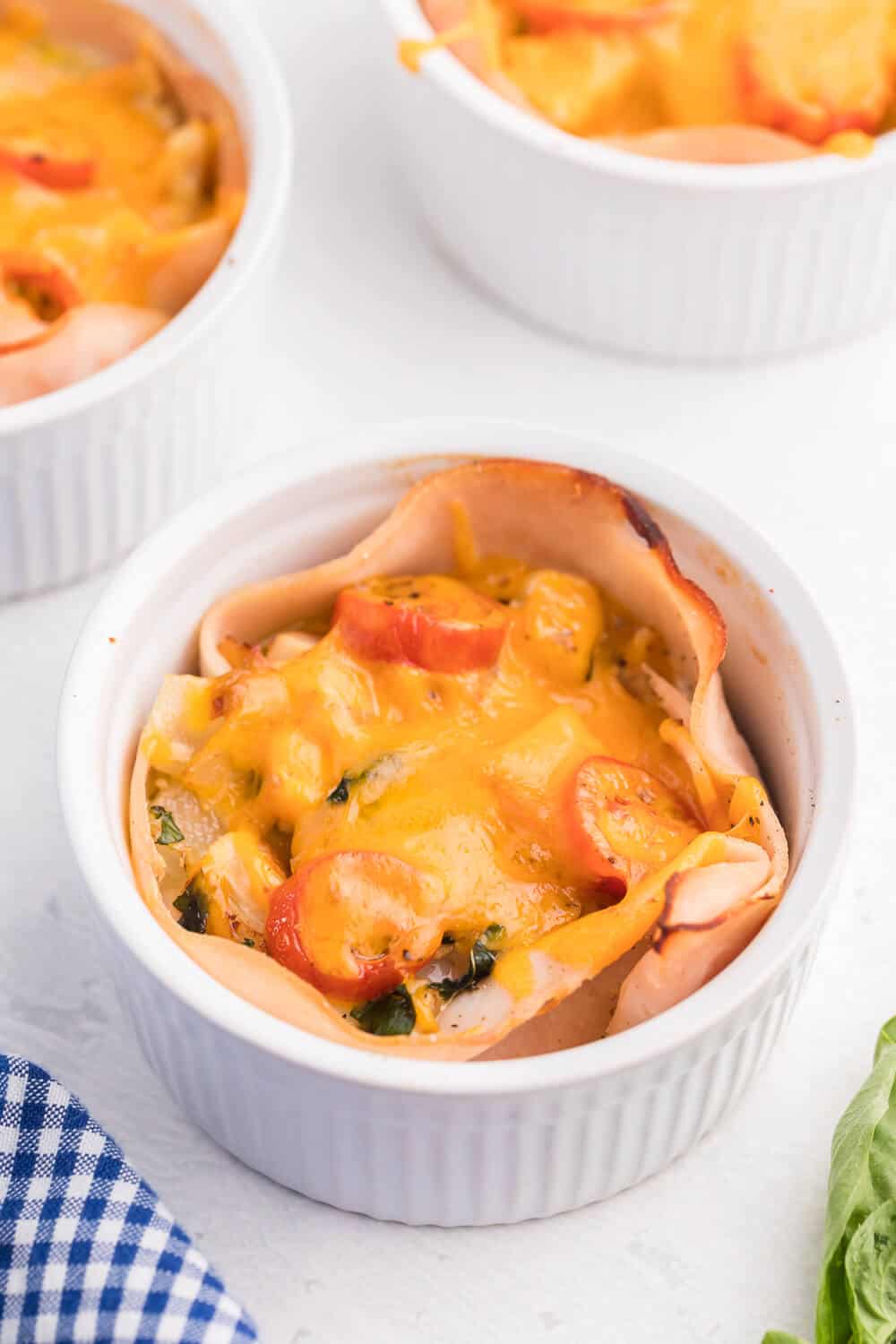 I also recommend the Shopping with Chicken app from Chicken Farmers of Canada. It's free to use with no in-app purchases and a great source for finding even more recipe inspiration. It's awesome for creating grocery lists because it lets you share them with other users (like family members) and it updates in real time. For instance, you and your family member could be shopping at the grocery store use the app to check items of the list. It syncs so you don't have to worry about picking up double an item and makes the process much faster. I usually grocery shop solo, but like being able to check the items off the list as I put them in my cart. Get the app on iOS or Android today!
You might also like these brunch recipes: Scrambled Egg Casserole, Mediterranean Brunch Bake and Honey Almond Breakfast Cups. For more eggs, check out these yummy BBQ Eggs.
You'll also like this Egg Salad Sandwich or Country Gravy.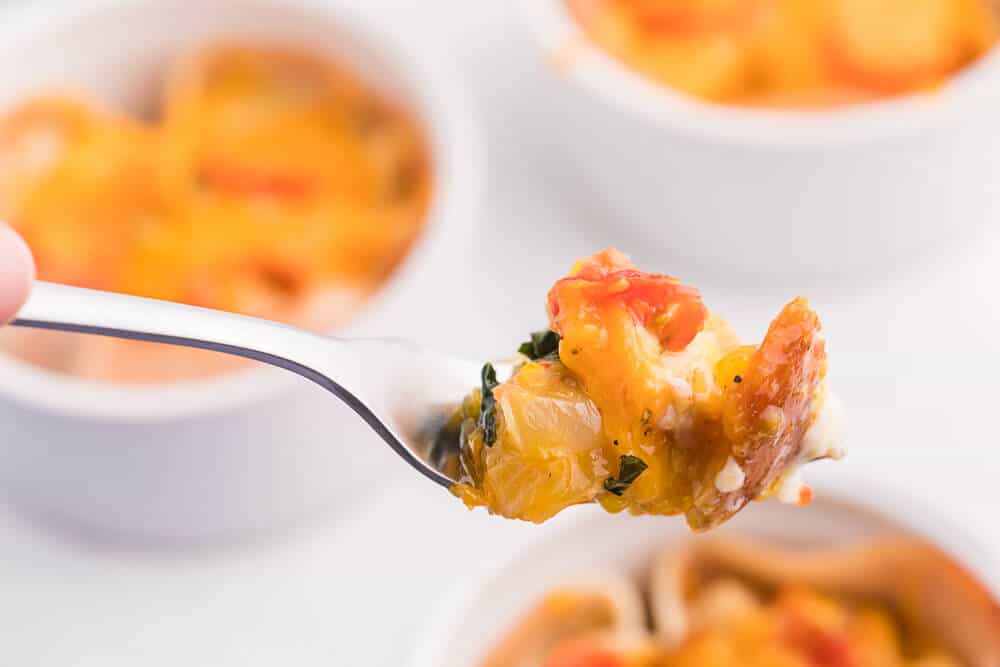 What is your favourite brunch recipe?
Connect with the Chicken Farmers of Canada on Facebook, Twitter, Instagram and Pinterest.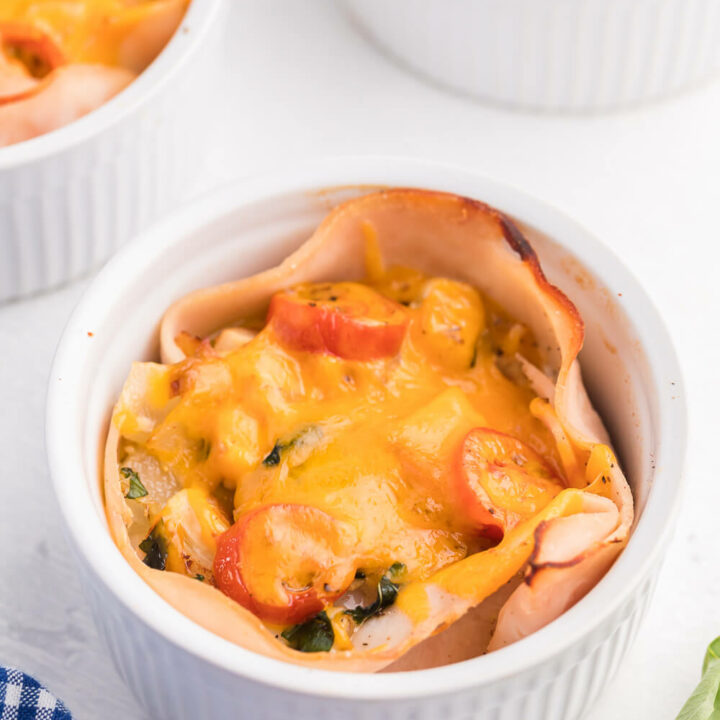 Chicken and Egg Ramekins
A brunch recipe your family will love! Chicken, eggs, cheese and fresh basil are baked to perfection in a ramekin.
Ingredients
8 slices deli chicken
1 teaspoon extra virgin olive oil
1/2 cup onions, diced
1 cup chicken breasts, cooked and chopped
2 tablespoons fresh basil, chopped
4 eggs
1/4 cup cherry tomatoes, sliced
1/2 cup cheddar cheese, shredded
salt & pepper, to taste
Instructions
Preheat oven to 350F. Spray four ramekins with cooking spray and set aside.
Heat olive oil in a skillet over medium heat. Saute onions and chicken for 3 minutes. Add fresh basil and saute 1 minutes. Set aside.
Arrange 2 slices of deli chicken in each ramekin covering the bottom and the sides. Crack an egg into each ramekin. Top with a couple tablespoonfuls of the chicken mixture. Top with cherry tomatoes and cheese.
Bake for 25 minutes until eggs are cooked to your preference. Serve hot.
Notes
You can use 4 slices of deli chicken if the slices are large enough to cover the muffin tin.
Recommended Products
As an Amazon Associate and member of other affiliate programs, I earn from qualifying purchases.
Nutrition Information:
Yield:

4
Serving Size:

1
Amount Per Serving:
Calories:

237
Total Fat:

12g
Saturated Fat:

5g
Trans Fat:

0g
Unsaturated Fat:

6g
Cholesterol:

242mg
Sodium:

513mg
Carbohydrates:

5g
Fiber:

1g
Sugar:

2g
Protein:

25g
Disclosure: I am participating in the Chicken Farmers of Canada campaign managed by SJ Consulting. I received compensation in exchange for my participation in this campaign. The opinions on this blog are my own.