Cabbage Roll Rice is one of our favorite quick and easy weeknight meals. My daughters always love spending time with me in the kitchen.
Cabbage Roll Rice gives you all the flavors of your favorite cabbage rolls, but with minimal work put into it.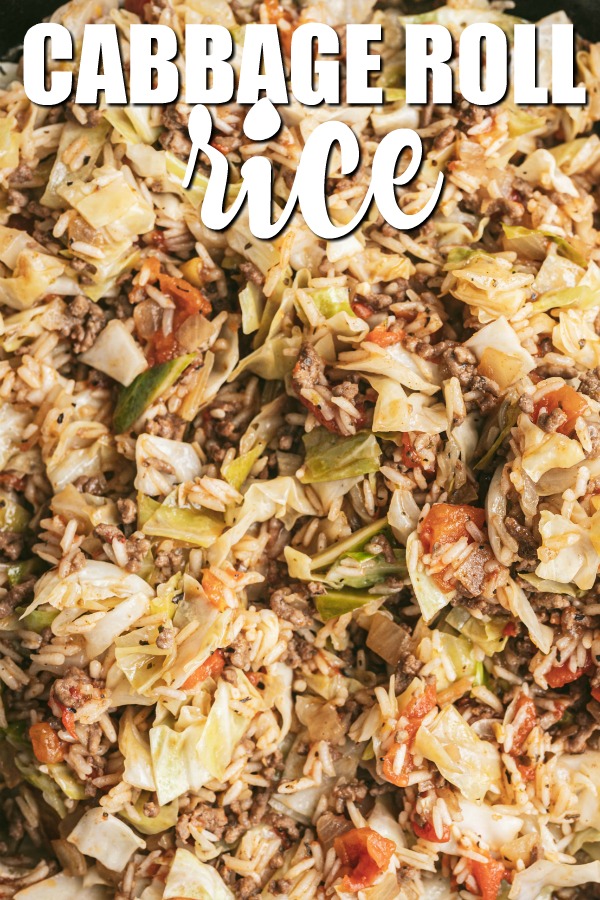 Cabbage Roll Rice
I used a quick rice so it really sped up the cook time on this dinner dish. I was able to have dinner ready in a little over 30 minutes.
Plus I added ground beef so it was a protein-packed dinner that the whole family enjoyed.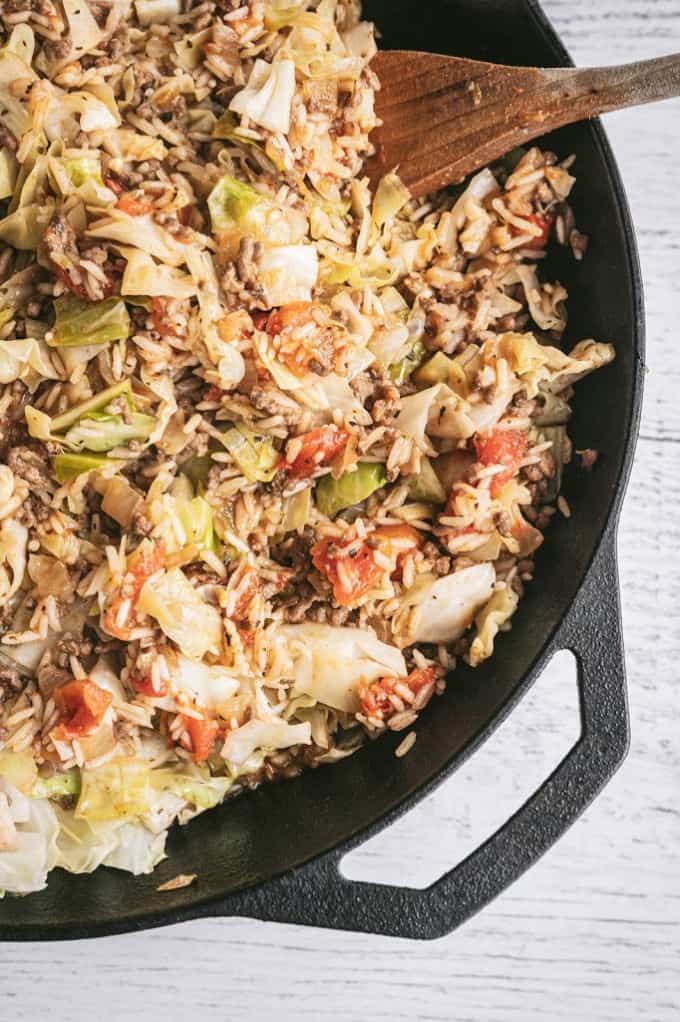 What is the Best Cabbage to Use
I used 2 cups of green cabbage that I roughly chopped for this recipe. If you use say store-bought shredded cabbage it will be really fine. It will break down a lot as it cooks.
So I always recommend buying a whole cabbage and chopping yourself so you can control the thickness. For our home thicker cuts of cabbage are what we prefer texture wise. So pick what sounds best to you.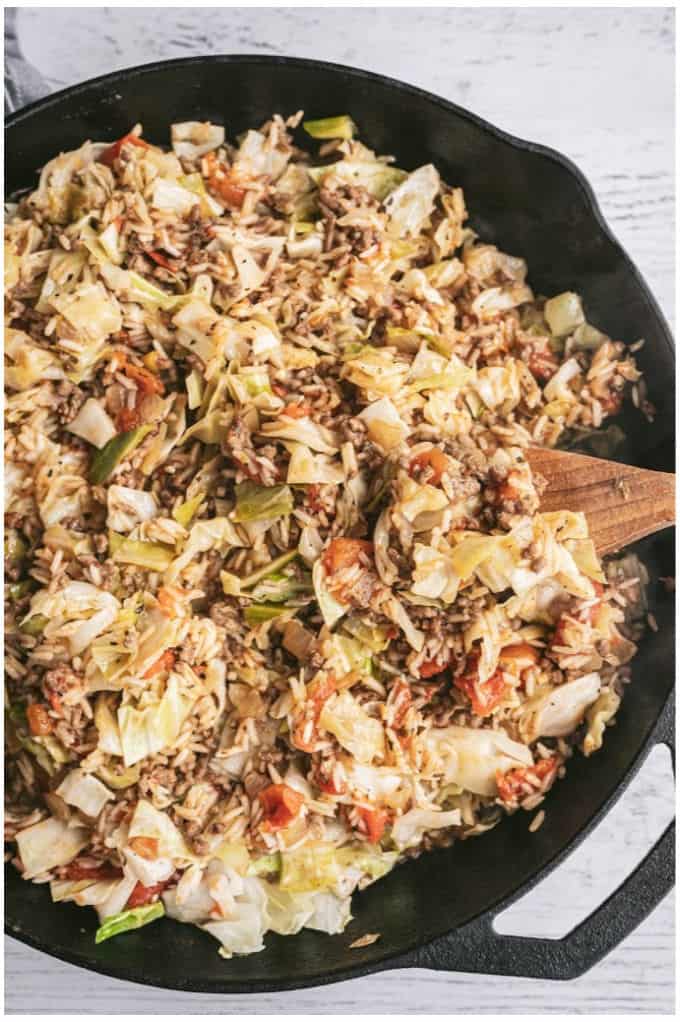 Here are more Rice Recipes
Chicken Fried Rice | Chicken Fried Rice is one of my favorite takeout rice dishes. If you want to learn how to make it at home, try this recipe. It is amazing and will curb your cravings.
Mediterranean Chicken and Rice | Take a walk on a different path of flavors with this Mediterranean dish. Loads of flavor, stores well, and is great for serving a crowd.
Wild Rice Mushroom Soup | Tender chicken, rich mushrooms and wild rice are what you get in every bite of this hearty and satisfying soup. Give this recipe a try today.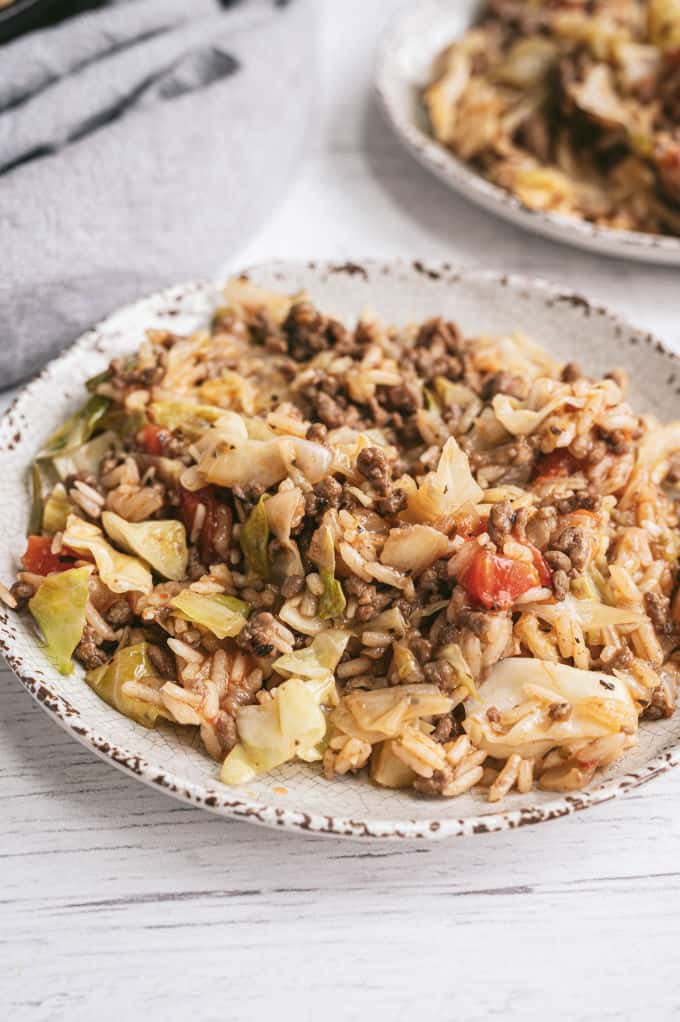 Can I Substitute Ground Beef in Cabbage Rice Recipe
Of course. You can reach for ground sausage, turkey or even ground chicken. All of these would work great.
When you swap out meat just know it will change the flavor of the dish. We love cooking with ground beef. If you wanted to try something different you could do part ground beef and part sausage. That would be a delicious combination as well.
Could I Use Cauliflower Rice Instead
Of course! If you are looking for a lower carb option you can simply replace the rice with a low carb cauliflower rice. Since cauliflower rice is more delicate you will want to only cook for what is directed on the back of the package of your cauli-rice.
It will offer a bit of a different flavor, but it will still be a filling and satisfying dinner that you and your family can enjoy.
If you love cauliflower rice, try my Cauliflower Rice Enchilada Bowl recipe. It is a great Tex-Mex inspired recipe.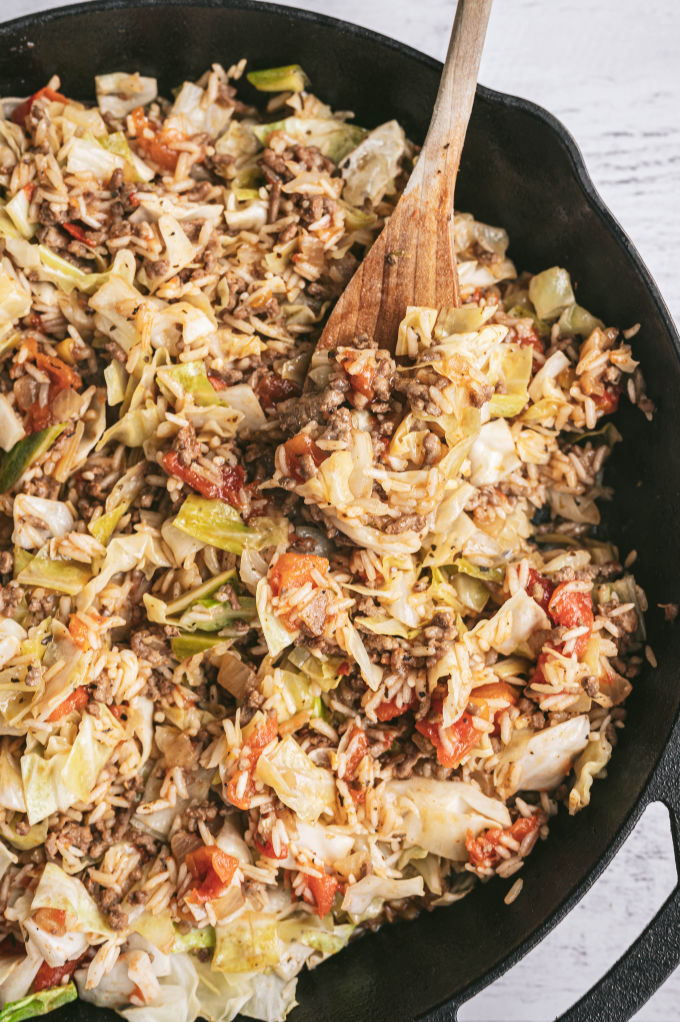 How to Store Leftovers
If you have leftover rice, you can place it in the refrigerator in an airtight container for up to three days. Due to the meat in the recipe you will find at that time it is best to throw out or use your best judgement in terms of quality.
Can You Freeze this Recipe
Unfortunately it will not freeze well. The cabbage would become extreme mush if you froze and thawed it. I would recommend only cooking what you plan to eat and then discard what you don't eat in time.
If the recipe is going to be too much you can easily break down the recipe to make a smaller portion. Or if you have a large family and need more feel free to double the recipe as well.
Could I Use Brown Rice Instead
Brown rice will work but you will need to adjust the liquid ratio and cook time. Same if you use a regular long grain rice. The rice used in this recipe is a quick rice or minute style rice. So you will need to adjust the simmer time and liquid to ensure the rice gets fully cooked.
Either way, the swap of the rice will work for you will just need to watch your dish a bit more as it cooks to ensure liquid stays in as it cooks and that the rice gets cooked fully.
If you have leftover rice you could use that in replacement to use up your leftover rice.
I hope I helped inspire you to get your kids cooking in the kitchen! Head on over to Ben's Beginners to enter this week's challenge.
You might also like this Hawaiian Fried Rice, Jamaican Curried Rice, Sweet and Sour Cabbage or Cabbage Roll Casserole.
Cabbage Roll Rice
The perfect one-pot dinner! This delicious rice dish is filled with cabbage, ground beef, and a host of seasonings.
Ingredients
2 cups cabbage, roughly chopped
1 lb. ground beef
1 tsp Worcestershire sauce
1 tsp salt
1 tsp paprika
1 onion, chopped
3 cloves garlic, minced
1 tsp oregano
1/2 tsp basil
796 ml can diced tomatoes, undrained
1/2 cup water
1 cup Uncle Ben's Converted Rice
Instructions
Add ground beef, onion, garlic, Worcestershire sauce, salt and paprika to a large saucepan over medium heat. Cook until the ground beef is browned (about 7 to 10 minutes).
Stir in cabbage, oregano, basil, diced tomatoes, water and rice and bring to a boil.
Once boiling, reduce heat to medium low. Cover and simmer for 18 minutes, or until rice is cooked and liquid is absorbed. Stir before serving. Serve hot.
Recommended Products
As an Amazon Associate and member of other affiliate programs, I earn from qualifying purchases.
Nutrition Information:
Yield:

6
Serving Size:

1
Amount Per Serving:
Calories:

284
Total Fat:

14g
Saturated Fat:

5g
Trans Fat:

1g
Unsaturated Fat:

6g
Cholesterol:

67mg
Sodium:

627mg
Carbohydrates:

17g
Fiber:

4g
Sugar:

6g
Protein:

23g