Cabbage Roll Soup Recipe
This week I'm participating in the Food Bloggers Challenge! I was tasked to create a recipe using the feature ingredient of the week. This week it's cabbage and I'm making a yummy Cabbage Roll Soup.
It's been awhile since I've used cabbage in our meals. It's not that I don't like cabbage because I do enjoy it. I think it's just that my favourite recipes don't use it as a main ingredient. I've made cabbage rolls in the past and they were the first thing I thought to make this week. The recipe I like is for unrolled cabbage rolls made with ground turkey. My aunt makes the best cabbage rolls and hers are rolled perfectly. When I tried her recipe, they did not turn out as pretty!
Cabbage Roll Soup
This week I decided to make Cabbage Roll soup. It's everything I love about a cabbage roll, but easier to make. It's also made in the slow cooker which saves me from slaving over the stove all day. It's slow cooker weather right now anyways and this soup is perfect to eat on a frosty day.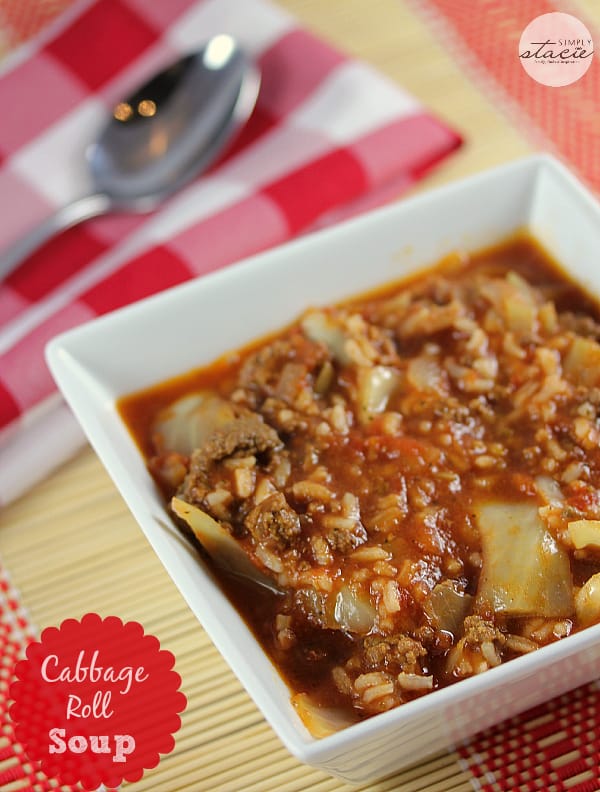 Also, try these comforting cabbage roll recipes and my Cabbage Roll Rice.
It also freezes well!

Yield: 8
Cabbage Roll Soup
Everything I love about a cabbage roll, but 100 times easier to make!
Ingredients:
4 cups cabbage, roughly chopped
1 lb. ground beef
1 tsp Worcestershire sauce
1 tsp salt
1 tsp paprika
1 onion, chopped
3 cloves garlic, minced
½ cup water
1 tsp oregano
½ tsp basil
680 mL can tomato sauce (or about 3 cups)
796 mL can diced tomatoes (or about 4 cups)
1 cup rice, uncooked
Directions:
Add onion, garlic, Worcestershire sauce, paprika, ground beef and salt to a skillet on medium heat. Cook until the ground beef is browned (about 7 to 10 minutes).
In a 6 quart slow cooker, add cabbage, oregano, basil, tomato sauce, diced tomatoes, water and ground beef mixture and stir to combine.
Cover and cook on low heat for 8 to 10 hours.
In last half hour of cooking, cook the rice according to package directions. Add the cooked rice to the slow cooker and stir to combine.
You will also love
If you enjoyed this soup recipe, you might also like these posts!