Peking Chicken is the best Asian-inspired Crockpot recipe for a busy weeknight! Just cover these tender chicken thighs in a mouthwatering ginger, honey, soy, and garlic sauce and let the slow cooker simmer it to perfection for a yummy chicken dinner.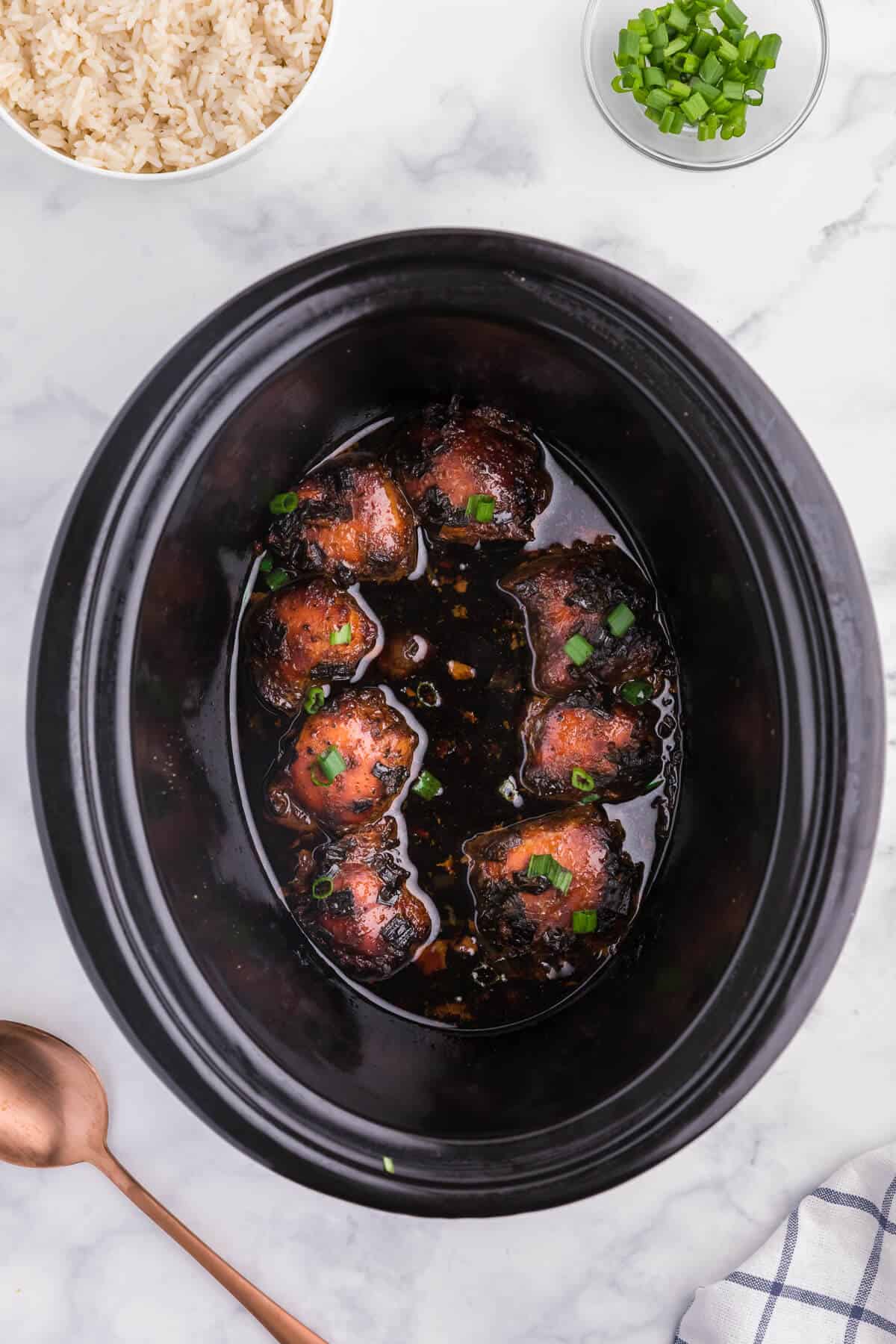 Chicken is my favorite protein! I use chicken recipes for every meal because it's cheap, versatile, and good for you!
If you love Peking Duck, give this slow cooker Peking Chicken a try! It's tender, flavorful and simmered to perfection all day in a homemade soy ginger sauce while you work. Serve it with fluffy white rice to take advantage of all the delicious glaze.
I typically cook chicken breasts, my favorite cut, so it was a nice change to try something different. The chicken thighs were tender, flavorful, and held up well to slow cooking all day!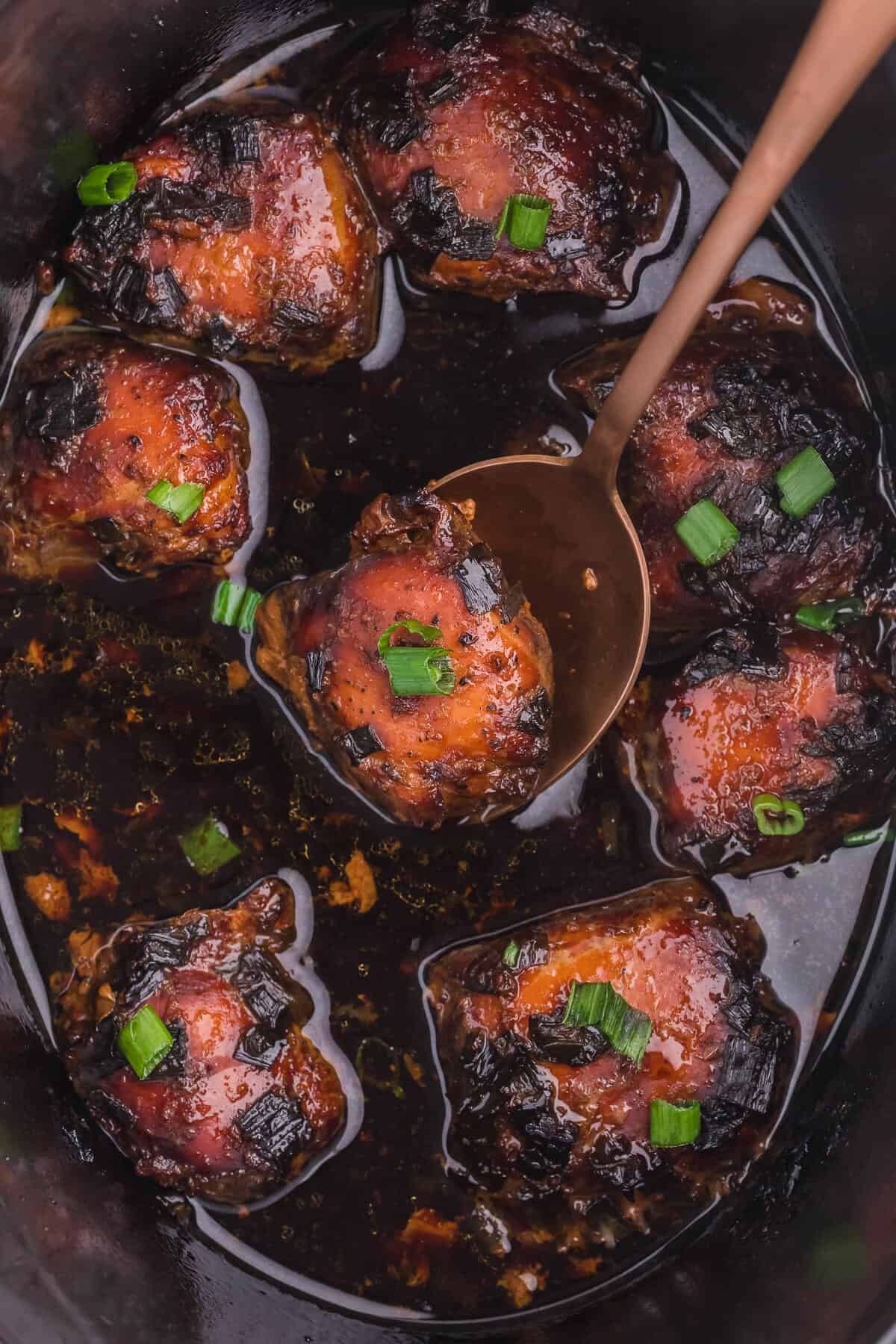 What Does Peking Style Mean?
When it comes to Chinese cuisine, there's so many styles under that massive umbrella. What exactly makes it a Peking sauce?
When you see Peking, think Beijing. These are the traditional foods of the capital of China! They tend to use high quality ingredients, like ginger, cilantro, and garlic.
The chilly area is also known for using noodles, dumplings, and breads more than the common white rice to have a more hearty meal.
Peking duck, dating back to the 14th century, is the most popular of the Peking dishes today. For this traditional recipe, an air-dried duck covered in a soy syrup before roasting it to perfection.
I use a dark meat chicken thigh for this recipe instead of duck and a Crockpot instead of traditional roasting, but the flavor profile is the same. Try this Peking chicken recipe and see if it stands up to your favorite takeout!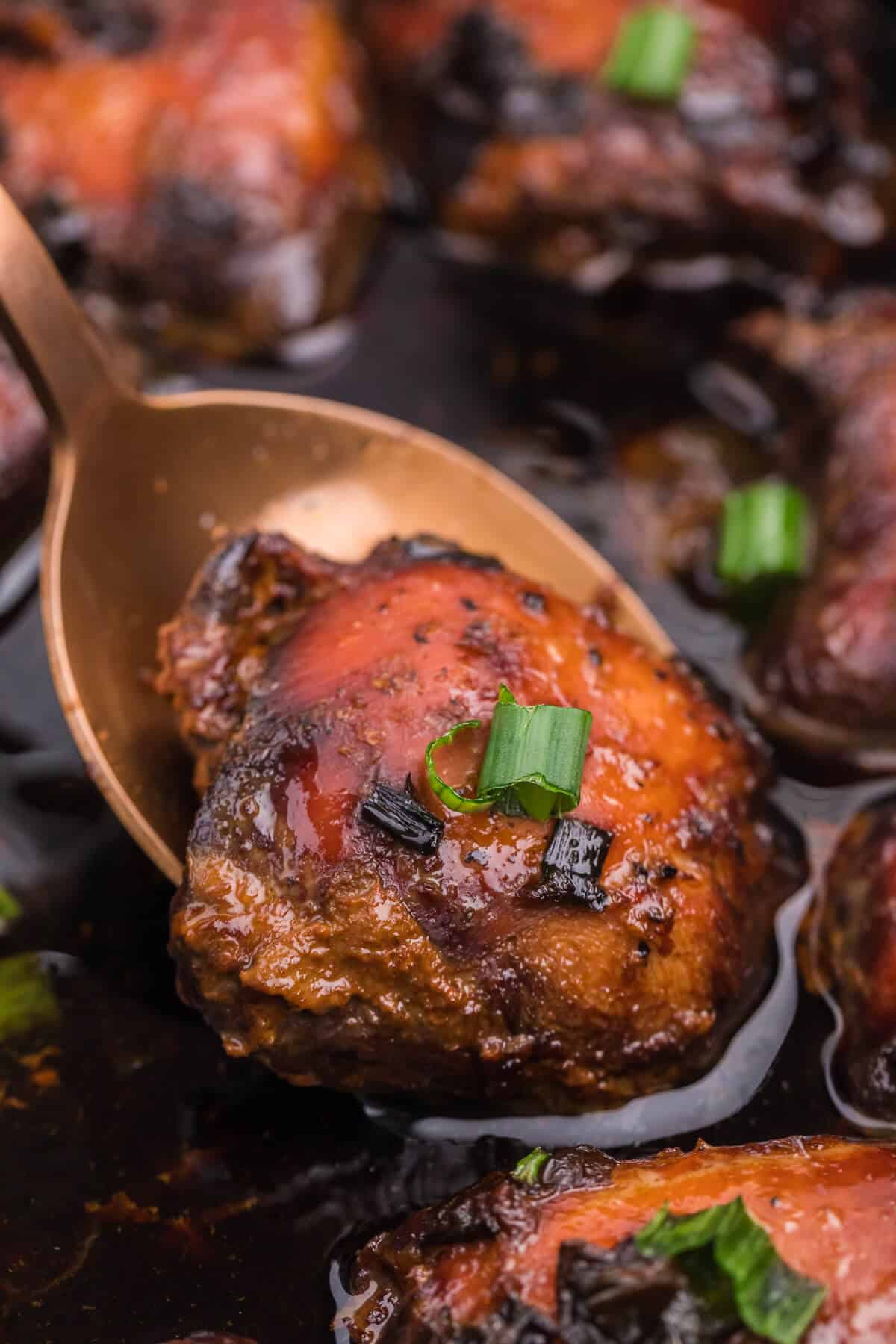 Ingredients
Boneless, skinless chicken thighs
Green onions
Garlic
Soy sauce
Honey
Ginger
Sesame oil
Salt and pepper
Cooking spray
I recommend chicken thighs for this recipe since it's the cut that most closely resembles duck. Dark meat chicken gets a bad rap, but it's super nutritious and the more flavorful chicken cuts! If you use bone-in chicken thighs, they will take longer to cook but fall off the bone when it's done.
I would recommend removing the skin, though. Unlike baked or sautéed chicken, there's no crispy skin in a slow cooker.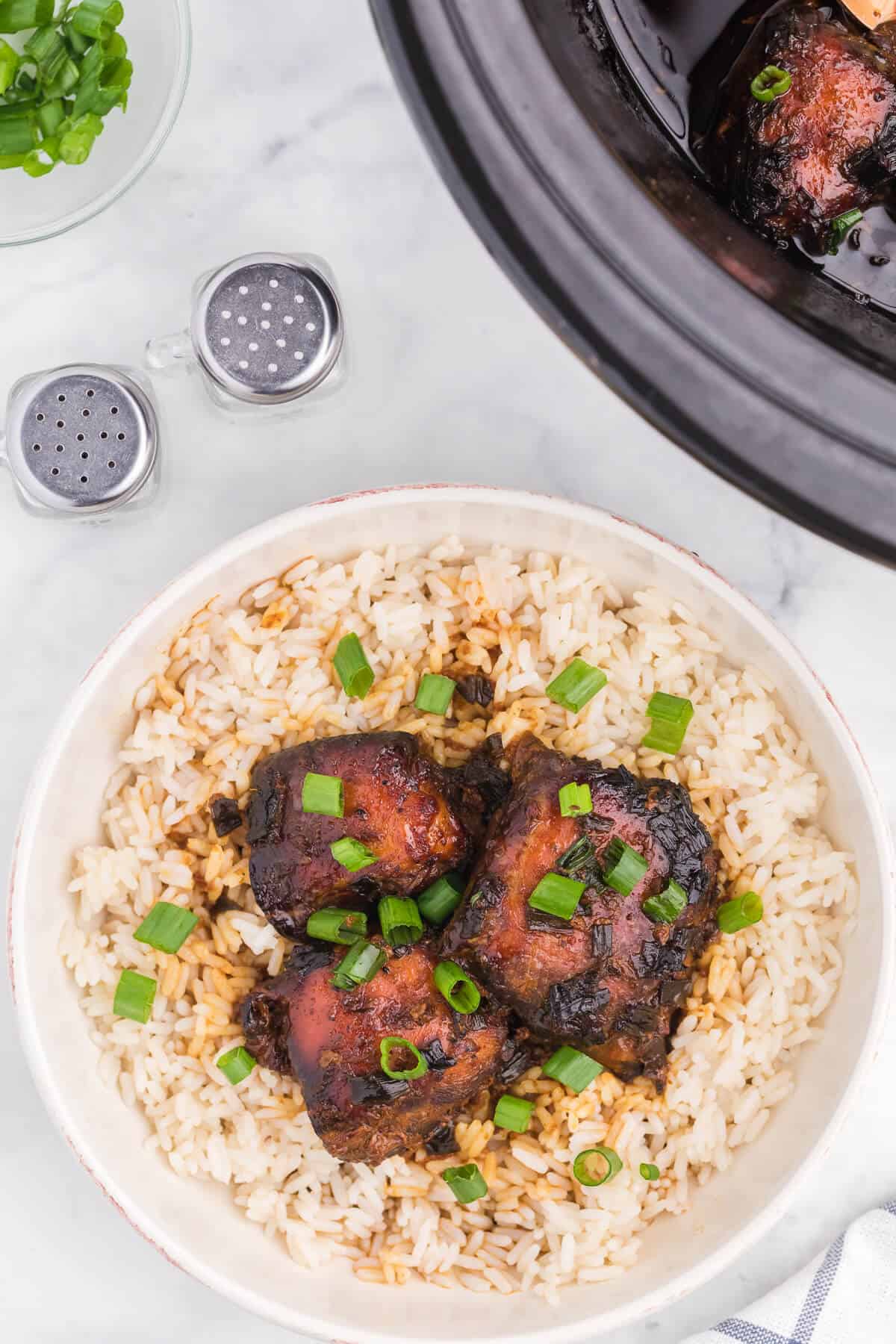 What I used for my Peking Chicken
This post contains affiliate links.
Crockpot: No matter what kitchen fads come and go, I'll always love my trusty slow cooker. There's nothing I can't make in this one-pot appliance, from breakfast casseroles to decadent desserts and everything in between.
Meat thermometer: Chicken needs to be cooked to at least 165 degrees F, but a dry, overcooked chicken can be almost as bad as raw chicken. Be sure to hit the mark every time with this amazing thermometer.
Measuring cups: When it comes to slow cooker recipes, measurements are usually more guides than strict rules. As long as you have enough liquid to cover the chicken mostly, you'll be fine.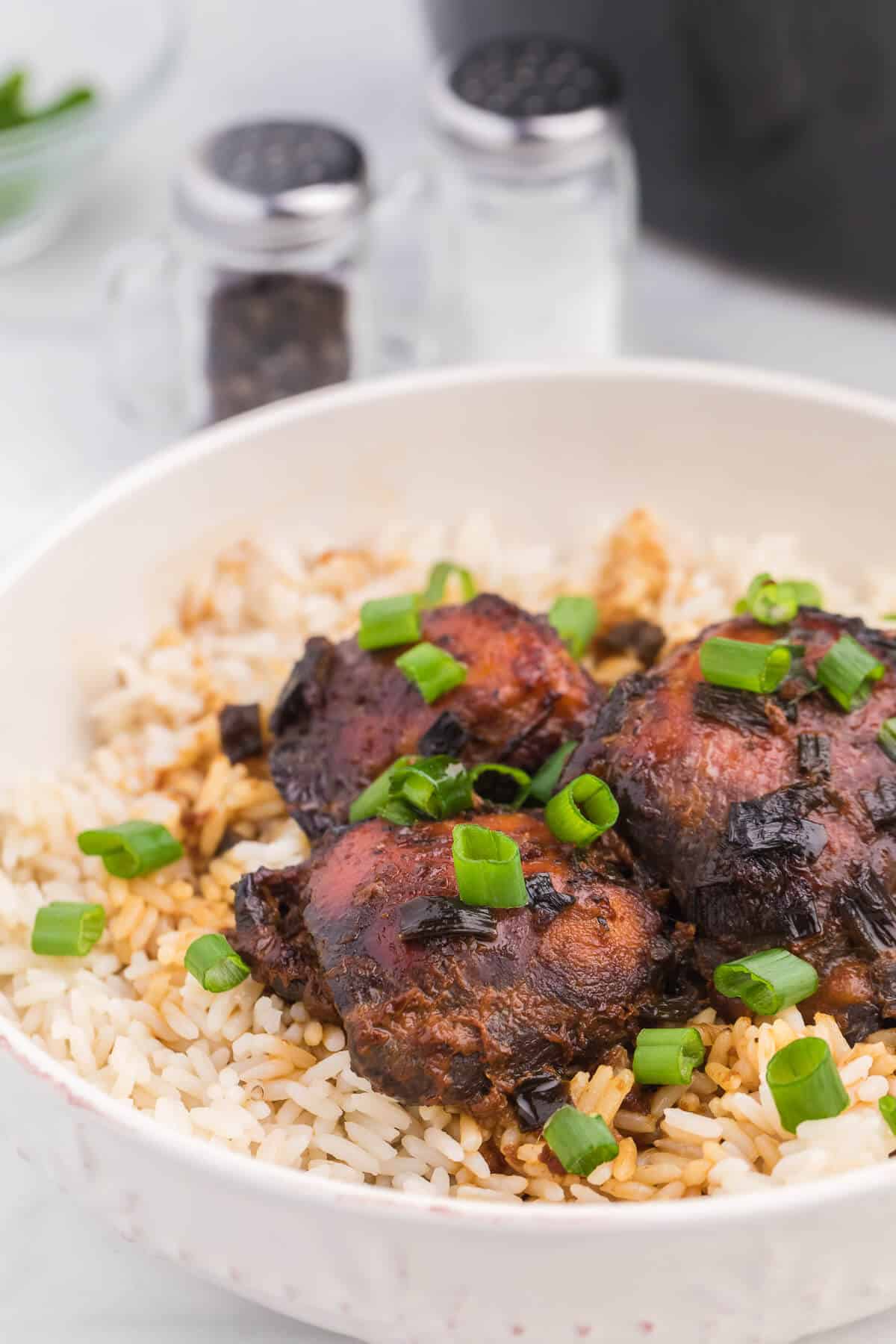 How to Make the Best Peking Chicken
First, spray the inside of your Crockpot with a thin layer of cooking spray. Any oil works here! Season your chicken thighs with salt and pepper on all sides, and place them in the greased slow cooker.
Then, whisk together the green onions, minced garlic, soy sauce, honey, minced ginger, and sesame oil. Pour the sauce over the chicken thighs.
Finally, let the slow cooker do the work! Cook the chicken thighs on low until they're fully cooked. You can baste the chicken every hour or so if you're home. The cooking spray will help keep the chicken and sauce from sticking while it cooks.
I used a meat thermometer to make sure my chicken is cooked every time. I'm nervous about cooking meat sometimes, so I wanted to be sure I wasn't serving my family raw chicken. You always want chicken, turkey, and pork to be at least 165 degrees F before serving to kill any possible bacteria.
Is It Ok To Put Raw Chicken in the Slow Cooker?
Raw chicken is always taken seriously in my kitchen. My kids knew from a young age how delicious but also dangerous chicken could be.
When it comes to slow cooking, you want to start with a raw product and cook it completely. It's the same with chicken!
When you let the raw chicken simmer all day in the yummy sauce, it actually absorbs way more flavor than it would just poured on after a regular sauté or baking. The sauce is delicious on its own, but it's another level when the juicy chicken thighs take on the soy, ginger, and honey sauce from the inside out.
That being said, you always want to double check your chicken is done before serving it! Juicy, lightly colored meat is the goal with no pink in sight.
If you stopped cooking a little too early, that's ok! Just throw it back in the Crockpot and keep cooking.
What to Serve with Peking Chicken
I like to keep this super simple with perfect white rice because sometimes there's nothing better than an easy dinner recipe.
If you want a fancier rice side dish, try this Hawaiian fried rice! It's the perfect tangy combo to match this Peking sauce.
Need a great grazing appetizer to keep the troops at bay while this cooks all day? Asian Chicken Nachos are super yummy and very on theme! Wonton chips are topped with veggies and a miso dressing.
If you want a clean green veggie to go with this dish, try some perfectly roasted asparagus. It's got a great crunch and is still great with a little mouthwatering Peking sauce on it.
Other amazing Crockpot recipes to try…
Crockpot Egg Roll in a Bowl
Slow Cooker Cranberry Chicken
Verde Chicken Chili in the Crockpot
Slow Cooker Cranberry Orange Chicken
40 Clove Garlic Chicken
Do you have any amazing Asian-inspired recipes? I'm always looking for more recipes to try! Follow me on Instagram @simplystacieblog, on Facebook at Simply Stacie, and on Pinterest @SimplyStacie and let me know how you liked this and my other recipes!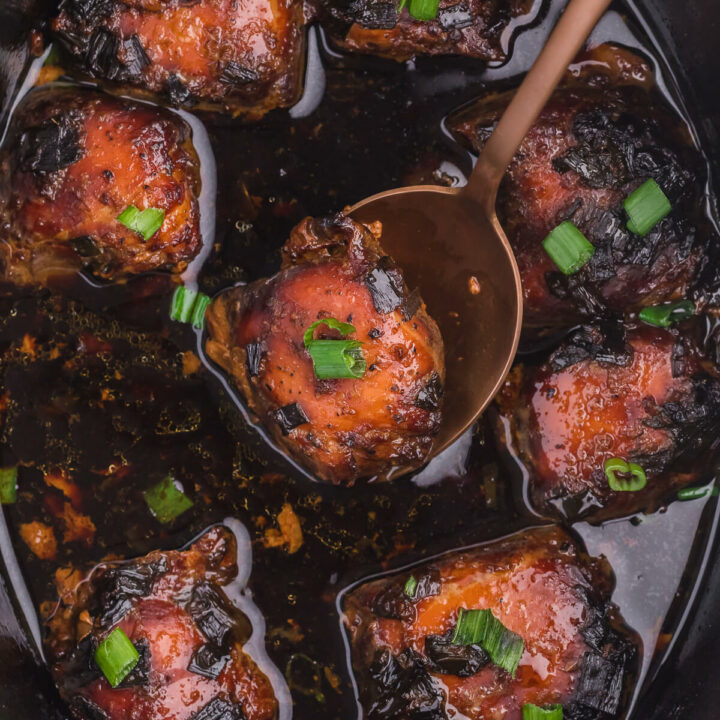 Peking Chicken
Total Time:
7 hours
10 minutes
If you love Peking Duck, give the chicken version a try! It's tender, flavorful and cooked to perfection in the slow cooker.
Ingredients
Cooking spray
5 to 8 boneless, skinless chicken thighs
6 green onions, sliced
4 cloves garlic, minced
1/4 cups soy sauce
3 tbsp honey
1 tbsp ginger, grated
1 tsp sesame oil
salt and pepper
Instructions
Spray the inside of the slow cooker with cooking spray. Place chicken thighs inside and season with salt and pepper on both sides.
In a small bowl, mix together green onions, garlic, soy sauce, honey, ginger and sesame oil. Pour over top of the chicken thighs.
Cook on low for 6 to 7 ours or until chicken is cooked completely.
Recommended Products
As an Amazon Associate and member of other affiliate programs, I earn from qualifying purchases.
Nutrition Information:
Yield:

6
Serving Size:

1 bowl
Amount Per Serving:
Calories:

205
Total Fat:

6g
Saturated Fat:

1.5g
Unsaturated Fat:

3.7g
Cholesterol:

116.7mg
Sodium:

400mg
Carbohydrates:

11.6g
Fiber:

0.3g
Sugar:

9.7g
Protein:

25.5g