Cabbage Roll Casserole
I love cabbage rolls, but don't make them very often. They are too fussy for me and always look a mess. I can never roll out those neat cabbage parcels. That doesn't mean I still can't enjoy the flavours. I've made Cabbage Roll Soup, Cabbage Roll Rice and, now, Cabbage Roll Casserole. Yum!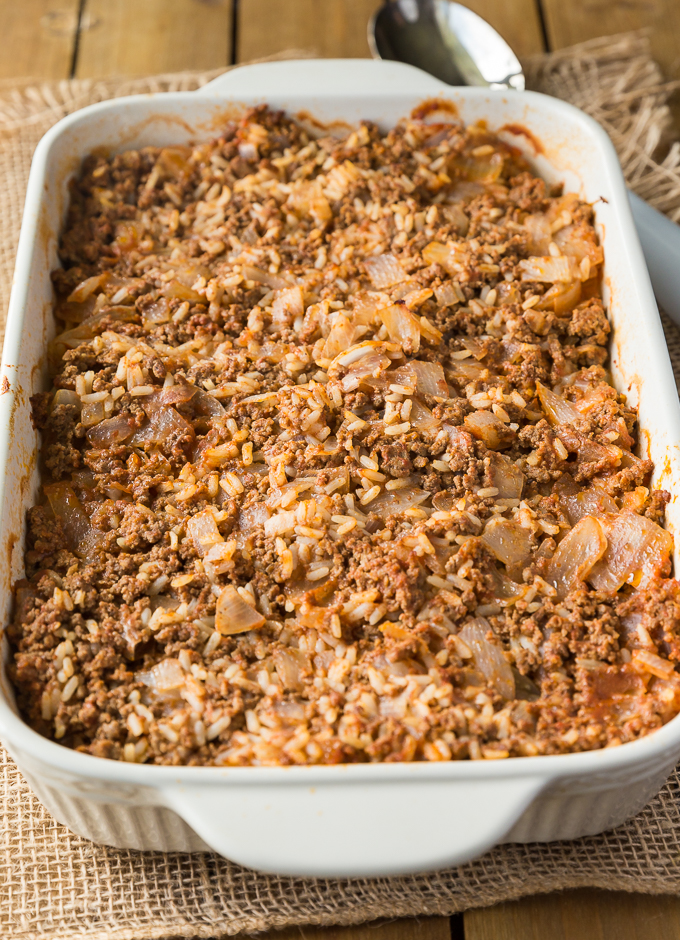 Cabbage Roll Casserole
This Cabbage Roll Casserole may not be the prettiest of dishes, but it sure is tasty. It's also easy to make. The hardest part is cutting up the cabbage into shreds.
Serve with a dollop of sour cream for a delicious, comforting meal. If you aren't going for looks and more for taste, this is the meal for you.
Yield: 8
Cabbage Roll Casserole
Enjoy the simple flavours of cabbage rolls without all the fuss!
Ingredients:
1 1/2 lb ground beef
1 onion, chopped
1 garlic clove, minced
1 tsp salt
1/4 tsp pepper
1 3/4 cup tomato sauce
1 3/4 cup water
1/2 cup long grain rice, uncooked
4 cups shredded cabbage
sour cream, for garnish
Directions:
Preheat oven to 350F.
Add ground beef, onion, garlic, salt and pepper to a skillet over medium high heat. Cook until beef is browned and onion is softened. Add tomato sauce and water. Stir in rice and bring to a boil. Turn down heat to low and cover. Simmer for 20 minutes.
Place 1/2 cabbage in a 9×13 baking dish. Cover with 1/2 rice mixture. Repeat layers. Cover with aluminum foil and bake for 1 hour. Serve with sour cream.
Enjoy the simple flavours of cabbage rolls without all the fuss!
Do you make any different variations of cabbage rolls?