Cauliflower Rice Enchilada Bowl is a low carb dish that you will want to make. This cauliflower rice bowl is also vegetarian, as there is no meat in the dish. A fun twist on an enchilada bowl. Light, filling, and tasty.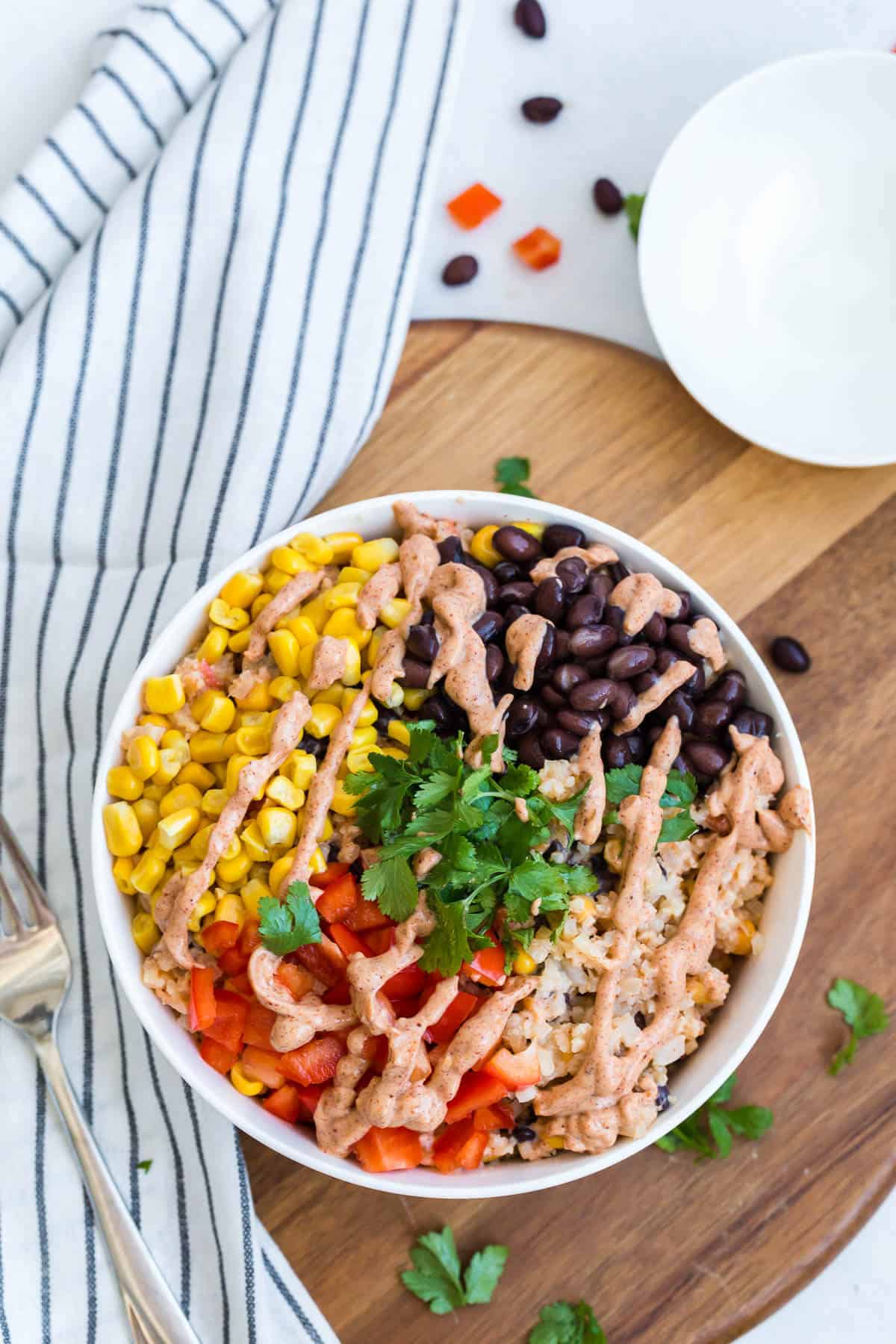 Are you watching what you eat or limiting carbs? I've been eating healthier since the beginning of the year and that means I've cut back a great deal on carbs. Though I enjoy making and eating rice, it's something that I don't have too often anymore. Good thing there are other flavourful alternatives like cauliflower rice! It's healthy, low carb and delicious. And I can enjoy it guilt-free! I don't feel bad about having seconds.
Cauliflower Rice Enchilada Bowl
This recipe for Cauliflower Rice Enchilada Bowl has all the spicy Mexican flavors I love minus the carbs. Even if you don't care that much for cauliflower on its own, you might like it in this recipe.
I've made cauliflower pizza crust and mashed cauliflower in the past. Though you can tell that it's different, it still tastes good to me especially when I know that I can eat it without worrying about my waistline!
At first glance, you can't even tell that it's not actually rice in the bowl. If you look close enough you can see, but you'll have to get past all the bright toppings taking centre stage!
Whether you are watching your weight or not, this Cauliflower Rice Enchilada Bowl is a healthy way to get the daily recommended amount of veggies in without sacrificing taste!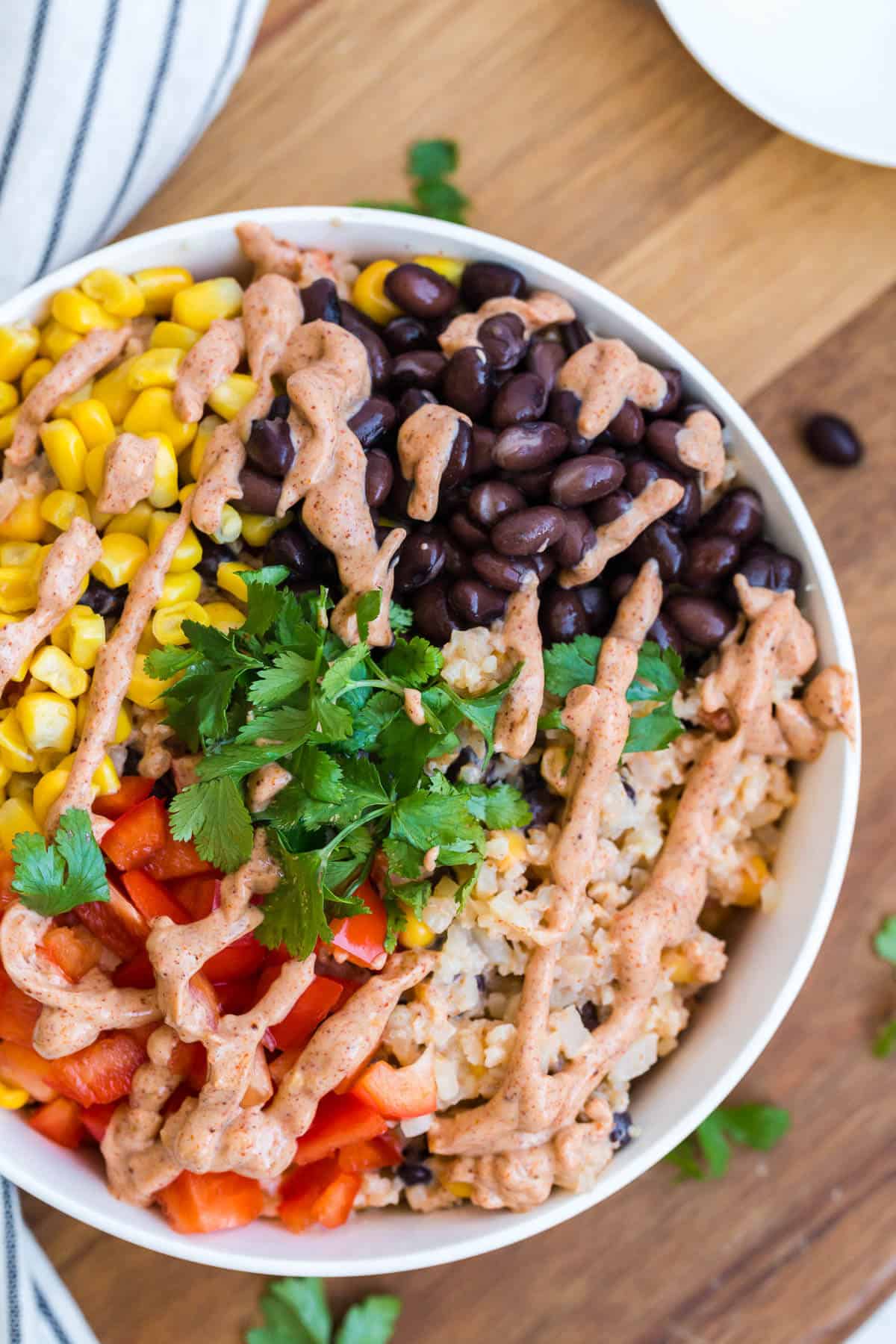 What is Cauliflower Rice?
Cauliflower rice has taken the world by storm. Anyone follow a low carb or keto diet has probably tried cauliflower rice by now. Cauliflower rice is cooked cauliflower that is then chopped up and pulsed in a food processor to mimic rice. It is a similar texture but without all the empty carbs like traditional rice.
Can I Use Store-Bought Cauliflower Rice for this Bowl Recipe?
Yes. You do not have to make homemade cauliflower rice. You can find pre-made cauliflower rice in your produce section in the fridge or even the freezer section at your local grocery store. It is a great way to cut a corner on prep if you don't have a ton of time.
I will say making homemade cauliflower rice is rather easy. But if you don't own a food processor, it might be just as easy to buy pre-made.
Can I Add Meat to this Enchilada Bowl Recipe?
Yes! Feel free to cook up ground beef or even turkey and use that to sprinkle over the dish. It will add even more flavor to the dish, and protein to fuel you for the rest of the day. Or if you want to stick to vegetarian but want more, add in cut up tofu.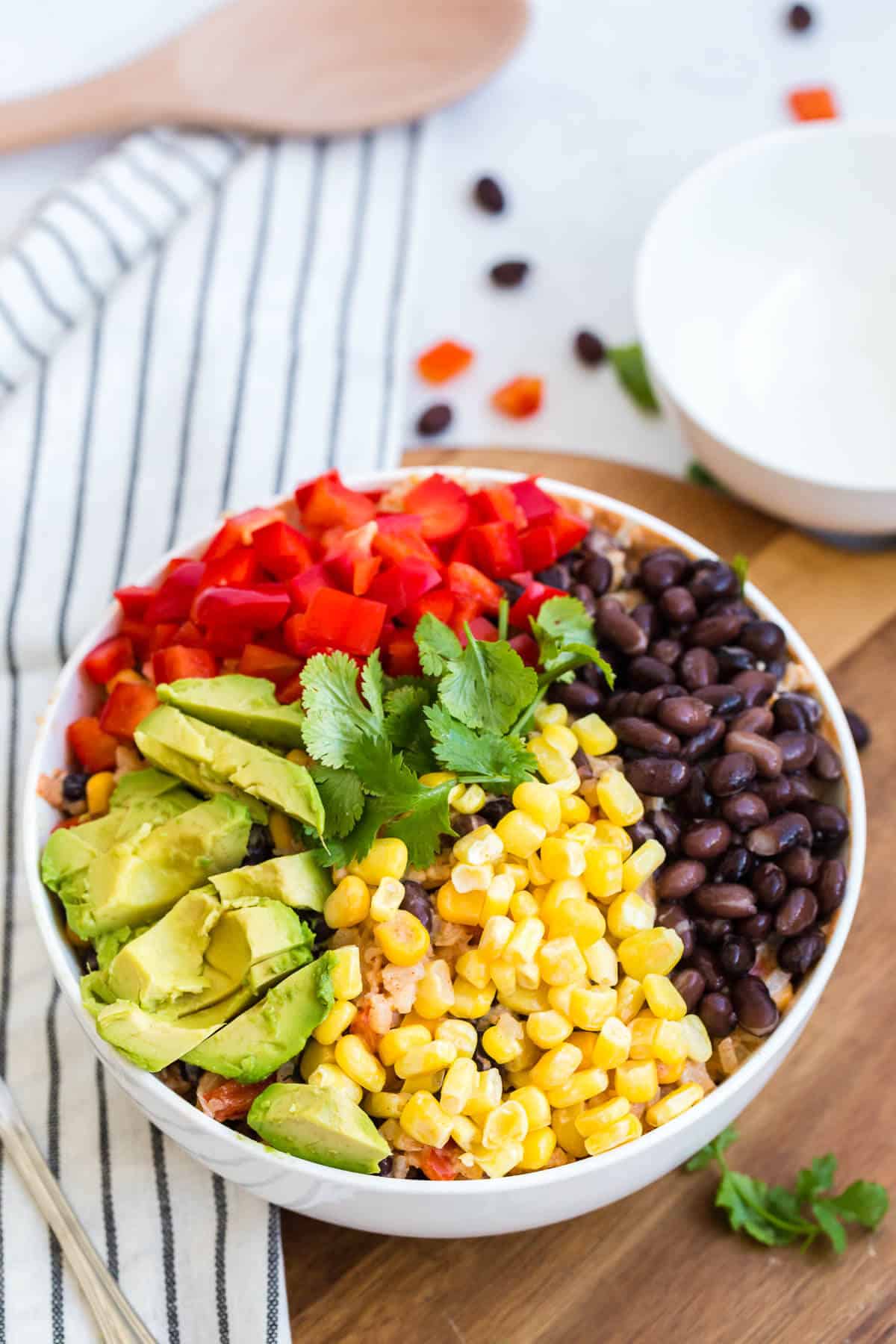 Toppings for Cauliflower Rice Enchilada Bowl
Fresh Avocado
Shredded Cheese
Green Onions
Pico De Gallo
Jalapeno Slices for heat
Salsa
Fresh Lime Juice
You can add any of your favorite toppings you enjoy eating with enchiladas or even tacos. They all work great, and we switch it up to what we have on hand. I have even added in fresh lettuce and it was fantastic.
Can I Swap Out Black Beans in Cauliflower Rice Bowl?
Sure, you could even reach for a pinto style bean and add it into the mix. Traditionally black beans pair really well with Mexican based foods and spices. But you are free to swap it with whatever bean works best for you.
How to Make Cauliflower Rice Enchilada Bowl
Start by prepping your cauliflower rice. You want to chop your cauliflower into chunks and pulse in a food processor. Do this until the cauliflower reaches a rice texture. Then cook it in a steamer basket for five minutes to tenderize it.
One that is cooking mix your sour cream and taco seasoning in a bowl. Then in a bowl add in part of your beans, corn, and tomato and stir sour cream. Then you can assemble your dish with rice on the bottom, sour cream mixture, then top with the remaining beans, corn and tomato mixture.
How to Store Leftovers
You will want to transfer any leftovers you have into storage containers that are airtight. I do recommend if you can keep the rice separate from the sour cream base. This will help it to hold up better. If you do meal prep I always do one side of the container with topping and the other side of the rice. It helps the rice hold the texture better.
Or if you plan to reheat store the rice separate so you can heat the rice up and the sour cream mixture stays chilled as it should.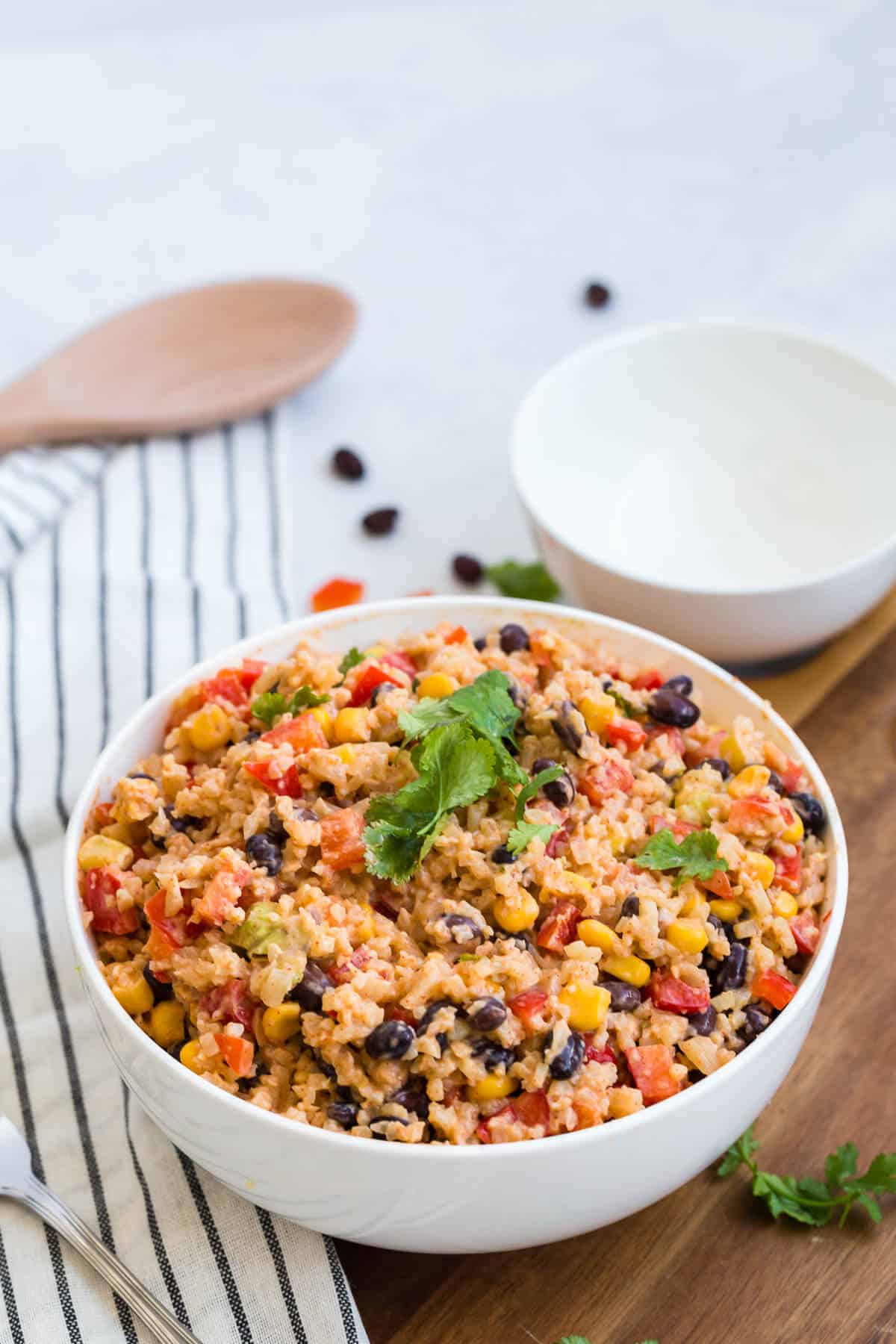 Craving More Mexican Inspired Recipes
Vegan Mexican Casserole | If you have dietary restrictions and are vegan, check out this recipe. It is a casserole with easy prep and tons of Tex-Mex flavor.
Mexican Meatballs | Try these Mexican meatballs! They are juicy, tender, and bursting with flavor. I highly recommend these for any meatball lovers.
Easy Mexican Stuffed Peppers | These are incredible. Tender peppers that are stuffed with a Mexican filling and baked till the cheese is golden brown.
You'll also love Chicken Enchilada Soup and Beef Picadillo Shepherd's Pie.
Have you ever tried cauliflower rice?
You'll also like Cauliflower Soup with Bacon.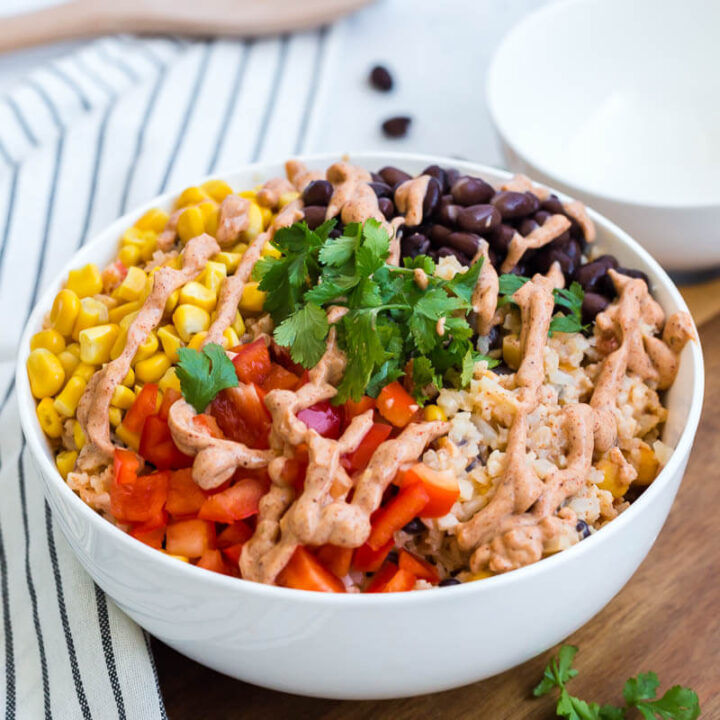 Cauliflower Rice Enchilada Bowl
The low-carb option for Taco Tuesday! This light vegetarian dish is made with cauliflower rice, corn, black beans, sour cream, and a little avocado on top.
Ingredients
1 head cauliflower
1 cup black beans, rinsed and drained
1 cup frozen corn, thawed
1 cup diced tomatoes
1 packet taco seasoning
1⁄2 cup sour cream
1 avocado, peeled and sliced
Instructions
Cut cauliflower into large pieces. Pulse in food processor until it resembles pieces of rice. Transfer to steamer basket and steam for 5 minutes.
Meanwhile, combine sour cream and taco seasoning in a small bowl. Set aside.
Reserve 1⁄4 cup each of black beans, corn and tomato. Combine the remaining black beans, corn and tomatoes in a medium bowl. Stir in sour cream mixture.
Once cauliflower rice is done, transfer to large bowl. Mix in bean and sour cream mixture. Top with reserved black beans, corn and tomato. Add sliced avocado to the top and serve.​
Recommended Products
As an Amazon Associate and member of other affiliate programs, I earn from qualifying purchases.
Nutrition Information:
Yield:

4
Serving Size:

1
Amount Per Serving:
Calories:

299
Total Fat:

14g
Saturated Fat:

4g
Trans Fat:

0g
Unsaturated Fat:

8g
Cholesterol:

17mg
Sodium:

609mg
Carbohydrates:

37g
Fiber:

14g
Sugar:

8g
Protein:

10g