"Eat your veggies!"
Sometimes I feel like a broken record. My kids have been picky eaters since birth. Even as babies, both girls turned their noses up at the pureed vegetables I tried to feed them. I know my mom is thinking, "karma" because I did the same thing to her. I was a veggie hating kid until I was 20 years old. Now? I can't get enough of them. I'm hoping my kids grow out of it, too.
Did you know that the earlier you introduce a food, the more likely a child will accept it and continue to eat it throughout their lifetime? A child's palate is set at around three years old so it's important to offer kids a diverse selection of foods during their younger year. My kids are well past that age at 18 and 12 years old. Maybe I caved too easily as a young mom and fed them more of what they would eat. I'm trying now to make up for that and include vegetables (and lean proteins) with every meal.
The good news is that research shows that anyone's palate can be changed at any age. Nutritionists call this "habituation" or "flavour training". If you're like me with older kids who are picky eaters, don't despair. There is still hope for us!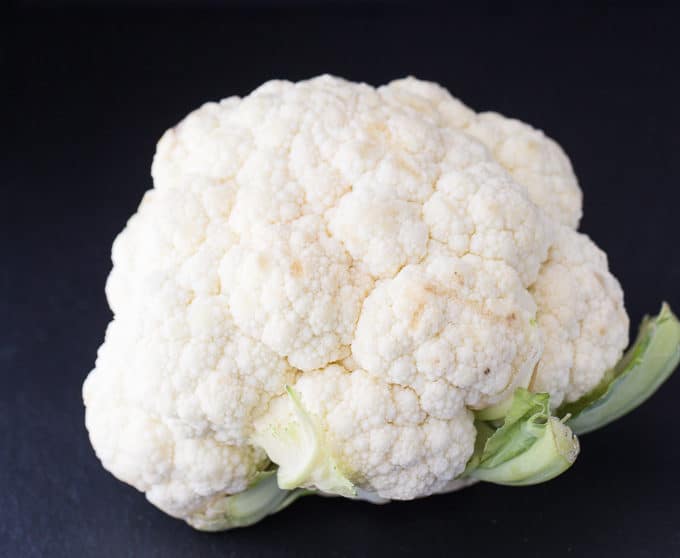 One tip I picked up over the years of dealing with picky eaters is that you can enhance flavours to make a dish more palatable to your kids. For example, if I were to serve them plain cauliflower, I'd get some dirty looks and they wouldn't touch their plates. However, if I add a little flavour or what I like to call "oomph" to the dish, it's a different story.
Disclosure: I was compensated for this post. All opinions and experiences are my own.
One item I've had recent success with is adding Maille Honey Dijon Mustard to my vegetable recipes. It adds an element of sweetness and delicious flavour that my kids love. We love it on sandwiches, but it can be used in SO MANY different ways!
Here are a few ideas of how to use it in your cooking:
Add to sauces and dips: Use as emulsifier in place of high-fat ingredients like butter and cream.
Add to vinaigrettes: Use as a binding agent between olive oil and vinegar giving your dressing a smooth and wonderful flavour.
Add to meats and veggies: Use in your marinades or glazes to amplify the flavour of whatever you are cooking.
Add to desserts: Use as a secret ingredient to add a wow factor to your dessert recipes. I'm totally serious! Check out this Chocolate Ganache Tart.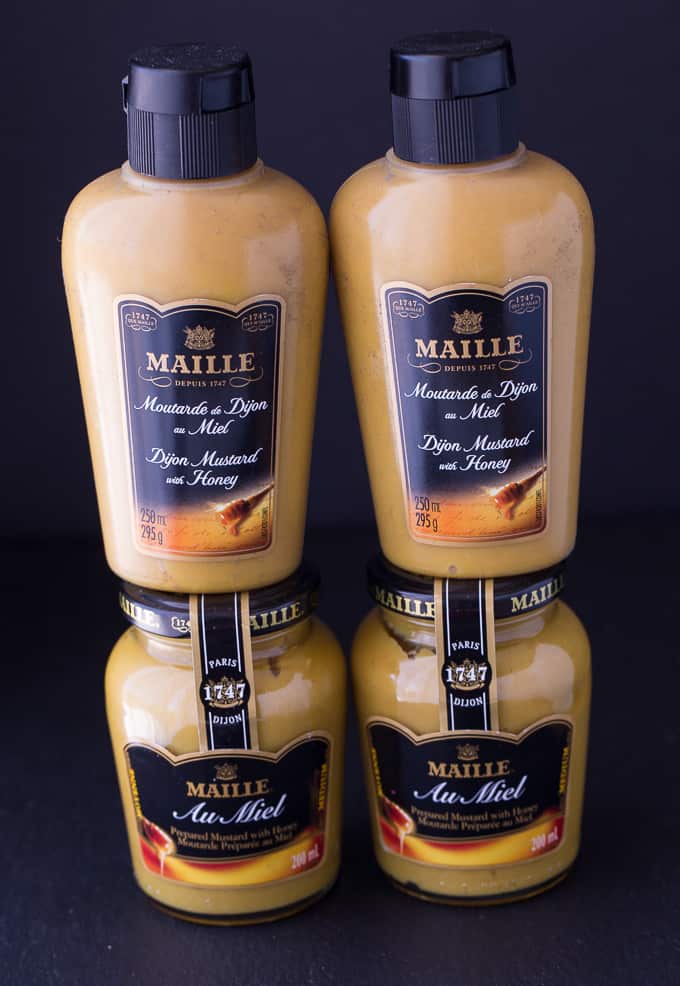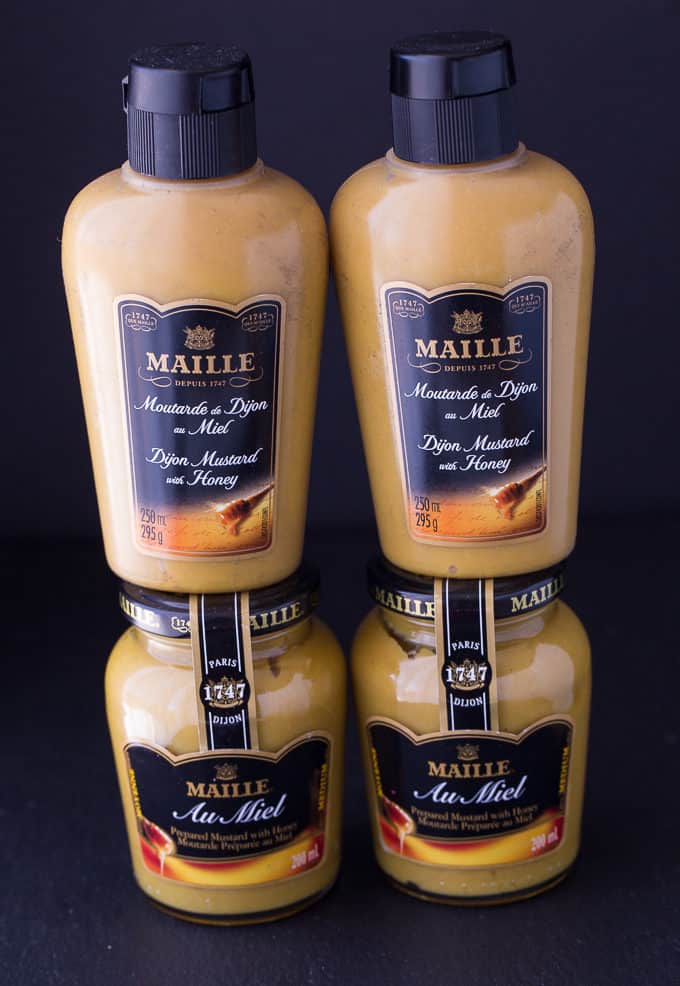 I love the taste of Maille Honey Dijon Mustard. It has a beautiful flavour tension with the sweet blossom honey and tangy Dijon mustard. It's also only 30 calories per tablespoon and has important nutrients like omega-3 fatty acids, selenium, fiber, protein, magnesium, iron and calcium. It's an ingredient you can feel good about using in your recipes.
Another tip to get a picky eater to try a recipe is to get your child to help you make it. He or she will be more likely to try the dish if he or she had a hand in making it – in my personal experience, anyways!
Honey Dijon Baked Cauliflower
Bridget and I improved the taste of cauliflower with this amazing Honey Dijon Baked Cauliflower recipe using Maille Honey Dijon Mustard. It's simple and quick to make and makes a healthy side dish.
The secret is in the sauce. We added Maille Honey Dijon Mustard to enhance the flavour of the creamy sauce to cover the cauliflower. It adds a hint of sweetness and was so good we were licking the sauce out of the pan.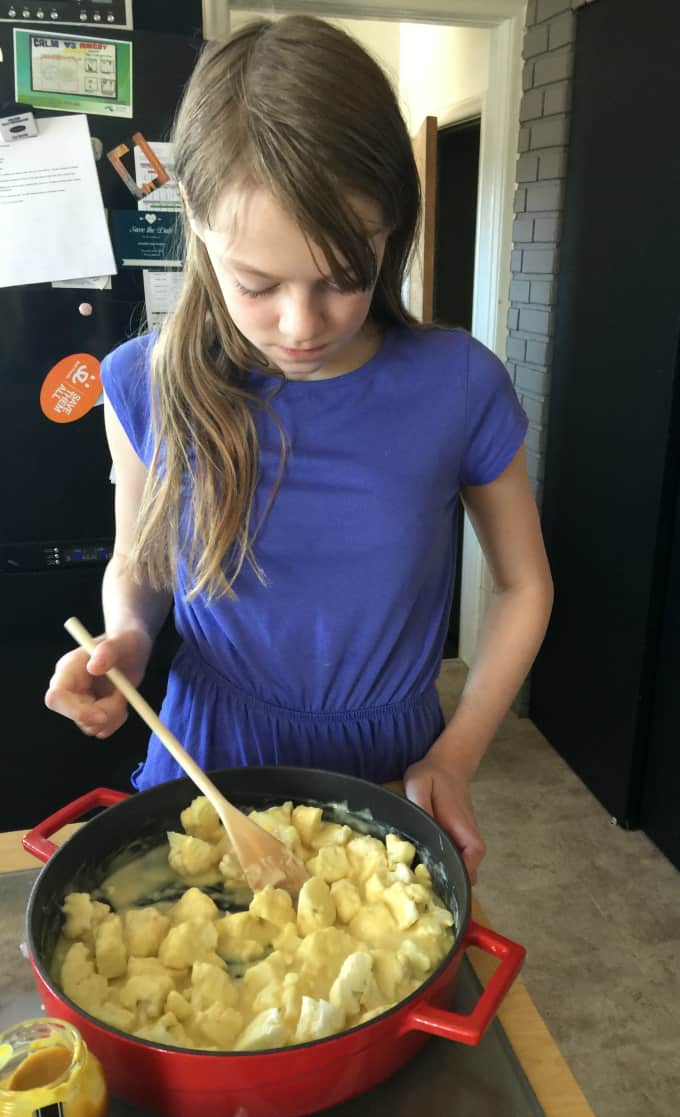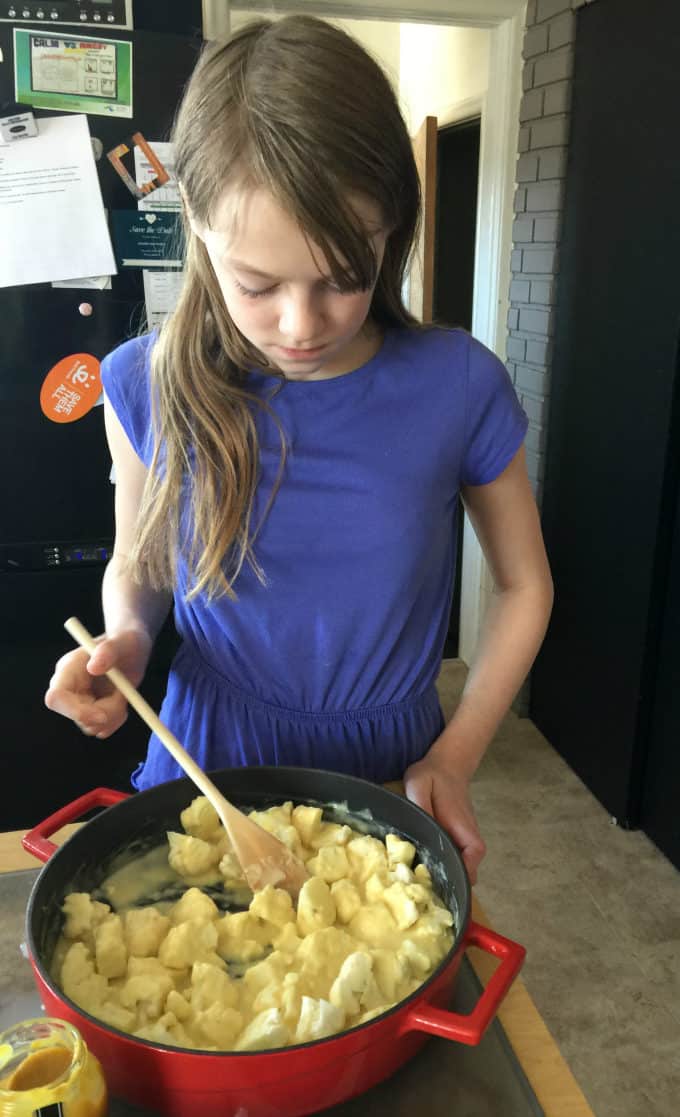 I topped the dish with a little bit of breadcrumbs and Parmesan cheese to add a little bit of texture. The cauliflower came out nice and tender, but the sauce gives this recipe a "Wow" factor.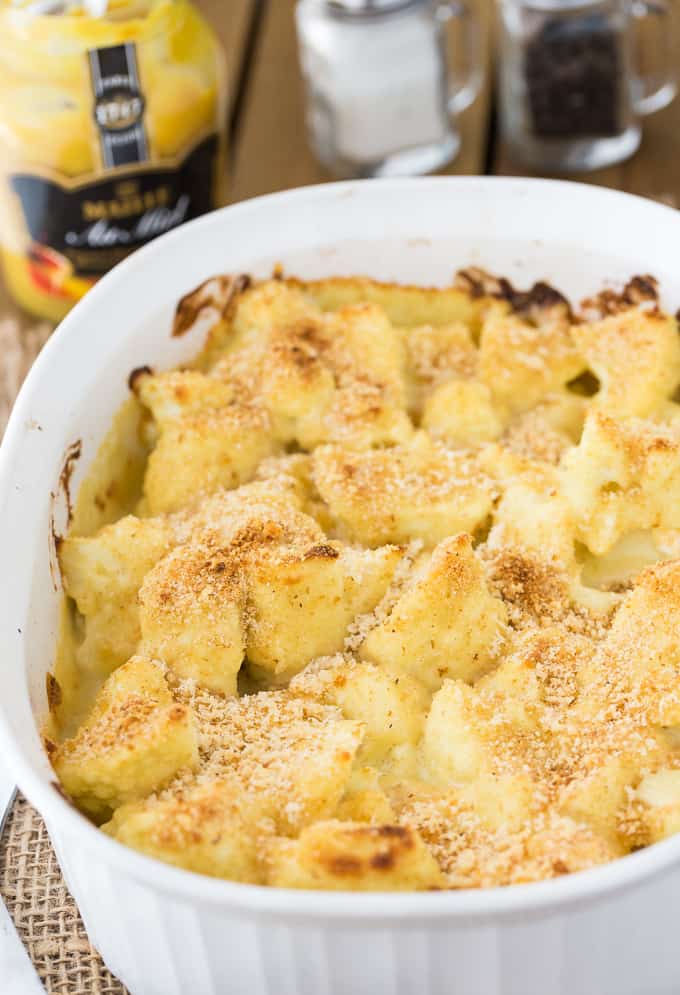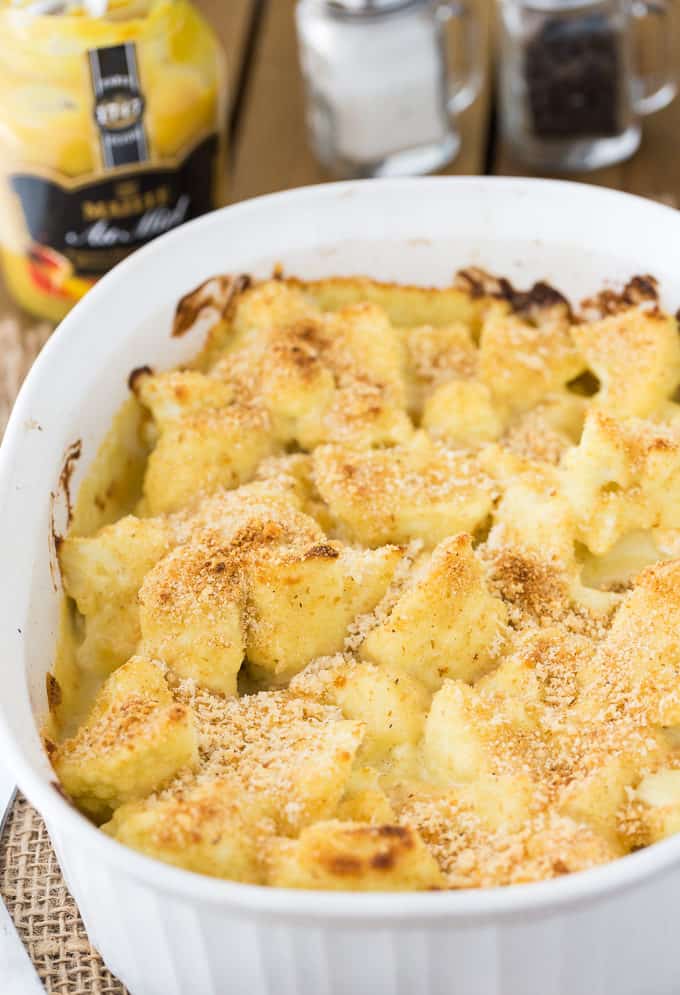 Serve it with a lean protein like a seasoned boneless, skinless chicken breast and a tossed salad. It serves a family of four so if you are making it for a crowd, please double or triple the recipe and use a larger casserole dish.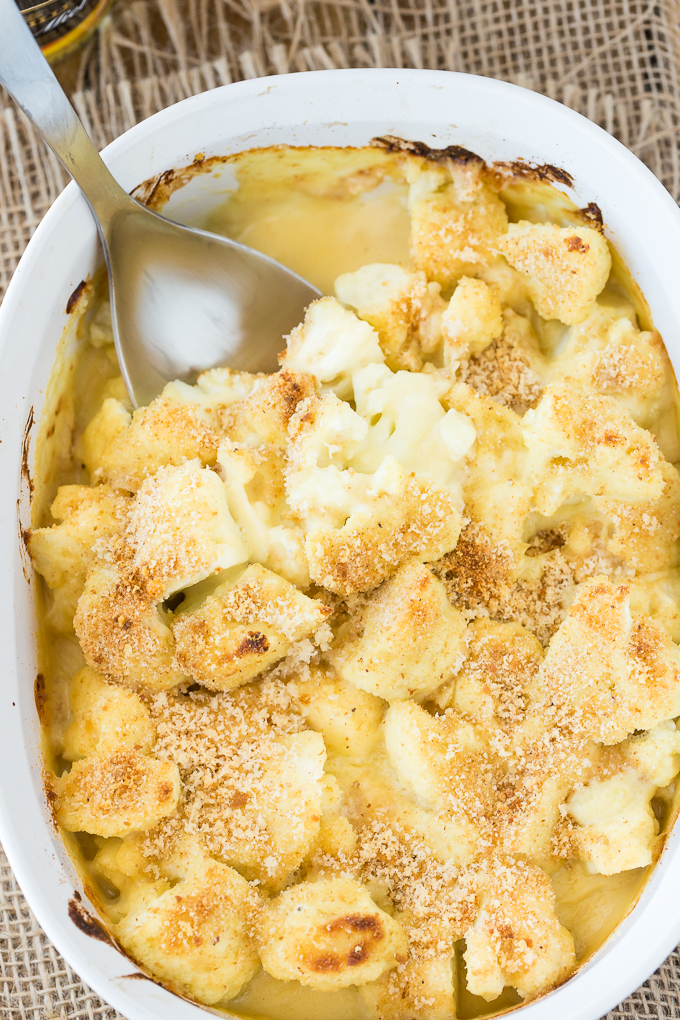 Bridget was so proud of how delicious it turned out. Eating cauliflower has never tasted this good. You could also make this sauce for other veggies. I bet it would be delicious served with broccoli or asparagus.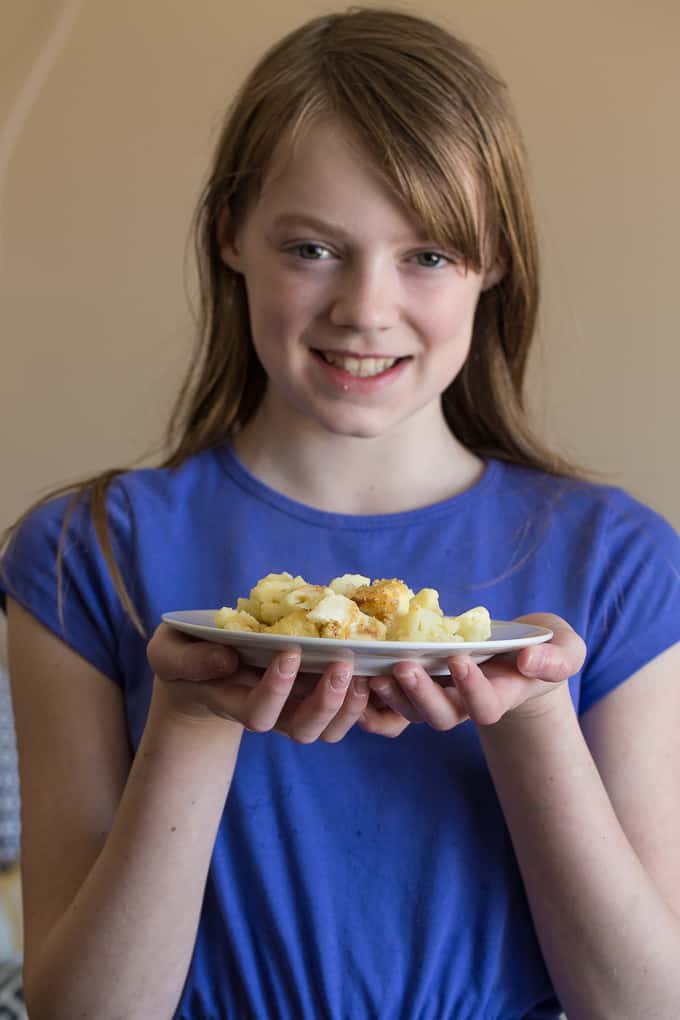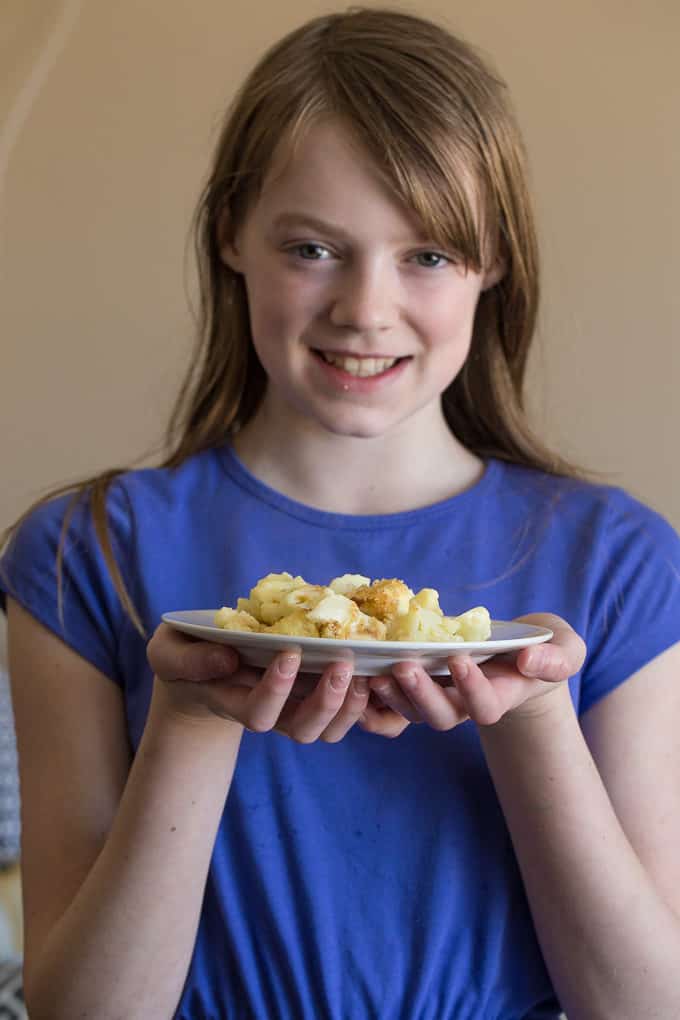 If you are struggling with a picky eater at home, give this recipe a try and get your kids involved in making it. Trust me, it makes a big difference if they help prepare it and will be more likely to eat it.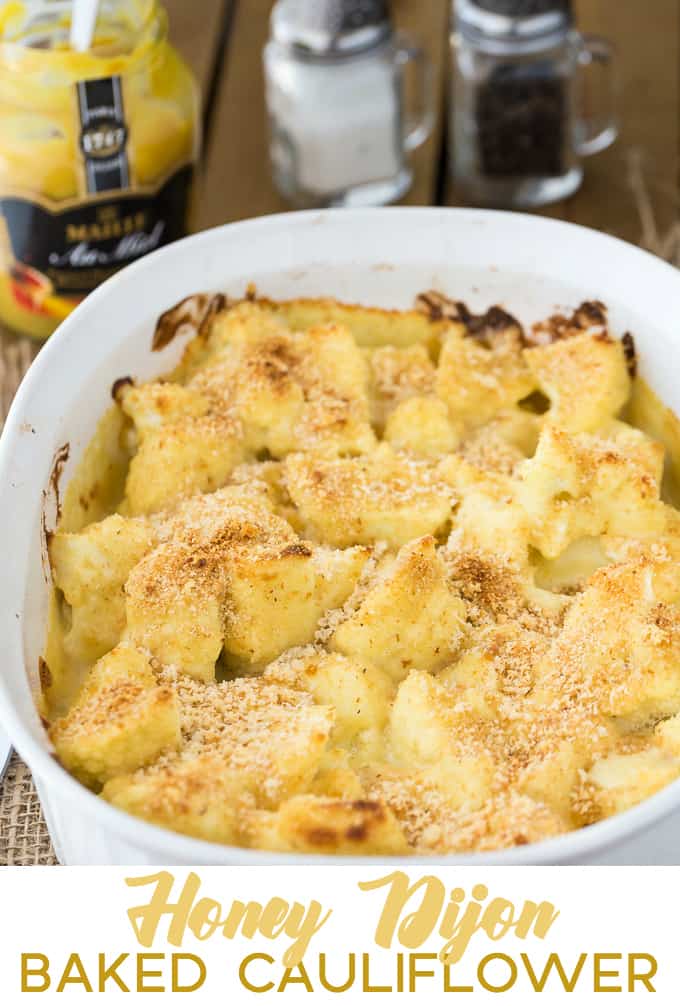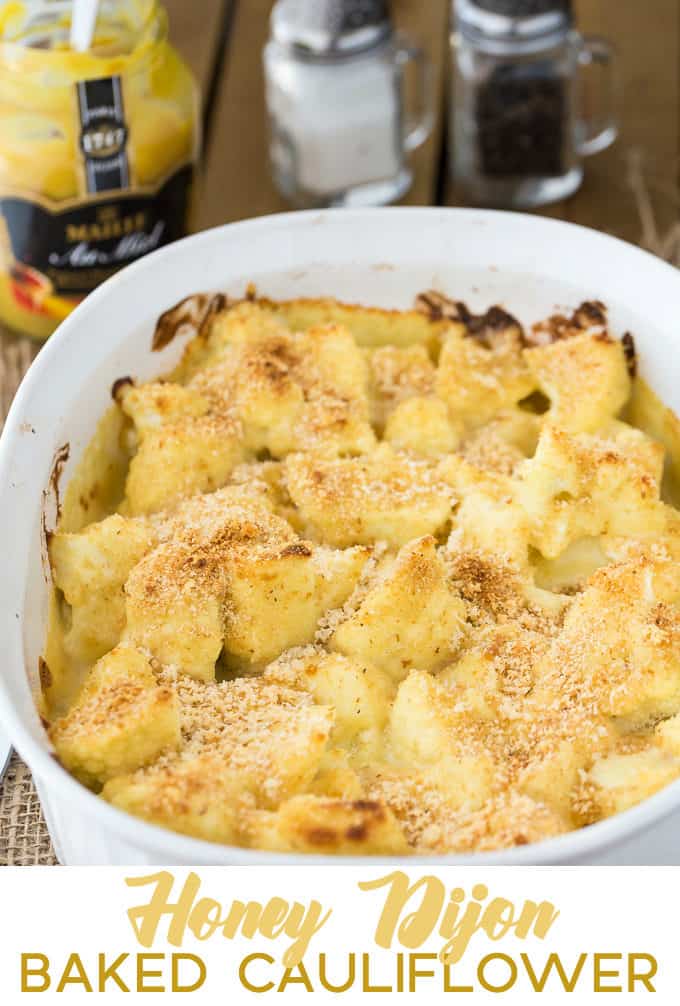 Look for Maille Honey Dijon Mustard at your local grocery store. It comes in two formats – a classic glass jar and a plastic squeezable bottle.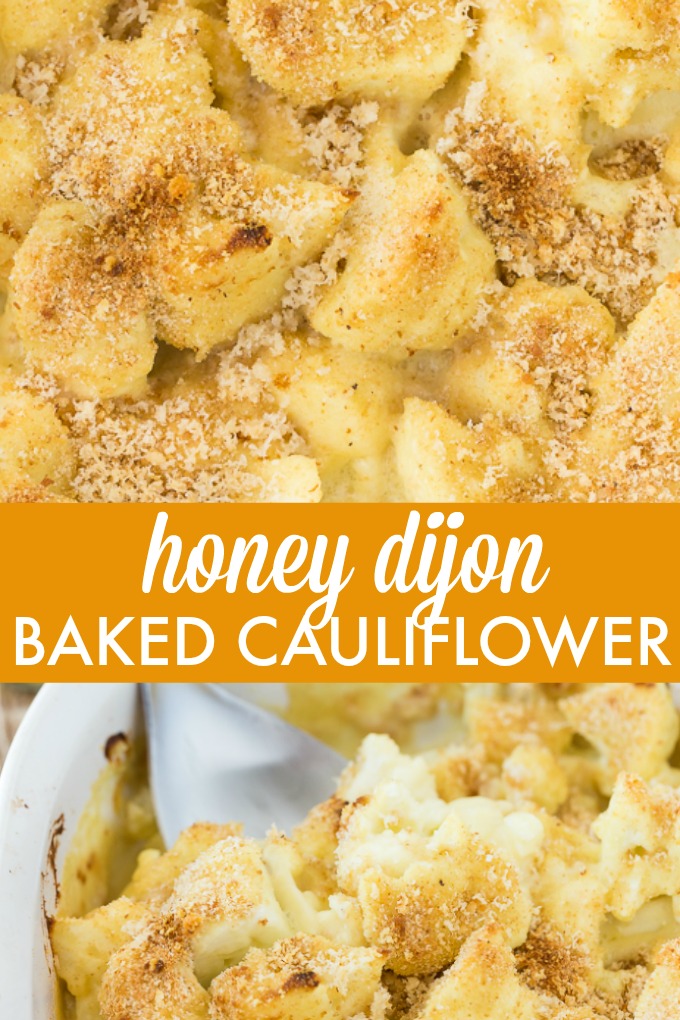 Get a Coupon
Download a coupon to save $1 off any jar of Maille Honey Dijon Mustard!
Connect with Maille on Facebook, Instagram and Twitter.
You might also like this Cauliflower Soup with Bacon, Cauliflower Bake or Keto Cauliflower Ziti.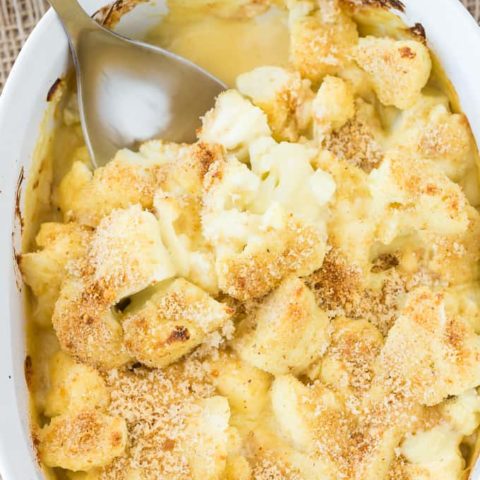 Honey Dijon Baked Cauliflower
This easy side dish is hearty enough for Meatless Monday! This cauliflower casserole recipe is super tangy and covered in breadcrumbs and Parmesan cheese. Yum!
Ingredients
6 tsp butter
3 tsp flour
1 cup milk
2 1/2 tbsp Maille Honey Dijon Mustard
1 cauliflower, cut in florets
4 tsp breadcrumbs
4 tsp Parmesan cheese, shredded
salt and pepper, to taste
Instructions
Preheat oven to 450F.
Melt butter in a skillet over medium heat. Add flour and cook for 1 minute, whisking constantly.
Add milk and stir constantly. Bring to a boil over medium high heat. Stir in Maille Honey Dijon Mustard.
Add cauliflower and reduce heat to medium low. Cook 2 minutes to thicken sauce. Season with salt and pepper.
Transfer cauliflower mixture to a small casserole dish. Sprinkle with breadcrumbs and Parmesan cheese.
Bake 12 minutes or until cauliflower is softened and the topping is browned. Serve hot.
Recommended Products
As an Amazon Associate and member of other affiliate programs, I earn from qualifying purchases.
Nutrition Information:
Yield:

4
Serving Size:

1
Amount Per Serving:
Calories:

144
Total Fat:

9g
Saturated Fat:

5g
Trans Fat:

0g
Unsaturated Fat:

3g
Cholesterol:

21mg
Sodium:

471mg
Carbohydrates:

13g
Fiber:

4g
Sugar:

3g
Protein:

6g