Rice bowls are the perfect meal for either lunch or dinner (or both!) and let me tell you, these Mediterranean Chicken and Rice Bowls are amazing! These rice bowls contain an assortment of Mediterranean flavors. We've got dill, sun-dried tomatoes, kalamata olives and crumbled feta cheese. When you mix those flavors with chicken and rice, you've got a remarkable meal!
Mediterranean Chicken and Rice Bowl
Putting these Mediterranean Chicken and Rice Bowls together is so easy. You are going to start by cooking your rice on the stovetop in a medium sized pot. Let me prepare you…this rice has the best flavor! I love anything with sun-dried tomatoes and it makes a world of difference flavor wise when you cook your rice with sun-dried tomatoes. I also include raw kale when I cook my rice. Kale is a powerhouse food…it is super high in fiber and iron and is also filled with antioxidants.
While the rice is cooking on the stovetop, you'll combine the dried dill, cumin, oregano, garlic powder, salt, pepper, olive oil and lemon zest. This mixture is going to be the rub for the chicken breasts. Once combined, you'll rub the chicken down until it's well covered. You'll then cook the chicken in the oven for about 30 minutes until done.
Once the chicken and the rice is done, it's time to put together your Mediterranean Chicken and Rice Bowls! You are going to fill your bowl up with about 1 cup of cooked rice. Make sure to include some sun-dried tomatoes and kale in that cup of rice! Those ingredients add so much flavor! Then, top your bowl with the chopped cooked chicken, feta cheese, kalamata olives and black beans and you are ready to eat! Yep, it's literally that easy!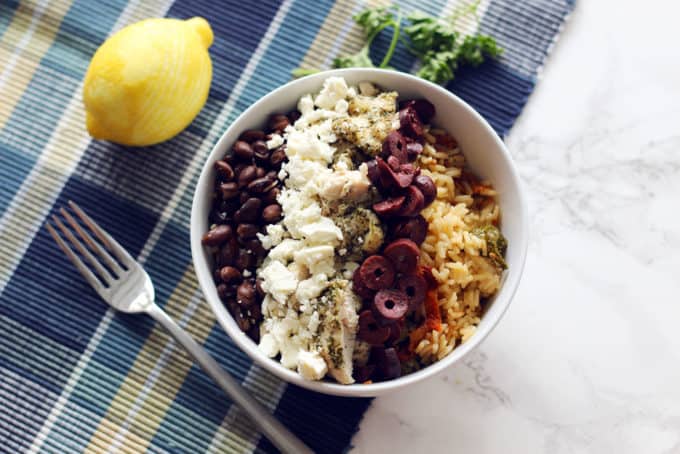 Guys, this Mediterranean Chicken and Rice Bowl is not only delish, but it's packed full of fiber and nutrients! It's a power bowl containing super nutritious foods! And the best part…my kids love this dish…I mean LOVE it! My son isn't a fan of feta cheese, so I swap out the feta for him and melt shredded mozzarella on top. So yummy!
These rice bowls pair perfectly with my Greek Kale and Quinoa Salad. So easy, so yummy and oh so delicious! Enjoy guys!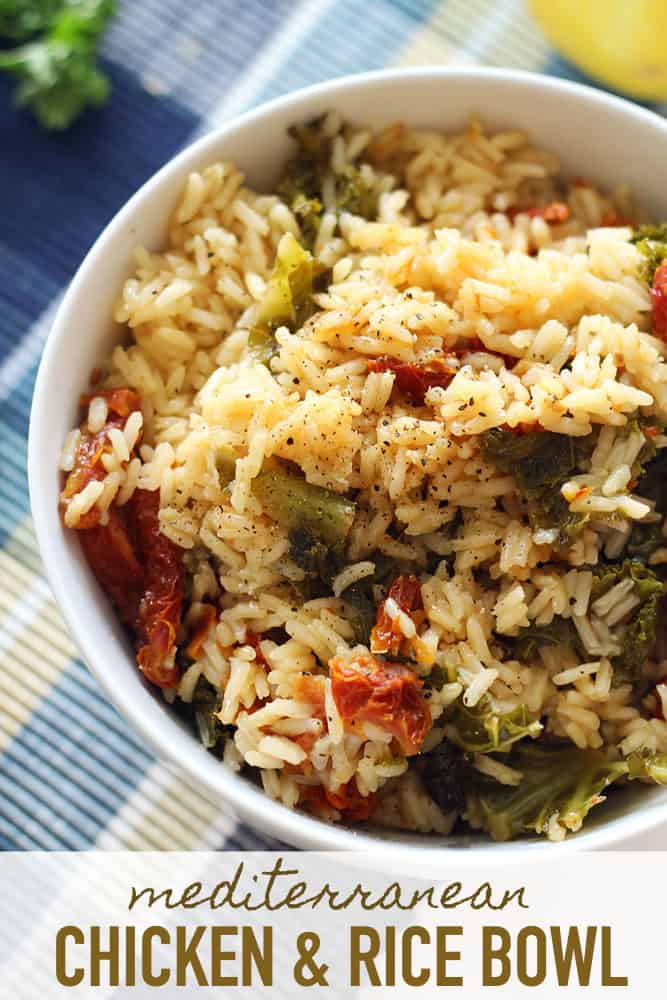 Are you a fan of Mediterranean flavors?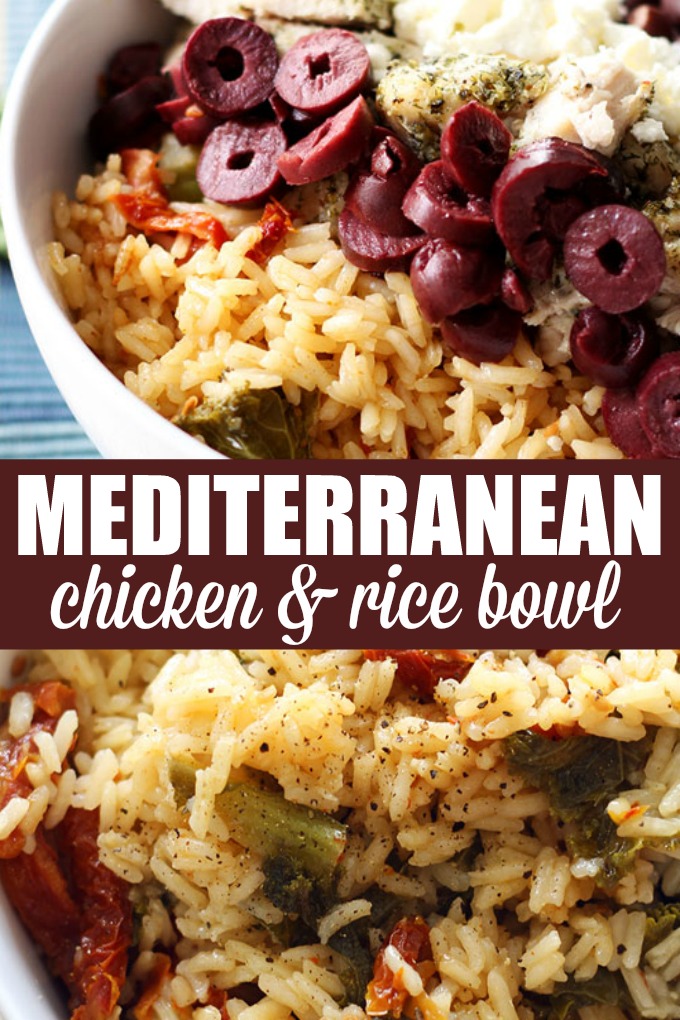 You might also like this Hawaiian Fried Rice, Jamaican Curried Rice, One-Pot Chicken & Broccoli Rice or Chicken Fried Rice.

Mediterranean Chicken and Rice Bowl
Total Time:
1 hour
15 minutes
Pile all your Greek favorites into one bowl for the perfect lunch or dinner! This easy recipe is perfect for meal prep and very versatile.
Ingredients
Chicken
5 pieces Boneless, skinless chicken breast tenders
2 teaspoons dried dill
½ teaspoon ground cumin
1 teaspoon dried oregano
1 teaspoon garlic powder
½ teaspoon salt
¼ teaspoon ground pepper
2 Tablespoon extra virgin olive oil (if you have a flavored olive oil, use it!)
Zest from 1 lemon
Rice
2 cups of chicken broth
1 cup long grain white rice
1/3 cup sun-dried tomatoes, thinly sliced
4 cloves garlic, minced
¼ teaspoon salt
1 ½ cup chopped fresh kale
Toppings
Kalamata Olives, sliced
½ Cup crumbled feta cheese (or substitute out for shredded mozzarella cheese)
¼ cup canned black beans
Instructions
Preheat oven to 350F.
Combine all the ingredients for the chicken rub in a small bowl and stir until well blended.
Rub the spice mixture onto both sides of each piece of chicken until well coated.
Place chicken in an 8×8 or 9×9 baking dish and cover with aluminum foil. Cook chicken for 30 minutes until done.
Once the chicken has cooled, chop into bite size pieces.
Meanwhile, bring the chicken broth to a boil in a medium pot. Add in the rice, sun-dried tomatoes, garlic, salt and kale. Bring to a boil and then reduce to a simmer and cover. Simmer on low for about 20 minutes until all the liquid has been absorbed. When done, remove from heat and fluff with a fork.
In a saucepan, add the black beans and cook on medium for about 10 minutes until hot.
Now you are ready to put the bowls together! Fill 4 bowls with about 1 cup of the cooked rice mixture. Top with equal amounts of chopped chicken, black beans, feta cheese, and kalamata olives.
Store any leftovers in refrigerator.
Recommended Products
As an Amazon Associate and member of other affiliate programs, I earn from qualifying purchases.
Nutrition Information:
Yield:

4
Serving Size:

1
Amount Per Serving:
Calories:

500
Total Fat:

19g
Saturated Fat:

6g
Trans Fat:

0g
Unsaturated Fat:

11g
Cholesterol:

151mg
Sodium:

1297mg
Carbohydrates:

26g
Fiber:

4g
Sugar:

4g
Protein:

56g