*Disney provided me with hotel accommodations, airfare, and meals to attend this press junket. Images were taken by myself the permission of Disney. All thoughts and opinions expressed are 100% my own.*
Some of my favorite childhood memories happened in my backyard on my swing set. I remember pumping my legs and going higher and higher, all the while singing favorite Disney songs—especially anything that Ariel from The Little Mermaid sang. At a young age, I also knew the name of the actress who gave the little mermaid her voice: Jodi Benson. I have vague memories of watching behind-the-scenes interviews with her as well.
I loved singing so much that I was in my schools' choirs from kindergarten through seventh grade (I didn't participate in eighth grade), and then took it up again from ninth grade throughout my senior year. I don't sing publicly anymore, but every chance I get to attend a live musical or a concert of some sort, I take it.
Now I have a little girl of my own, who also loves mermaids, Ariel, and Disney. She reminds me of myself—especially when I catch her singing to herself in the bathtub or while she's playing. She makes up her own songs, but one I frequently hear her singing is the melody Ariel sings when she gives up her voice to Ursula for true love.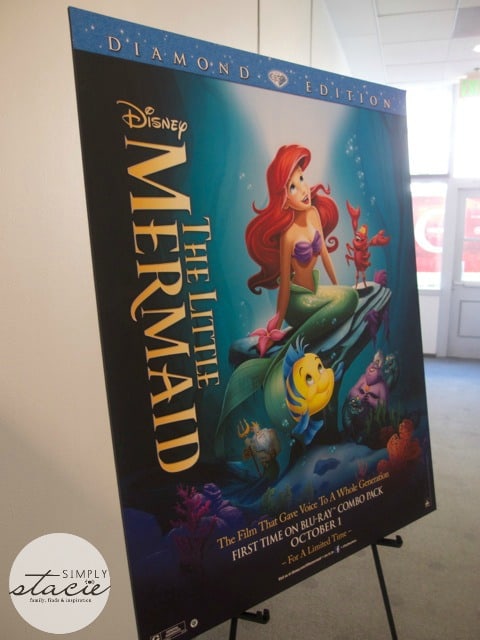 Never did I think I would be meeting my childhood idol in person—much less get to hear her sing my favorite The Little Mermaid song. It still feels like a dream, but both happened! First, we listened to a mediated panel where Jodi Benson, Ron Clements, and John Musker talked about making The Little Mermaid. Then, at the very end, someone asked Jodi Benson if she would sing for us. I remember being so in shock (as much as I wanted to hear her sing in person, I wouldn't have worked up the courage to ask) that I couldn't get out my video recording device in time. Instead, I just sat back and chills went up my spine as the entire room went silent so she could sing. Jodi's voice is just as strong, sure, and hopeful as it was the day she recorded "Part of Your World" for The Little Mermaid.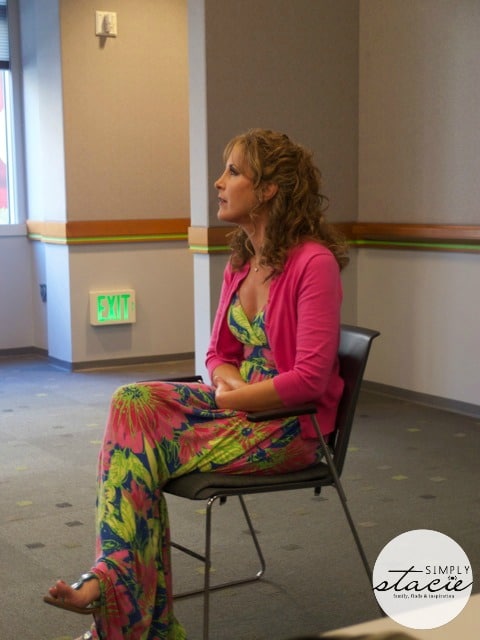 The Flounder Group interviewing Jodi Benson, the voice of Ariel from The Little Mermaid
A few minutes later, we were seated in a room waiting for our group interview to begin. I didn't realize we'd be meeting Jodi Benson first; I was incredibly nervous and excited when she walked in. She was all smiles, warm and friendly, and I began to relax. I even managed to add two questions of my own to our brief time her. I've already shared some of my personal stories about why I admire Jodi Benson, but here are the top reasons Jodi Benson is the perfect role model for women young and old everywhere:
She believes in true love. One of my favorite—and most creative questions that Jodi was asked was if she believed in true love, and if she would elaborate. Jodi smiled sweetly, and without any hesitation, she answered, "Yes, yes…I've been with my husband—we've been married for—I think we're coming up on thirty. Our anniversary will be next May." The next question was whether or not she, like Ariel, would give up her voice for love. Again, there was no hesitation. "Yes, I would. It would be very hard because singing is such a huge part of my life, the way I communicate. Yes, for my husband, I would do it."
She inspired her own children to follow in her footsteps. Jodi mentioned that that Friday she and her family would be performing in a concert—together. "My daughter is a nonstop singer … She just turned twelve. She's making her debut this Friday night in this concert. She's going to sing and play the piano for herself. It's neat to get to watch your children get this passion going in them that I've had ever since I was a little girl."
She never gets tired of singing "Part of Your World." Did you know that "Part of Your World" was almost cut from the film? Jodi Benson was ready to walk away from the film if the song was going to be cut! I don't know about you, but The Little Mermaid just wouldn't be the same to me without that song. "I love getting to share my story … I love getting in front of a huge group of kids and singing the songs and just watching their reactions and their faces and their parents and their grandparents, who are going through all their emotions with it as well … I never get tired of singing the song; I sing it all the time. And it's always fresh and new; it's like the day I recorded it."
She loves being a Disney Princess because of the immense joy it brings to others. "It's kind of hard to grasp the impact of portraying a character that's going to live long past you … It takes my breath away to think of the experiences I've had … Walking through the airport and seeing a little girl in a T-shirt and seeing the dolls in someone's hand, or going to the pool and seeing a little girl in an Ariel swimsuit swimming with her doll … what an amazing heavenly gift that I'm able to be a part of."
I closed the interview with a question that brought a most unexpected (and powerful) answer—I wanted to know if she had any fan stories she was willing to share about how The Little Mermaid had impacted or changed lives. "I've made unfortunately several calls to children before they pass away. Those are hard, especially when the parent puts you on the phone and goes, 'they won't be able to speak, but they can hear you.' Those are heartwrenching … and then when you follow up with them and they say, 'yes, she died peacefully.' … Certain songs and certain characters soothe children to get through their painful procedures … I've got several kids throughout the years I've met face to face, who actually speak now. And will tell, or their parent will tell me, that they learned how to speak from [my] film … Those are the kind of stories that you kind of wish that people knew more about than this just an animated film … when you get behind the scenes and you start to hear the impact of that, that really blows your mind."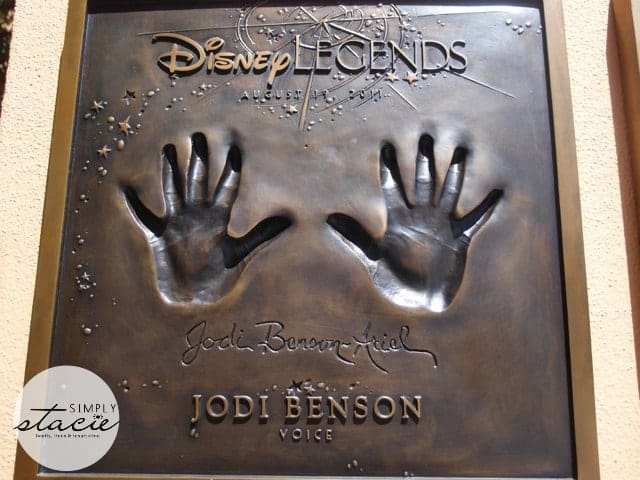 Jodi Benson's handprints and signature on the wall outside of Disney Animation Studios
Disney's The Little Mermaid is yours to own on Blu-ray: Diamond Edition (with DVD and Digital Copy) on October 1st, 2013.