Slow Cooker Pepperoni and Sausage Pizza Pasta is one incredible dish. It is a great combo for those who love pizza and pasta. Tender al dente pasta smothered in all the incredible pizza flavors. Serve up this Sausage and Pepperoni Pizza Pasta for dinner tonight.
On those really cold days, I have a hard time getting out of bed. It's too yucky to go outside and even if I wanted to, I would have to brush the mountain of snow off my car. These are the kind of days I like to use my slow cooker. The whole house smells delicious and it's so tempting to not take a quick taste. I learned my lesson a few weeks ago when I burnt my chin after tasting a recipe. Now I'm patient for my own safety!
Slow Cooker Pepperoni & Sausage Pizza Pasta
I've made Pizza Soup in the slow cooker and today I've got another easy slow cooker recipe to share for Slow Cooker Pepperoni & Sausage Pizza Pasta! This another recipe where you can substitute your favorite pizza toppings if you aren't fond of the ones in the recipe below.
More Pizza Inspired Recipes
Different Pizza Toppings to Add to Pizza Pasta
Experiment with it and try a variety of toppings. I'd like to make it with green pepper, bacon, mushrooms, and pepperoni and called it a Deluxe Pizza Pasta. Have fun with the recipe and be creative as your heart (or tastebuds) desire!
This is what I call comfort food supreme! It will fill your bellies and leave you stuffed and satisfied. I wouldn't want to eat this every night if you are watching your weight, but it's a nice meal to enjoy when you are craving carbs.
What Type of Pasta Do You Use for Slow Cooker Pizza Pasta
I used penne pasta. I love the shape and texture of this pasta. If you don't have that on hand you could reach for any other medium-sized pasta. Bowtie pasta, Fussili, rigatoni, etc. Depending on the pasta you use, it could alter the flavor of the pasta dish slightly. I think any of these would taste nice.
Can I Use Homemade Sauce for Pizza Pasta
Yes. If you prefer to make homemade sauce, by all means, go for it. I used the jar for convenience and time. I didn't have any homemade pasta sauce in my pantry. But, feel free to use any pasta sauce that you love.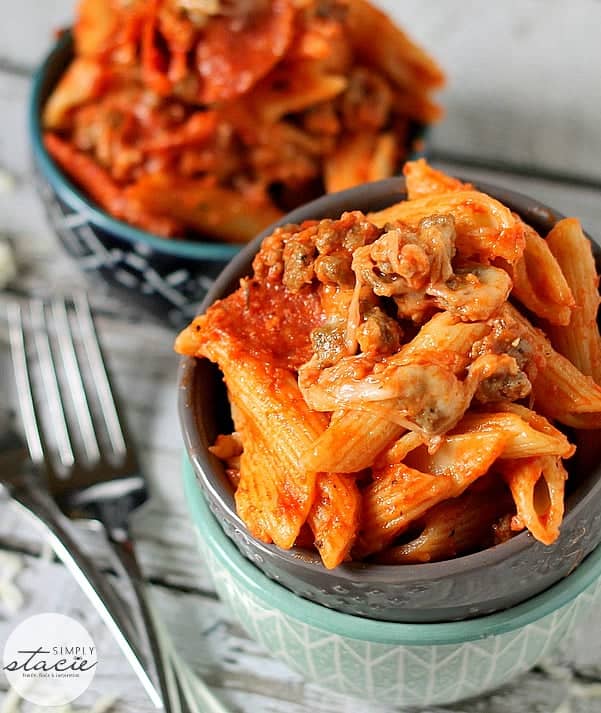 Swapping the Meat in Crock Pot Pizza Pasta
You can adjust the meats to your liking in this recipe. Italian sausage, ground hamburger, Canadian bacon, pepperoni, turkey sausage, all are great options for this. Mix and match to create a meat lovers style pasta. Or add in a mix and load with veggies for a supreme pizza twist. No matter how you whip up this crockpot pasta it will win you over.
How to Make Pepperoni & Sausage Pizza Pasta
First off you want to cook your pasta in boiling water for 6 minutes. Drain the pasta and just set it aside. Then in a large bowl, mix in your pasta sauce, tomato sauce, salt, pepper, and oregano. Stir it and set aside as well.
In your slow cooker you want to spray it with non-stick cooking spray. Then add a cup of your sauce mixture to the bottom of the pot. Then add your pasta, and then sprinkle your cooked meats over the pasta. Top with cheese, then repeat with sauce. Do this until you end up with a top layer of cheese.
Cover and cook on high for 3 hours, or do the low and slow for 4-5 hours. Stir and serve.
What to Serve with Pizza Pasta
I like pairing with either breadsticks or garlic bread. But for a lighter option, we will do a light side salad with a vinaigrette dressing. You could also pair with a side of vegetables as well.
How to Store Leftovers
For any leftovers you have, place in airtight containers and tuck in the fridge. Whether you are meal prepping for lunches for the week, or saving back for dinner another night out of the week. This pasta dish reheats beautifully and holds that rich pizza flavor nicely.
How Long Will Pizza Pasta Last in Fridge
Store your pizza pasta in the fridge for 3-4 days. I always recommend using your best judgment in terms of if the pasta mixture is still good.
Can You Freeze Pepperoni & Sausage Pizza Pasta
I haven't tried freezing this mixture, but I think you could have success with it. Just transfer to freezer containers and store up to three months. Thaw in the fridge the night before you plan to serve. Stir and then warm up in the microwave or even on the stovetop.
The pasta might be a slightly different texture, but I think it would taste really well still.
You'll also like this Slow Cooker Ravioli Lasagna.
Have you ever tried Slow Cooker Pizza Pasta before?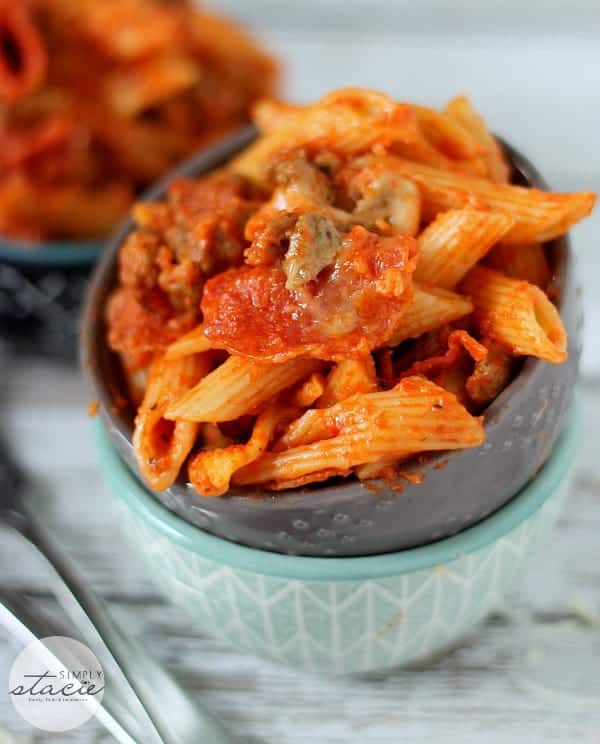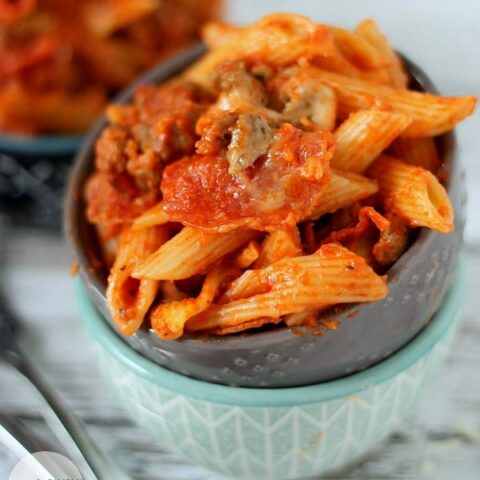 Slow Cooker Pepperoni & Sausage Pizza Pasta
Total Time:
5 hours
10 minutes
Pizza in a bowl! This creamy pasta recipe in the Crockpot is filled with all your favorite toppings for a weeknight dinner the kids will love.
Ingredients
2 cups penne pasta, uncooked
Non stick spray
3/4 cup cooked pepperoni slices (the kind in a bag for pizza toppings), roughly chopped
2 cups pre-cooked turkey sausage crumbles (found next to breakfast sausage/meat cooler)
½ jar pasta sauce
1 3/4 cup tomato sauce, unsalted
1 cup mozzarella cheese, shredded
½ tsp dried oregano
⅛ tsp salt
⅛ tsp black pepper
Instructions
In a large pot, cook pasta in boiling water for 6 minutes. Drain and set aside.
In a medium bowl combine pasta sauce, tomato sauce, oregano, salt, and pepper. Stir to combine. Set aside.
Spray your slow cooker with nonstick spray. Add one cup of the sauce mixture to the bottom, add half the penne on top. Sprinkle half the pepperoni and half the sausage over the penne. Top with half of the mozzarella cheese and then 1 cup of sauce mixture.
Repeat layers – remaining penne, pepperoni & sausage, handful of mozzarella (you should have about another handful left for the top), and remaining sauce. Top with remaining cheese.
Cover and cook on high for 3 hours, or low for 4-5 hours or until heated through. When time is up, stir the pizza pasta to evenly coat with sauce and cheese.
Spoon into bowls and enjoy!
Recommended Products
As an Amazon Associate and member of other affiliate programs, I earn from qualifying purchases.
Nutrition Information:
Yield:

6
Serving Size:

1
Amount Per Serving:
Calories:

320
Total Fat:

18g
Saturated Fat:

7g
Trans Fat:

0g
Unsaturated Fat:

9g
Cholesterol:

74mg
Sodium:

799mg
Carbohydrates:

18g
Fiber:

2g
Sugar:

4g
Protein:

22g