Cake Donuts with Chocolate Glaze are the perfect way to kickstart your downtime. Golden brown baked cake donuts that have a delicate and light texture. They are then topped with a homemade chocolate glaze that brings the donut together nicely! Skip the deep fryer and make baked donuts, that will curb that sweet craving.
When I worked at the accounting office in Edmonton, we would have our staff meetings on Monday mornings. Whoever was the last person to arrive to work that day was responsible for bringing in a dozen donuts for the next week's meeting. Of course, there was only one place that anyone ever went to get donuts. Tim Horton's.
If I was still working there, I'd forgo the trip to Timmie's and make my coworkers this delicious recipe for Cake Donuts with Chocolate Glaze. Homemade always tastes better than store bought….to me at least!

Baked Cake Donuts with Chocolate Glaze
This post contains affiliate links.
I only recently learned that you could buy donut pans and bake your donuts in the oven. I know I feel dumb that I didn't know about their existence. I had never made donuts because I dislike deep frying and had no idea you could make them in the oven. I've seen donut pans sold on Amazon, and they also sell them at our local Sobeys!

Are Cake Donuts Baked or Fried
Cake Donuts are generally a batter that is similar to a cake batter, that is piped into a donut pan, and then you bake them. You will find other firmer donuts like glazed donuts and such generally are fried overbaked.
More of My Favorite Donuts

Are Donuts Cake
So you have to look at the bigger picture, there are a variety of donuts out there. The two most common are yeast style donuts that are raised and baked that offer more of a bread texture. Then cake donuts that are similar to cake, but a bit lighter in texture.
Can You Freeze Cake Donuts
Yes! These Cake Donuts with a Chocolate Glaze freeze nicely. Just allow your donuts to cool down from the oven, and the chocolate glaze to set up. Then wrap in aluminum foil or plastic wrap and place in a freezer bag or airtight container.
Freeze for up to 3 months. When ready to eat, just allow the donut to thaw at room temperature and then devour.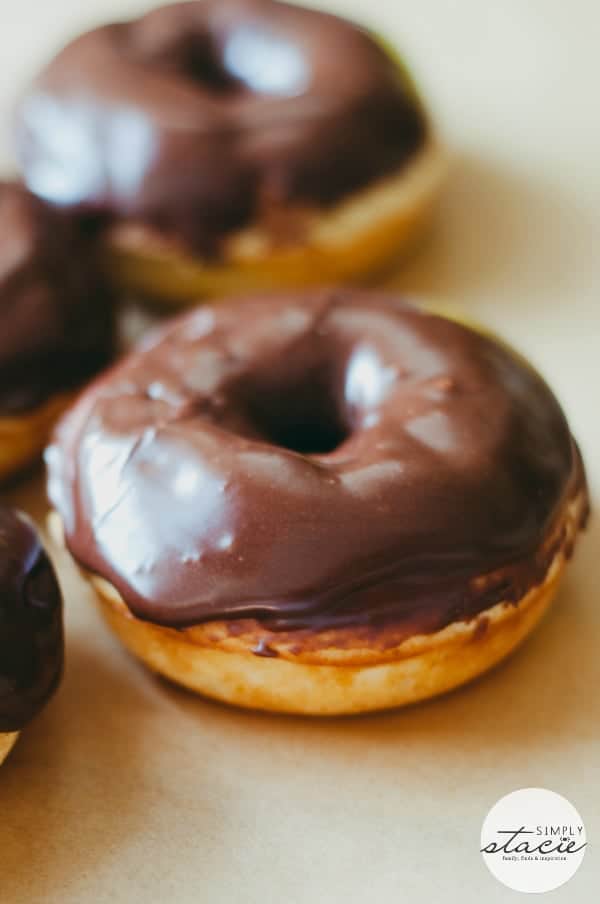 How Long Do Donuts Last at Room Temperature
Generally, donuts only last for 1-2 days at room temperature on the counter. You want to make sure they are sealed up in a bag to help prevent the air from drying them out.
If you are making a batch of these donuts and know you won't eat them all in time, just freeze what you won't eat. Then, later on, you can have it as a grab and go type of breakfast! Or if you are like me, even a late night snack!
What If I Don't Have Buttermilk For Cake Donut Recipe
Buttermilk is not something everyone keeps on hand. If you don't have buttermilk, you can easily make your own within five minutes. Take 1 cup regular milk and pour in one tablespoon white vinegar or lemon juice. Let it sit and get thick for at least five minutes. Stir and then measure out 3/4 cup and use that for your recipe.
I use this trick all the time, and it works. It won't be as thick as store-bought buttermilk, but you will get the flavor and creaminess for the recipe that you need. This trick will work anytime a recipe calls for buttermilk.
What is a Donut Pan
If you are like me and didn't know a donut pan existed, you can buy a pan made specifically for baking donuts. It is a donut-shaped pan that usually has 6-8 donut hole areas. You pipe your batter into a greased pan and bake. Then you have those perfectly shaped donuts you love.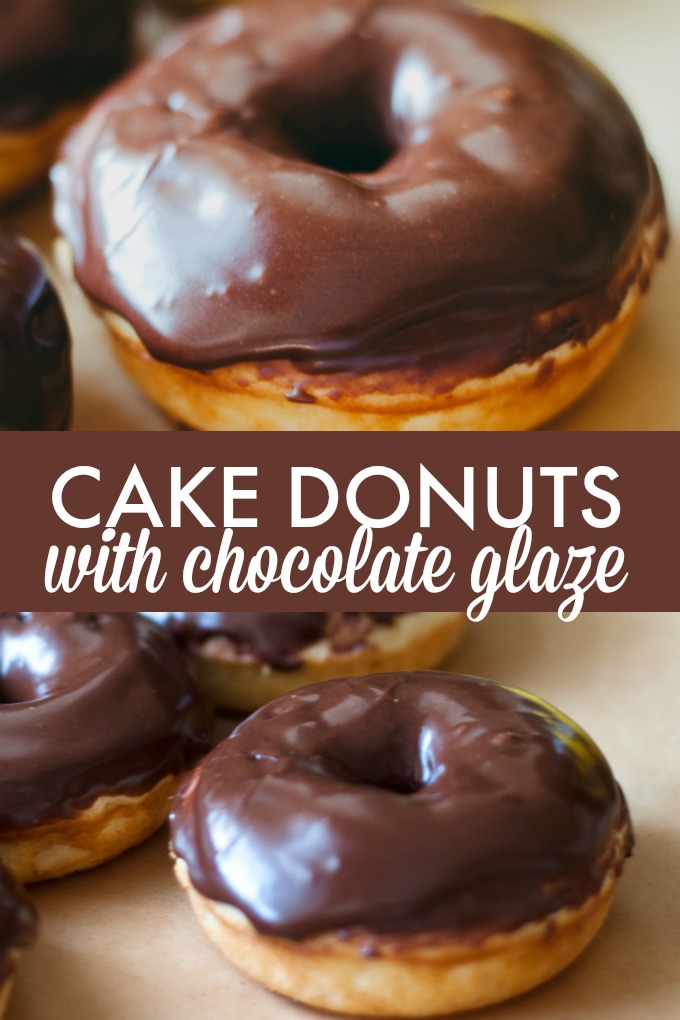 What if I Don't Own a Donut Pan
You can use a mini muffin tin to make like bite-size donuts with. You will need to adjust your baking time to say 6-10 minutes. Just make sure to check your donut holes often to ensure they don't overbake. Stick a toothpick in the center of the muffin to see if the toothpick comes out clean if so, the donuts are done.
Then glaze like you normally would a regular cake donut. Just don't use a cupcake liner or it will stick and become a mess.
As you can see this cake donut recipe is rather simple to whip up. Nothing beats a homemade donut, and these beauties right here are the perfect way to celebrate for the weekend!
You'll also love these Baked Apple Cider Donuts.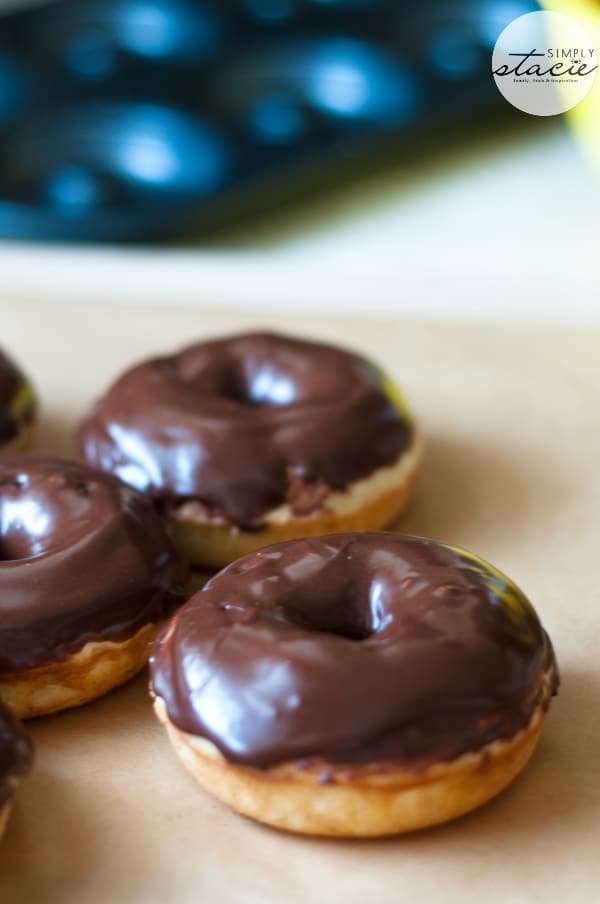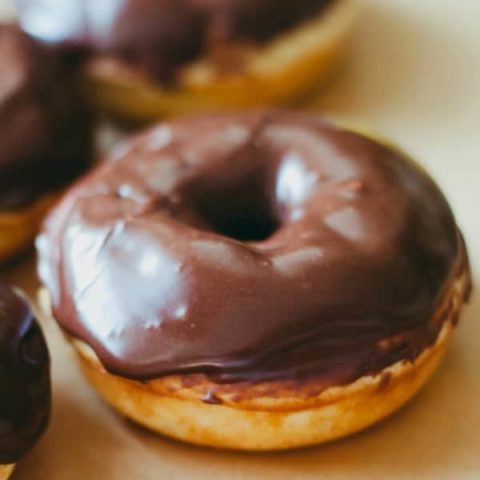 Cake Donuts with Chocolate Glaze
Skip the coffee shop and make some easy homemade cake donuts! These easy treats are baked, not fried, and are topped with a delicious chocolate glaze.
Ingredients
2 cups all-purpose flour, sifted
¾ cup sugar
2 tsp baking powder
¼ tsp nutmeg
1 tsp salt
2 eggs
¾ cup buttermilk
2 tbsp unsalted butter, melted
Chocolate Glaze
1½ cups confectioners' sugar
4 tbsp cocoa powder
2 tbsp milk (start with 2, increase if not smooth enough)
2 tsp vanilla
Instructions
Preheat oven to 425°F. Spray donut Pan with non-stick cooking spray.
In a large bowl, sift together all-purpose flour, granulated sugar, baking powder, nutmeg and salt. Add buttermilk, eggs and butter and beat until just combined.
Fill each donut pan cavity about 2/3 full. Do not overfill.
Bake donuts 7-9 minutes or until the tops spring back when pressed. Let donuts cool in pan 4-5 minutes before attempting to remove them.
For chocolate glaze, sift together the sugar and cocoa powder in a medium bowl. Using an electric mixer, slowly add in the milk and vanilla and beat on low speed until glaze is smooth and pourable.
Gently dip one side of the donuts into the glaze and place on parchment paper to set up. Donuts are best when enjoyed fresh.
Recommended Products
As an Amazon Associate and member of other affiliate programs, I earn from qualifying purchases.
Nutrition Information:
Yield:

12
Serving Size:

1
Amount Per Serving:
Calories:

224
Total Fat:

3g
Saturated Fat:

2g
Trans Fat:

0g
Unsaturated Fat:

1g
Cholesterol:

37mg
Sodium:

318mg
Carbohydrates:

44g
Fiber:

1g
Sugar:

27g
Protein:

4g