Glazed Donuts are always welcome in our home. Nothing beats a homemade, warm donut to sink your teeth into. This recipe for glazed donuts is incredible, and the perfect way to start the day, or end with a sweet treat.
Soft and light, with a glaze that crinkles and melts into your mouth as you take a bite, you'll find it hard to stop at one.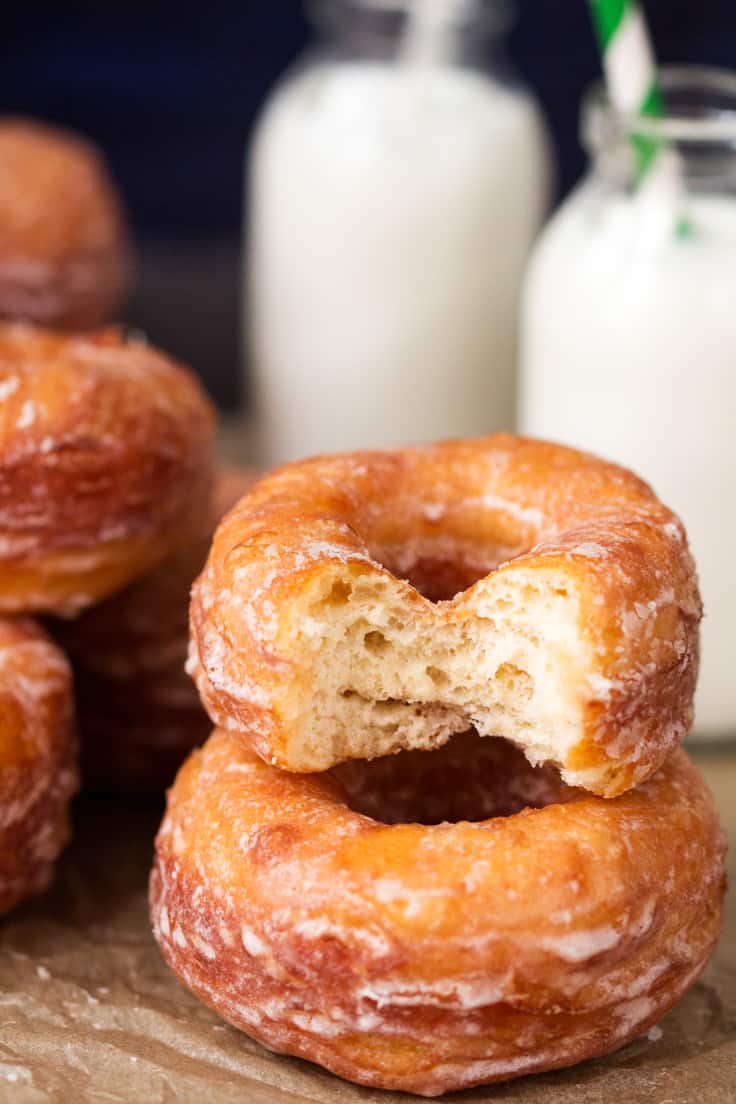 Glazed Donuts
When I last made these, I made a batch of 24. They were gone embarrassingly quickly for a family of four!
So now I try to make them in batches of 12, and at least try to make them last a couple of days. They do taste better on the day they're made, but honestly, who's going to turn down a homemade donut, even if it is 24 hours old!
What is a Glazed Donut
Glazed donuts are a treat. They are light and tender donut that is made from a yeast dough, that is fried and then dipped in a sugar icing. Grab a napkin, they are a little messy but so worth every bite.
Tools Needed for Glazed Donuts
This post contains affiliate links.
A donut cutter (easily picked up at homewares shops and Amazon). Alternatively, you could use a large glass to cut out the outer circle and an egg cup to cut out the inner circle.
A candy or pan thermometer. It's quite important to have the oil at the right temperature so the donuts don't burn on the outside whilst still being doughy in the middle.
It's also a good idea to use wooden chopsticks to help turn the donuts over in the oil and to dip the donuts in the glaze.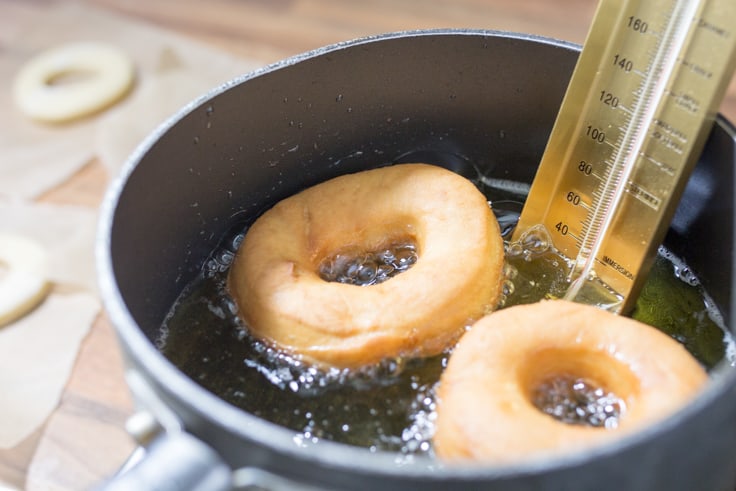 Pro Tip for Perfectly Shaped Donuts
Have 12 little pieces of baking parchment ready – one for each donut.
When you cut out the donuts, place them straight on their own piece of parchment and leave them to rise for 30-40 minutes before cooking them.
Having the donuts on their own piece of parchment mean that you can easily slide the donuts into the hot oil without having to handle them.
I use one hand to hold the edge of the parchment and a place one of the chopsticks underneath, then lower the donut in carefully. It should peel itself off the paper with a little jiggle.
What is the Glazed Donut Glaze Made of
Four ingredients are all you need to make the glaze. Powdered sugar, butter, water, and vanilla is all it takes. You get that classic thin glaze that is perfect for dipping your donuts in.
Can You Store Leftover Glazed Donuts
Of course. These are best when served fresh, but you can indeed save them for later. Just allow them to cool down and then transfer them to an airtight container. The glaze will get wetter and the texture will change slightly. This recipe is rather tasty though, it is hard not to resist eating them all at once.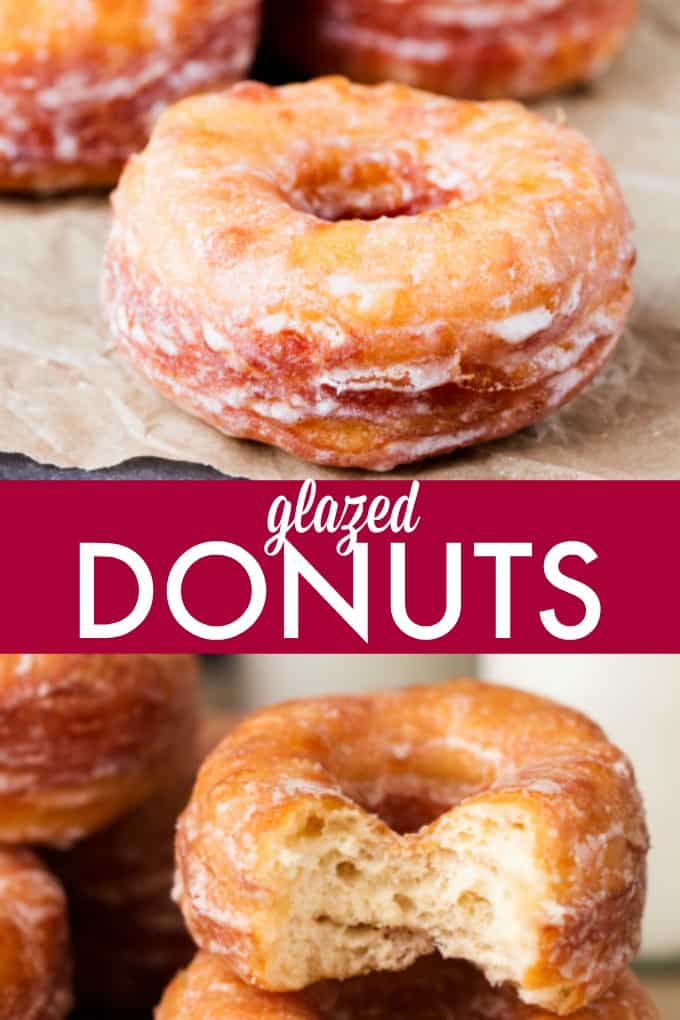 What Temperature Does The Oil Need to be for Cooking Donuts
You want to aim to have your temperature of the oil to be 320 degrees Fahrenheit to 160 degrees Celcius. I highly recommend using a thermometer to monitor the oil. If it is too hot it will overcook the outside of the donut while leaving the inside raw. Low heat can also affect the cooking of the donuts.
How to Make Glazed Donuts
The first thing you want to do is work on prepping the dough for the glazed donuts. Now, this recipe uses a homemade donut dough, not a biscuit you buy at the store. These donuts are made with yeast, flour, and other ingredients.
Once your dough is formed you need to allow it to rise, and double in size. Then roll out your dough and cut into donut shapes. Then heat the oil and begin frying up your donuts. Have the glaze ready so you can dip your donuts in, and then drop onto a baking rack to allow the excess glaze to drip off.
The full instructions are listed below.
Want more Donut Recipes to Try?
Cake Donuts With Chocolate Glaze | Cake donuts are a little bit different, they are more of a cake-base texture, vs a yeast donut like this recipe. I love a good cake donut.
Baked Brown Sugar Glazed Donuts | These brown sugar donuts will win over any and everyone. They are unique and will knock your socks off on flavor.
You'll also like these Baked Apple Cider Donuts.
I make these for brunch, breakfast, and even a dessert for the family after dinner. If you have never tried making homemade donuts, you have to try this yeast glazed donut recipe.
Glazed Donuts
Prep Time:
1 hour
50 minutes
Total Time:
2 hours
10 minutes
Like biting a cloud! Great with coffee or as dessert, this homemade donut recipe is perfect morning, noon, or night!
Ingredients
Donuts
1/3 cup+2 tbsp whole (full fat) milk
½ tbsp easy-bake/fast-acting dried yeast
2 tbsp luke-warm water
3 tbsp caster sugar or super fine granulated white sugar
1 large egg minus 1 tsp of the egg white
2 tbsp unsalted butter, softened
½ tsp salt
1 3/4 cups plain (all-purpose) flour
4 cups vegetable oil for frying
Glaze
3 tbsp butter, melted
1 cup confectioner's sugar (powdered sugar)
¾ tsp vanilla extract
3 tbsp hot water
Instructions
Heat the milk until just about to boil, then turn off the heat and leave to cool to a lukewarm temperature.
Place the yeast in a small bowl with the warm water. Mix and leave for 3-4 minutes until frothy.
Place your milk, yeast, sugar, egg, egg yolk, butter, salt and half the flour into the bowl of a stand-mixer. Mix together for a minute (using the dough hook) until combined. Add in the rest of the flour and mix on a medium speed for 4-5 minutes. The dough should smooth and a little sticky.
Place the dough into a lightly oiled bowl and cover with clingfilm/plastic wrap. Leave to prove at room temperature until doubled in size (about 60-90 minutes). Tip the dough out onto a lightly floured surface and knead a few times to punch out the air bubbles. Roll the dough out with a rolling pin until it's approximately ½" thick.
Use a donut cutter – that's been dipped in flour – to cut 12 donuts. You'll have to re-roll the dough a couple of times to achieve this.
Place each donut on a separate little piece of baking parchment (having them on individual pieces makes it easier to pick up and lower each donut into the oil later) and cover with some lightly oiled clingfilm/plastic wrap. Leave to prove for a further 30-40 minutes.
Pour your oil into a large pan and heat to 160c/320f. Use a thermometer and try to keep your oil temperature as constant as possible.
Whilst the oil is heating, make your glaze. Place the melted butter in a medium-sized bowl, stir in the confectioner's sugar and vanilla extract using a small hand whisk. Stir in 2 of the tablespoons of water and test thickness of the glaze. It should coat the back of a spoon, but you should still be able to see the color of the spoon through the glaze. Add the remaining tbsp. of water if required. Put the bowl on the work surface near the pan of oil.
Cook donuts two or three at a time – gently lowering each one into the pan holding the edge of the baking parchment in one hand and using a chopstick, spoon or palette knife in the other. Cook for approx. 2 minutes – until dark golden brown – then flip over using a wooden chopstick. Cook for a further 1-2 minutes. Once cooked, remove the donuts (one at a time) from the oil, and immediately dip it in the glaze. Turn it over using a chopstick, to ensure it's fully coated. Remove from the glaze and place on a cooling rack. Repeat with the remaining donuts.
Leave to cool for at least 30 minutes – to give the glaze time to set. These donuts are best eaten on the same day.
Recommended Products
As an Amazon Associate and member of other affiliate programs, I earn from qualifying purchases.
Nutrition Information:
Yield:

12
Serving Size:

1
Amount Per Serving:
Calories:

744
Total Fat:

78g
Saturated Fat:

9g
Trans Fat:

2g
Unsaturated Fat:

66g
Cholesterol:

28mg
Sodium:

128mg
Carbohydrates:

13g
Fiber:

0g
Sugar:

12g
Protein:

1g