Disclosure: I was compensated for this post. All opinions expressed are 100% my own.
Cupcakes for a good cause? Count me in! Not only do I love indulging in a sweet treat every once in awhile, but I also have a strong connection to animals. This year marks the second annual National Cupcake Day to benefit SPCAs and Humane Societies across Canada. I strongly support charities that help animals and when I am able to donate money, I usually choose our local SPCA.
In 2006, we went to our local SPCA in Ontario and adopted a cute little black kitten named Pixie. Both the girls became very attached to Pixie. I had only ever had one cat before adopting Pixie and she was what ignited my deep affection for cats. My friends on Facebook will attest that I share many cat pictures. I think cats are the sweetest creatures and I love my two cats, Princess and Misty, like they were my kids. They are really…my furbabies. As for Pixie, she's alive and well and lives with my ex-husband.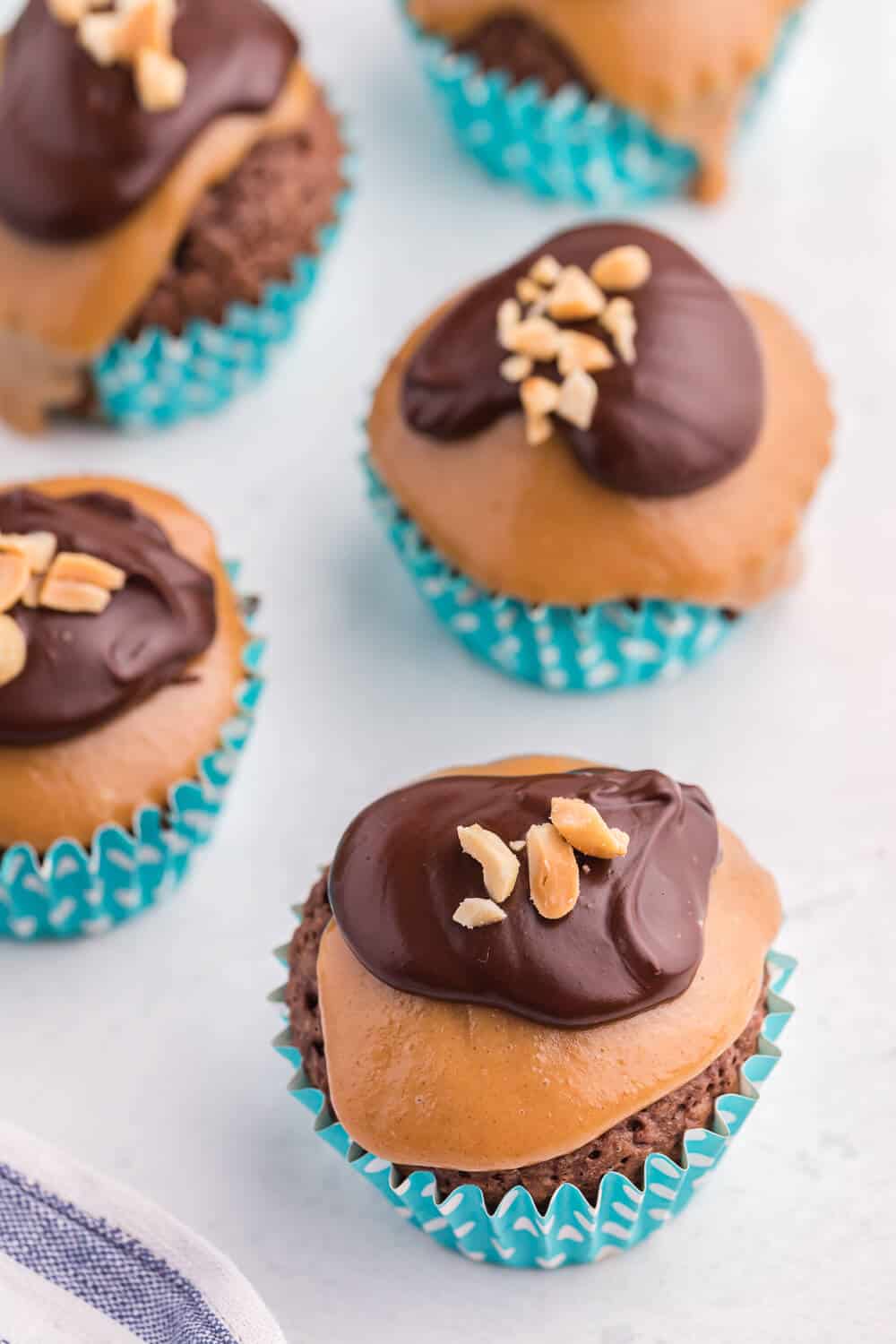 The photograph below is my favourite of Misty. She laid like that for 10 minutes and let me take her photo. She didn't mind me getting right up in face either.
What is National Cupcake Day?
National Cupcake Day originally began by the RSPCA in Australia and began in parts of Canada last year. This year the event has grown with more SCPAs taking part as well as a few sponsors coming on board (Petsecure Pet Health Insurance, Agency59, BMO Bank of Montreal and Reynolds Consumer Products). It's a delicious way to show your support of animal welfare across the country and simple to participate. All proceeds raised go to support our animal friends. National Cupcake Day is on Monday, February 24th so mark your calendars!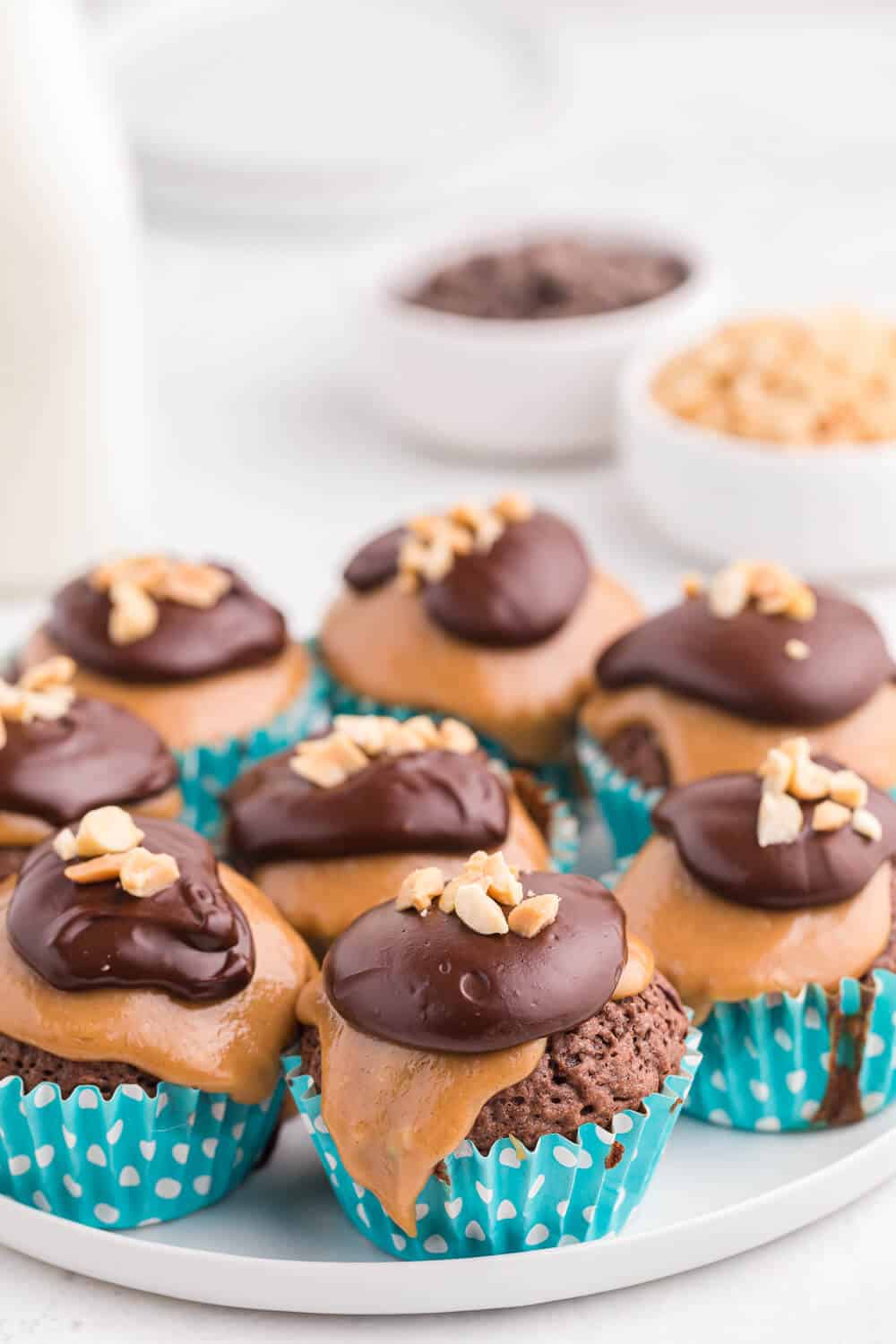 I whipped up a batch of these Peanut Butter Brownie Cupcakes to get the party started. There's just something magical about a chocolate and peanut butter combination. These cupcakes were divine! Picture rich fudge brownie cupcakes topped with a peanut butter glaze that is almost like caramel. Then on top of that is milk chocolate and a sprinkling of peanuts. Biting into one of these is like a piece of chocolate heaven. Read on for the recipe and how you can make a batch for your friends and family.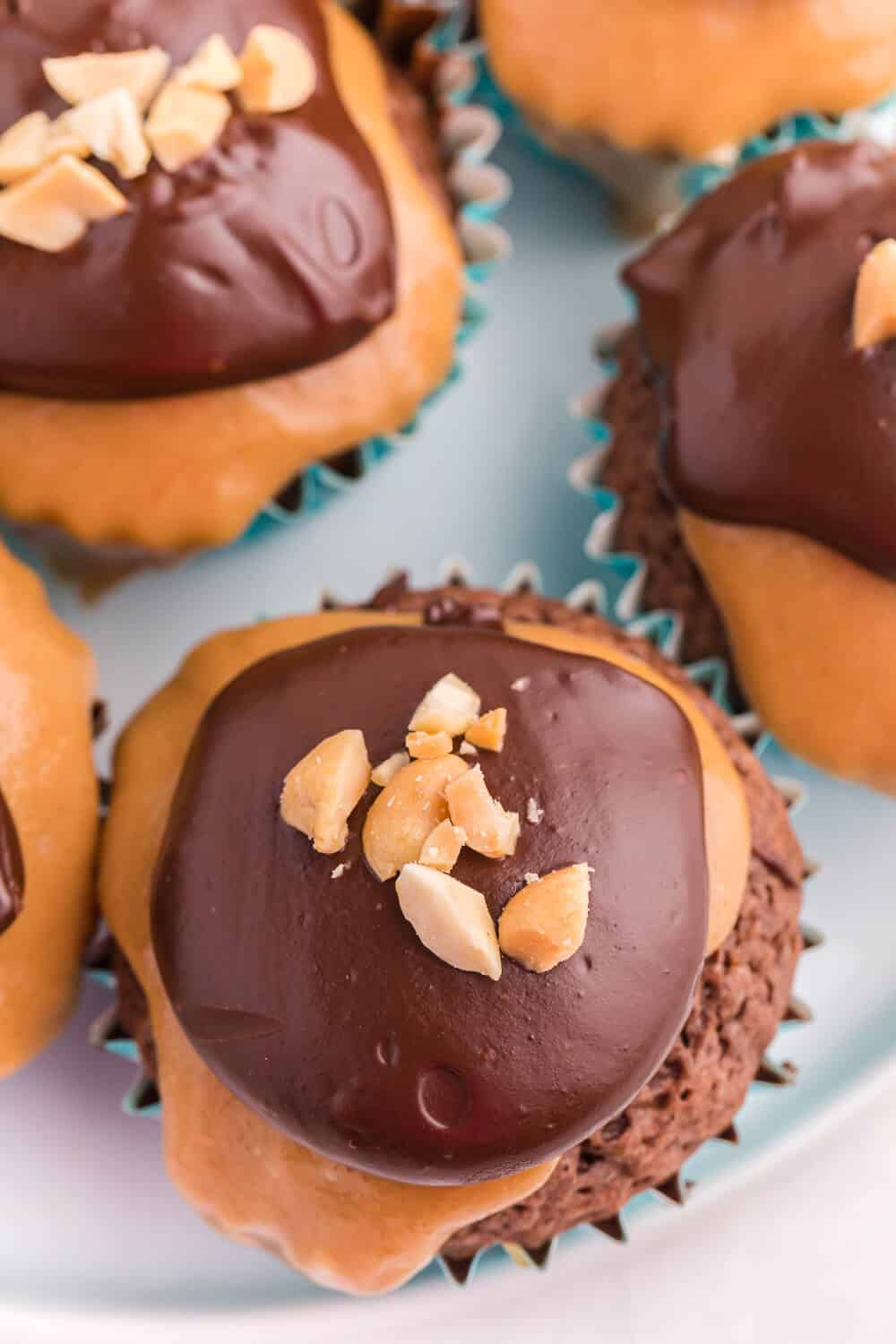 If you need more cupcake inspiration, I've got a few cupcake recipes posted on my site:
Cupcake Crusader, Anna Olson
Celebrity Chef and host of Food Network's Canada Bake with Anna Olson has joined National Cupcake Day as a Cupcake Crusader. She strongly supports animals and the work of the SPCA and wanted to offer her support. She has created an original cupcake recipe: Banana Cupcakes with Peanut Butter Cream Cheese Frosting. Yum! In the directions, she even shows you how you can make them into "Pupcakes". These would be fun for the kids to create and eat!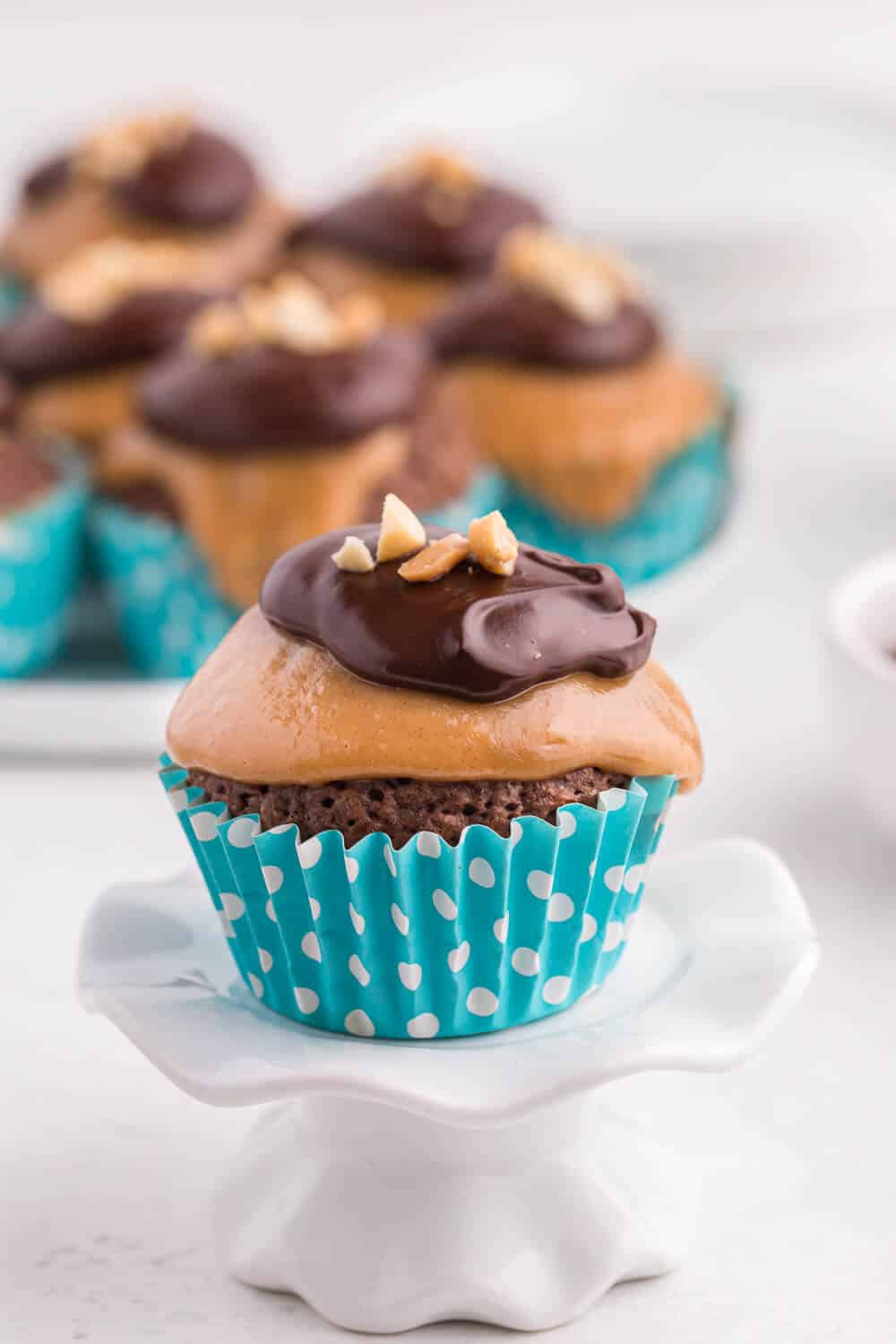 Show Your Support
If you would rather just offer a donation, you can do that too. I've got my Online Bakery set up where you can donate. I selected the Nova Scotia SPCA as my charity since that's where I currently live. You can donate as much or as little as you like. Every cent counts! They are set up to accept credit cards and Paypal. Also, your donations are tax deductible so you can use the receipts on your 2014 taxes.
If you love animals like I do, I encourage you to show your support by either registering for National Cupcake Day host or by donating to the cause. Working together we can all "bake a difference".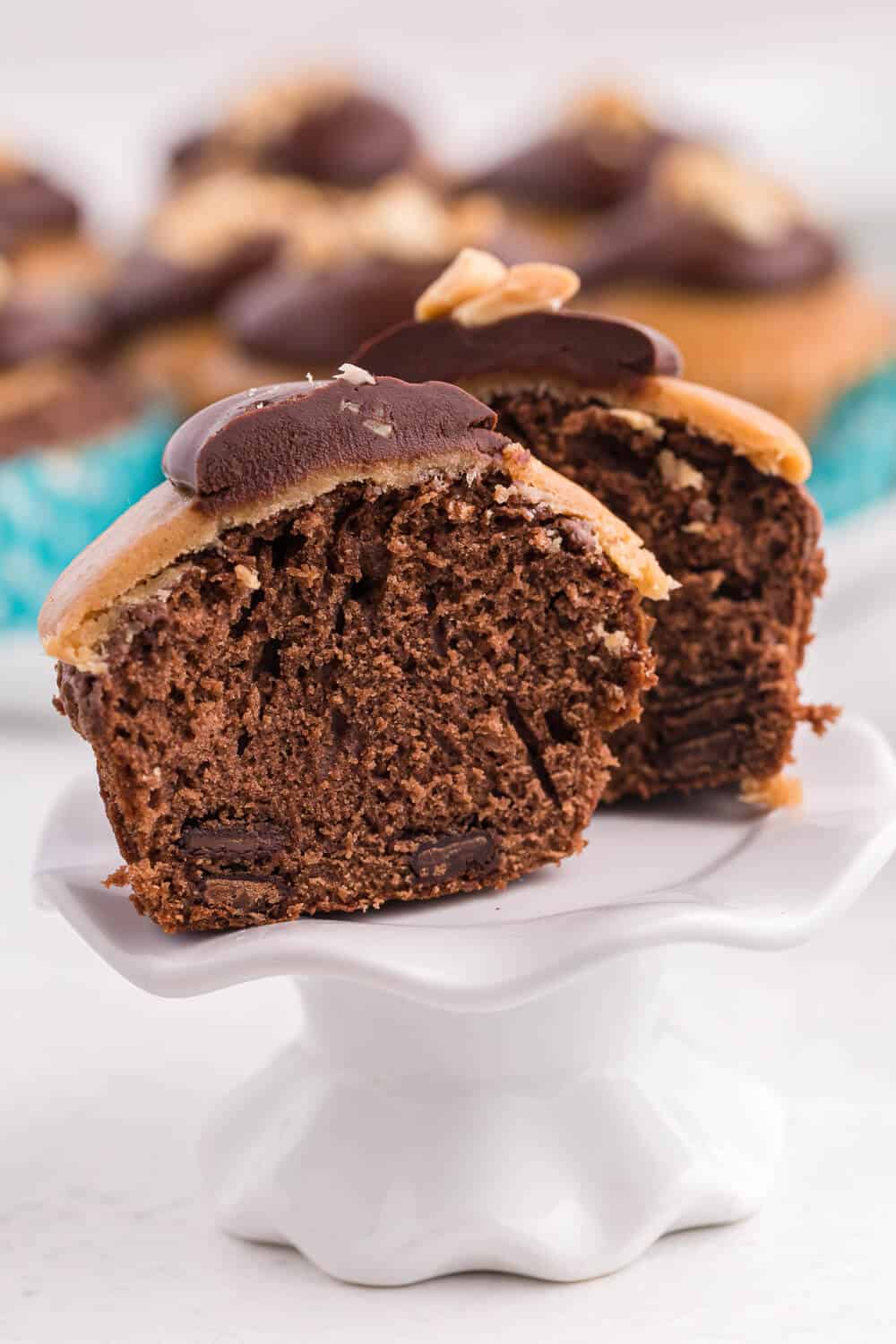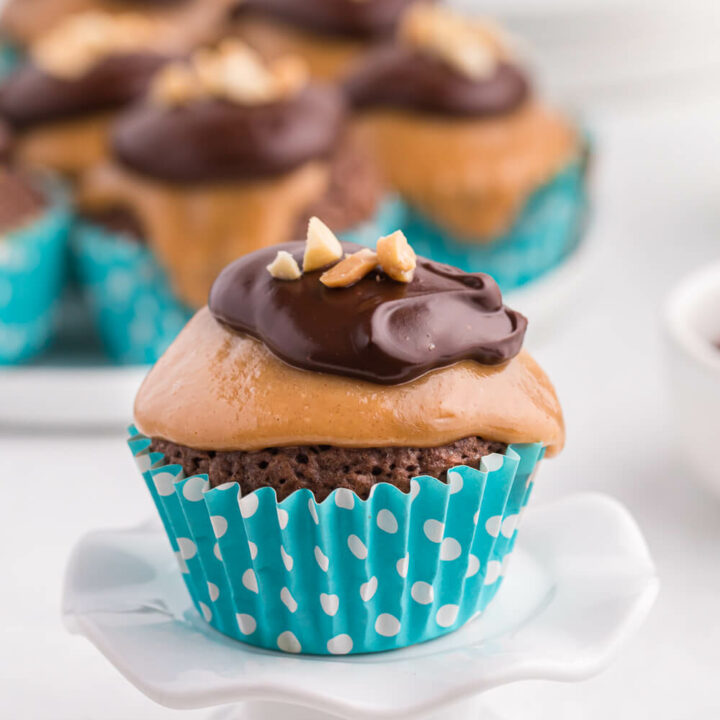 Peanut Butter Brownie Cupcakes
Fudge brownie cupcakes topped with a rich peanut butter sauce and a chocolate glaze. Perfection!
Ingredients
1 (18oz/440g) package of brownie mix
2 eggs
1/3 cup water
¼ cup vegetable oil
Peanut Butter Topping
1/3 cup sugar
1/3 cup light corn syrup
½ cup smooth peanut butter
Chocolate Topping
¾ cup semi-sweet chocolate chips
3 tablespoons salted butter
1 tablespoons light corn syrup
Chopped peanuts, for garnish (optional)
Instructions
Preheat oven to 350°F. Place 12 cupcake liners in a muffin tin.
Combine brownie mix, eggs, water and oil in a large bowl and stir to blend. Add mix to the cupcake liners until almost full. Bake for 30 minutes or until a toothpick inserted in the centre of a cupcake comes out clean. Cool completely.
After the cupcakes have cooled, begin to make the peanut butter topping by combing sugar and corn syrup in a small pan on the stove on medium heat. Bring to a boil over medium heat then remove from heat. Mix in peanut butter and stir to combine. Drop peanut butter mixture on top of the cupcakes (about 1 teaspoon each). Set aside to cool.
When the peanut butter topping has cooled, start making the chocolate topping by combing chocolate chips, butter and corn syrup in a small saucepan on the stove. Cook on low heat, stirring constantly, until chocolate has completely melted. Remove from heat. Drop chocolate topping on top of the peanut butter topping (about ½ to 1 teaspoon each). Sprinkle chopped peanuts on top. Let cool.
Recommended Products
As an Amazon Associate and member of other affiliate programs, I earn from qualifying purchases.
Nutrition Information:
Yield:

12
Serving Size:

1
Amount Per Serving:
Calories:

438
Total Fat:

21g
Saturated Fat:

6g
Trans Fat:

0g
Unsaturated Fat:

13g
Cholesterol:

39mg
Sodium:

250mg
Carbohydrates:

63g
Fiber:

1g
Sugar:

21g
Protein:

6g