Are you ready for the richest, chewiest, most mouthwatering brownies of your life? I hope so because I've got a brownie recipe to die for! Meet your newest chocolatey addiction: Easter Egg Brownies. Who knew that adding a chocolate Easter egg to brownie batter could create absolute perfection?!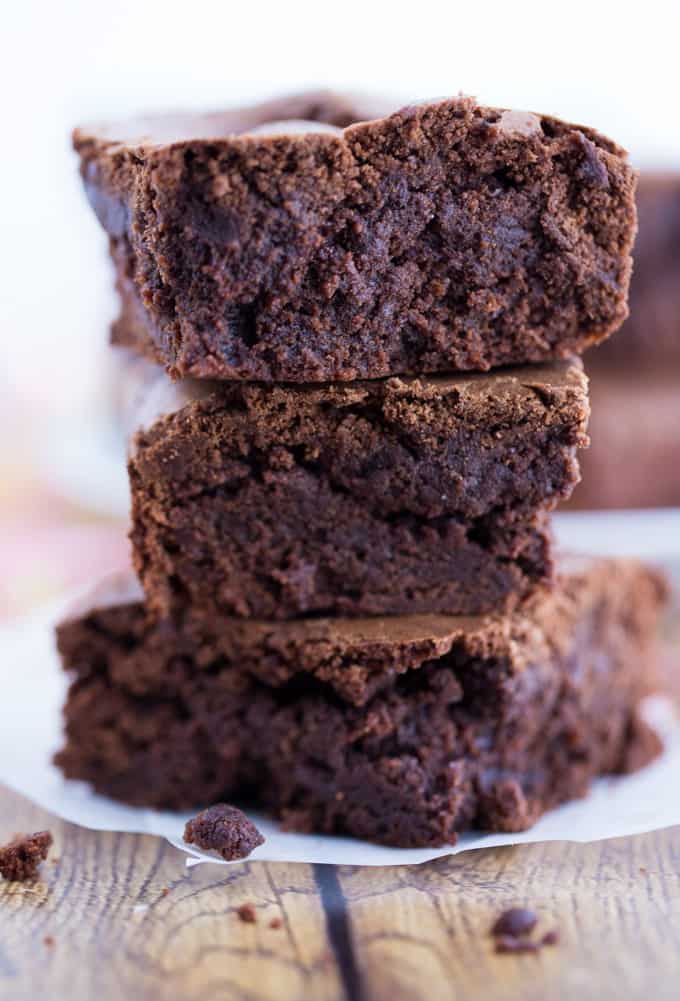 I bought four different kinds of Cadbury Easter Eggs. The Easter bunny will leave some out, but I also wanted to use them in a couple recipes. I bought the traditional Cadbury Creme Eggs and tried a few new kinds (to me anyways), Oreo, Fudgeeo and Caramilk.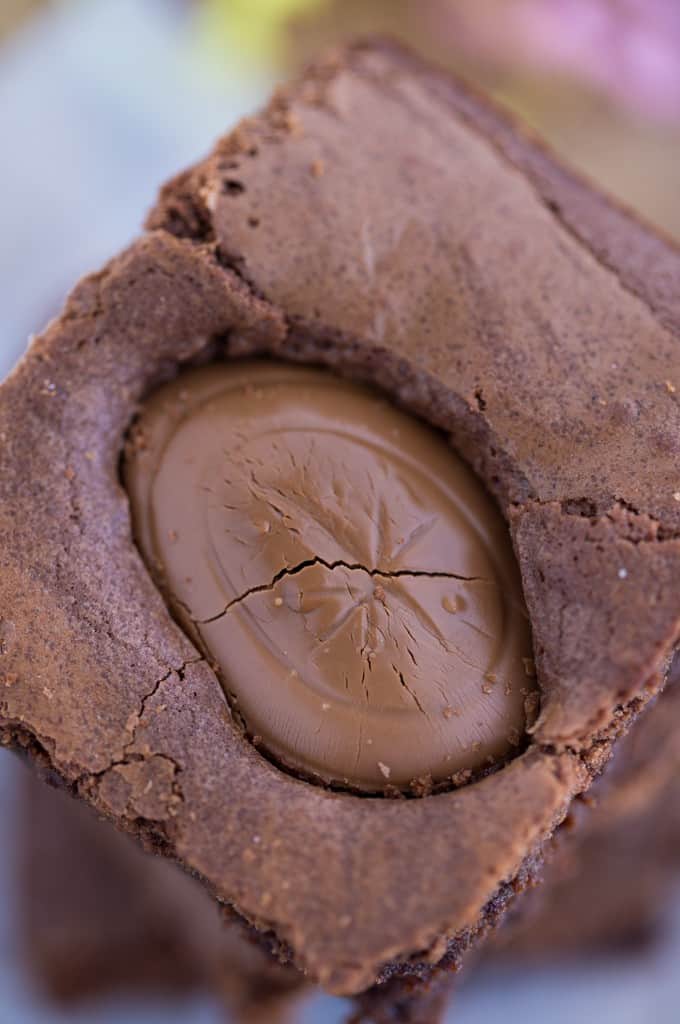 I used all four in this recipe to keep things exciting. They all look the same on the outside so you won't know which flavour you have till you take a bite. Surprises make them even more fun to eat.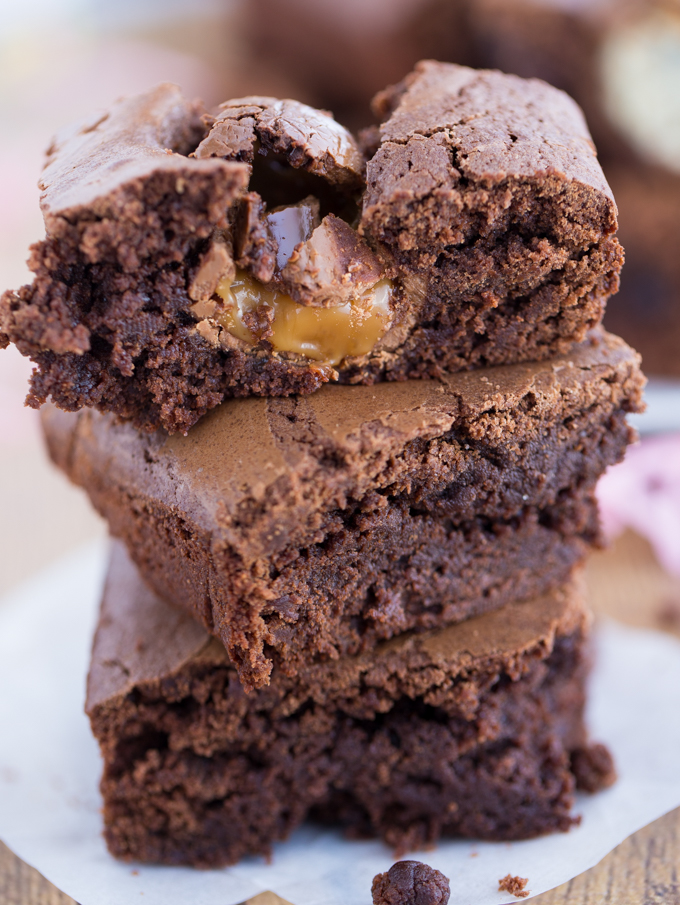 These brownies are from scratch, but you could also use a boxed mix to save on time. After you've poured the brownie mixture into your pan, you'll embed the nine Easter Eggs in the mixture. I pushed mine down slightly with the back of a spoon so just the top portion is peeking out.
I used nine Easter Eggs in the recipe and cut them into nine huge squares. I probably could have fit four across and then been able to cut them into smaller portions, but I only had nine Easter Eggs to work with. Feel free to add more (or less). The baking time won't change.
Easter is coming up fast so go out and grab a bunch of Easter Eggs while you can! If you want to be frugal, wait till after Easter and then head to the stores when all the Easter products are sold for deep discounts. I'm going to do that so I can stock up and make these treats again.
Add a few different kinds of Cadbury Easter Eggs to your brownies. You won't know which flavour you have till you bite in!
For more Easter inspiration, check out my Easter Pinterest board and Easter Desserts Pinterest board.
Have you ever used Cadbury Easter Eggs in a recipe?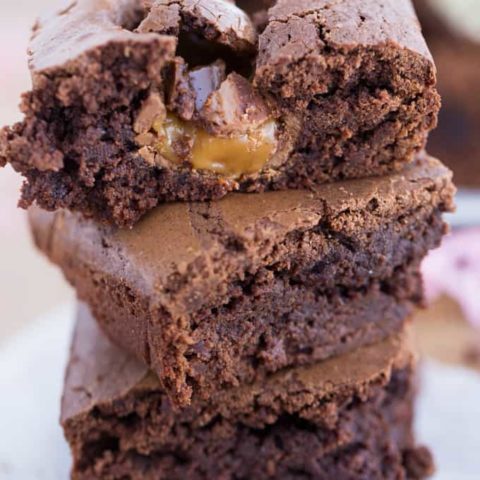 Easter Egg Brownies
Meet the richest, chewiest, most mouthwatering brownies of your life! Who knew adding a Cadbury Easter Egg could create such a mouthwatering masterpiece.
Ingredients
2/3 cup butter
5 oz unsweetened baking chocolate, cut into chunks
1 3/4 cup sugar
2 tsp vanilla extract
3 eggs
1 cup flour
9 Cadbury Easter Eggs in your choice of flavours
Instructions
Preheat oven to 350F. Grease a 9 inch square pan and set aside.
Melt chocolate and butter in a saucepan over low heat, stirring constantly. Once melted, remove from heat and let sit for 5 minutes.
In a large mixing bowl, beat sugar, eggs and vanilla on medium-high speed for five minutes. Pour in chocolate and beat on low speed until combined. Beat in flour until mixed. Pour mixture into pan.
Place Easter Eggs evenly into the brownie mixture. Gently press down with the back of a spoon to make sure it's partially embedded.
Bake for 40 minutes. Remove from oven and cool completely on a wire rack (about two hours). Cut into squares and enjoy!
Recommended Products
As an Amazon Associate and member of other affiliate programs, I earn from qualifying purchases.
Nutrition Information:
Yield:

9
Serving Size:

1
Amount Per Serving:
Calories:

521
Total Fat:

28g
Saturated Fat:

16g
Trans Fat:

1g
Unsaturated Fat:

11g
Cholesterol:

285mg
Sodium:

208mg
Carbohydrates:

55g
Fiber:

3g
Sugar:

39g
Protein:

12g