Golden brown, sweet, and baked to perfection – that's what makes these Spring Cookie Bars one of my all-time favorite Easter treats. Not only are they super-chewy and delicious, but these delectable bars are packed with yummy white chocolate chips and pastel M&Ms that will make any garden party table pop!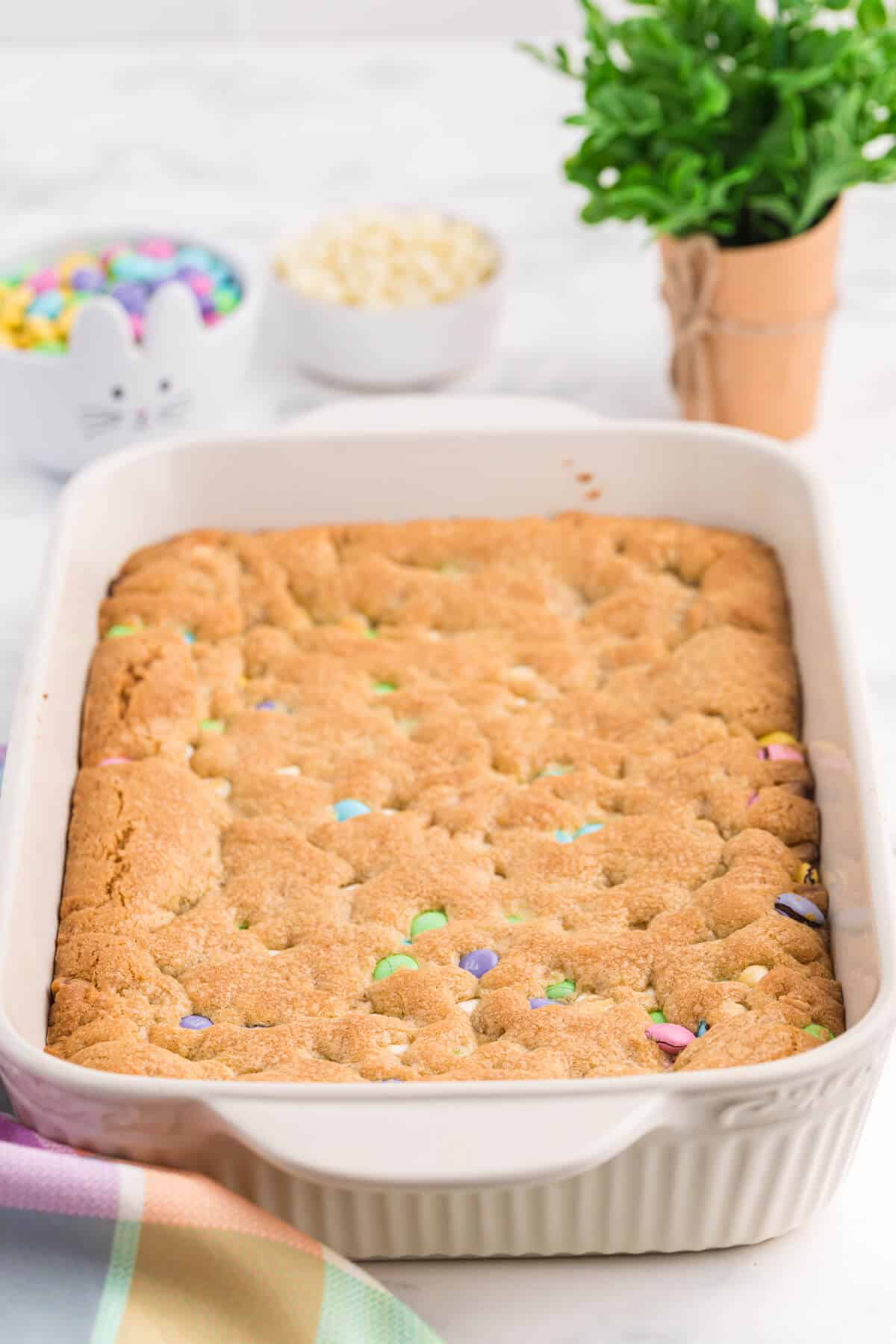 This post contains affiliate links.
Although you can use regular M&Ms in this recipe, I feel that the pleasant pastel colors offer these bars a distinctive Easter feel. Pastel M&Ms aren't typically available year-round, so I suggest heading to the grocery store around Easter-time and stocking up on a few bags that you can use throughout the year (if you love this recipe, of course!).
If you're wondering what the white chocolate chips are doing here, they complement the flavor of the bars and give this dessert even more depth of color!
Should you be new to baking, don't be put off by all the colors, the large baking tray, or the ingredients – you're essentially making a chocolate chip cookie recipe with a twist which should be manageable for even total newbies.
Do you have kiddos in the house? If so, beware! These bars will disappear almost as soon as you remove them from the oven.
I wish I was kidding – my eldest daughter loves these bars, and she's probably the pickiest eater in our family. If that doesn't give you an idea of just how good these things are, I don't know what will!
If you need an adult's opinion, I can safely say that these chewy, addictive little morsels are incredible. I snuck a few bars after I first baked these, and it took an offensive amount of self-control not to eat the entire pan.
Trust me – I wanted to, but I knew I'd come to regret it later!
Don't like the idea of cookie bars? No problem!
Simply transform this simple recipe into cookies by dropping even rounds of dough onto a cookie sheet. Taking only 10 minutes to bake, they'll be ready to devour in no time.
Whether you like the square shape of cookie bars or prefer to keep things traditional with regular round cookies, you're bound to enjoy the incredible flavors in these Spring Cooke Bars.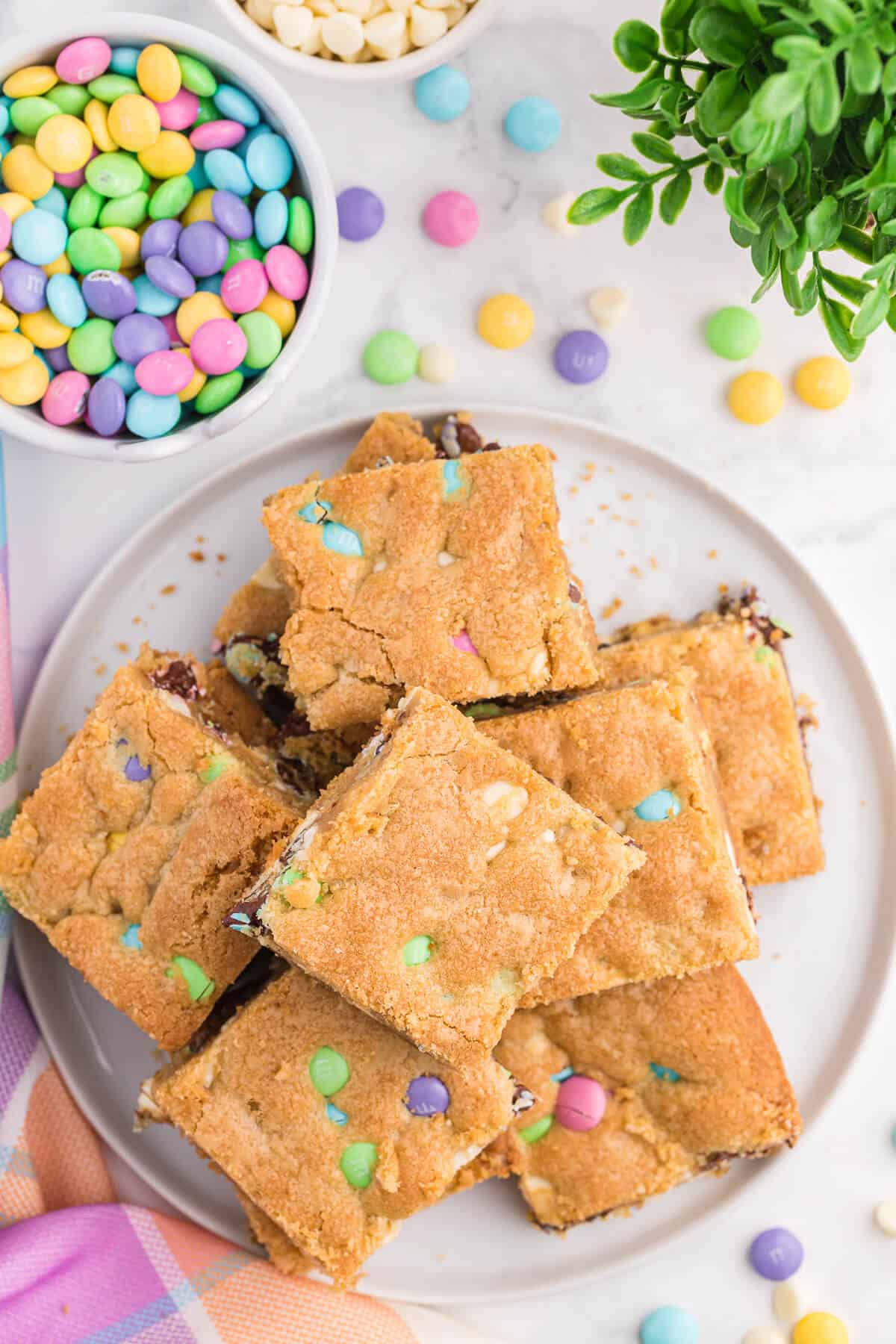 Why You'll Love Spring Cookie Bars
They look incredible on a garden party table
They're delicious and perfectly chewy
They couldn't be easier to make
It's easy to get the kids involved with this recipe
Ingredients
Sugar
Brown sugar
Butter
Vanilla extract
Egg
All-purpose flour
Baking soda
Salt
White chocolate chips
Spring Pastels M&Ms
How to Make Spring Cookie Bars
Step One: Preheat the oven to 375F. Add sugar, brown sugar, vanilla extract, butter, and egg to a large bowl and beat with a mixer on medium speed until combined.
Step Two: Stir in flour, baking soda, and salt. Stir in white chocolate chips and M&M's right after.
Step Three: Press cookie dough into a 13 x 9-inch pan (ungreased) and bake for 20 minutes or until golden brown. I like pressing the cookie dough down with the back of a wooden spoon to keep the dough level!
Step Four: Remove from the oven and place the pan on a wire rack to cool completely before cutting into squares.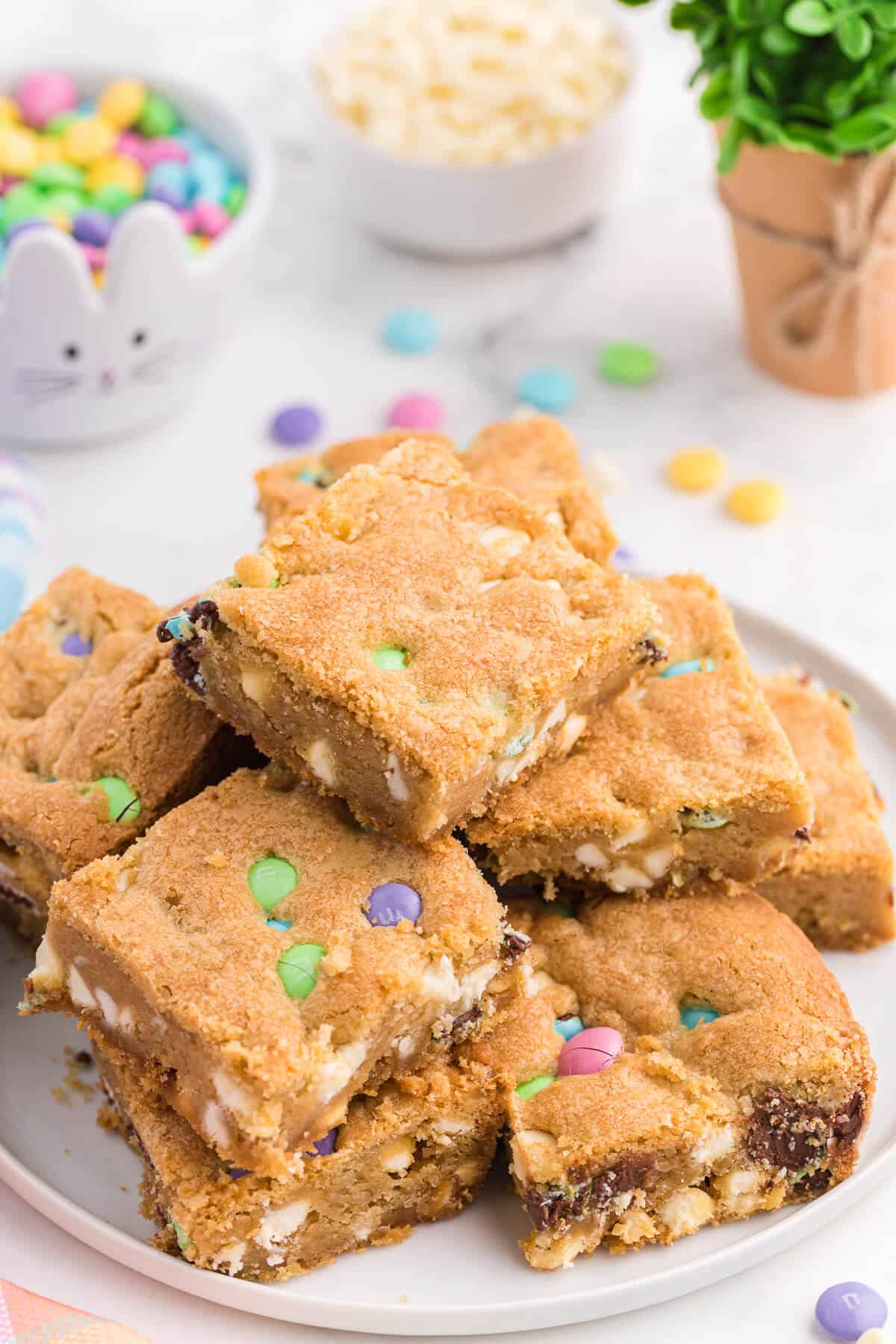 Equipment Needed
What to Serve with Spring Cookie Bars
Recipe Tips and Tricks
Don't forget the baking soda! This may sound like a silly thing to say, but it can have a major impact on the outcome of your recipe. If your bars can't leaven, they'll probably end up raw in the middle (which is something we certainly don't want!).
Before taking your bars out of the oven, perform the wooden pick test. Don't take your bars out of the oven before pricking the middle of your bars with a wooden stick or toothpick. If your toothpick comes out with a few crumbs on it, your bars are done. If the toothpick looks goopy, they need longer in the oven!
If you're using a glass pan, reduce the heat by just a touch. The glass will heat up slightly more than alternative pans, so reduce the heat slightly to prevent overbaking.
Be careful with pan size. As with many pan recipes, you'll want to use the right pan size to prevent over or underbaking your goodies. If your dough stretches too thin, it may burn or crisp up. If it's too thick, your bars will probably be a goopy mess.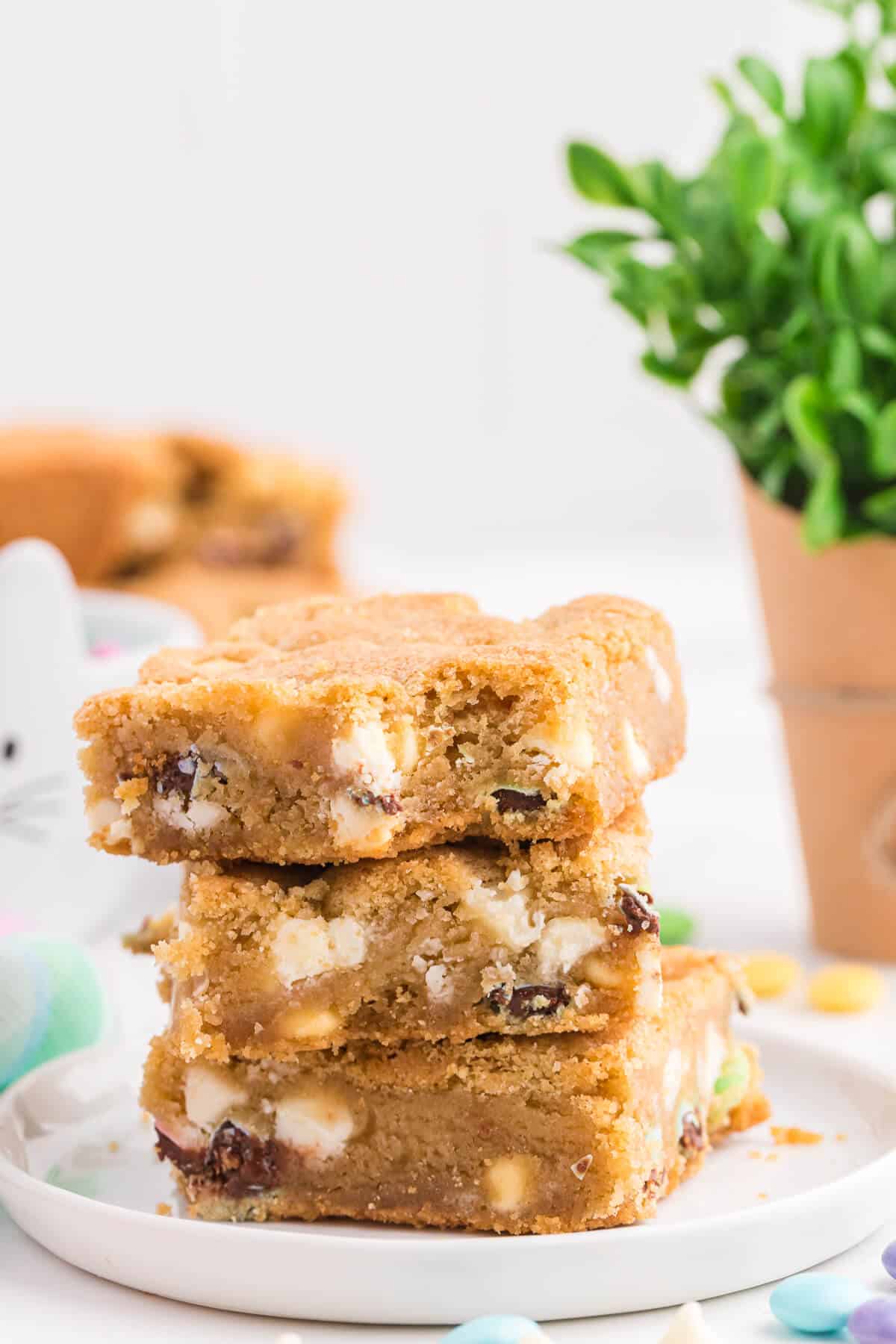 Variations and Substitutions
Give your bars a chocolatey boost by adding some cocoa powder to your recipe! This may be too chocolatey for some, but who doesn't love a double (or triple!) chocolate chip cookie?
If you're a fan of peanut butter or Nutella, I suggest mixing a couple of tablespoons into your dough. Alternatively, you can plop small amounts on the top of each section to give your bars an indulgent kick.
If you can't find pastel M&Ms – don't stress! Simply use regular M&Ms and call this dessert "M&M Cookie Bars". It all tastes the same, so it's no biggie.
Storage Instructions
The best way to keep your cookie bars fresh is by keeping them stored in the pan you first baked them in. This should maintain the freshness of the cookies by exposing limited amounts of the cookie bar to air.
To do this, you can simply cover the pan with a large piece of foil or place it in a giant resealable bag.
If you must portion them out, I suggest keeping the cookie bars in an airtight container. When stored this way, they should last between 4 and 5 days.
Can I Freeze?
Yes – you can certainly free these Spring Cookie Bars!
Depending on what you need them for, you can either freeze the dough or the bars themselves.
If you're freezing the dough, I recommend wrapping it in plastic wrap. This tends to work better if you're making these bars as cookies, as you'll just be able to unwrap a portion, stick it in the oven, and have a delicious, hot cookie ready to go in minutes!
If you're freezing the bars, you'll want to freeze them in separate portions. Allow your bars to cool completely, then stack them in the freezer with a layer of parchment paper between each one.
This will stop them from sticking together and keep them fresh for up to 9 months!
Easter Desserts

Follow me on Instagram @simplystacieblog, Facebook at Simply Stacie, or Pinterest at @simplystacie, and let me know how you liked this recipe and my other recipes.
If you make the recipe, rate it on the recipe card below and tag me on Instagram and use #simplystacie. I like sharing the photos on my Instagram stories!
Spring Cookie Bars
Sweet, chewy cookie bars baked to golden brown perfection! They are packed with yummy white chocolate chips and M&M's in pretty pastels.
Ingredients
3/4 cup sugar
3/4 cup brown sugar
1 cup butter, softened
1 teaspoon vanilla extract
1 egg
2 1/4 cups all-purpose flour
1 teaspoon baking soda
1/2 teaspoon salt
1 cup white chocolate chips
1 cup Spring Pastels M&Ms
Instructions
Preheat oven to 375F. Add sugar, brown sugar, vanilla extract, butter and egg to a large bowl and beat with a mixer on medium speed until combined.
Stir in flour, baking soda and salt. Stir in white chocolate chips and M&M's.
Press cookie dough into a 13 x 9 inch pan (ungreased) and bake for 20 minutes or until golden brown.
Remove from oven and place pan on a wire rack to cool completely before cutting into squares.
Recommended Products
As an Amazon Associate and member of other affiliate programs, I earn from qualifying purchases.
Nutrition Information:
Yield:

20
Serving Size:

1
Amount Per Serving:
Calories:

262
Total Fat:

13g
Saturated Fat:

8g
Trans Fat:

0g
Unsaturated Fat:

4g
Cholesterol:

37mg
Sodium:

226mg
Carbohydrates:

33g
Fiber:

1g
Sugar:

21g
Protein:

3g