Rice Krispie Cookies are the perfect cookie to whip up in a hurry for that crunchy and tender cookie you are craving. My Rice Krispie Cookies are loaded with crunchy Rice Krispies, shredded coconut, oats, and salted caramel chips, for the most outstanding cookie to serve your family and guests.
That box of Rice Krispies in your pantry is for more than just a bowl of cereal. Yes, you can make the classic Rice Krispie Squares, but why not try something a little different for a change?
Whip up a batch of these yummy Rice Krispie Cookies! They are loaded with a variety of flavors and textures. You can throw whatever you have in your pantry in the mix, and they should turn out great (within reason, of course!).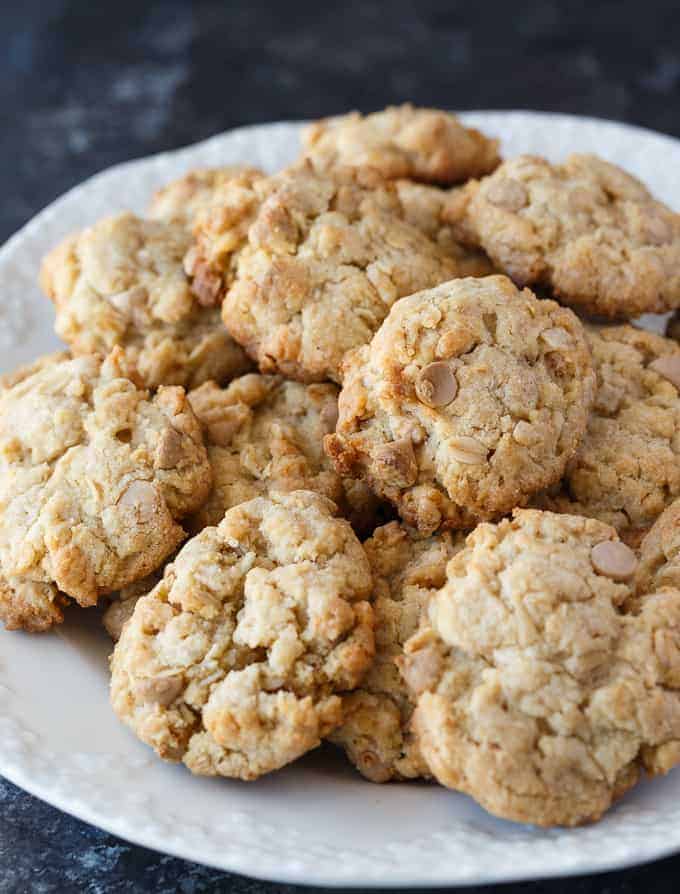 The Perfect Rice Krispie Cookie Recipe
Because this is such a versatile recipe, you can play up on flavors. Maybe you favor butterscotch or milk chocolate, swap out the salted caramel chips. Depending on what I have in my home, depends on what I add to the cookies. Each time it turns out tasty, and a hit to every person.
Variations for Rice Krispie Cookies
Milk Chocolate Chips
White Chocolate Chips
Peanuts
Toffee Bits
Slivered Almonds
M&M's

Cookie Swap Rice Krispies Cookie
Looking for an easy cookie to make for a cookie swap? Here is the recipe of your dreams. Easy, quick and something that anyone can love. This is also a great cookie to make for potlucks, holiday gatherings, summer BBQs, and any other occasion.
Favorite Cookie Recipes To Consider
Will the Rice Krispies Stay Crunchy in Rice Krispie Cookies
Yes, you will get a nice crunch from the cereal. It stays crunchy and is similar to eating nuts in the cookies. It is a refreshing texture of the crunch next to the soft and chewy cookie.
Best Way To Store Rice Krispie Cookies
Once your cookies are done cooling on a cookie rack, transfer into an airtight container or store in a sealable bag. Just do your best to remove as much air as you can to keep them nice and fresh.
They will last around 4-5 days out, and then begin to get dry. If you don't allow the cookies to cool completely down before you store, you can make your cookies soggy. If you place them in a sealed bag or container and they are hot, they will cause water to form in the container. That will make the cereal in the cookies mushy.
Can You Freeze Rice Krispie Cookies
You absolutely can. Just follow the rules of allowing it to cool, then store in a bag or container in the fridge. Pull out as many as you want and then allow to thaw and devour.
If you don't want to wait for them to thaw on the counter, pop in the microwave for 3-4 seconds at a time until softened.
Can You Freeze Rice Krispie Cookie Dough
There are a lot of cookies that you can freeze the dough and bake later. You run the risk of ending up with soggy cereal if you freeze the dough before you cook it. As it bakes in the oven after being thawed, it can make the cereal a bit soft and you won't get that same crunchy cookie that you want.
How to Make Rice Krispie Cookies
Preheat your oven and then grab a bowl. Cream your sugars, butter, and shortening together until light and creamy. This takes around 2-3 minutes. Then begin incorporating in the rest of the ingredients. Scoop your dough onto a cookie sheet and bake for approximately 16 minutes.
Leave the cookies on the baking sheet for 3 minutes and then transfer to a cooling rack to cool down.
One thing I will recommend is using a cookie scoop. This is important so that you can get even cookies. If you have different size cookies on the baking sheet, as it bakes you run the risk of some cookies overcooked and other cookies not done.
It is a very inexpensive product to buy to help give your cookies the right consistency!
I hope you all enjoy this easy cookie recipe for Rice Krispie Cookies. We have been making this recipe for years, and it is a tried and true that keeps us coming back for more.
You'll also like these White Chocolate Peanut Butter Cheerios Treats and Chocolate Rice Krispies.
Have you ever used Rice Krispies in a cookie recipe?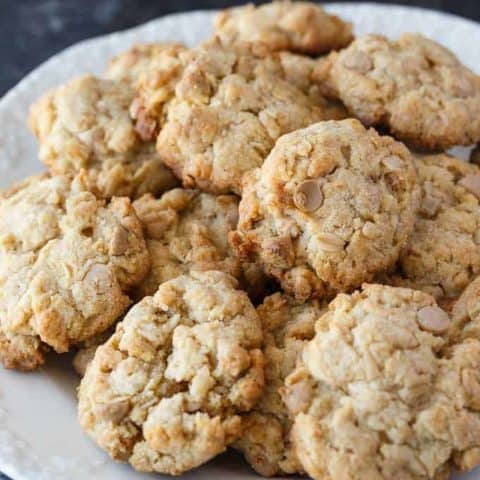 Rice Krispie Cookies
Packed full of YUM! This easy cookie recipe is made with Rice Krispies, coconut, oats and salted caramel chips.
Ingredients
1 cup brown sugar
1 cup sugar
2 eggs
1/2 cup butter
1/2 cup shortening
1 tsp vanilla extract
2 1/4 cup flour
1 tsp baking powder
1/4 tsp salt
1 cup sweetened shredded coconut
1 cup Rice Krispies
1 cup oats
1 cup salted caramel chips (or chocolate chips)
Instructions
Preheat oven to 350F.
In a large bowl, beat together butter, sugar, brown sugar, shortening and vanilla extract. Stir in remaining ingredients.
Add rounded tablespoonfuls of dough to a cookie sheet. Bake for 16 minutes. Let sit 3 minutes and then remove to a cooling rack.
Recommended Products
As an Amazon Associate and member of other affiliate programs, I earn from qualifying purchases.
Nutrition Information:
Yield:

36
Serving Size:

1 cookie
Amount Per Serving:
Calories:

171
Total Fat:

8.7g
Saturated Fat:

4.5g
Trans Fat:

0.4g
Unsaturated Fat:

3g
Cholesterol:

17.1mg
Sodium:

26.8mg
Carbohydrates:

22.2g
Fiber:

1.1g
Sugar:

13.2g
Protein:

2.1g