I think everyone has a recipe for Chocolate Confetti Bars, but may call it by a different name. These rich treats are made with pantry staple ingredients like, colored mini marshmallows, butterscotch chips, chocolate chips, butter, and peanut butter. Ready in just 10 minutes, these dessert bars are perfect when you need dessert super fast!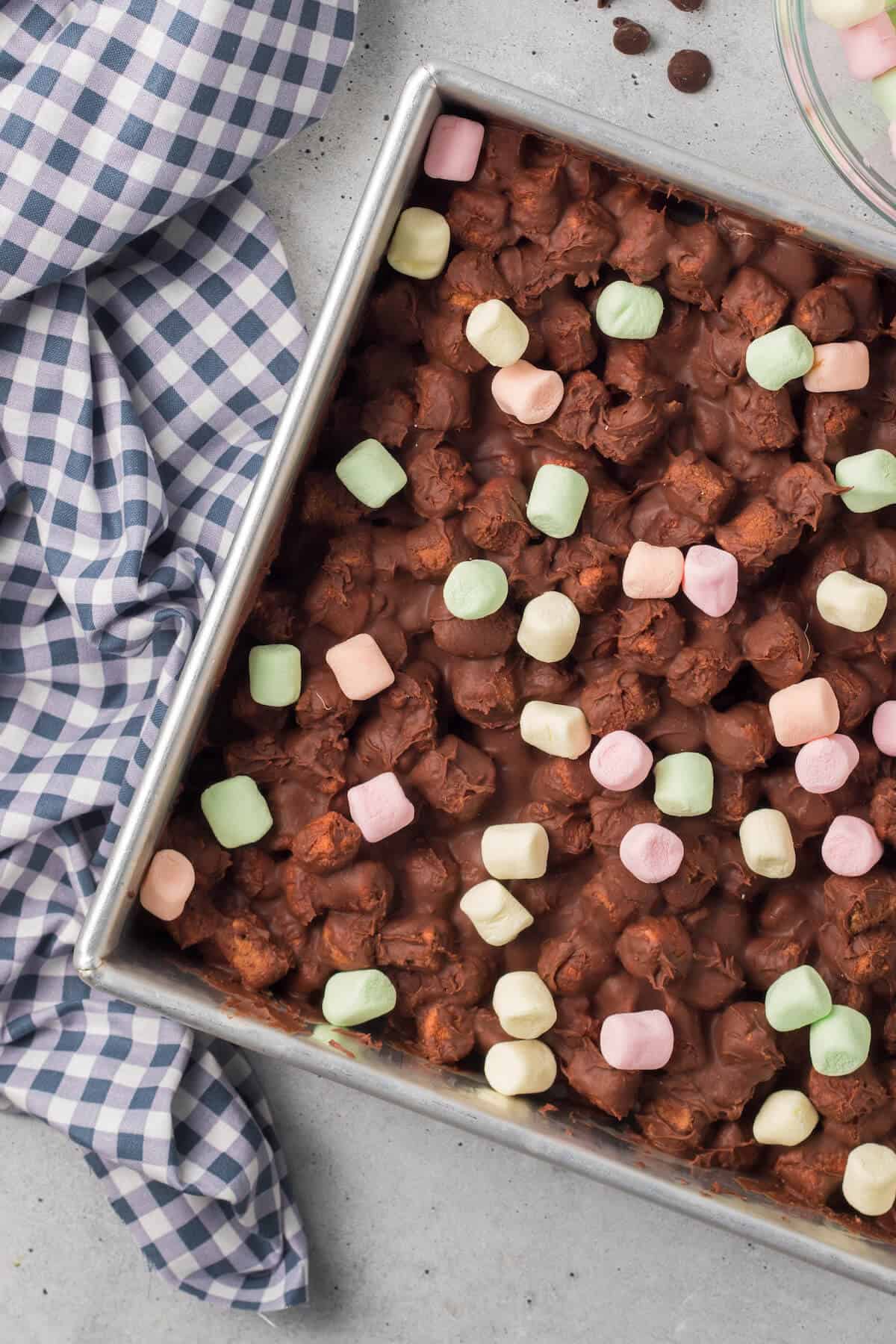 This vintage recipe has been around a long time. I remember seeing it often at our local church bake sales. There's a reason why it's stood the test of time: they are easy to make and delicious!
I make mine with a mixture of butterscotch chips and chocolate chips plus a little bit of peanut butter. Coloured mini marshmallows add a pop of chewy sweetness and just look pretty. These no-bake bars are always a hit around Christmas and great if you are participating in a baking exchange.
I love making them because they are SO EASY! On hot days, I don't feel like baking elaborate desserts….ok I don't like making elaborate desserts, period! They are silky, melt-in-your-mouth good.
If you want some more easy dessert bar recipes, try this Marshmallow Bar recipe, or these Magic Bars– they're top notch and super simple.
Why You'll Love This No Bake Recipe
You only need a handful of ingredients you already have in the pantry.
Perfect of unexpected company or when you need to have a dessert ready fast.
Easy enough that the kids can help.
Ooey, gooey, chocolatey and peanut buttery taste.
Ingredients Needed
Chocolate chips
Butterscotch chips
Butter
Peanut butter
Mini colored marshmallows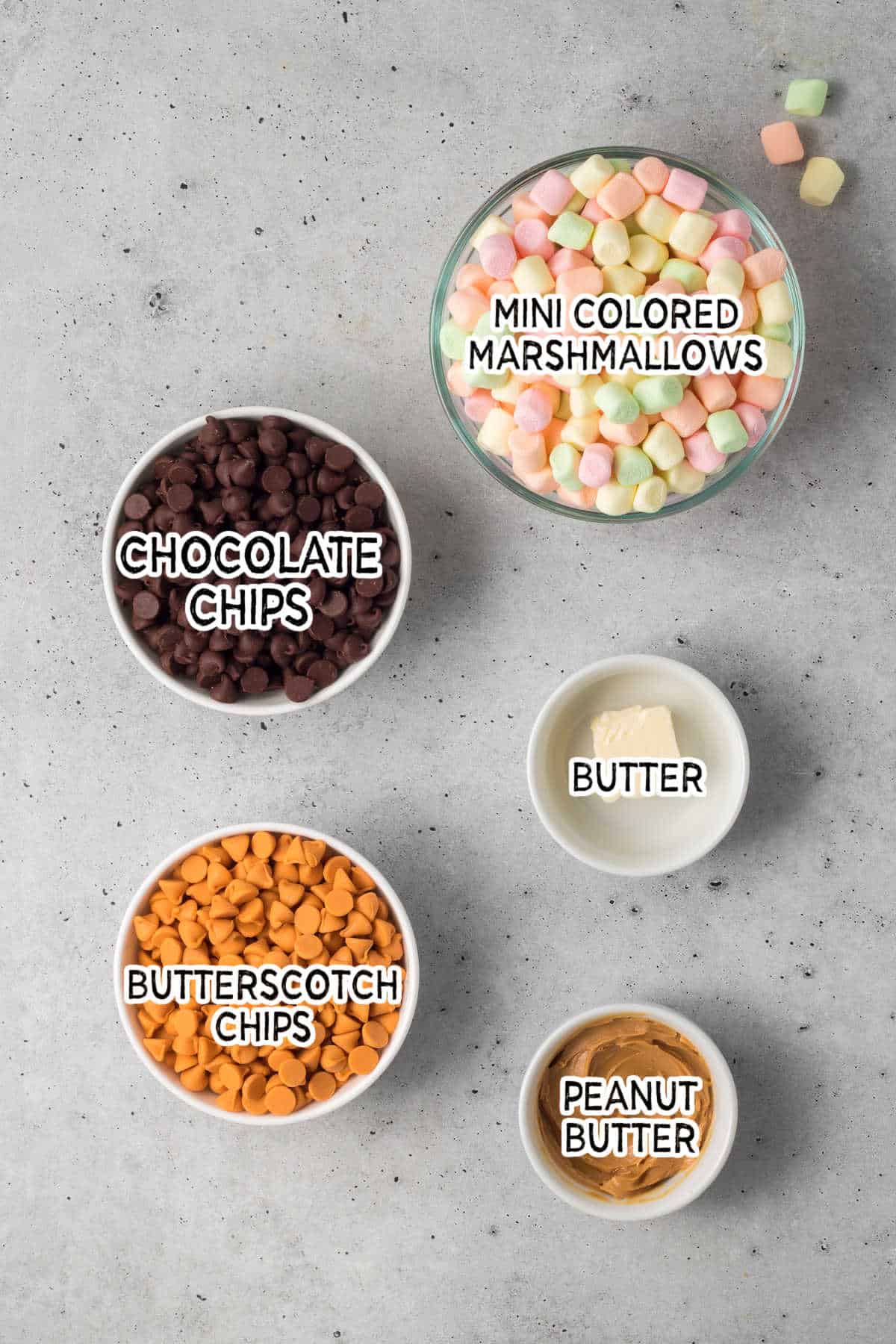 How To Make Chocolate Confetti Bars
Step One: Melt chocolate chips, butterscotch chips, butter and peanut butter in a double boiler. Let cool about 10 to 15 minutes.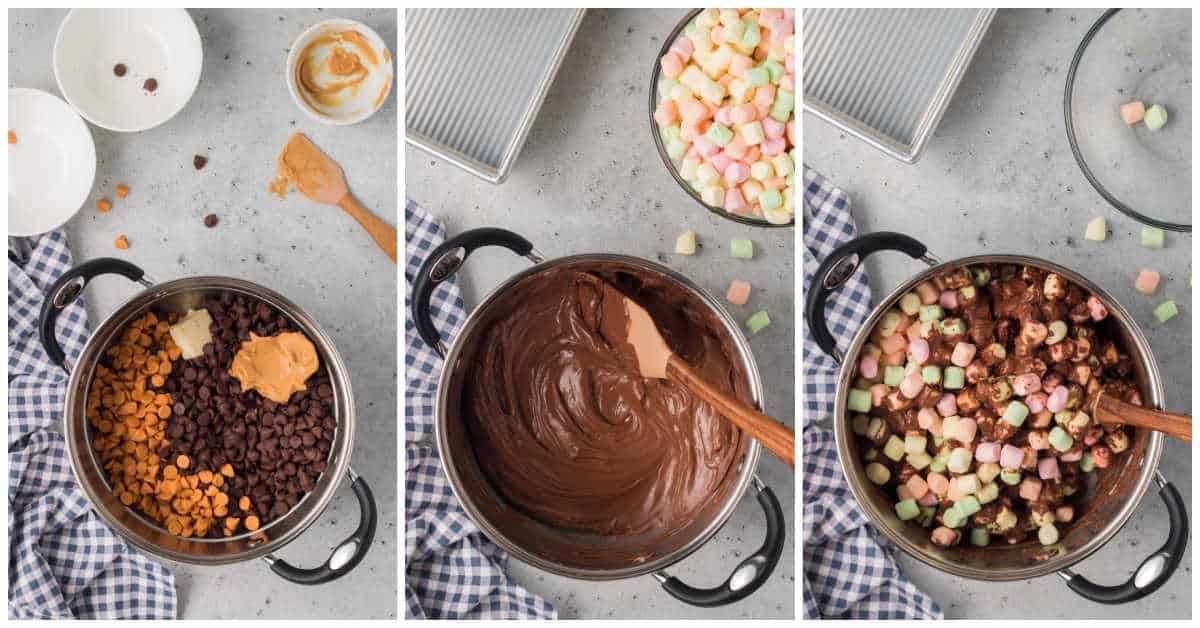 Step Two: Stir in marshmallows. Pour mixture into a 9×9 inch pan. Refrigerate until solidified. Cut into squares.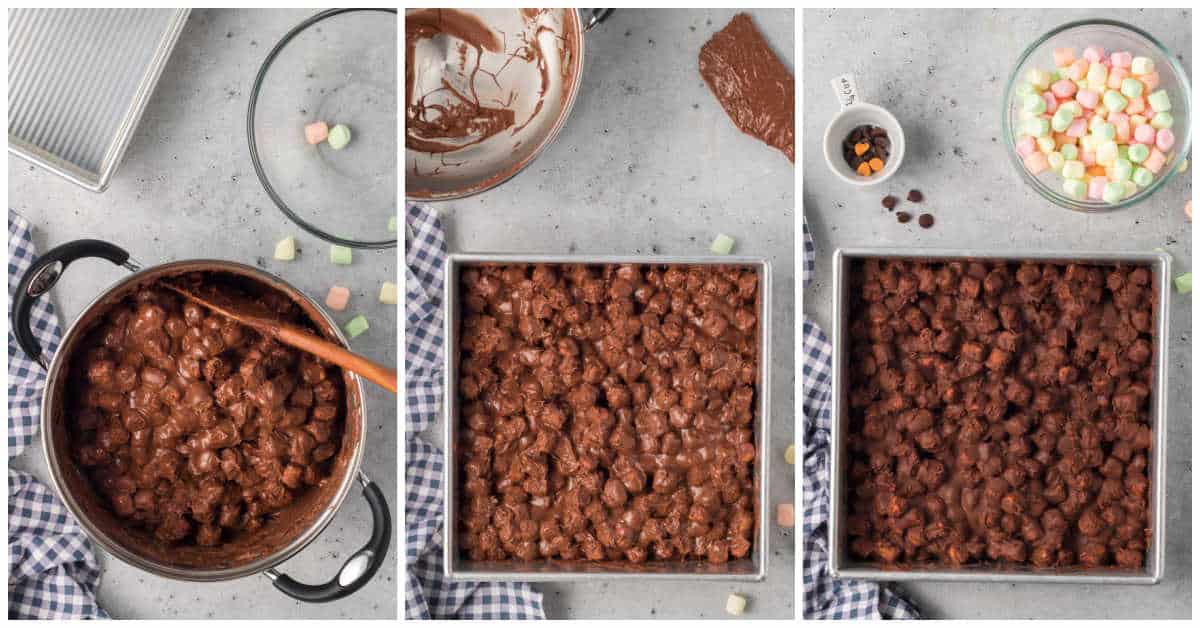 Helpful Kitchen Equipment Needed
This post contains affiliate links.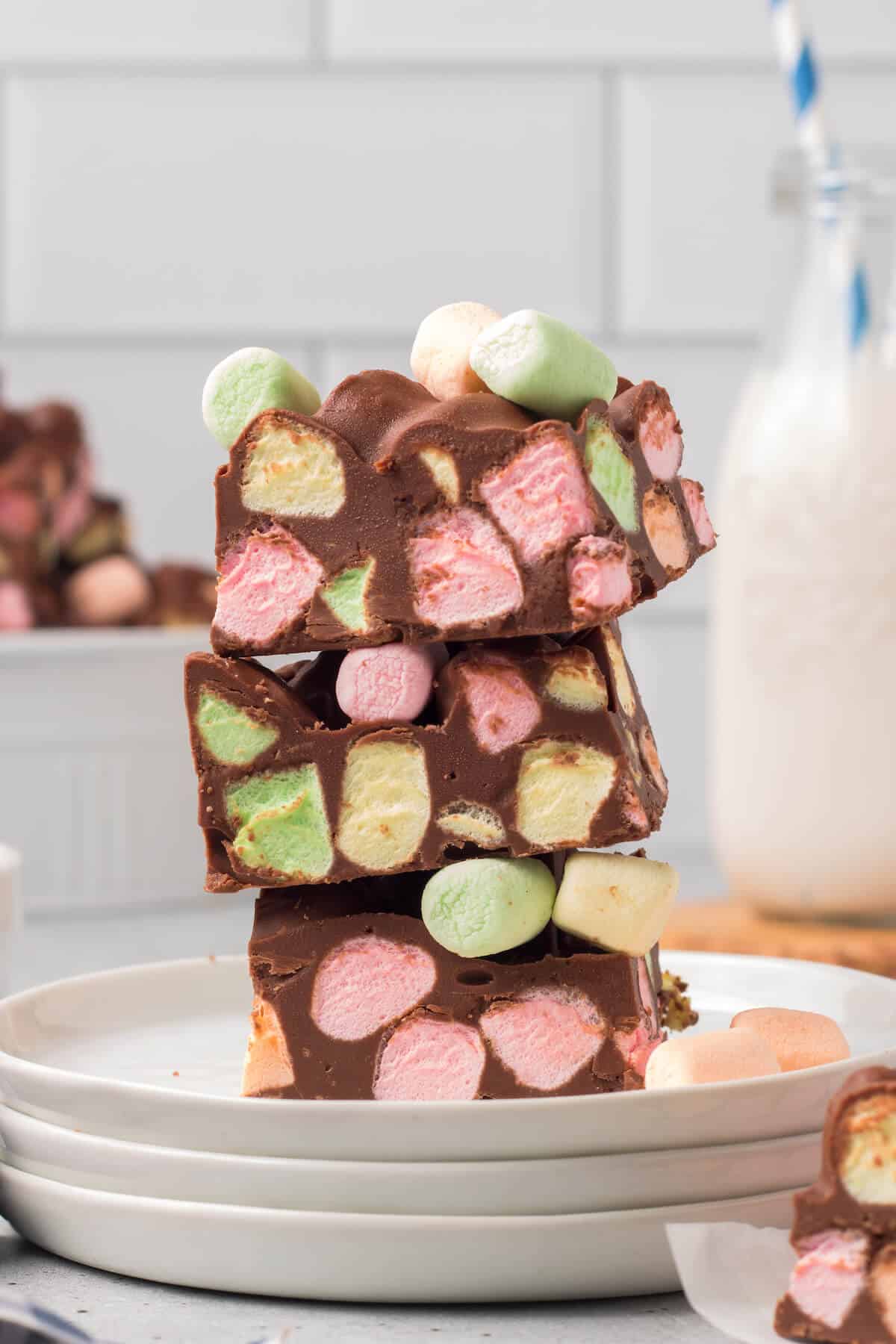 What to Serve with Marshmallow Confetti Bars
Helpful Tips and Tricks
If you don't have a double boiler, you can put a metal bowl over top of a small pot with boiling water. Additionally, you can melt your chips in the microwave using interval bursts of microwave time and stirring in between each interval.
If you're having difficulty finding your multicolored marshmallows in your local grocery store, try looking at Walmart or Amazon online to find them.
When the bars are almost finished setting in the refrigerator, you can add a few more colorful rainbow marshmallows to the top. These won't be covered in chocolate and will bring an extra pop of color to your beautiful dessert bars.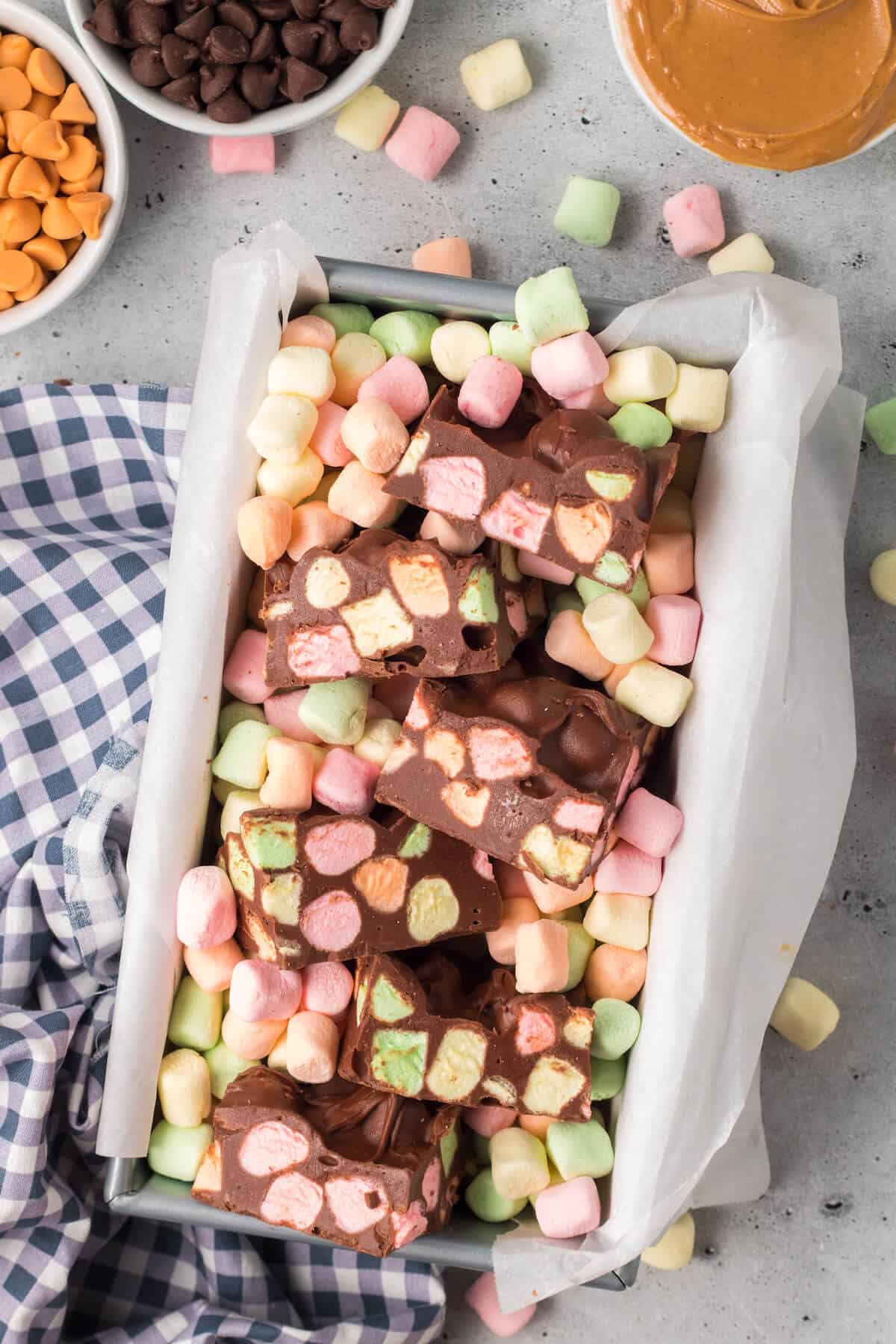 Recipe Variations and Substitutions
If you want to cut the sweetness factor down a bit, try using some salty peanuts that you set out at parties.
If you can't have peanut butter, you can omit the peanut butter. You could try adding a bit more chocolate, or use some marshmallow fluff in its place.
If you want more crunchy texture in your bars, add some chopped nuts or maybe even some toasted coconut flakes.
For more crunch, you can stir in some Rice Krispie cereal or other cereal flakes. Fruity Pebbles would also be a fun colored thing to add to this bar mixture before setting. Since they have so many colors, you would really have a colorful dessert to share with your guests.
Serve these bars with some sweet sauces drizzled on top: butterscotch sauce, chocolate sauce, or even hot fudge on top would really add another rich element to these decadent dessert bars.
You can use plain marshmallows if you can't find the rainbow colored ones, but this dessert won't be as fun and exciting to look at.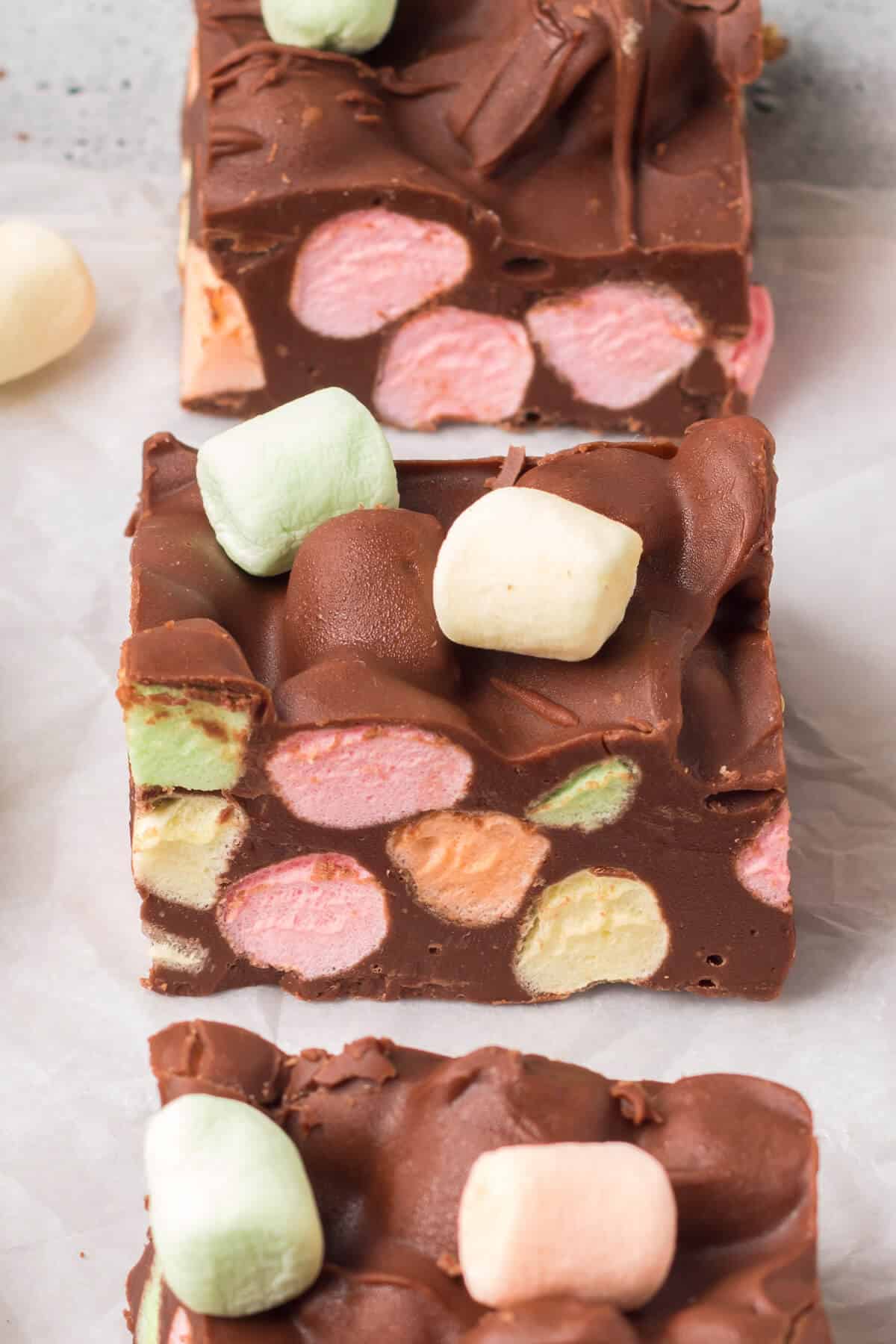 Leftover Storage
These treats are sticky, but they're so good, so be careful when handling them. Any bars should be placed in an airtight container or bag and can be kept in the fridge for up to a week.
Can I Freeze This?
Yes, you can freeze these for up to 3 months.
I suggest wrapping them individually with plastic wrap before placing them in a freezer safe container or bag to freeze for the longer period of time.
Why are my bars mushy or runny?
If your confetti bars are mushy or runny, you may need to let them set in the refrigerator for a longer period of time.
Depending on how much chocolate you use and how many marshmallows are added, it may need more melted butterscotch and more melted chocolate and peanut butter to help hold everything together.
How can I cut them to look clean and nice?
There are a few tips I have to help them look nice and clean when cutting them.
Make sure to use a knife that is sharp. Dull blades will just drag through the bars making a mess.
I like to run the blade of my knife under hot water before slicing each slice into the dessert to make squares.
I also suggest wiping the blade of your knife with a damp paper towel in between each cut so you aren't running any prior dessert crumbs through the dessert bars you're cutting now.
You can also spray your knife blade with non-stick baking spray in between cuts of your bars to help keep the edges nice and clean and smooth.
Can I double this Chocolate Confetti Marshmallow Bar recipe?
Yes, you can. However, I suggest doubling the mixture and then mixing it all together in one bowl.
However, when you go to pour the mixture into the baking dish to go in the fridge to set, you should split it up into two different baking dishes.
Otherwise, you'll end up with super thick bars that might take a really long time to set up in the refrigerator.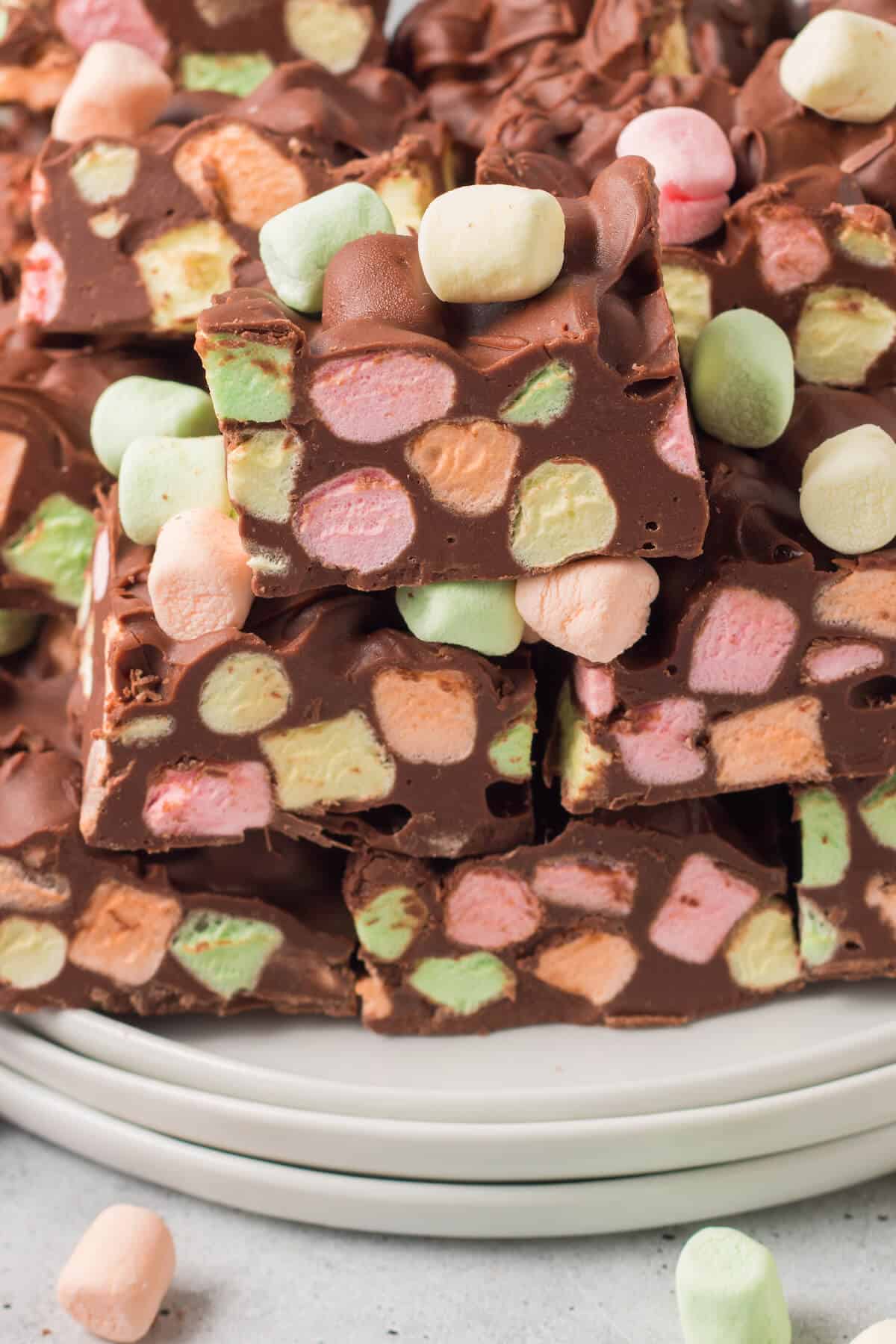 More Dessert Recipes

Follow me on Instagram @simplystacieblog, Facebook at Simply Stacie, TikTok @simplystacierecipes or Pinterest at @simplystacie and let me know how you liked this recipe and my other recipes.
If you make the recipe, rate it on the recipe card below and tag me on Instagram and use #simplystacie. I like sharing the photos on my Instagram stories!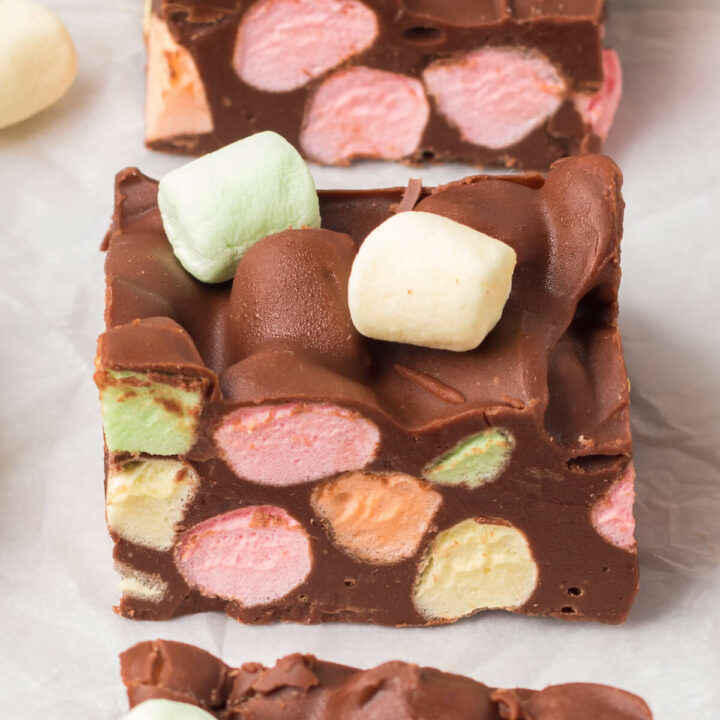 Chocolate Confetti Bars
An easy and delicious vintage recipe! These no-bake bars are a hit at Christmas and great for homemade gifts.
Ingredients
1 (11.5oz/250g) package milk chocolate chips
1 (11oz/270g package butterscotch chips
1 tablespoon salted butter
2 tablespoons smooth peanut butter
1 (10oz/250g) bag mini coloured marshmallows
Instructions
Melt chocolate chips, butterscotch chips, butter and peanut butter in a double boiler. Let cool about 10 to 15 minutes.
Stir in marshmallows. Pour mixture into a 9×9 inch pan. Refrigerate until solidified. Cut into squares.
Recommended Products
As an Amazon Associate and member of other affiliate programs, I earn from qualifying purchases.
Nutrition Information:
Yield:

15
Serving Size:

1
Amount Per Serving:
Calories:

178
Total Fat:

10g
Saturated Fat:

7g
Trans Fat:

0g
Unsaturated Fat:

2g
Cholesterol:

5mg
Sodium:

42mg
Carbohydrates:

20g
Fiber:

1g
Sugar:

18g
Protein:

2g