I'm in the mood for entertaining! It could be because summer is finally here. The days are longer and the weather is nicer (usually!). Or perhaps, it could be that I have a brand new kitchen that I want to show off. It's a dream to cook in and let's just say I've been busy with recipes – both new and old faves!
I've made chili lots before and it's comfort food that my family loves. I typically think of chili as more of a winter recipe, but I still can't help but crave those fiery flavours. Nachos, on the other hand, I think of summer parties. I came up with the idea of combining the two together to create the perfect recipe for summer entertaining: Spicy Chili Nachos. Your friends and family will love them, I'm sure!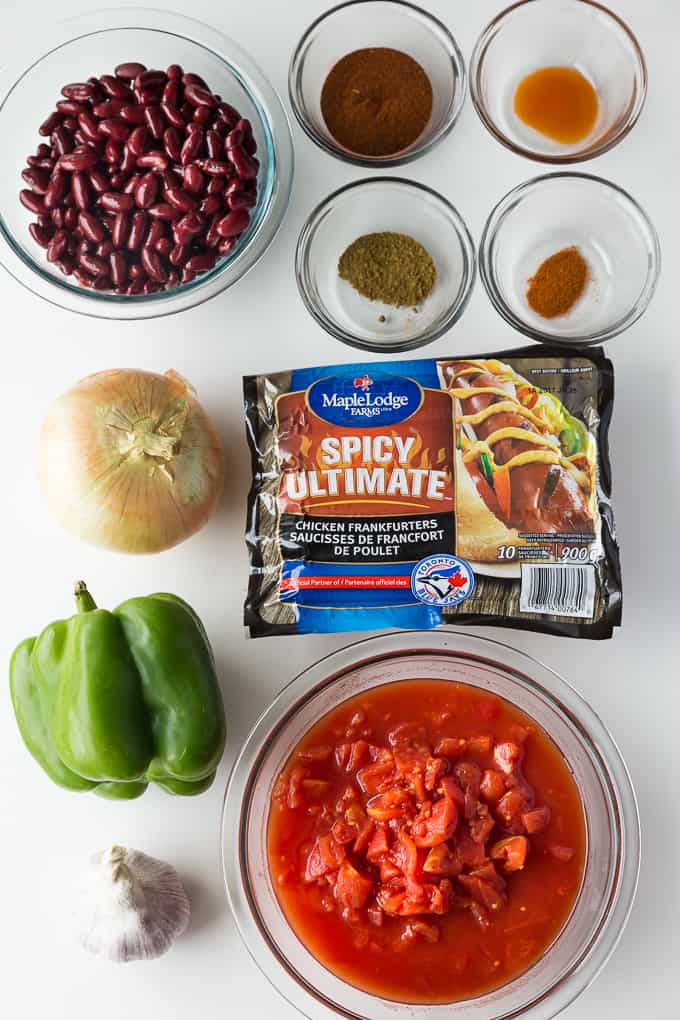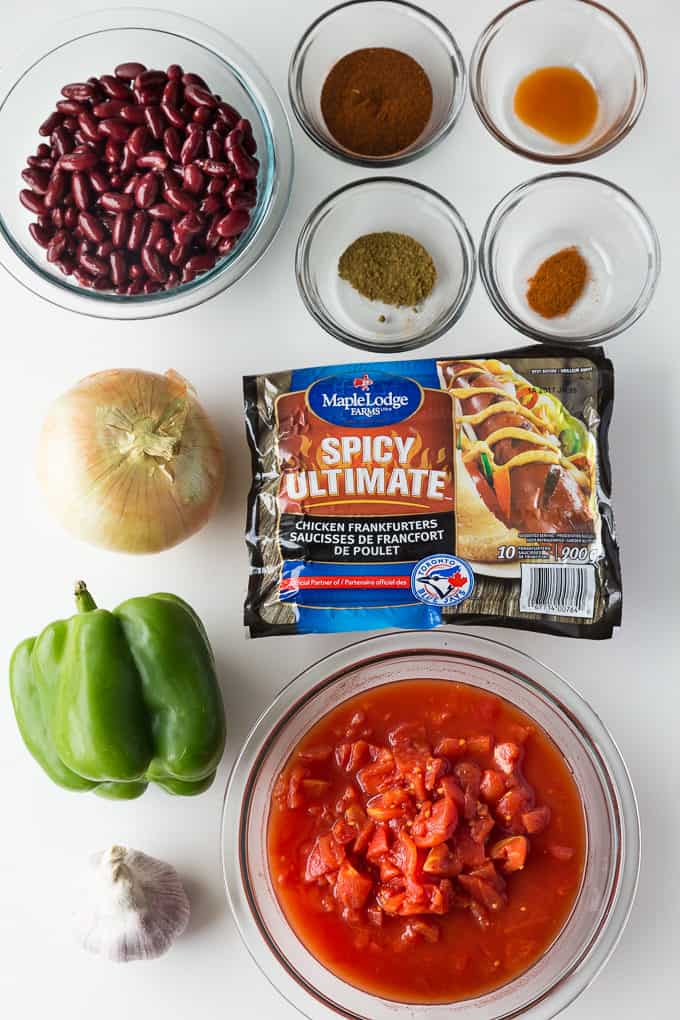 Spicy Chili Nachos
You'll need the typical chili ingredients like tomatoes, onions, garlic and green pepper. In my recipe, I use Maple Lodge Farms Spicy Ultimate Chicken Frankfurters instead of ground beef. You may be thinking, "Stacie, frankfurters in a chili recipe?!". Trust me, it works! These frankfurters are made with chicken and loaded with lots of spicy deliciousness. They are a perfect addition that really makes the recipe sing, in my opinion.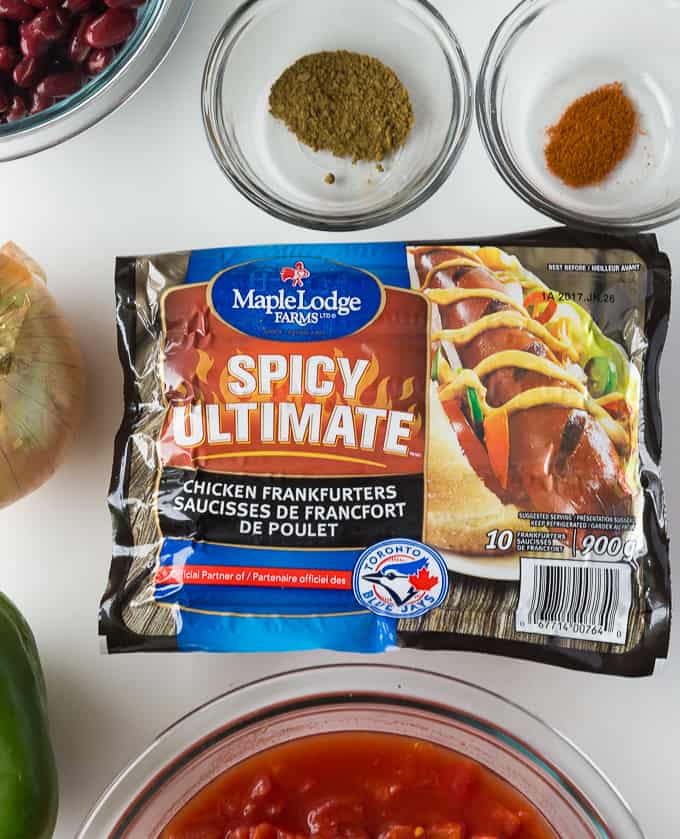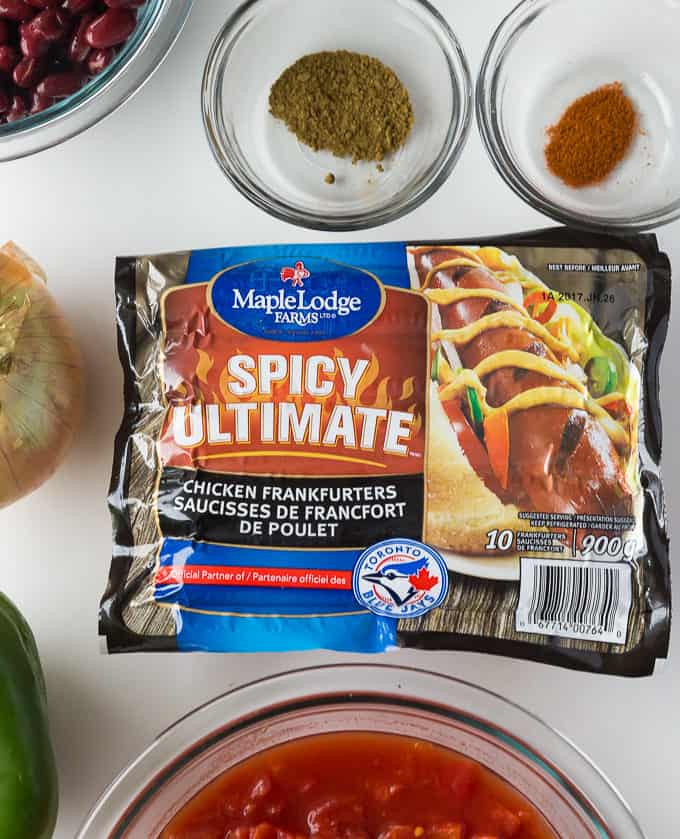 We've enjoyed them BBQ'd and served on a bun the traditional way. This was my first time using a frankfurter in a chili recipe, but it won't be my last.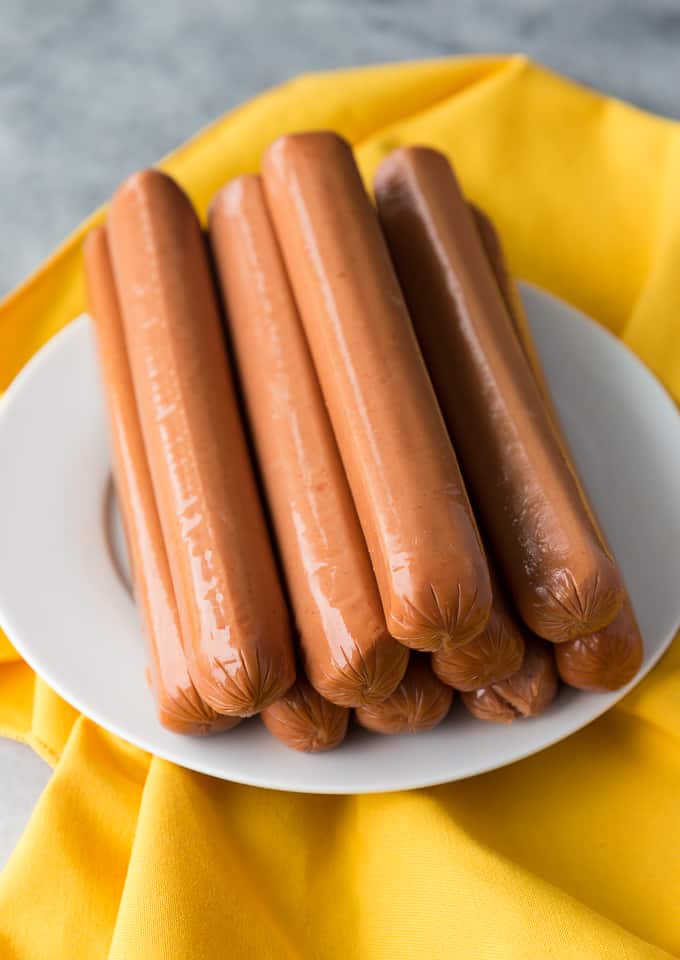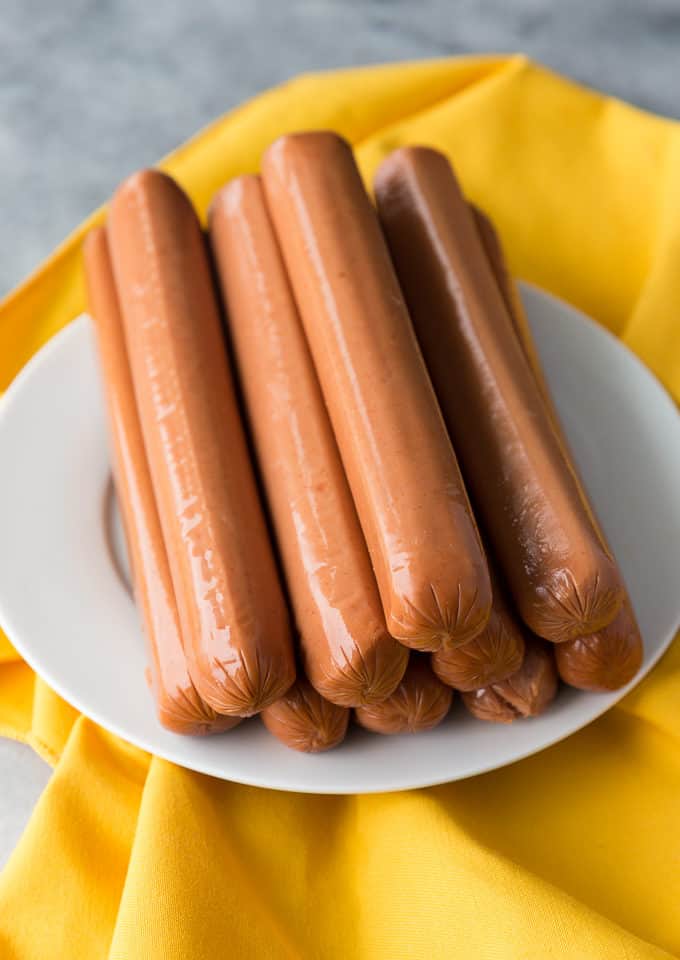 I chopped them up into small rounds so they'd be easy to scoop onto the nachos. You can see the flecks of red spice that add so much yummy flavour.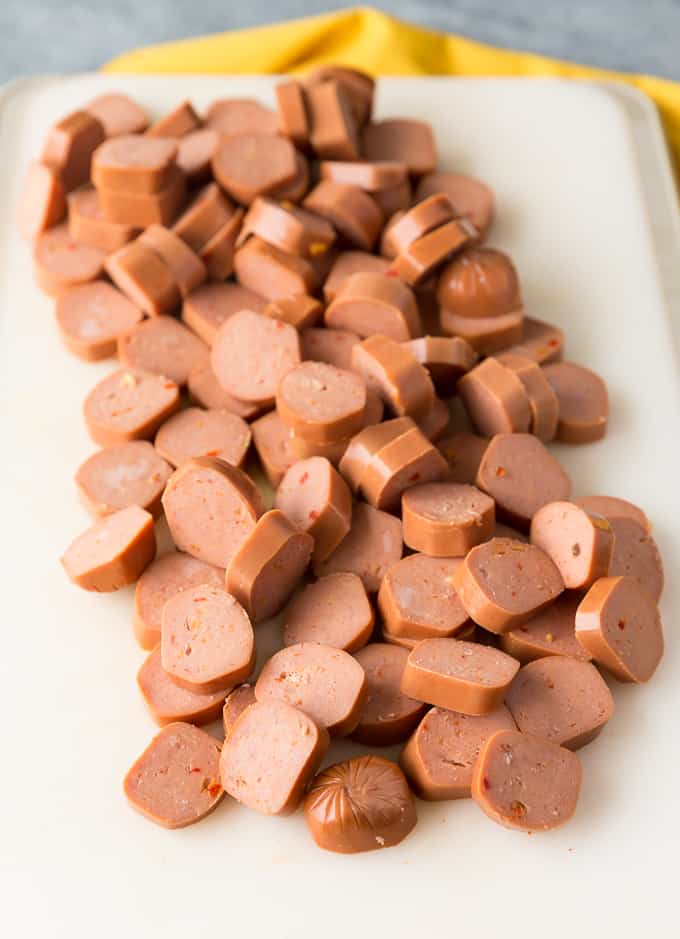 If you know you are having company over, prepare a batch in the morning and have it simmering on the stove until you are ready to eat. I simmered mine for 30 minutes because I wanted to dig in, but leaving it a little longer on low will be fine.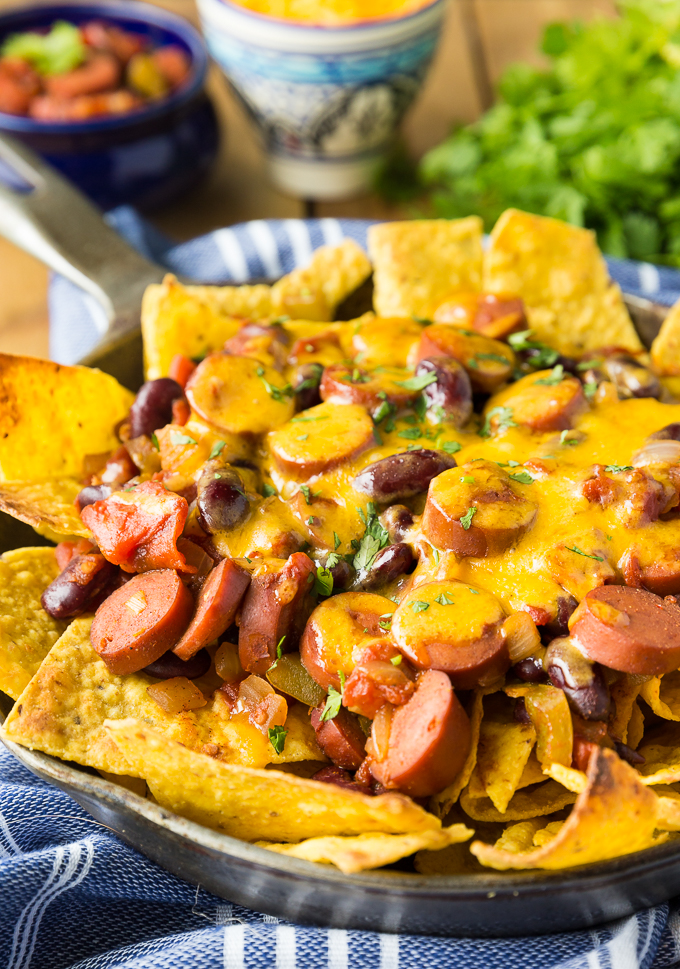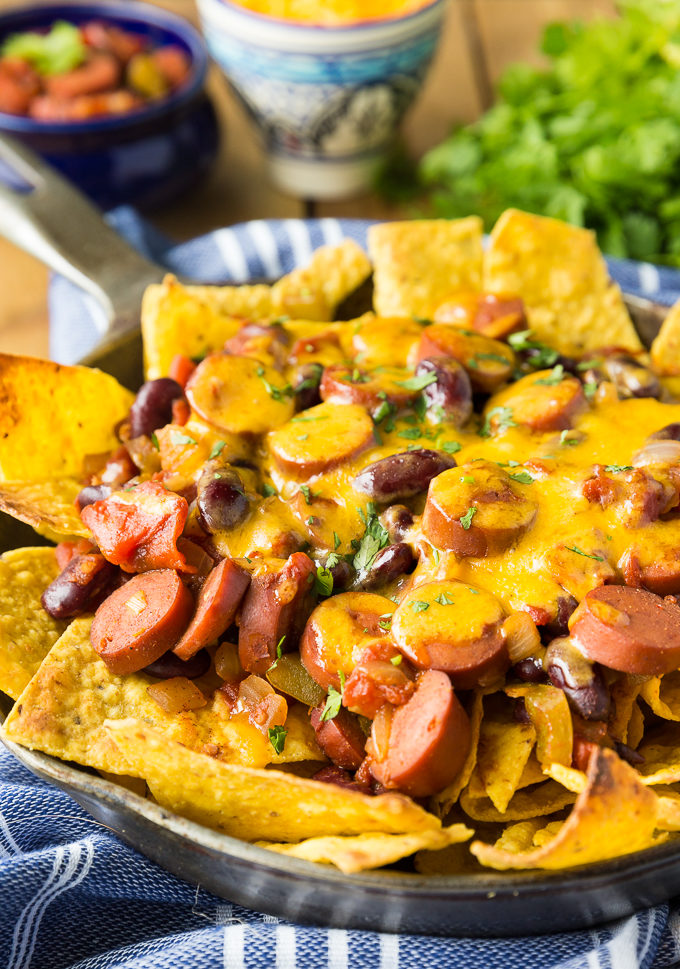 If there is any chili left over, eat it the next day. It makes a nice, big batch to feed a hungry group of people.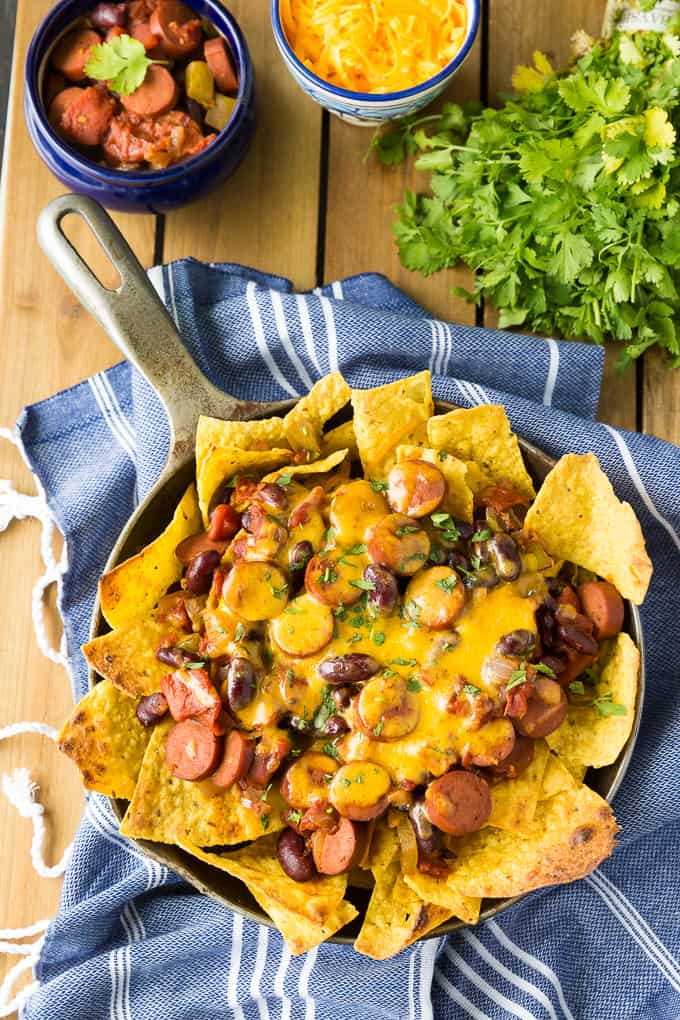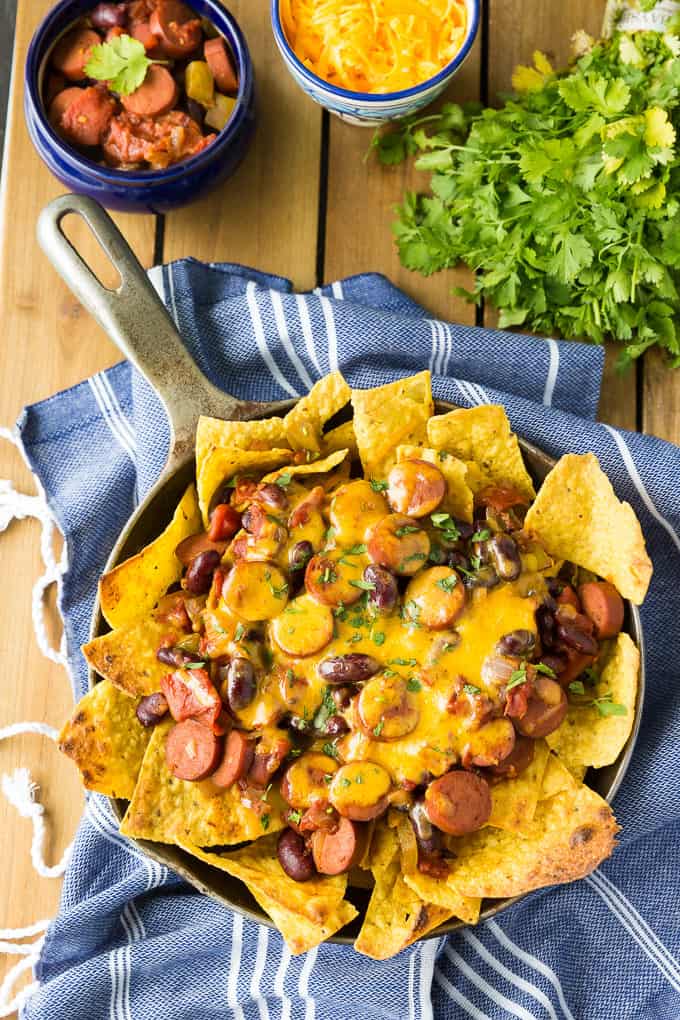 I bought the thicker cut of nacho chips so they'd hold up better to the hearty chili. There's a whole lot of YUM going on here! Don't you just want to dive right in?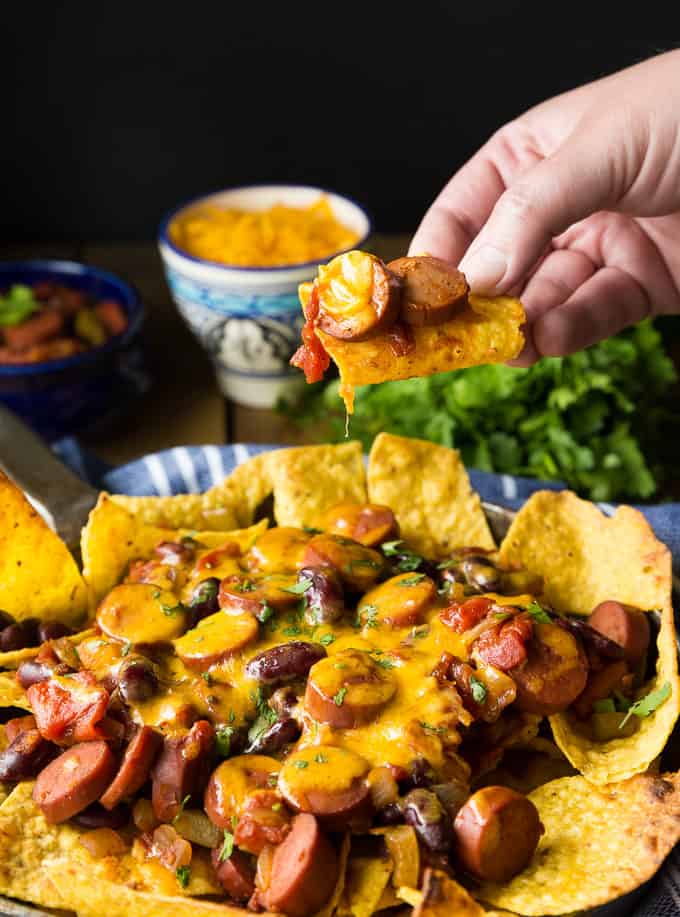 My cousin and her family stopped over and we all inhaled this recipe. They thought it was genius to use the Maple Lodge Farms Spicy Ultimate Chicken Frankfurters in the chili. Cheese + Frankfurters + Spice = #winning.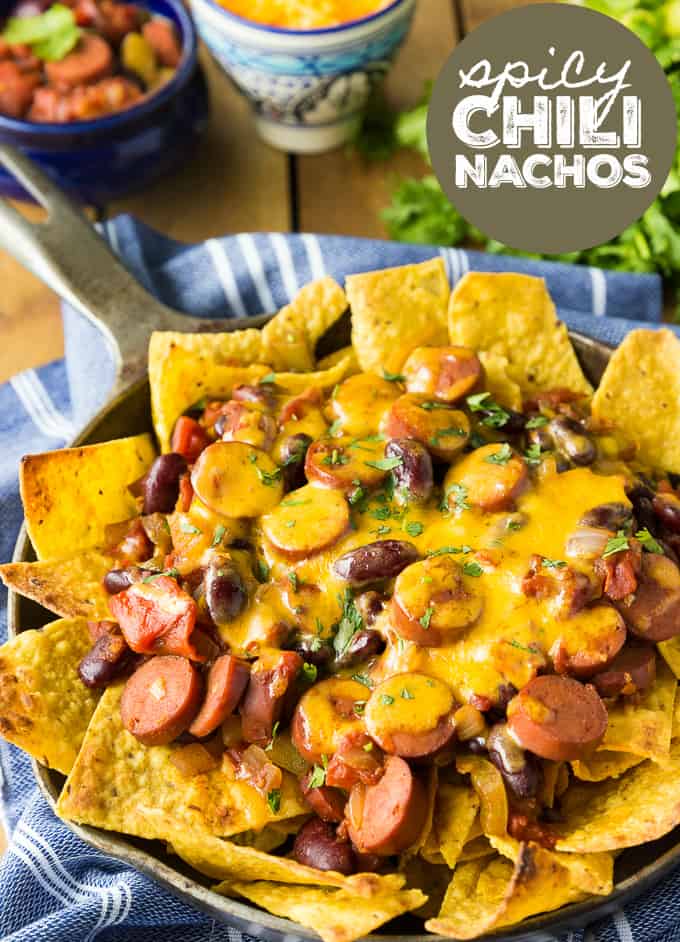 Other occasions that these Spicy Chili Nachos would go well with are family game nights, sport's nights/afternoons or movie nights. Basically, anytime you'd want to enjoy some hearty comfort food!
I hope you'll pick up some Maple Lodge Farms Spicy Ultimate Chicken Frankfurters and try out my recipe! I'd love to hear what you and your family thought of it.
Maple Lodge Farms has a fun contest, The Great Canadian Cookoff, going on right now where they are asking you to pick a side. That is, are you Team Spicy or Team Smokie? You could win a family BBQ prize pack. If you loved my Spicy Stir-Fry or these Spicy Chili Nachos, you may be on Team Spicy. I'll be featuring a Team Smokie recipe soon so stay tuned!
You might also like these Potato Nachos.
What is your go-to recipe for summer entertaining?
Connect with Maple Lodge Farms on Facebook, Twitter and YouTube.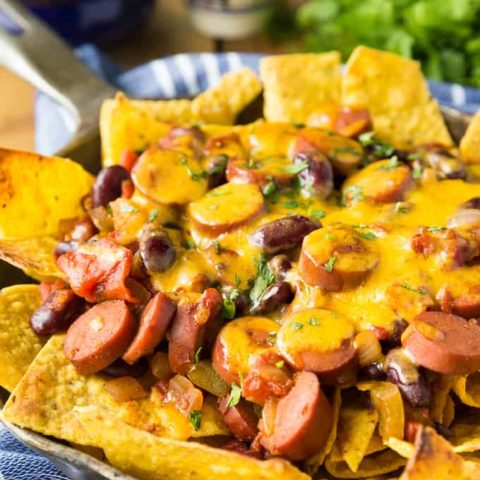 Spicy Chili Nachos
A little heat and a lot of flavor! Spice up your party with this mash-up appetizer of chili dogs and crunchy nachos.
Ingredients
5 Maple Lodge Farms Spicy Ultimate Chicken Frankfurters, sliced into 1/2 inch pieces
1 tbsp extra virgin olive oil
1 onion, diced
1 green pepper, diced
3 cloves garlic, minced
1 – 28oz can diced tomatoes
1 – 540mL can kidney beans, drained
2 tbsp chili powder
1 tsp cayenne pepper
1 tsp cumin
1/8 tsp hot sauce
2 to 3 cups cheddar cheese, shredded
2 bags tortilla chips
1 tbsp fresh cilantro, finely chopped, for garnish
Instructions
In a large pot, heat olive oil over medium high heat. Add in onions and green peppers. Saute, stirring frequently, until softened, about 5 minutes.

Add garlic and Maple Lodge Farms Spicy Ultimate Chicken Frankfurters and continue to cook for an additional 2 minutes, stirring frequently.
Stir in chili powder, cayenne pepper, cumin, hot sauce, kidney beans and tomatoes. Bring to a boil.
Once boiling, reduce heat to medium low and cover. Simmer for 30 minutes.
Place tortilla chips on a large baking sheet or in an oven proof skillet. Top with chili and cheese. Broil for 1 to 2 minutes or until cheese is melted. Sprinkle with cilantro and serve hot.
Recommended Products
As an Amazon Associate and member of other affiliate programs, I earn from qualifying purchases.
Nutrition Information:
Yield:

6
Serving Size:

1
Amount Per Serving:
Calories:

955
Total Fat:

57g
Saturated Fat:

24g
Trans Fat:

2g
Unsaturated Fat:

27g
Cholesterol:

119mg
Sodium:

1432mg
Carbohydrates:

75g
Fiber:

11g
Sugar:

9g
Protein:

39g
Disclosure: I was compensated for this post. All opinions on this blog are my own.