With just three simple ingredients – ground beef, Rotel, and Velveeta – whipping up a batch of Rotel Dip is the perfect, easy, cheesy, and meaty solution for game day. Pair it with tortilla chips or crackers, and you've got a crowd-pleasing snack that's sure to be a hit.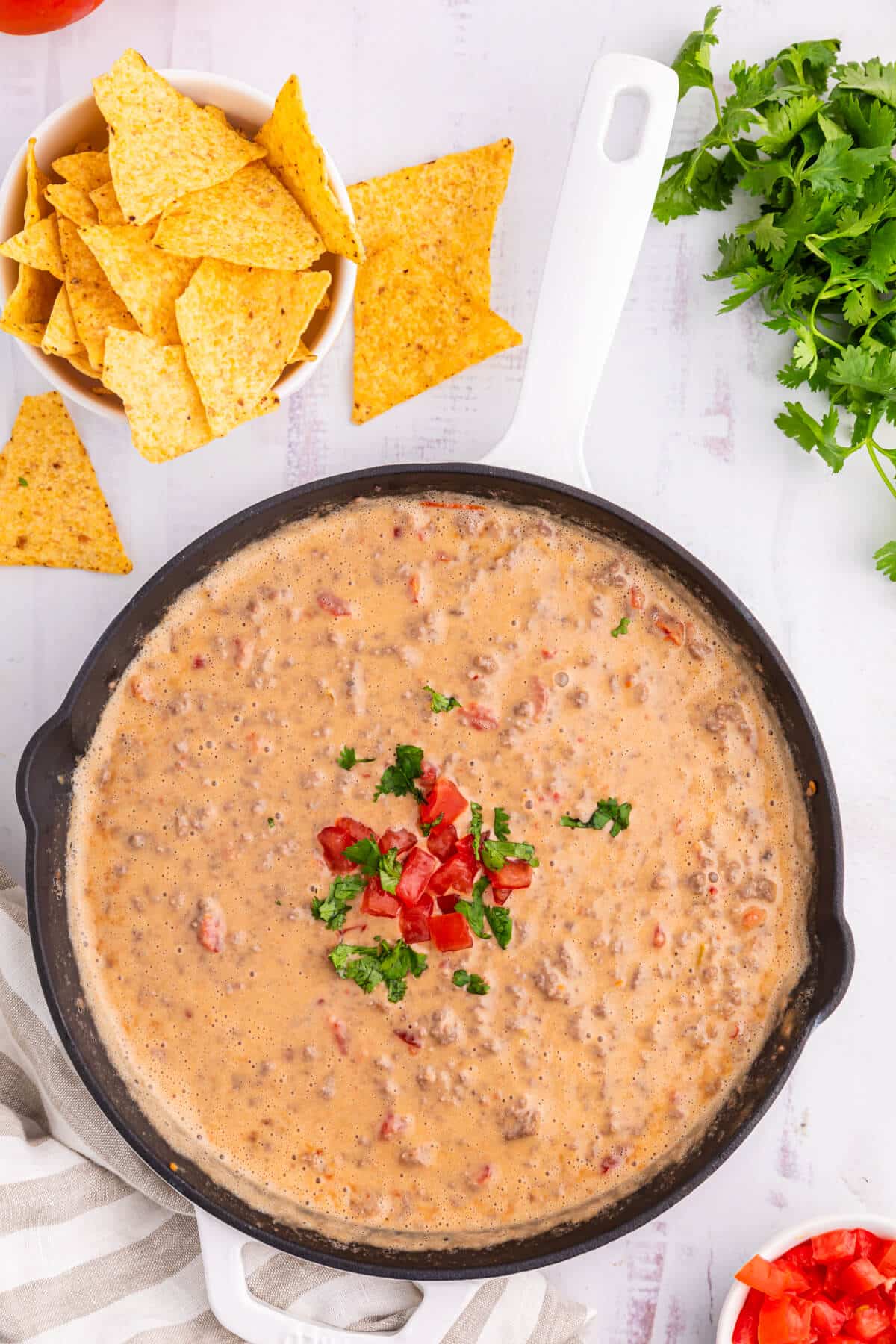 You are in luck if you want something creamy, cheesy, and oh-so delicious. This Rotel dip delivers a punch of flavor and an amazing, comforting texture. It is the perfect appetizer for your next gathering, game day, or party. You can even enjoy it as a yummy snack any day of the week. No matter what you choose, this fantastic recipe is an absolute crowd-pleaser.
One of the best parts of this recipe is that it is an easy appetizer. With only three ingredients, you can quickly whip up a batch of Rotel dip. This is especially great when you have unexpected company or simply want a quick and easy snack. Make this easy dip recipe for your next get-together. You won't regret it.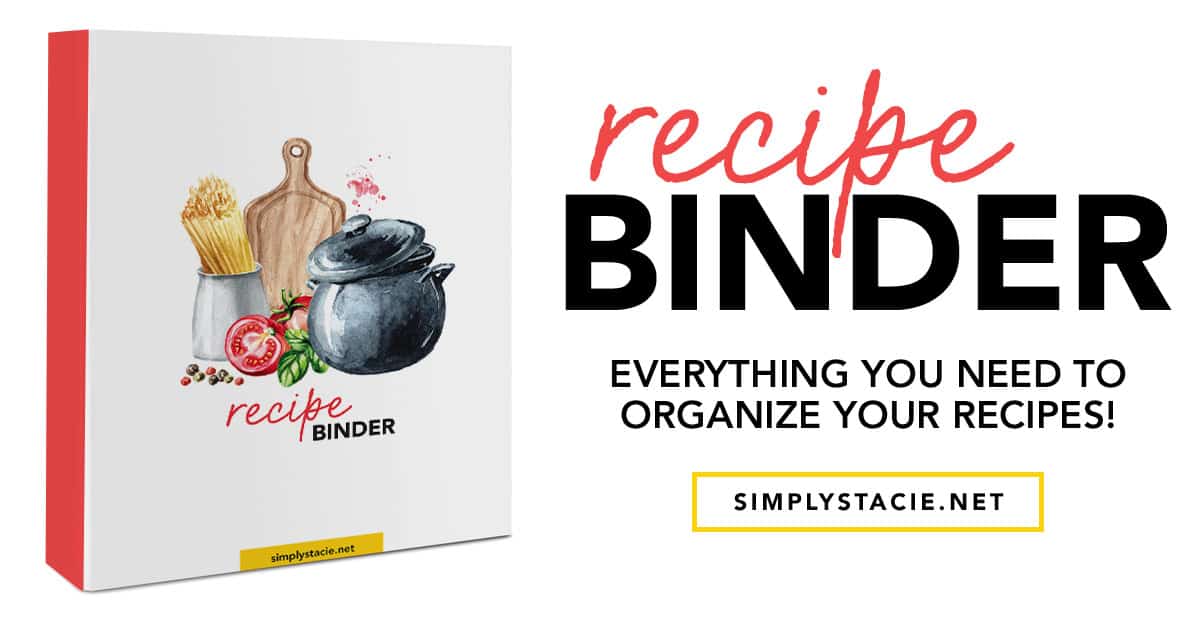 Why You'll Love Rotel Dip
Easy to Make: Rotel dip is effortless and quick to make. With just a few simple steps and minimal ingredients, it's a hassle-free recipe that anyone can prepare and enjoy.
Deliciously Cheesy: The combination of Velveeta cheese, Rotel tomatoes, and chilies creates a creamy and cheesy dip with a bold and flavorful kick. The rich and satisfying taste of melted cheese makes this the ultimate comfort food appetizer.
Versatility: Rotel dip is a versatile dish. It can be served as an appetizer, snack, or party food. It pairs well with various dippers, including tortilla chips, crackers, bread, and vegetables, making it versatile.
Crowd-Pleaser: This dip is a crowd-pleaser that appeals to kids and adults. The mild spiciness from the Rotel adds a touch of heat without being overly spicy. If you serve this at your next get-together, the chances of you having leftovers will be minimal.
Customizable: While the basic recipe is fantastic, people can customize their Rotel dip by adding extra ingredients. For more heat, add things like cooked sausage, diced onions, or jalapeños. Get creative!
Ingredients
The full printable recipe card with measurements and instructions is found at the bottom of the post.
Cubed Velveeta cheese
Rotel
Lean ground beef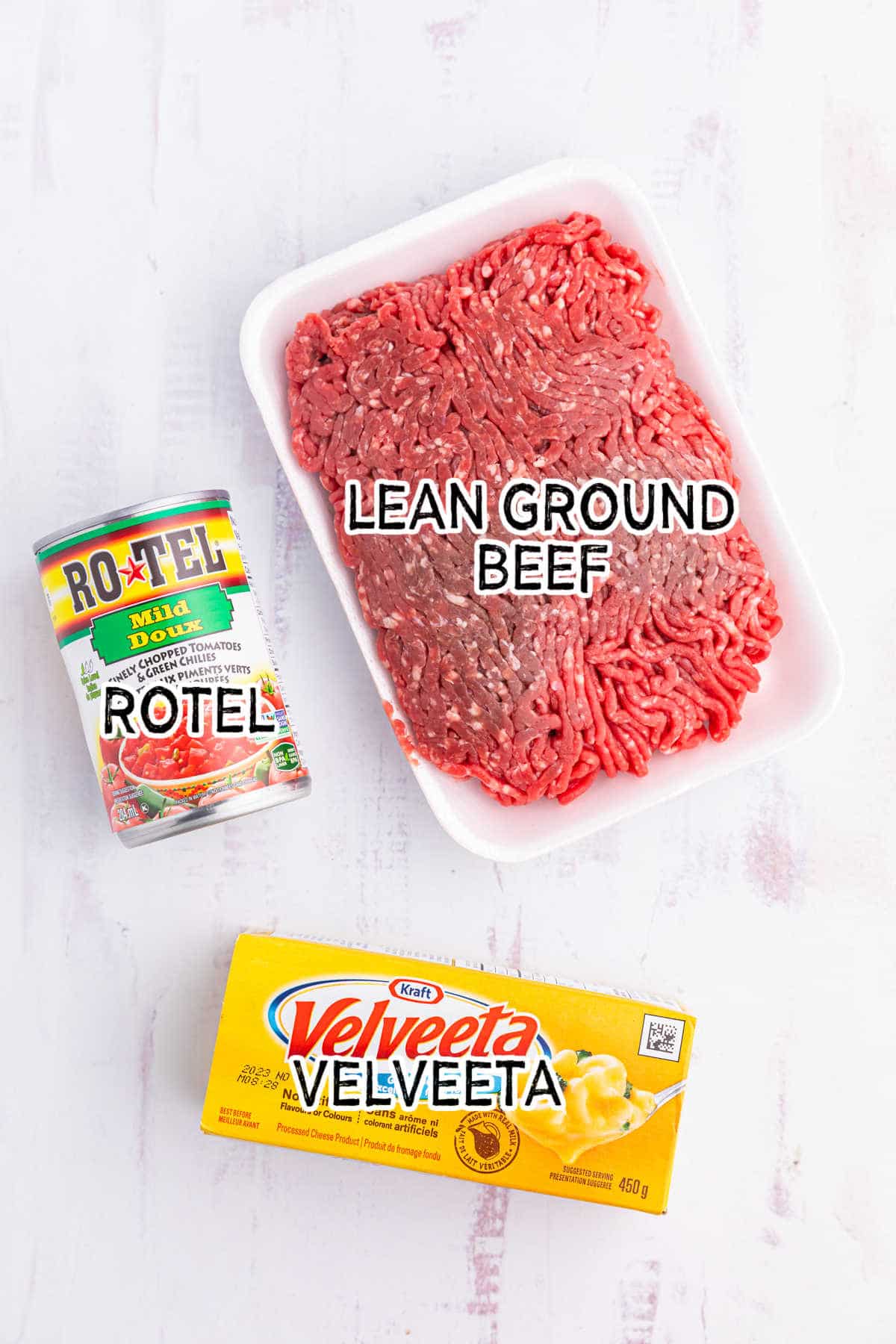 How to Make Rotel Dip
Step One: Add the ground beef to a large skillet. Cook over medium heat until browned, about 8 to 9 minutes. Drain excess grease.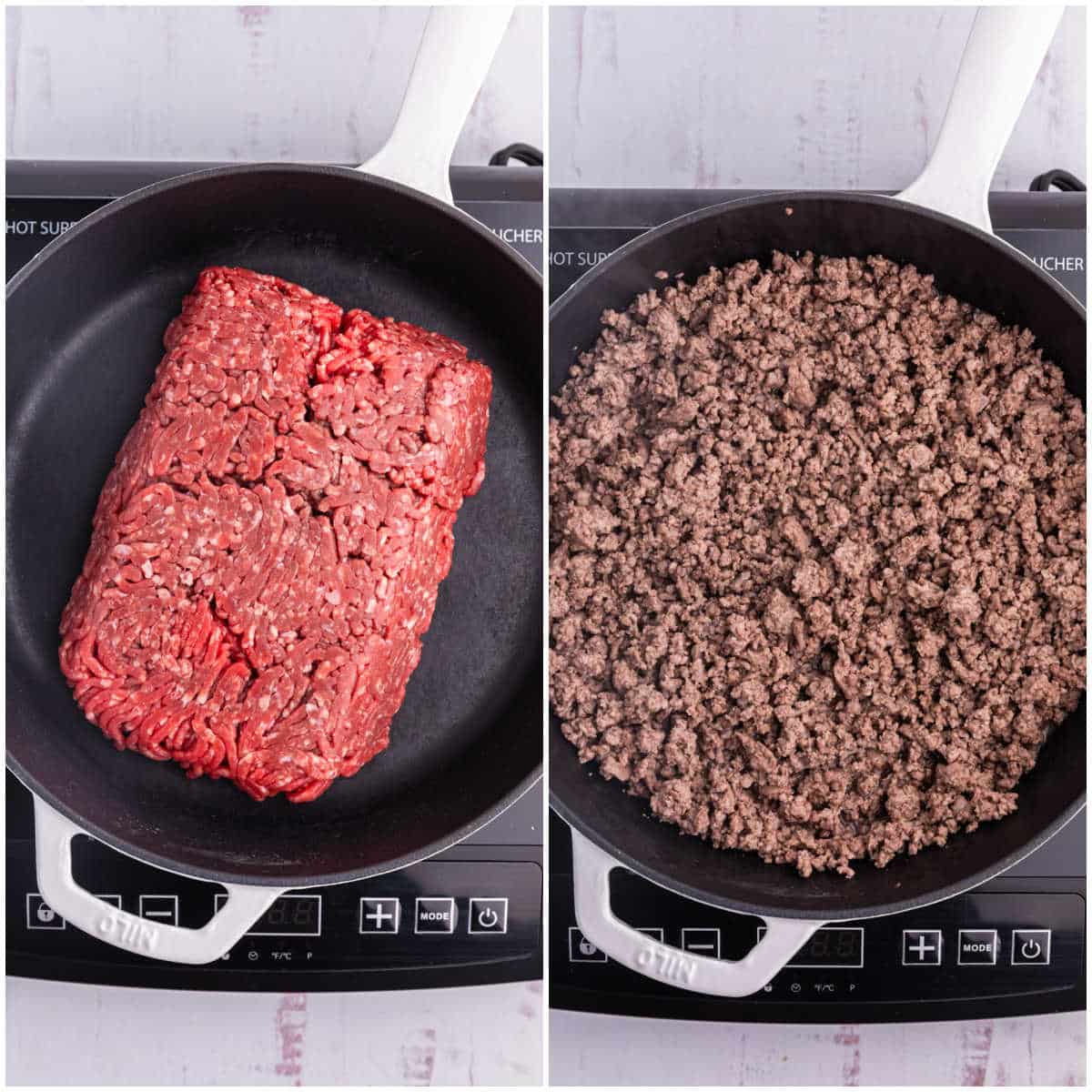 Step Two: Add the Velveeta and ROTEL. Stir.
Step Three: Cook on medium heat until the cheese is melted. Serve hot.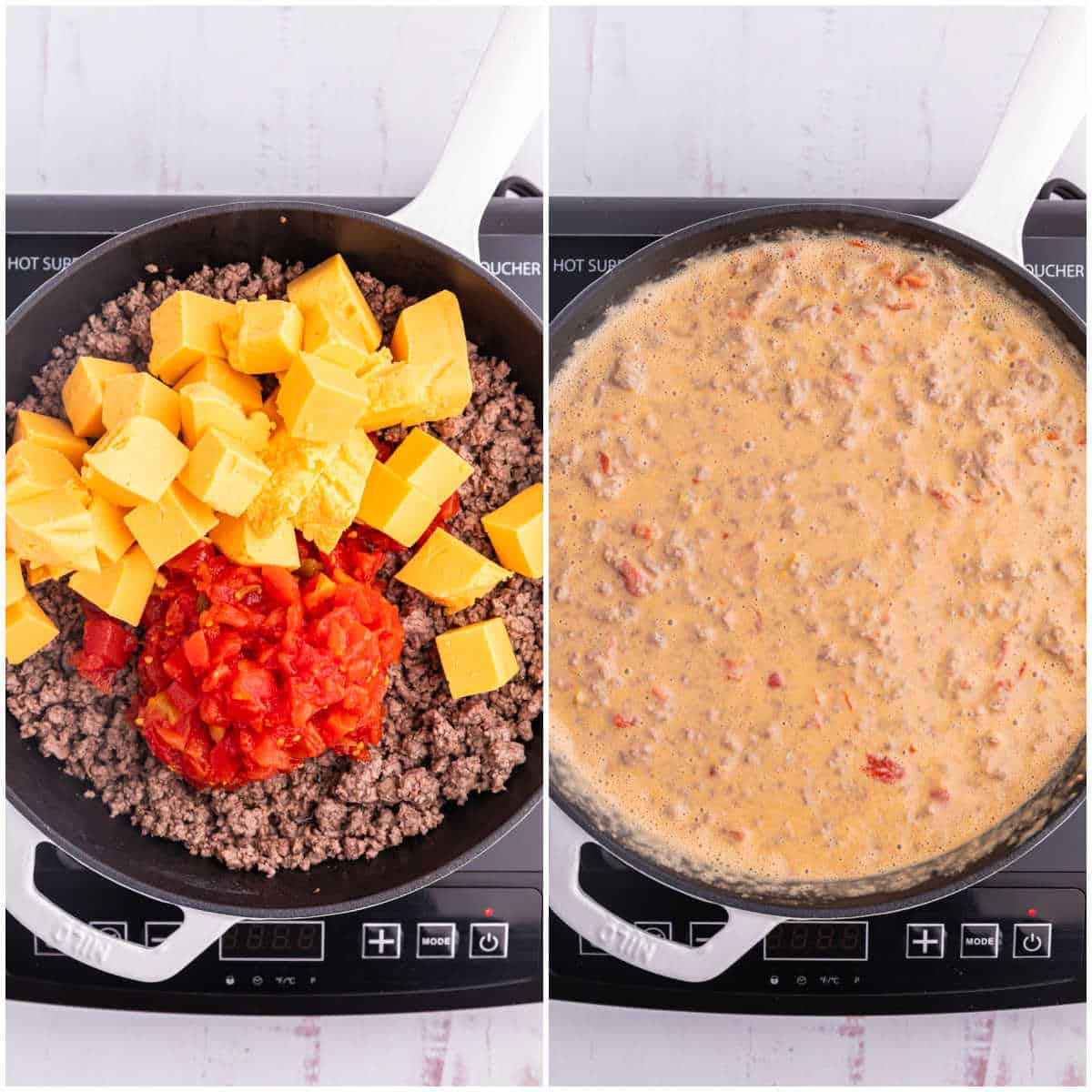 Equipment Needed
This post contains affiliate links.
What to Serve with Rotel Dip
Serve this Rotel cheese dip with your favorite game-day foods for an exciting spread.
Variations and Substitutions
Meat Variations: Rather than using ground beef, you can opt for other meats. Try using ground turkey, ground chicken, or crumbled bacon. Opt for spicy sausages like chorizo or andouille if you want an extra kick.
Cheese Options: Velvetta is the most commonly used cheese for Rotel dip, but you can also experiment with other types of cheese. Cheddar, Monterey Jack, and Pepper Jack add excellent flavor to your rotel dip recipe.
Spice Level: Adjust the spice level of your cheesy Rotel dip by choosing a different can of Rotel. You can make this recipe mild, original, or hot. Add extra green chilies, jalapenos, or hot sauce to increase the heat.
Storage Instructions
If you want to store any leftover rotel dip or simply want to prepare it ahead of time, you can. Transfer your Rotel dip to an airtight container and place it in the fridge until you can use it. It will stay good for three days in the refrigerator.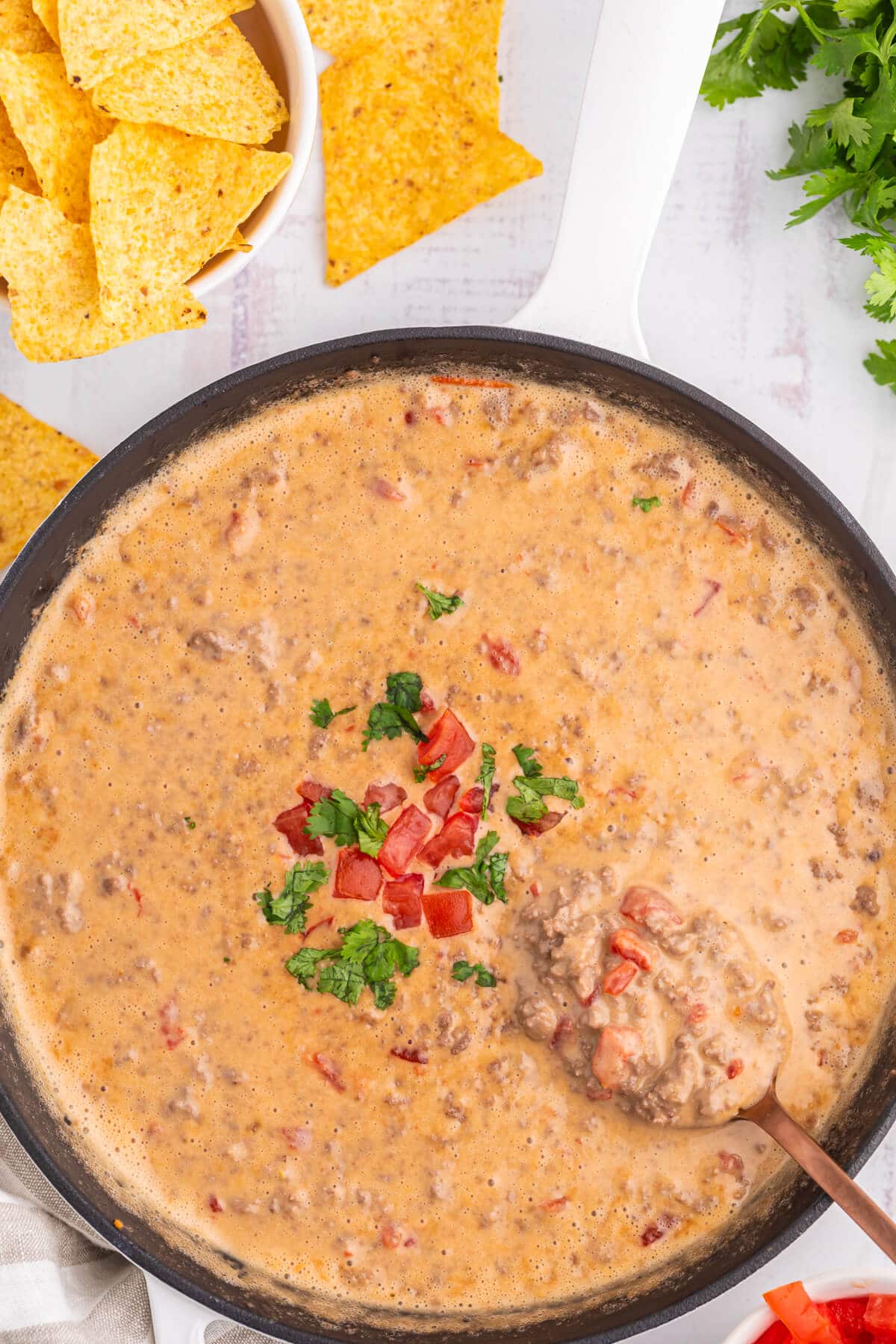 Can I Freeze?
Yes. You can freeze your Rotel dip if you want to extend it's shelf life. Transfer your dip to an airtight, freezer-safe container and place it in the freezer. It can be stored for three months.
Recipe Tips and Tricks
Adjust Cheese Consistency: If the dip seems too thick, thin it with a small amount of milk or cream. Add your choice of liquid to the mixture until you reach your desired consistency. Adding too much at once can cause it to become overly watery. You want to use melty cheese to keep the dip in the right texture.
Keep It Warm: If you're serving the dip at a gathering or party, consider using a slow cooker or fondue pot to keep it warm throughout the event. This ensures that it stays creamy and enjoyable throughout the entire party.
Stir Often: While melting the cheese, stir the mixture regularly to prevent it from sticking to the bottom of the skillet and to achieve a smooth texture. You don't want it to burn or get clumpy, so keep it moving.
Double the Recipe: If you're serving a large crowd or hosting a big event, double or triple the recipe to ensure you have enough for everyone. This recipe is easy to make as a big batch, and you won't want to run out of it.
Garnish Creatively: Presentation matters! Consider garnishing the dip with a sprinkle of chopped fresh cilantro, a few slices of jalapeño, or a colorful drizzle of hot sauce to make it visually appealing.
What is ROTEL?
Rotel is like the life of the party in a can! It's a zesty blend of diced tomatoes and green chilies, bringing a tangy kick to your dishes. It's that secret ingredient that can turn ordinary recipes into fiesta-worthy creations. Whether you're whipping up a hearty dip, spicing up your tacos, or adding a bit of pizzazz to your pasta, Rotel is your trusty sidekick for a flavor-packed adventure in every bite.
Can I Make it Without ROTEL?
No, you can't make Rotel dip without Rotel because its name is a nod to one of its key ingredients. Rotel is the star of the show, combining diced tomatoes and green chilies, which infuse the dip with a distinctive and zesty flavor. Without Rotel, it simply wouldn't be Rotel dip; it would be a different cheese dip altogether.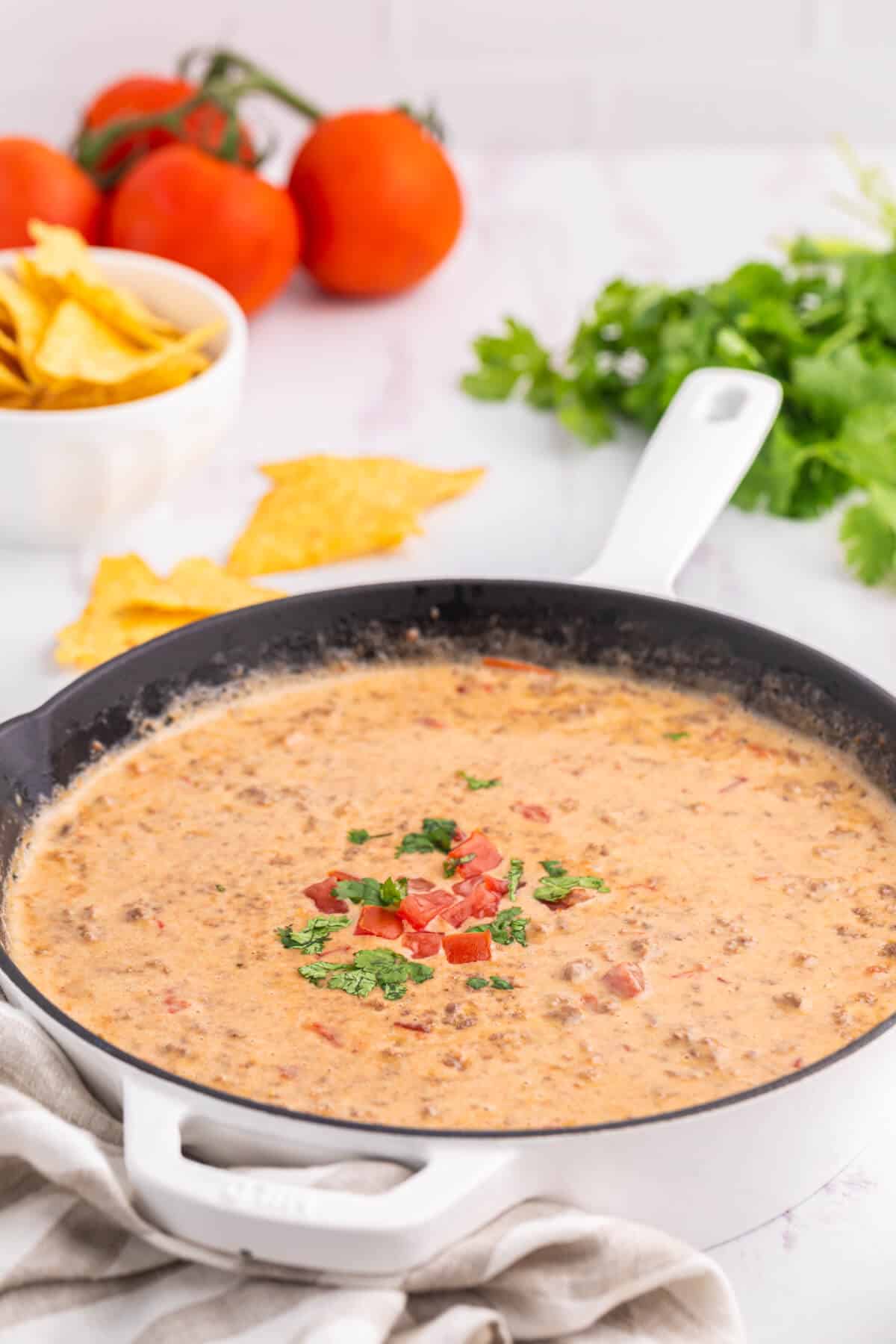 Can I Make It Without Velveeta?
Yes, you can make a variation of Rotel dip without Velveeta cheese. Velveeta is known for its smooth melting properties, which contribute to the dip's creamy texture.
Cheddar Cheese: Sharp or mild cheddar cheese can be used as a substitute for Velveeta. Shred the cheddar cheese and melt it into the dip gradually, stirring until it's smooth and creamy.
Monterey Jack Cheese: Monterey Jack cheese is another good choice for a creamy texture. Like cheddar, shred and add it to the dip until thoroughly melted.
Cream Cheese: Cream cheese can provide a rich and creamy base for your dip. Soften the cream cheese before adding it to the skillet and stir until it's fully incorporated.
Cheese Sauce: You can use a prepared cheese sauce or cheese spread as a convenient alternative. Just heat it and mix it with the other ingredients.
Homemade Cheese Sauce: Make a homemade cheese sauce using a combination of your favorite cheeses, milk or cream, and a roux (butter and flour). Gradually whisk in the cheese until it's smooth and incorporated.
ROTEL vs. Salsa
Rotel and salsa may hang out on the condiment aisle, but they're like cousins from different regions of the flavor world.
With its diced tomatoes and green chilies, Rotel brings a zesty kick and a Tex-Mex twist to the party. It's like the fun-loving, spicy friend who's always up for a fiesta.
On the other hand, Salsa is a versatile globe-trotter, offering a variety of flavors and heat levels to suit any mood or meal.
Whether you're in the mood for the bold, sassy flair of Rotel or the well-traveled, all-around goodness of salsa, these condiments can add a flavorful punch to your dishes, making them as different as they are delicious.
How Else to Use ROTEL
Chili
Spaghetti Sauce
Tacos and Burritos
Stuffed Peppers
Casseroles
Eggs
Salsa Verde
Salsas
Sloppy Joes
Pasta Salads
Stir-Fries
Sauces for Meats
Toppings
Fresh Herbs (e.g., cilantro, parsley, chives)
Sliced Jalapeños
Diced Tomatoes
Sour Cream
Guacamole or Diced Avocado
Sliced Green Onions
Black Olives
Diced Red Onion
Bacon Bits
Lime Wedges
Hot Sauce
Crushed Tortilla Chips
Grated Cheese (e.g., cheddar, Monterey Jack)
Paprika or Chili Powder
Diced Bell Peppers (e.g., red, green)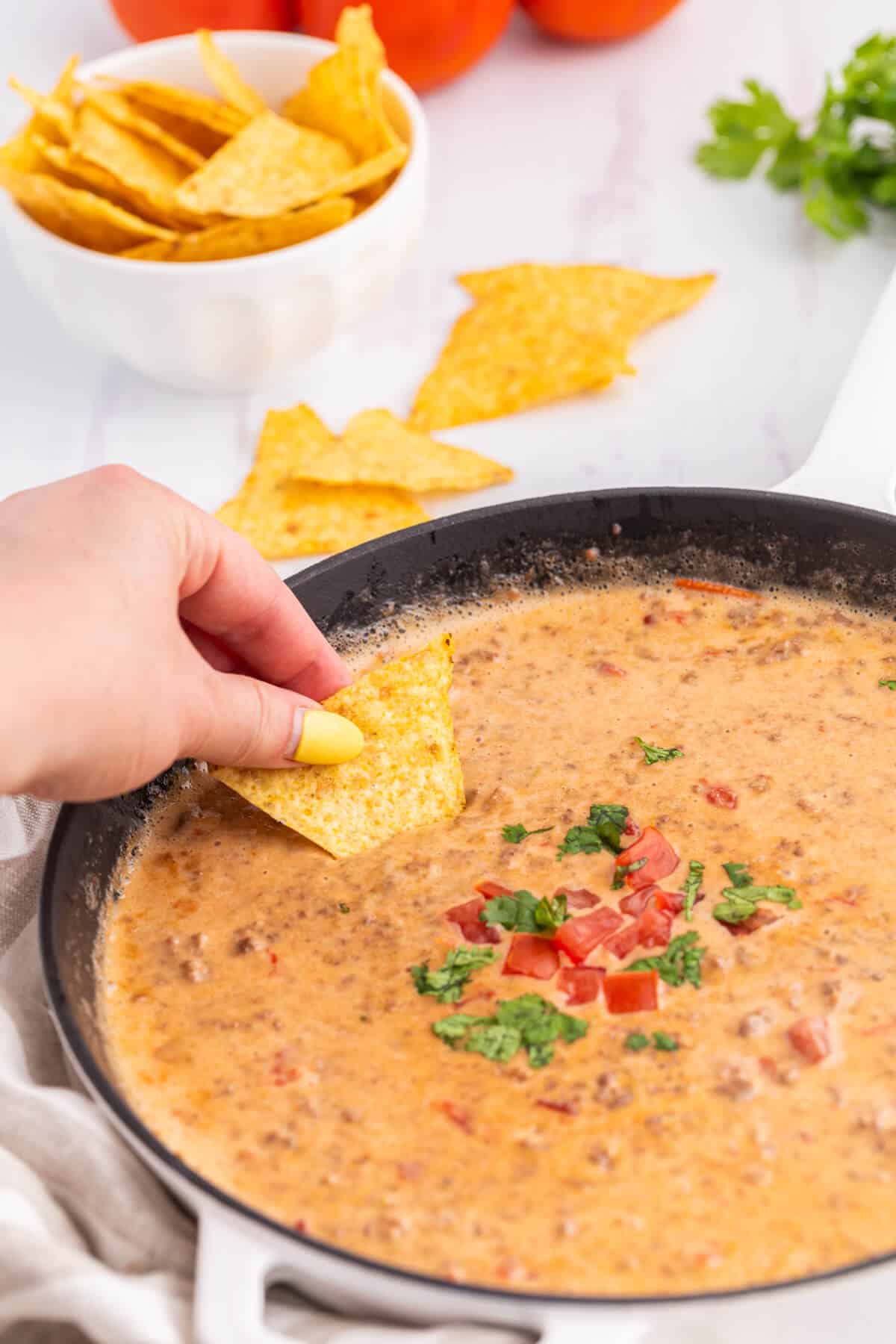 Dipper Ideas
Tortilla Chips
Bagel Chips
Corn Chips (e.g., Fritos)
Sliced Bell Peppers
Celery Sticks
Carrot Sticks
Cucumber Slices
Cherry Tomatoes
Toasted Baguette Slices
Pita Bread Triangles
Pretzel Bites or Pretzel Chips
Mini Meatballs
Crackers (e.g., wheat, whole-grain, buttery club)
Cheese Cubes (e.g., cheddar, Monterey Jack)
Cauliflower or Broccoli Florets (blanched or steamed)
How to Make in a Crockpot
Step One: Brown the lean ground beef in a skillet over medium heat. Break it into small pieces as it cooks, and drain any excess grease.
Step Two: Grease the inside of your slow cooker or use a slow cooker liner for easier cleanup.
Step Three: Place the cubed Velveeta cheese, cooked ground beef, and the entire can of Rotel (diced tomatoes and green chilies) into the slow cooker.
Step Four: Give the mixture a gentle stir to combine the ingredients.
Step Five: Cover the slow cooker with the lid and set it to the low heat setting.
Step Six: Let the dip cook on low heat for 1 to 1.5 hours. During this time, stir the mixture occasionally to ensure even melting and to prevent it from sticking to the sides.
Step Seven: Once the cheese is fully melted and the dip is heated, reduce the slow cooker to the "Keep Warm" or the lowest heat setting available.
Step Eight: Your Rotel Dip is ready to serve! Keep it in the crockpot on the "Keep Warm" setting while serving, and provide your guests with an assortment of dipper options. Enjoy!
Can I Make Ahead?
Yes! You can easily make this delicious dip ahead of time. Simply place your cooled dip in an airtight container in the fridge. It will last about three days when stored properly in the freezer. Reheat your dip using the microwave, stovetop, or crockpot.
Hot Dip Recipes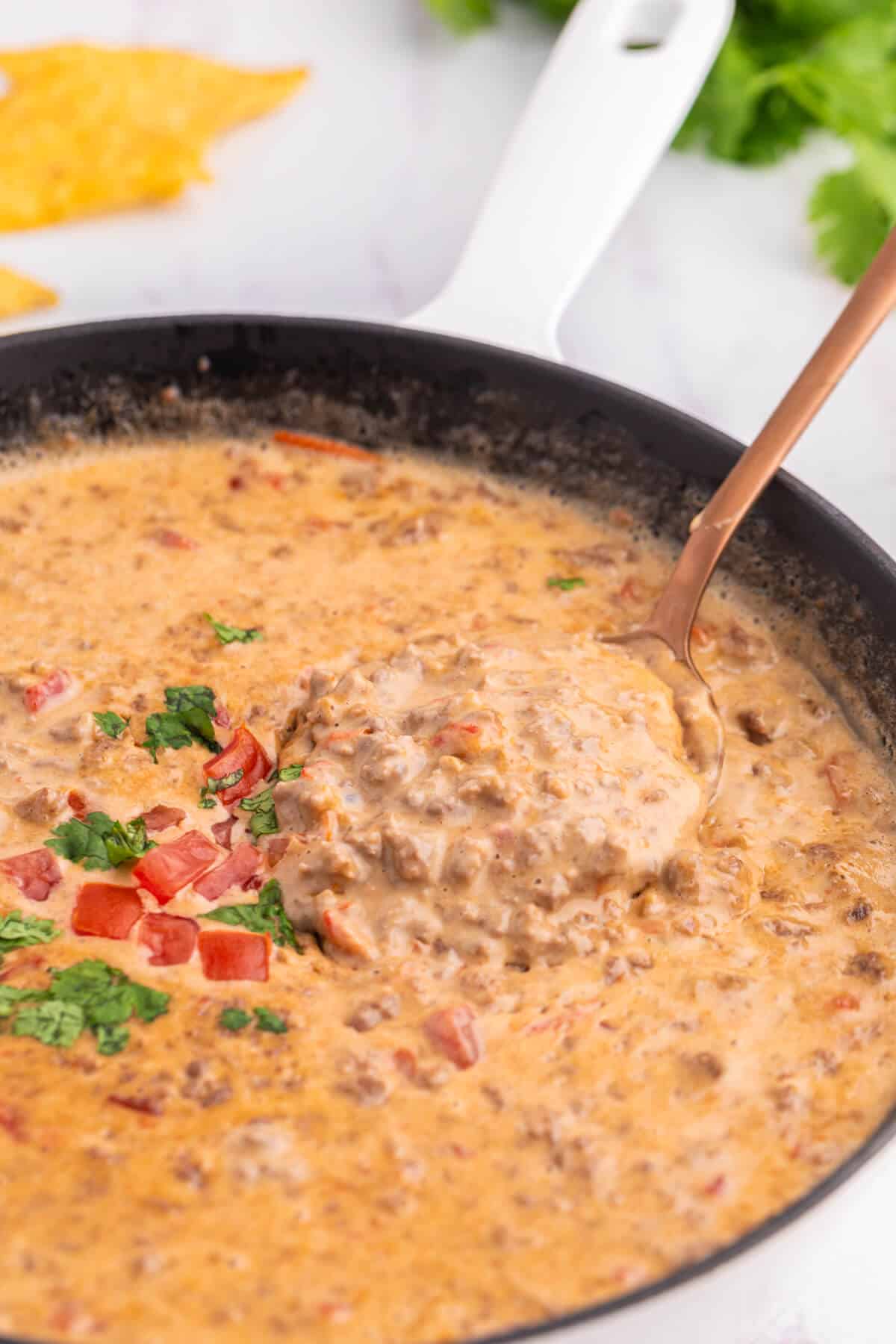 FAQ
How long does this easy Rotel dip take to make?
This is the easiest dip to make. It only takes 5 minutes of prep time and 15 minutes of cooking time. It only requires a little bit of effort to enjoy this flavorful dip.
How many servings does this recipe make?
This recipe makes 12 servings. It can also easily be doubled if you need more.
Rotel Recipes
You'll also like this Buffalo Chicken Dip.
Follow me on Instagram @simplystacieblog, Facebook at Simply Stacie, TikTok @simplystacierecipes or Pinterest at @simplystacie and let me know how you liked this recipe and my other recipes.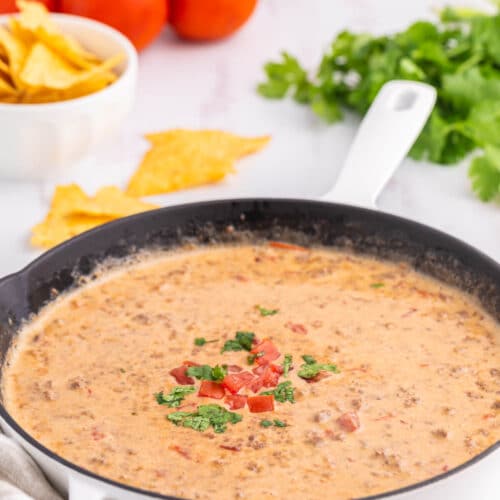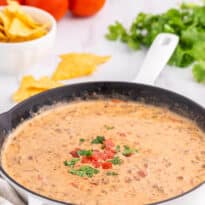 Rotel Dip
With just 3 simple ingredients – ground beef, Rotel, and Velveeta – whipping up a batch of Rotel Dip is the perfect, easy, cheesy, and meaty solution for game day. Pair it with tortilla chips or crackers, and you've got a crowd-pleasing snack that's sure to be a hit.
Print
Facebook
Pin
Share by Email
Rate
Ingredients
1

lb

lean ground beef

1

package

Velveeta

450g/16oz package, cubed

1

can

ROTEL

284ml can
Instructions
Add the ground beef to a large skillet. Cook over medium heat until browned, about 8 to 9 minutes. Drain any excess grease.

Add the Velveeta and ROTEL. Stir to combine.

Continue to cook over medium heat until the cheese is melted. Serve hot.
Kitchen Tools
Nutrition
Calories:
58
kcal
|
Carbohydrates:
1
g
|
Protein:
8
g
|
Fat:
2
g
|
Saturated Fat:
1
g
|
Polyunsaturated Fat:
0.1
g
|
Monounsaturated Fat:
1
g
|
Trans Fat:
0.1
g
|
Cholesterol:
23
mg
|
Sodium:
30
mg
|
Potassium:
195
mg
|
Fiber:
0.3
g
|
Sugar:
1
g
|
Vitamin A:
41
IU
|
Vitamin C:
3
mg
|
Calcium:
14
mg
|
Iron:
1
mg
The information shown is an estimate provided by an online nutrition calculator. It should not be considered a substitute for a professional nutritionist's advice.
Love Recipes? Join our Free Facebook Group!
Join Mom's Best Recipes to find more delicious family recipes.
Save
Saved!