Zesty Shrimp Flatbread is a spiced up appetizer that will please a crowd. Spiced up shrimp paired with a cool mint and Tzatziki sauce for that cool and spiced flavor combination. This Zesty Shrimp Flatbread recipe will stand out in a crowd of appetizers!
I love seafood and shrimp especially. I have to warn you though that it does have a kick. It does offer a combination of cold and hot, but the hot overpowers the cool factor. So if you can't take the heat, deseed the jalapenos to tame down the heat factor.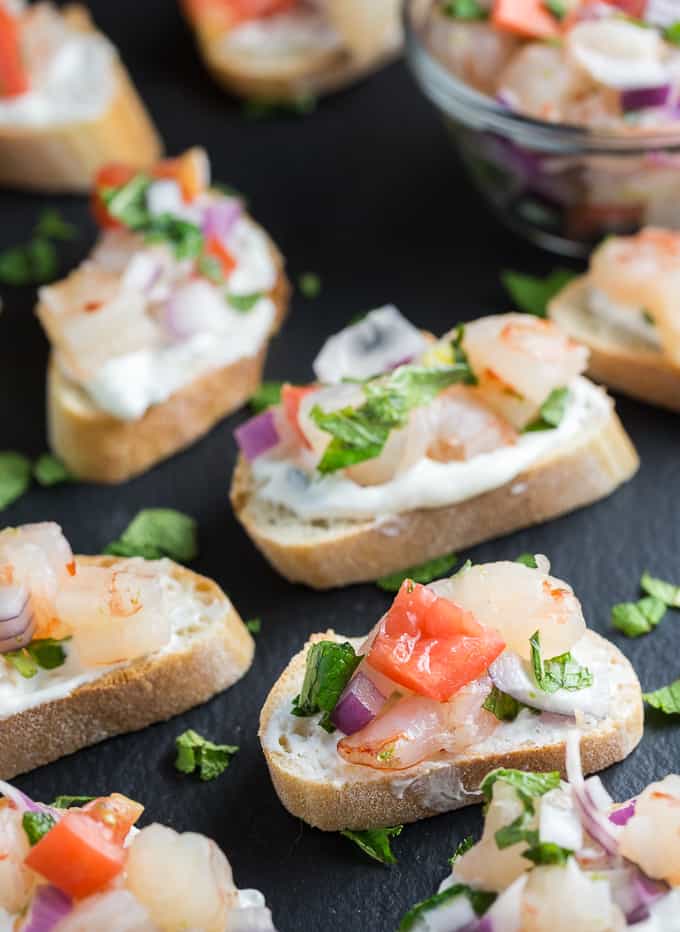 Shrimp Flatbread
Now I have made these zesty shrimp on flatbread but also baguettes. Either way, it is a dynamite duo! I just reached for what my store had in stock. Sometimes it seems to depend on the time of year; baguettes sell like hot cakes.
Craving more appetizers?
Can I Use Raw Shrimp for this Zesty Shrimp Flatbread Recipe
If you have raw shrimp on hand, I recommend cooking it up in your oven or even on a skillet. Lightly season with salt and pepper to add a bit of flavor to the shrimp, and ensure to cook through. Shrimp cooks fast, but you don't want to pull it too fast.
One the shrimp is cooked, allow to cool before you assemble the shrimp with other ingredients. If you mix with hot shrimp, it can soften the onion, wilt the mint, etc.
How to Remove Tails Off Shrimp Easily
If you purchased shrimp that still has the tails on, that is fine. Take your shrimp and grab the leg portion, and pull it away from the shrimp twisting slightly. This should easily pull away from the legs and shell from the cooked shrimp.
Make sure the shrimp has been deveined as well. In the center running down the back, you need to look if you see a black-dark line running down the shrimps back. If you do see a line, take a paring knife, run the knife down the back of shrimp gently exposing the vein. Then with the knife or skewer and pull out the vein. Then rinse shrimp thoroughly before you prep it for the appetizer.
How to Tame Down the Heat on Zesty Shrimp Flatbread
If you can't handle much heat, then make sure to seed the jalapeno. Just cut the pepper in half, and with a spoon wipe out the white membrane along with the seeds, and rinse well under cold water. This is going to get rid of a lot of the heat. Be careful with the pepper oil as it is very strong and can choke you or burn skin.
Once you have pepper properly seeded, then dice up and toss in the mixture. This will drastically cut down the heat factor for anyone who struggles with really spicy food.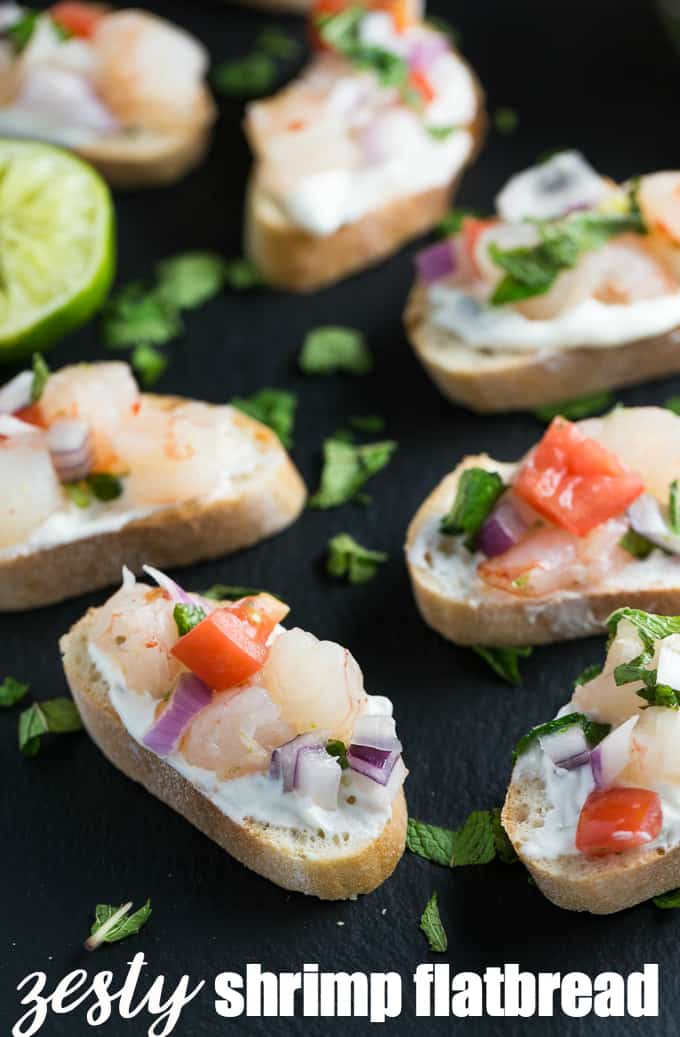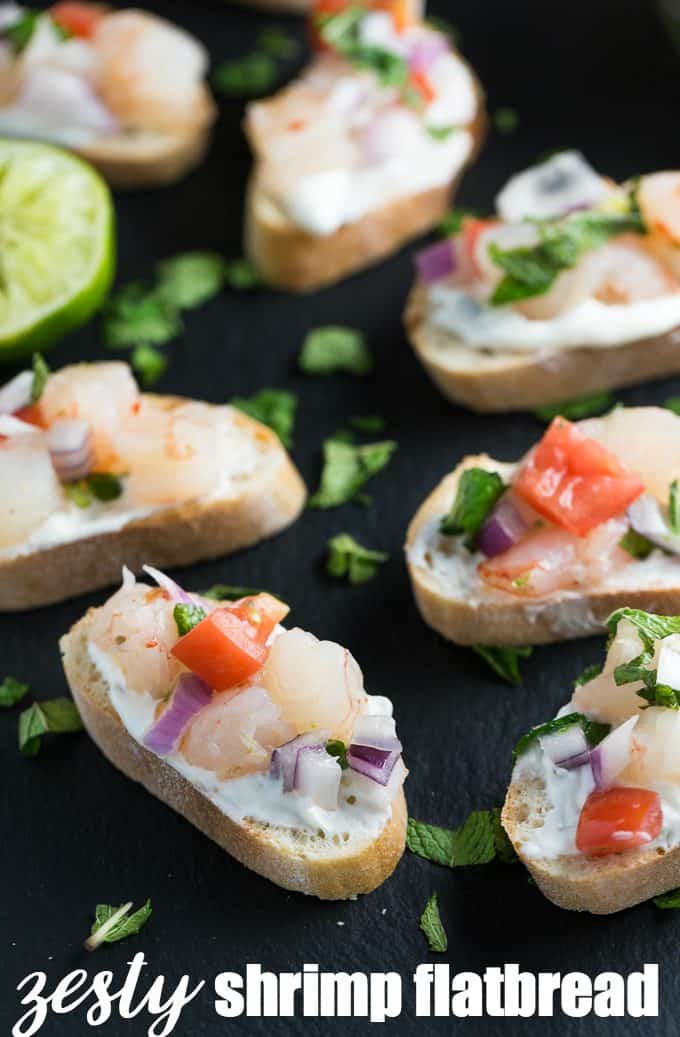 How to Make Zesty Shrimp Flatbread
First, you want to place your shrimp in the bowl along with lime zest and the juice. Stir in your chopped onion, mint, jalapeno, and tomato. Give a good stir and then sprinkle in your salt.
Once your mixture is done, take your baguette or flatbread and spoon over the Tzatziki Yogurt sauce and then add on the shrimp mixture. Repeat till all your appetizers are done, then serve!
Can I Make Zesty Shrimp Flatbread Ahead of Time
If you want to make your shrimp flatbread ahead of time, I recommend making your shrimp mixture and then keeping it in a bowl in the fridge. Then right before serving spoon over the bread and serve.
The reason I say this is because the juices from the shrimp mixture could sog up the bread. But waiting to complete the appetizers until right before serving will provide the best flavor and texture.
What If I Can't Find Tzatziki Sauce at my Store
If you can't find Tzatziki sauce at your store, you can reach for a cucumber dip, or even make your own sauce at home. You can find recipes for Tzatziki sauce online. Or also spread on some plain yogurt or even cream cheese.
Seafood Appetizer
Whether you are having a summer cookout and want a light and refreshing seafood appetizer to serve up, or its winter and you are doing holiday entertaining. I highly recommend giving this shrimp appetizer recipe a try today. I have been making this recipe for a few years now, and always receive compliments on the flavor combination.
Have you tried Zesty Shrimp Flatbread before?


You'll also like this Shrimp Creole and Curried Shrimp Rolls.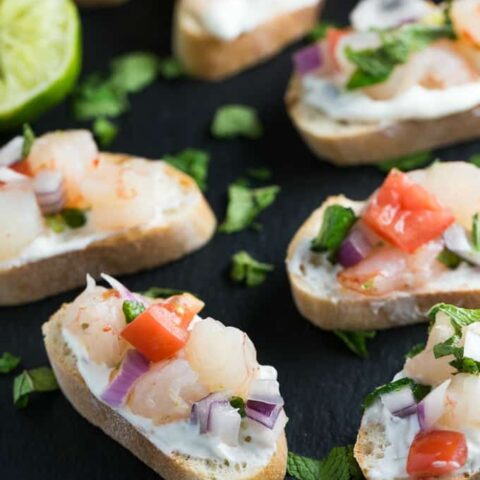 Zesty Shrimp Flatbread
Tantalize your tastebuds with this appetizer. Tzatziki, mint and jalapenos collide to kick the zing up on this shrimp recipe.
Ingredients
¾ bag frozen cooked shrimp (71-90 ct),thawed and tails removed
1 lime, zested and juiced
¼ cup finely chopped red onion
3 tbsp chopped fresh mint
2 tbsp seeded and minced jalapeño pepper
1 small plum tomato, diced
⅛ tsp salt
1 flatbread or baguette
½ cup Tzatziki Yogourt & Cucumber Dip
Instructions
Place shrimp in a bowl, sprinkle lime zest and 4 tsp lime juice overtop. Stir in onion, mint, jalapeño, tomato and salt.
Spread tzatziki on flatbread, and scatter shrimp mixture overtop.
Notes
Adapted from Inspired by Sobeys.
Recommended Products
As an Amazon Associate and member of other affiliate programs, I earn from qualifying purchases.
Nutrition Information:
Yield:

8
Serving Size:

1
Amount Per Serving:
Calories:

174
Total Fat:

3g
Saturated Fat:

1g
Trans Fat:

0g
Unsaturated Fat:

2g
Cholesterol:

3mg
Sodium:

408mg
Carbohydrates:

30g
Fiber:

2g
Sugar:

4g
Protein:

6g