Fall cleaning is much like spring cleaning. It's the sort of thing we dread, but we're happy when it's finished. Since cleaning is less daunting when you're organized, I've broken it up into weekly tasks to help you out. Depending on your personal schedule and the layout of your home, some of you will be able to get through this list in a week, and some will need a month. The important thing is to get as much done as you can! I know it's a big job, but with a little planning and elbow grease, it can be done! And just think how great it will feel afterwards to have everything clean and organized again.
To help keep you on track, I've created this Fall Cleaning Checklist printable. It's free to download and print. Then, as you complete your cleaning tasks, cross the items off the list.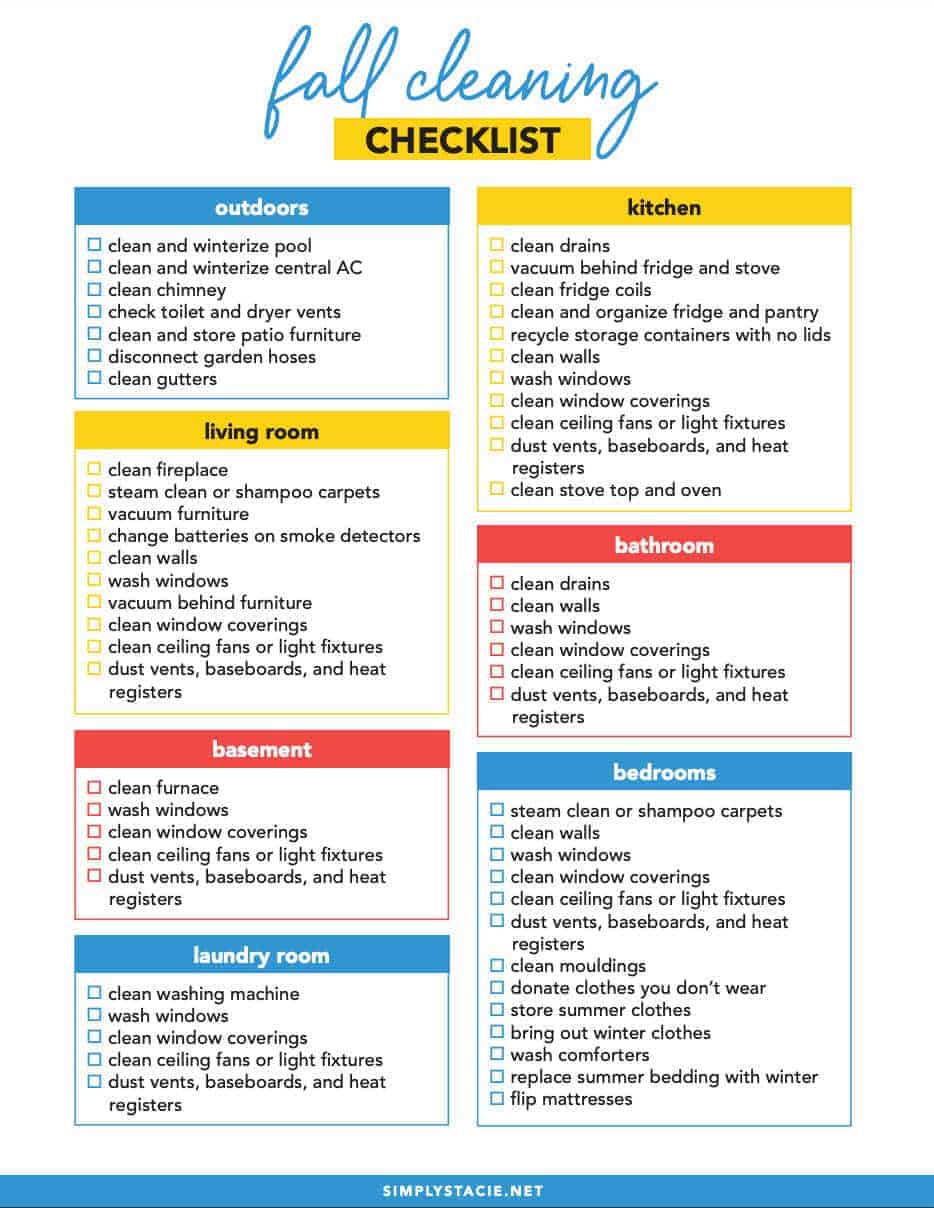 Fall Cleaning Schedule
Week 1 – Call in the professionals
These items are things that most homeowners have professionals do. I suggest calling at the beginning of the fall so that you have more time to schedule them to be completed before the weather gets too cold. If you're handy, you can do them yourself.
Clean and winterize your pool and central air system, if applicable.
Have your chimney, fireplaces, and furnace cleaned.
Week 1 – Kitchen and Bathrooms
Pour baking soda down your drains followed by white vinegar to break down grease and grime that will solidify with cold weather and make clogs.
Pull your large appliances away from the walls and vacuum behind them. Using a soft brush, brush off any dust that has accumulated on refrigerator coils.
Go through your kitchen and get rid of anything you haven't used in the last year.
Throw out food storage containers with no lids.
While you're cleaning, make sure all appliances and plumbing are working correctly. If they're not, have them repaired or replaced.
Week 2 – Living areas
This list is primarily for the main living areas of your home, but some items will apply to other rooms in your home as well, such as bedrooms.
Steam clean or shampoo carpets.
Vacuum furniture, removing cushions and using a crevice tool to get into the cracks.
Vacuum and change the batteries in the smoke detectors.
Clean walls from top to bottom, and if there are any nicks or holes in the walls, putty them and spot paint.
Wash interior windows.
Vacuum or wash curtains, drapes, shades, and blinds.
Pull furniture away from walls and vacuum underneath and behind them.
Clean any ceiling fans and light fixtures.
Dust vents and ducts, baseboards, and heat registers. This is an important step, especially for those of you who may have little ones that may stick small items in the heat registers. They can be a fire hazard once the heat comes on.
Week 3 – Bedrooms
Clean moldings, inspecting for any that are coming loose and may need to be refastened to the walls.
Go through dresser drawers and closets and donate things you no longer wear. If necessary, put summer clothes in a storage bin so you have more room for winter attire.
Clean windows, sills, and weather stripping. While cleaning, inspect the weather stripping. If any is torn or falling off, replace it.
Wash, dry, and change all bedding. Replace summer blankets and comforters with winter ones.
Flip mattresses.
Week 4 – Laundry Room
Run an empty cycle with a little bit of vinegar through your washing machine to rid it of hard water and detergent buildup, or buy specialized washing machine cleaner and run that through instead.
Vacuum the dryer's lint catcher. Built up lint and debris can cause a fire.
Week 4 – Outdoors
Check the outside dryer and toilet vents to make sure that no bees or birds have nested in them. Clean as necessary.
Wash all patio furniture down and store appropriately for the winter, especially if you live in a place where there is snow and ice.
Drain and disconnect garden hoses so that there is no excess water to freeze, split, and crack the hose in the winter.
Clean all the leaves and needles out of the gutters. Check for bird and bees' nests and clear them out. Note: This is somewhat of a never-ending task, as the leaves will probably still be falling while you do it, but do the best you can. Winter snow and ice combined with leftover leaves and pine needles can gutters to become heavy and fall off the house, taking pieces of your home with it. The less debris you have in your gutters when snow comes, the better off you'll be.
Everyone's homes are different, and some things will apply to some people and some won't. Once you've finished, get comfortable in your favorite chair with a nice mug of hot chocolate and start thinking about who you'll invite to Thanksgiving dinner in your nice clean home!
Fill out the form below to get your free Fall Cleaning Checklist printable!

What's on your fall cleaning agenda this year?