Easy Egg Recipes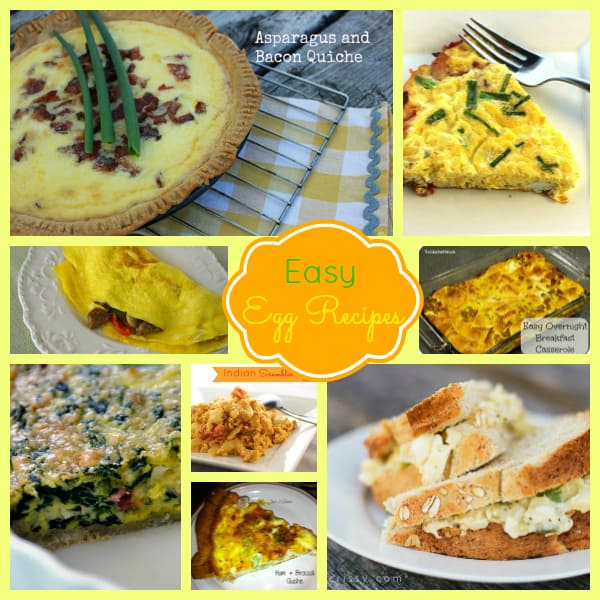 National Egg Day is June 3rd! I eat a lot of eggs with my low carb diet. For example, I'm on a huge frittata kick right now.  I enjoy experimenting with different flavour combinations. If you search my site for frittata, you will find a few of my favourite recipes. 
Besides frittatas, I also enjoy eating eggs for supper! It doesn't have to be morning to enjoy some scrambled eggs and bacon. 
Below you'll find a variety of easy egg recipes to try on National Egg Day (or any other day for that matter). What are your favourite egg recipes?
Chicken-Egg Salad from Dear Crissy
Asparagus and Bacon Quiche from Confessions of an Overworked Mom
The Perfect Western Omelet from The Kid's Fun Review
Egg, Jarlsberg and Avocado Breakfast Cup from This Mama Loves…
Un-Devilish Eggs from Survival Guide by the Working Mom
Pickled Red Beet Eggs from Just 2 Sisters
Ham + Broccoli Quiche from Just 2 Sisters
Perfect Hard Boiled Eggs from Views from the Ville
Easy Breakfast Casserole from The Suburban Mom
Greek Omelet Recipe with Spinach, Peppers and Feta from Thrifty Jinxy
Easy Egg and Toast Cups from Thrifty Jinxy
Avocado Veggie Omelet from Mother of Pearl It Is
Bacon and Swiss Cheese Quiche from Extreme Coupon Professors
Spinach, Leek, & Gruyere Quiche from Rockin Mama
Easy Vegetarian Egg Bake from Rockin Mama