Muffin Tin Mashed Potatoes are a fun and fancy way to dress up this comfort food! Turn your favorite side dish into a savory cupcake of potatoes, mushrooms, and onions.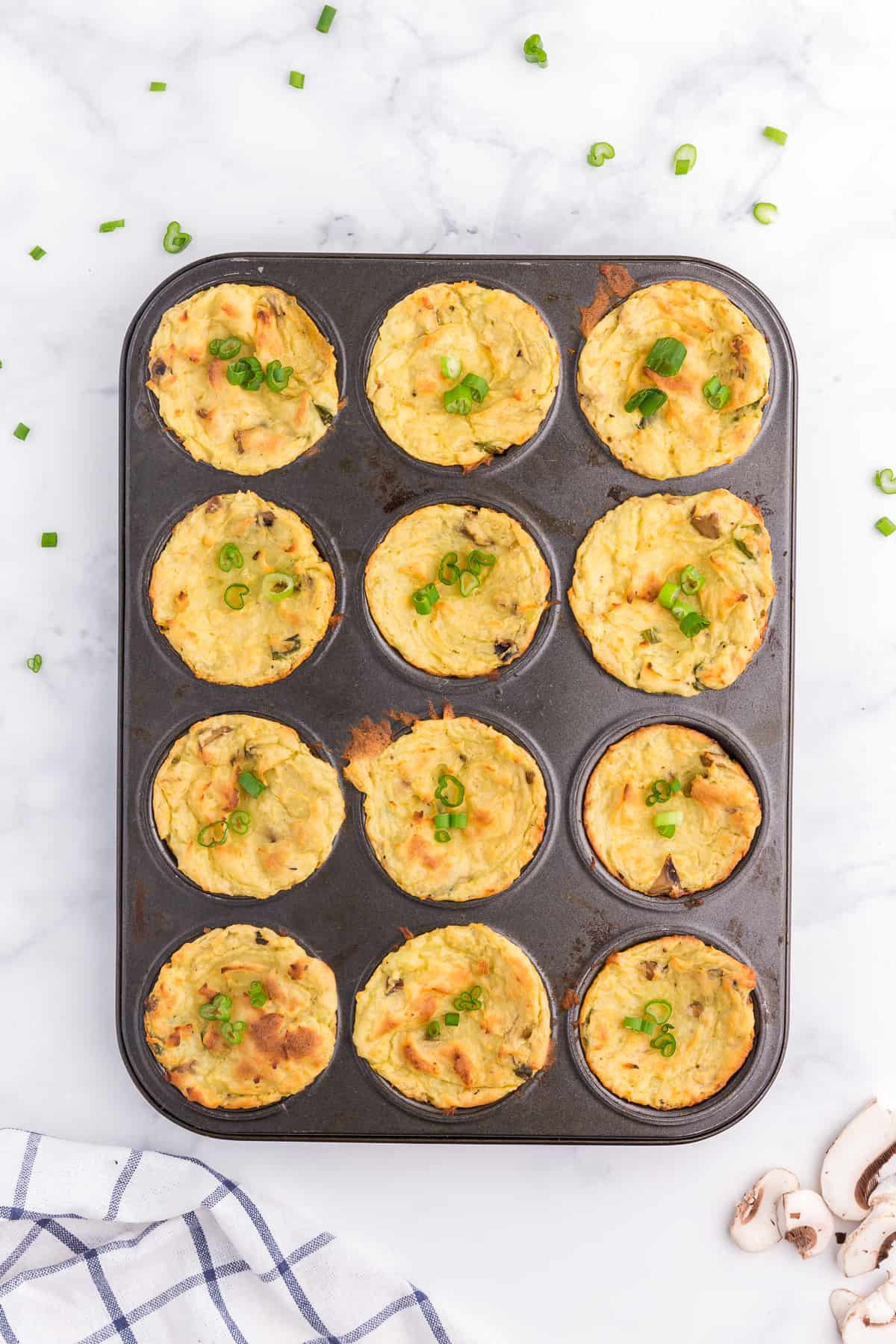 I was always looking for ways to feed my kids when they were younger, and they loved these Muffin Tin Mashed Potatoes! They're shaped like a savory cupcake packed with potatoes, mushrooms, and green onions.
It also helped me hide some veggies from their little eyes. Shhhh.
I LOVE potatoes. No, really. They're right under my family on my list of loves. You can make so many tasty recipes with leftover potatoes, including this one! I usually make them fresh, but you can do either.
You've had mashed potatoes, but have you had smashed potatoes? You'll never roast potatoes the same way again.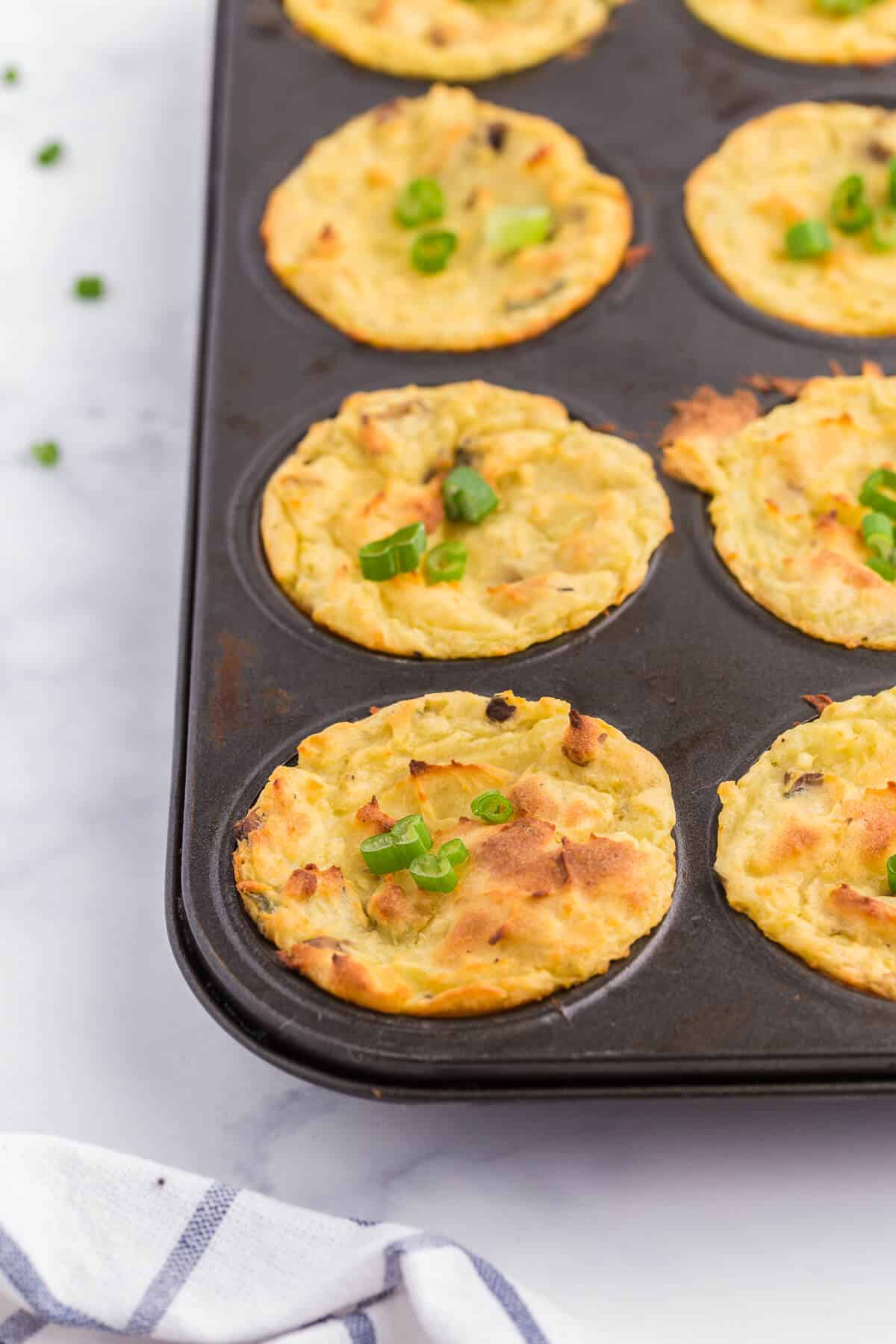 Ingredients
Potatoes — I use about 10 for this recipe
Butter
Green onions
Milk
Eggs
Mushrooms
Garlic
Flour
Baking powder
Salt and pepper
You can also turn these into loaded mashed potatoes! Add whatever you love on your mashed or baked potatoes, just make sure it's cooked first. Bacon, cheese, chives, sour cream — it's all fair game for these muffin tin mashed potatoes!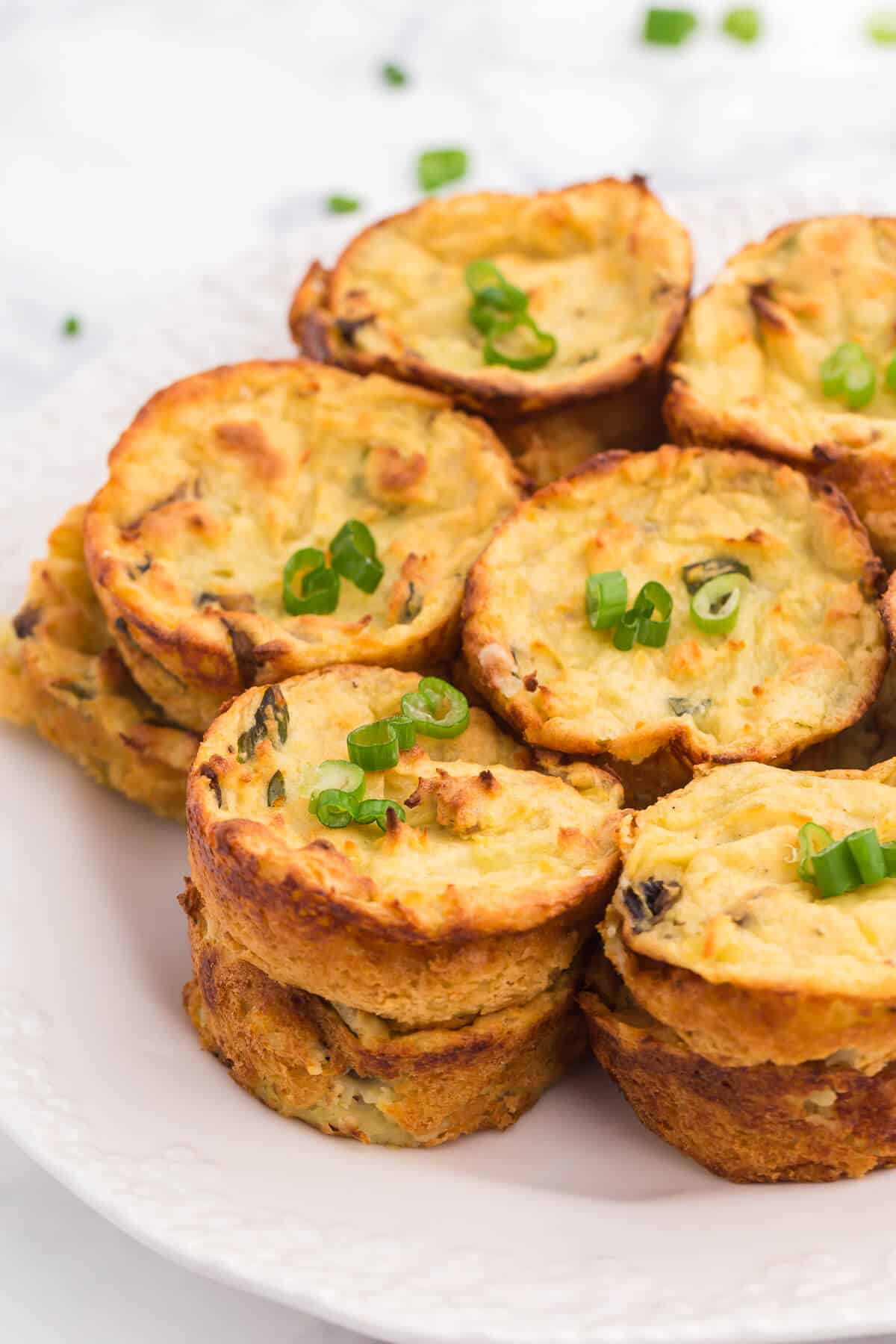 What I used for my Muffin Tin Mashed Potatoes
This post contains affiliate links.
Garlic press: Mincing garlic by hand takes so long. I love this hand press because it does the work in a couple seconds.
Skillet: I like using a nonstick skillet when sautéeing mushrooms to get that golden brown color. This one has never steered me wrong!
Muffin pan: You can use any muffin pan you want for this recipe! You can even use a mini muffin pan for bite-sized mashed potatoes, just reduce the cook time.
How to Make Muffin Tin Mashed Potatoes
First, boil the potatoes until they're fork tender. I always save a little of the potato water in a bowl in case the potatoes get too thick. While they boil, sauté the mushrooms, garlic, and green onions until softened.
Then, mash the potatoes and add some butter and milk. Beat the mixture until smooth and fluffy.
Next, add the sautéed veggies to the mashed potatoes along with the flour, eggs, baking powder, and a little salt and pepper. Stir together gently. Overmixed mashed potatoes turn into glue.
Finally, add the potatoes to a greased muffin tin and bake until golden brown on top. Let them rest a few minutes before serving.
Muffin Tin Mashed Potatoes are so much fun to make and to eat! You can top them with shredded cheese near the end of baking and flip on the broiler for a few minutes.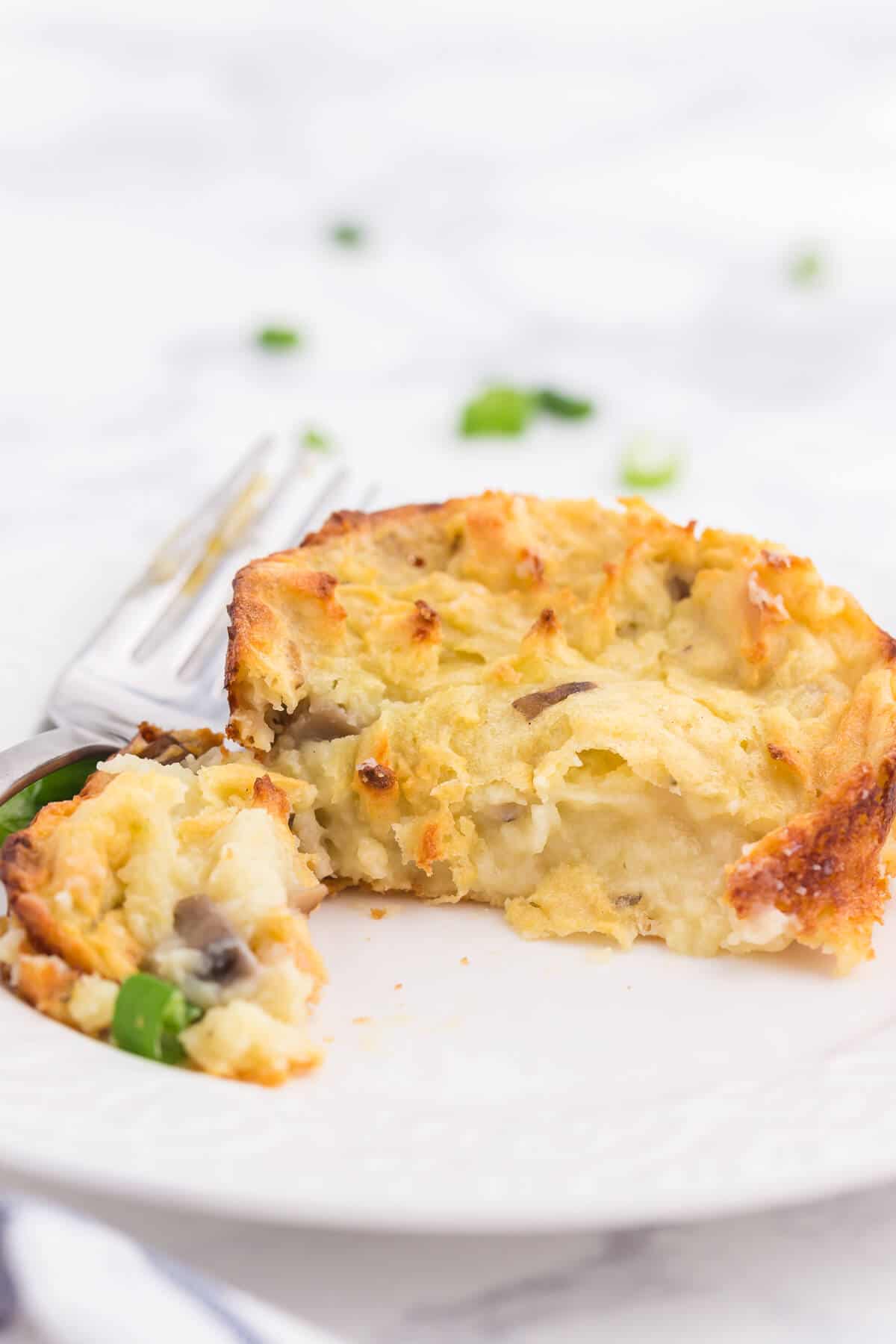 What Can You Use in Place of Milk in Mashed Potatoes?
Mashed potatoes are two main ingredients: potatoes and liquid. You can use almost any liquid you'd cook with, but dairy makes the creamiest mashed potatoes. Heavy cream, half-and-half, even sour cream or cream cheese can be used if you just ran out of milk.
Mashed potatoes are naturally vegetarian, but it's easy to make them vegan mashed potatoes with just a few swaps. You can use vegetable broth or an unsweetened alt milk like oat milk or almond milk.
Chicken stock is also a great option to bring lots of flavor to your mashed potatoes without adding dairy.
You can swap the butter, too! Butter brings a lot of flavor to mashed potatoes, but you could swap it for a flavorful oil like olive or grapeseed oil. You could also use margarine!
More Comforting Potato Recipes
Did I mention I LOVE potatoes? There's nothing more comforting to me than a warm, starchy potato. Whether it's baked, roasted, mashed, or in a casserole, I'm gonna love it.
Dinner parties always mean Party Potatoes for me. It's the perfect stick-to-your-ribs dish for a winter potluck or even a Sunday family dinner.
I've been eating these Swedish potatoes for years thanks to an old church cookbook. They're super creamy and baked with a buttery breadcrumb topping and topped with chives. Yum!
Roasted potatoes are so easy, and these Smothered Potatoes take it to the next level. They're covered in a blanket of mushrooms, green onions, peppers, and cheese for a show-stopping side dish.
Switch up your mashed potato game with these simple Olive Oil Mashed Potatoes. It's a cross between mashed and potato salad with red and yellow potatoes, kale, onions, herbs, and NO DAIRY!
Need mashed potatoes but don't have the time? This Crockpot garlic mashed potatoes recipe is such a time saver!
What to Serve with Muffin Tin Mashed Potatoes
These are just as delicious as regular mashed potatoes, but my kids love them! It's also a cleaner way to serve my favorite side dish for dinner parties.
Where there's meatloaf, there's mashed potatoes. I love this Caribbean Meatloaf because it's a little sweet and tangy topped with pineapples!
Cheaper steaks can be the most flavorful, and this Mushroom Swiss Steak dresses up a round steak with delicious gravy.
Pork chops are common in my kitchen. I like to switch it up with these saucy pork chops smothered in tomatoes, garlic, peppers, and olives.
You'll also like Classic Meatloaf and Air Fryer Potato Cheese Balls.
Do you have any amazing potato recipes? I'm always looking for more recipes to try! Follow me on Instagram @simplystacieblog, on Facebook at Simply Stacie, and on Pinterest @SimplyStacie and let me know how you liked this and my other recipes!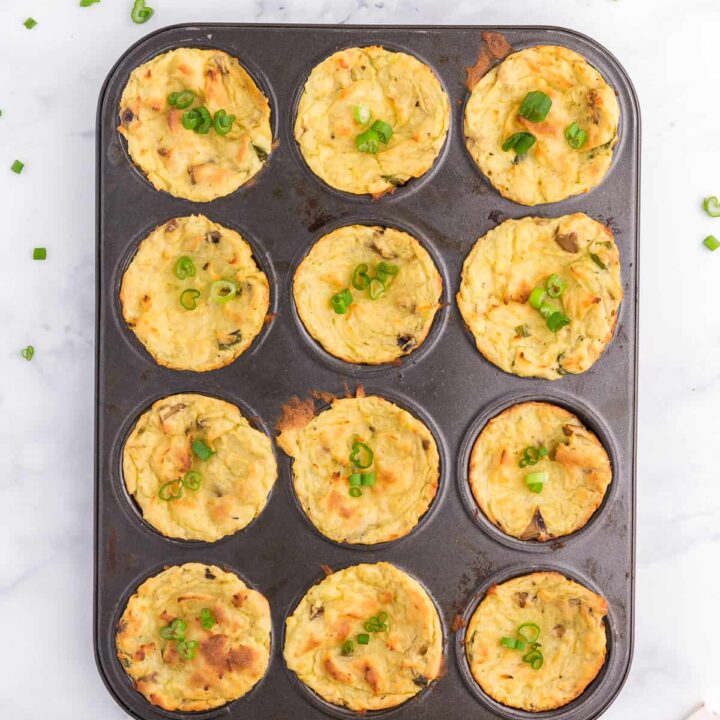 Muffin Tin Mashed Potatoes
Cook Time:
1 hour
5 minutes
Total Time:
1 hour
15 minutes
Perfect for dinner parties! These loaded mashed potatoes are baked like savory cupcakes with mushrooms and green onions. The best way to use up leftover mashed potatoes!
Ingredients
10 potatoes, peeled and chopped
4 tbsp. butter
4 green onions, sliced
1 cup milk
4 eggs, beaten
1 tsp. salt
2 cups mushrooms, chopped
2 cloves garlic, minced
3/4 cup flour
4 tsp baking powder
1/4 tsp pepper
Instructions
Boil potatoes until tender. Drain the water and mash. Add in 2 tbsp butter and milk and beat until fluffy. Set aside.
Meanwhile, add 2 tbsp butter to a pan and saute mushrooms, onions and garlic until tender, about 5 to 7 minutes.
Add cooked veggie mixture to potato mixture. Add in flour, eggs, baking powder, salt and pepper and stir to combine.
Add the mixture to 12 greased muffin cups. Bake at 375F for 35 to 40 minutes or until golden brown. Let stand 5 minutes before removing from the muffin pan.
Recommended Products
As an Amazon Associate and member of other affiliate programs, I earn from qualifying purchases.
Nutrition Information:
Yield:

12
Serving Size:

1
Amount Per Serving:
Calories:

241
Total Fat:

6g
Saturated Fat:

3g
Trans Fat:

0g
Unsaturated Fat:

2g
Cholesterol:

74mg
Sodium:

437mg
Carbohydrates:

40g
Fiber:

4g
Sugar:

3g
Protein:

8g