I love a good party. From intimate anniversary celebrations to larger gatherings like wedding showers or a big summer birthday blowout with all my friends and family, I enjoy it all. I also love to be organized so I often find myself making list upon list upon list to keep everything straight. From the guest list to the menu and from the timeline to the shopping list, I sometimes get so overwhelmed with the piles of notes I've made that I can't tell if the list-making is actually helping or hurting my party planning.
That's why I'm so excited about tossing my pile of Post-Its and using these party planning printables. They are going to make everything SO much easier. Not only will they help me keep track of every event happening throughout the year, but they will also be so amazing to have on hand when it comes time to actually plan the parties.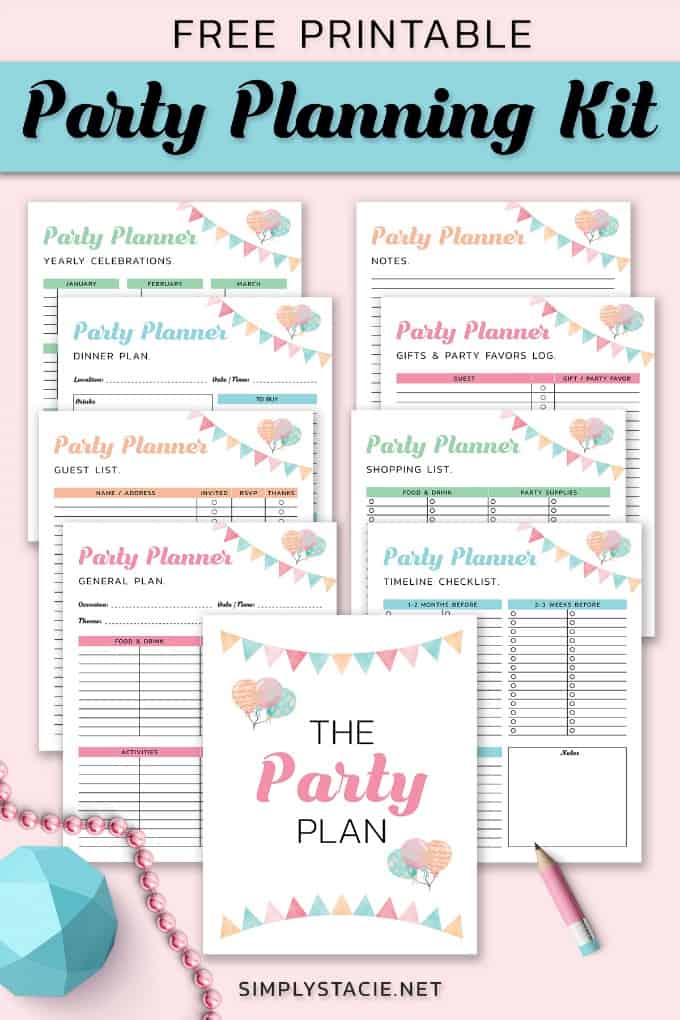 It is my hope that my blog makes your life easier, too. To that end, I'm delighted to share with you The Party Plan: Nine party-planning templates that will help you pull off your event without pulling out your hair.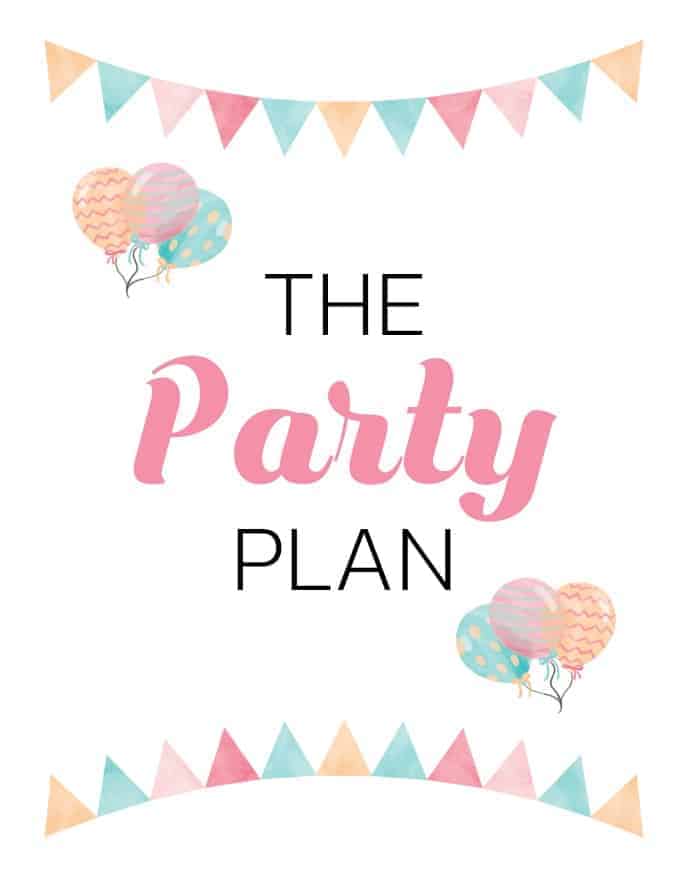 Party Planning Printables
Yearly Planner
Easily track events coming up throughout the year with a date and the event title. This sheet includes plenty of space for multiple events every month.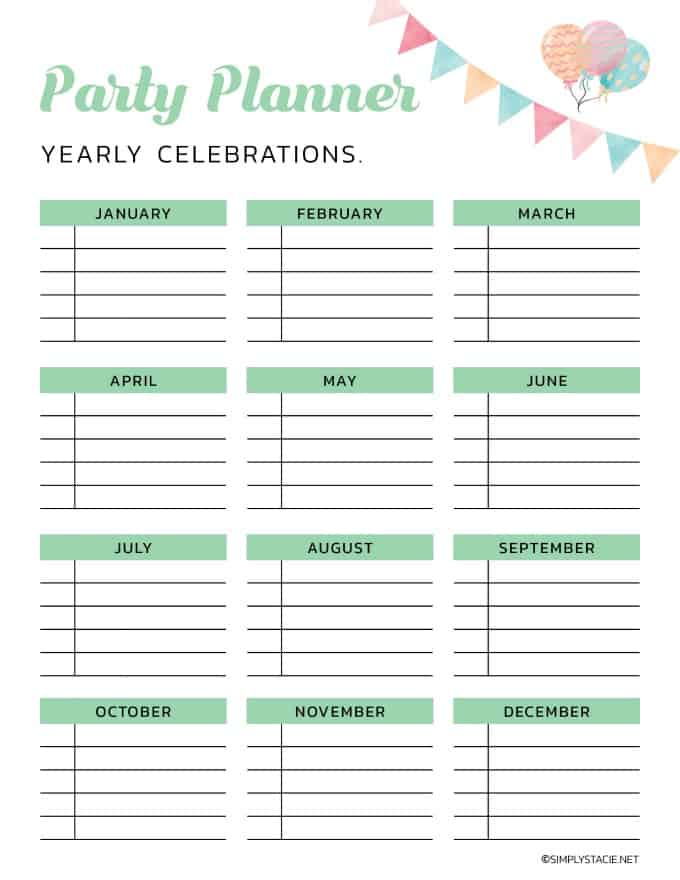 Guest List
For some, this is the easy part, for others, it's the hardest. Who do you invite and who do you have to leave out? Mark down your final decisions on this printable and keep track of whether or not they've RSVPed, and if you've sent that ever-important thank you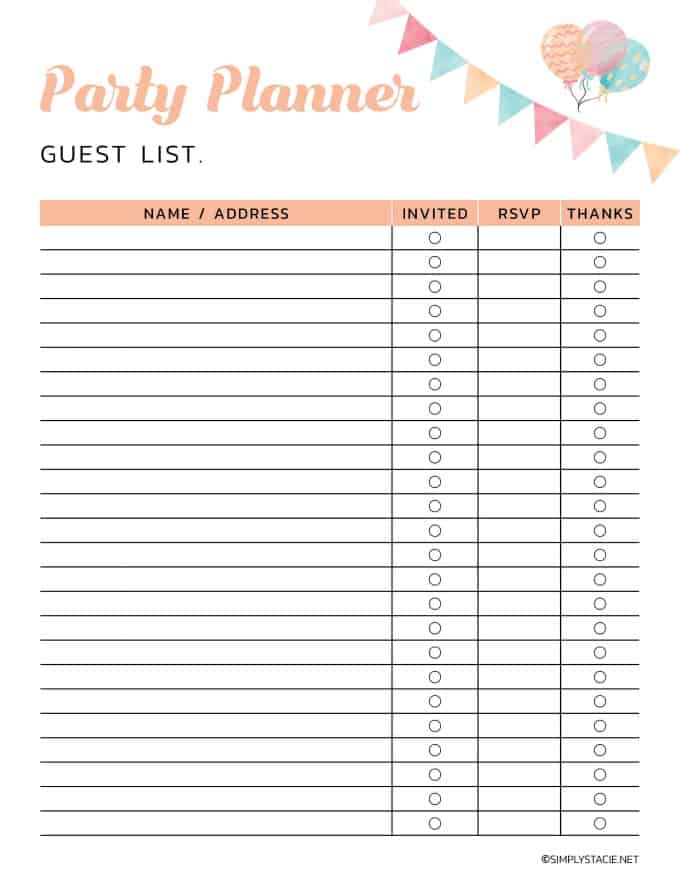 Notes
Is there anything more full of promise than empty lines begging to be filled with ideas for your future party? Great for brainstorming ideas or adding in notes on themes, color palettes, guest notes (like keeping track of allergies or other medical conditions), or other need-to-know information. If one sheet isn't enough (and it almost never is), the great thing is you can print out as many as you need.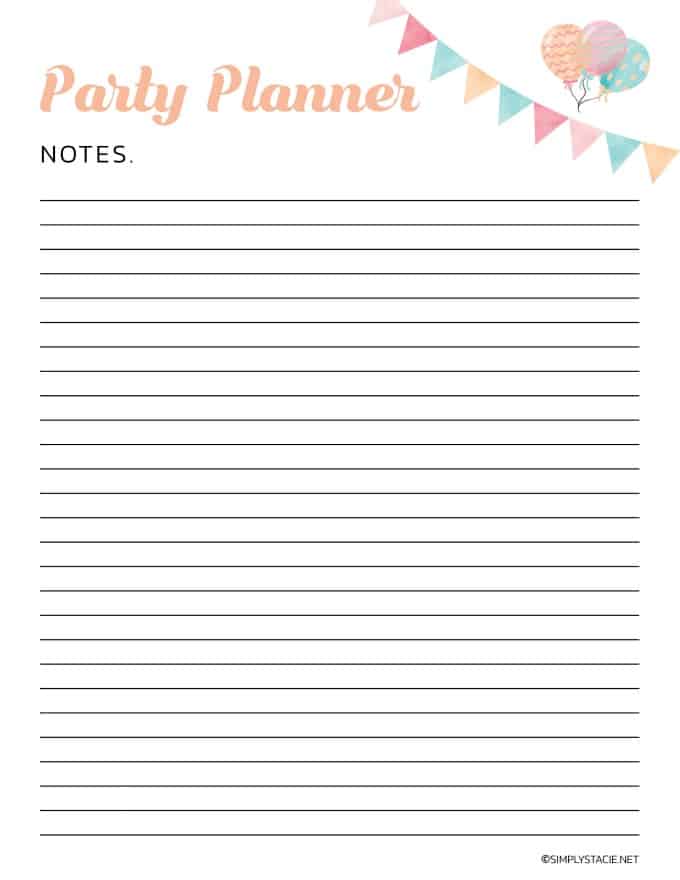 General Plan
Now that you've settled on the event and theme, this template is perfect for keeping all of your decisions in one place. Record the occasion, theme, date, food and drink ideas, decorations needed, and more.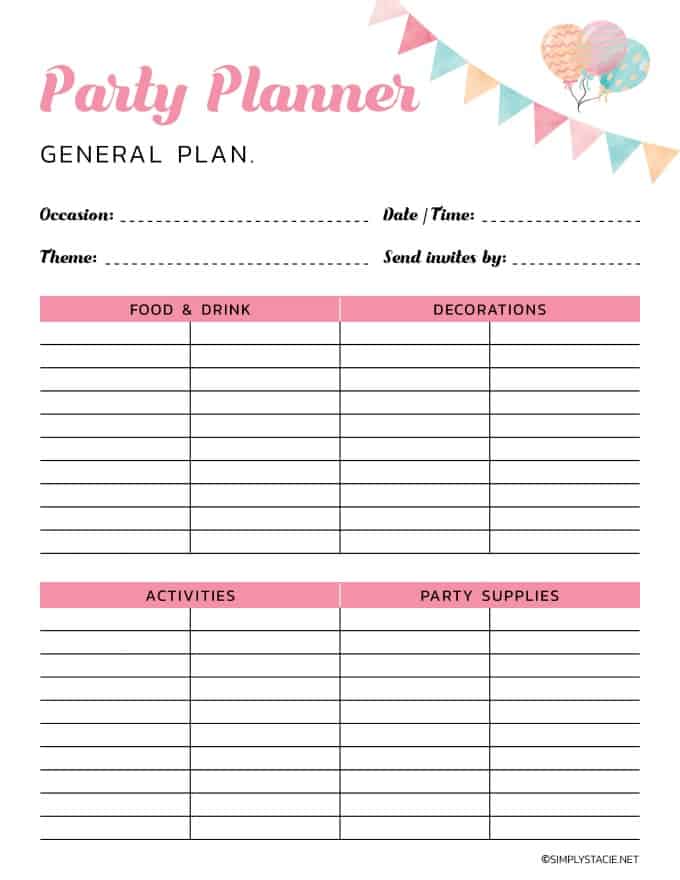 Shopping List
This is where your party can get tricky. The fun is in the planning but not so much in sticking to your budget. Don't leave anything to chance by writing it all down on this shopping list. It's so easy to get sidetracked in a party store (sombreros for everyone!) when you don't have a list to keep you honest.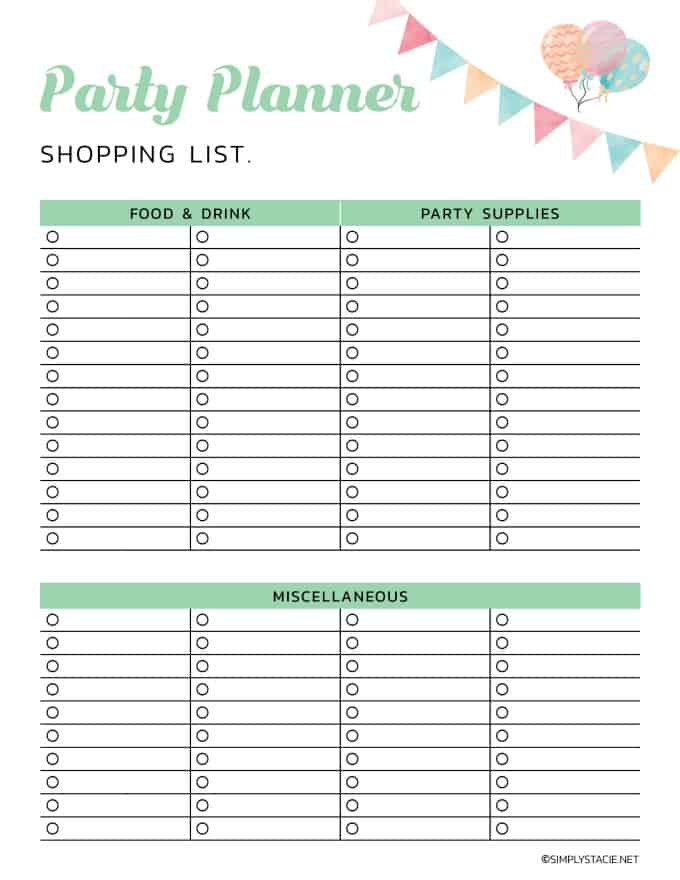 Timeline Checklist
Start the party planning months or weeks ahead with this party printable. Did you send the invitations? Freeze the ice ring for the punch the night before? Remember to turn off the sprinkler system? Now you'll know for sure.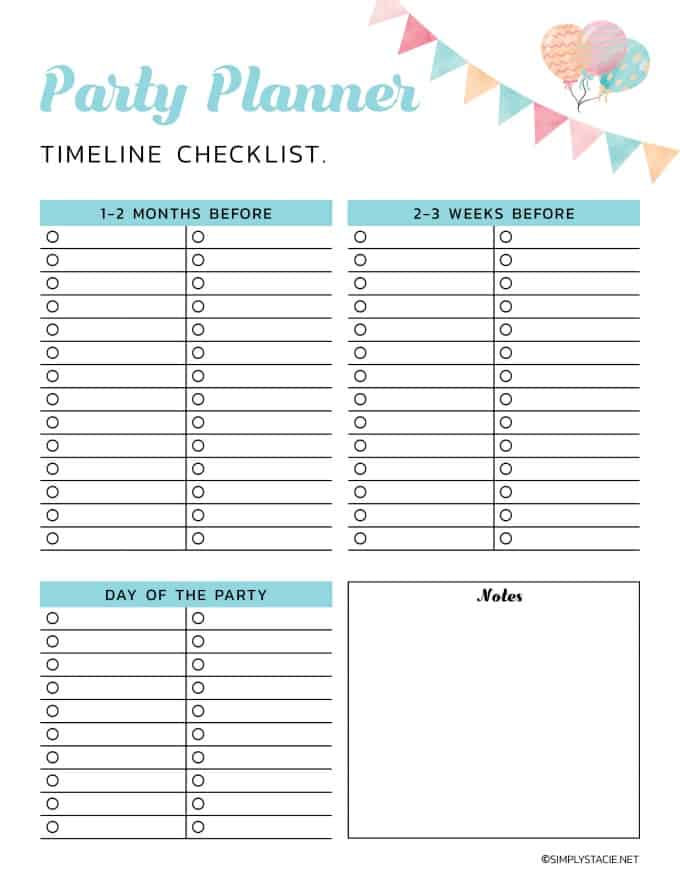 Dinner Plan
What's for dinner? (Or lunch or brunch or…?) This is a great place to keep track of your ideas for every course — from apps to after-dinner drinks.
Gifts & Party Favors Log
No more scrambling for a scrap of paper to write down who bought the guest of honor which gift. Log every present and gift-giver on this handy sheet. Then, use the sheet to keep track of whether or not you remembered to give your guest a party favor on the way out. I always forget this step and am left with lots of goody bags I have to hand-deliver the next day.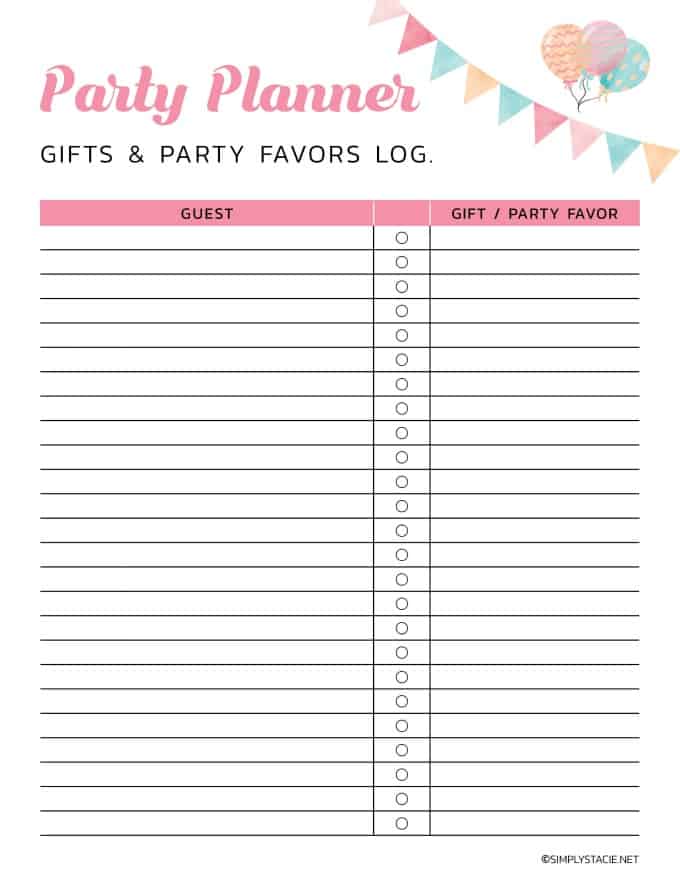 Free Printable Party Planning Kit
Subscribe to my newsletter (I will never send you spam!) and get all these party planning printables for FREE! Fill out the form below to subscribe and get the printables delivered to your inbox.
I'd love to hear what amazing parties you'll be planning with these printables–be sure to let me know!