It was easy to come up with this list of gifts for book lovers. Why? Because I'm a huge bookworm myself. I selected items that I know I would love to receive for any occasion – think birthdays, Christmas or just because!
When you're shopping for a book lover, you don't want to buy them actual books because chances are, they have probably read them already. Book related items are best like the choices featured here.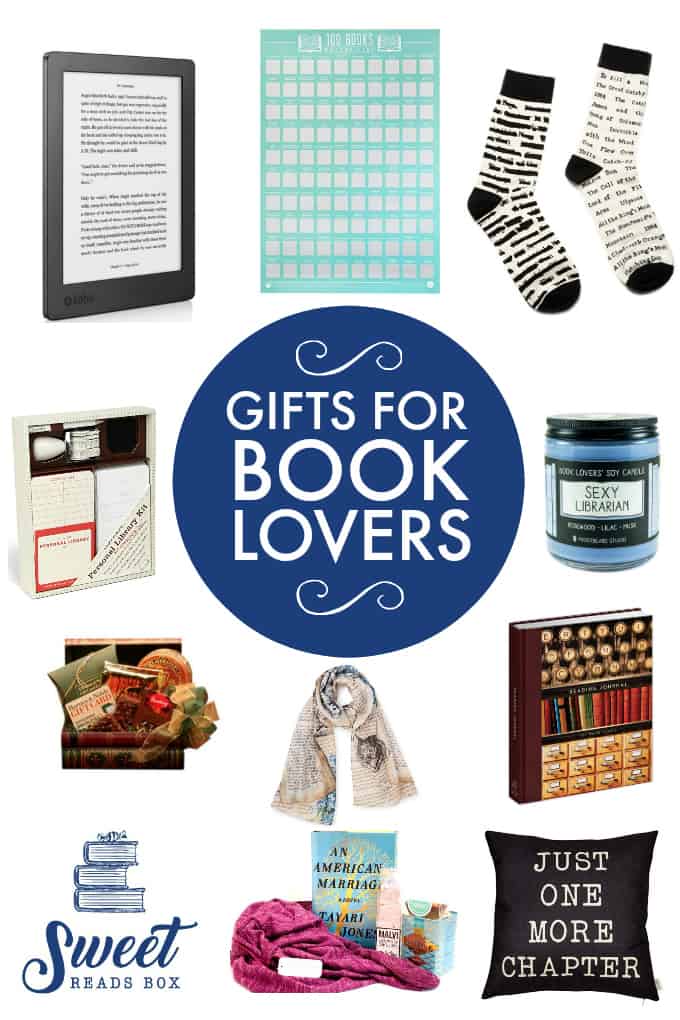 Shopping for a book lover isn't hard if you know what to look for. I hope these gift ideas help you out and that your gift recipient loves whatever you buy!
Gifts for Book Lovers
This post contains affiliate links.
1. Sweet Reads Box. Get "Me Time Delivered". This is the perfect subscription box for people who love to spend quality time with a good book. Each month, they deliver a bestselling fiction novel, handcrafted items, artisan drink, gourmet treat – all matching the theme of the book! I've been getting this box for several months and it's one of my favourites. The subscription box is currently only available in Canada.
2. Cozy Reader Club. Same idea as #1, but this box is for USA residents. It includes released hardcover novel, local and artisan coffee, tea or hot chocolate, gourmet treats, handmade items, and more. It's the gift that keeps on giving every month!
3. Tea Subscription Box. What's better than a good book and a hot cup of tea? Field to Cup offers a variety of tea subscription boxes to choose from. It's tea time delivered!
4. Hand Stamped Spoon. This handmade antique silver plated spoon is stamped with "My Weekend is All Booked". It's a lovely keepsake item for any book lover or a gift they can use to stir their favourite hot beverage as they enjoy a good book.
5. Book Lovers Soy Candle. This Sexy Librarian candle smells like incense with rosewood, lilac and musk. It delivers the perfect ambiance for curling up with a good book.
6. Book Lovers Mug. Every book lover needs a mug of their fave hot beverage to enjoy! I love this cheeky mug!
7. The Book Was Better Bracelet. The book is always better! This aluminum bracelet is classic, simple and shares the truth!
8. Personalized Quote Bookmark. Pick your favourite quote and have it stamped on a beautiful aluminum bookmark. It will last longer than a paper bookmark or tissue (eek!).
9. Reader Earrings. These silver plated eyeglasses are so cute and make for a fun gift for any book lover.
10. Just One More Chapter Pillow Cover. Because isn't that the truth? It's always just one more chapter when you are deep into a good book. This cute pillow cover is perfection.
11. Knock Knock Personal Library Kit. This kit is a must-have for anyone who shares books and wants to be certain that they will be returned. It brings back a bit of nostalgia from the good ol' library days.
12. Reading Journal. This classic reading journal will help keep track of all the books to read and ones already read. Keep tabs on the TBR list!
13. Book Worm Gift Basket. So many treats! A gift basket is a lovely idea especially one designed for readers. It even has a gift card for more books.
14. Banned Books Socks. It's amazing how many books are banned. Any book lover would be happy to wear these socks.
15. Kobo Aura H2O. For those that prefer instant access to books and less clutter, try an e-reader.
16. 100 Books Scratch Off Poster. Read iconic books and keep track of them with this fun poster to hang on your wall.
17. Alice in Wonderland Illustration Scarf. A whimsical scarf to accent any book lovers outfit. It features print from the original book.
You might also like subscription boxes for Canadian book lovers.