Lemon Drizzle Muffins are an easy lemon muffin recipe that is topped with a sweet lemon glaze! If you are a fan of lemon, you will have to try this lemon muffin recipe.
Hi everyone! It's Nicky again, calling in from Kitchen Sanctuary. Today I'm bringing you Lemon Drizzle Muffins: lovely zesty lemon muffins, topped with a lemon glaze and little slices of sugared lemons just to finish them off.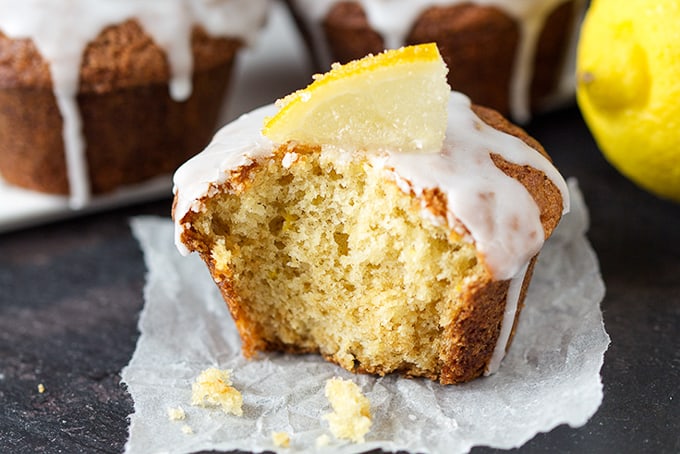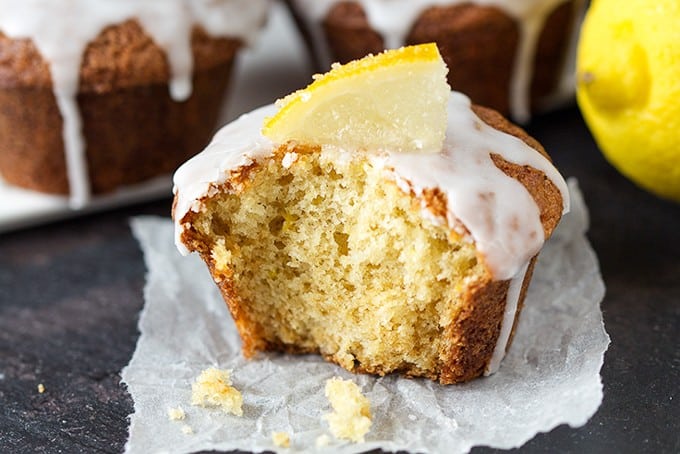 Lemon Drizzle Muffins
These fruity little cakes are great for a mid-morning pick-me-up. I like to enjoy mine with a hot cup of jasmine tea (I find lemon doesn't really go with coffee).
The sugared lemons on top are pretty addictive – in a sweet and sour kind of way.
They're simple to make – just a case of slicing them thinly, then boiling them up with sugared water, before dusting them off with a little more sugar. They initially crisp up as they dry a little, but will turn sticky after a while, so it's best to eat them pretty quickly (not too difficult!!).
Could I Add Poppyseeds into this Lemon Muffin Recipe
Yes if you want to transform this recipe into a lemon poppyseed muffin recipe, just add in a teaspoon of poppyseeds to the recipe. This will add a fun speckle of color and flavor in every single bite.
What If I Love Lemon Flavor
If you want more bold lemon flavor in these muffins you can add extra lemon zest into the recipe. Feel free to amp it up to fit your lemon lover needs. I am a fan too. I have added extra zest in the past to make the flavor bolder.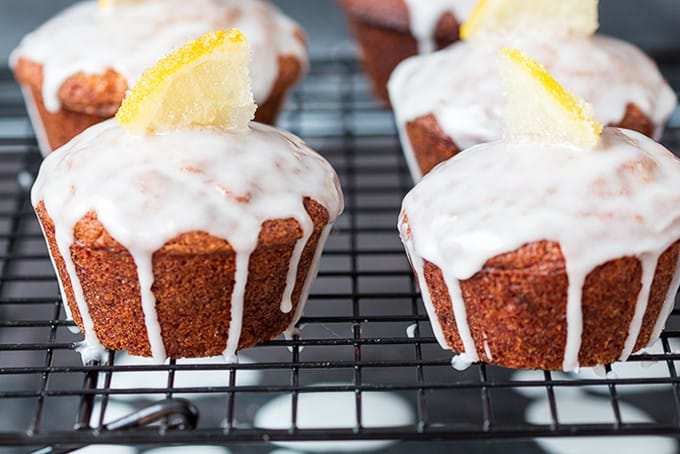 How Do You Make Light and Fluffy Muffins
One of the biggest things I can say for getting light and fluffy muffins is measure properly. Make sure you don't put in too much flour into the batter. Measuring ingredients the right way is key. Then when you mix the batter don't over-mix. This can make muffins dense and heavy.
Also, make sure to bake accordingly. If you overcook muffins they will become dry. Every oven cooks differently so ensuring you use the time as a guide is very important. Never just trust the time is right on any baking recipe.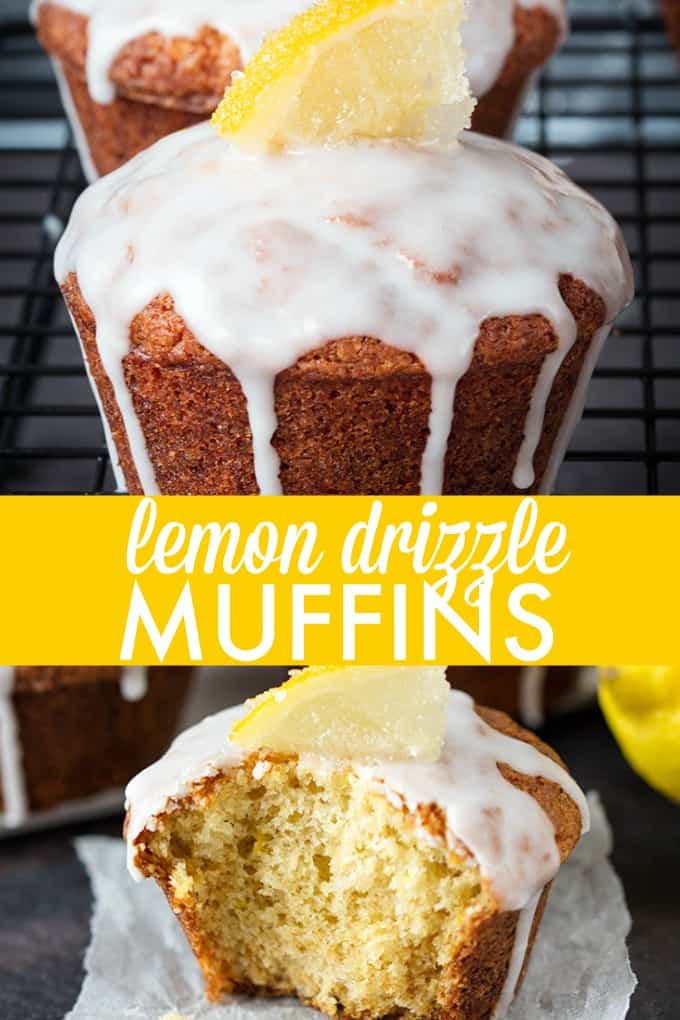 How Do You Make Lemon Drizzle Muffins
The first thing you will do is work on mixing your egg and sugar. Then add in butter, vanilla, and yogurt. Stir until combined.
Work in the flour and the baking soda, and lemon zest. Once well mixed, you will spoon mixture into 12 muffin holes. Bake for 10 minutes and check. Then cook until muffins are fully cooked.
You will make sure sugared lemons as well if you want to use them to top your muffins. Also while cupcakes are baking you can work on preparing the lemon glaze.
How to Store Lemon Muffins
You will want your muffins to fully cool and then transfer to an airtight container. Place in the fridge for up to a week for storing. I find that the glaze is best when it is refrigerated.
Can You Freeze Lemon Muffins
Yes, you can freeze these muffins. Simply allow muffins to fully cool and then place in an airtight container. You can then store these muffins for up to three months.
Thaw in the fridge the night before you plan to eat. Or let them sit at room temperature for an hour and then enjoy. I have frozen these muffins and used them for a quick breakfast, dessert for unexpected guests and mid-day slump.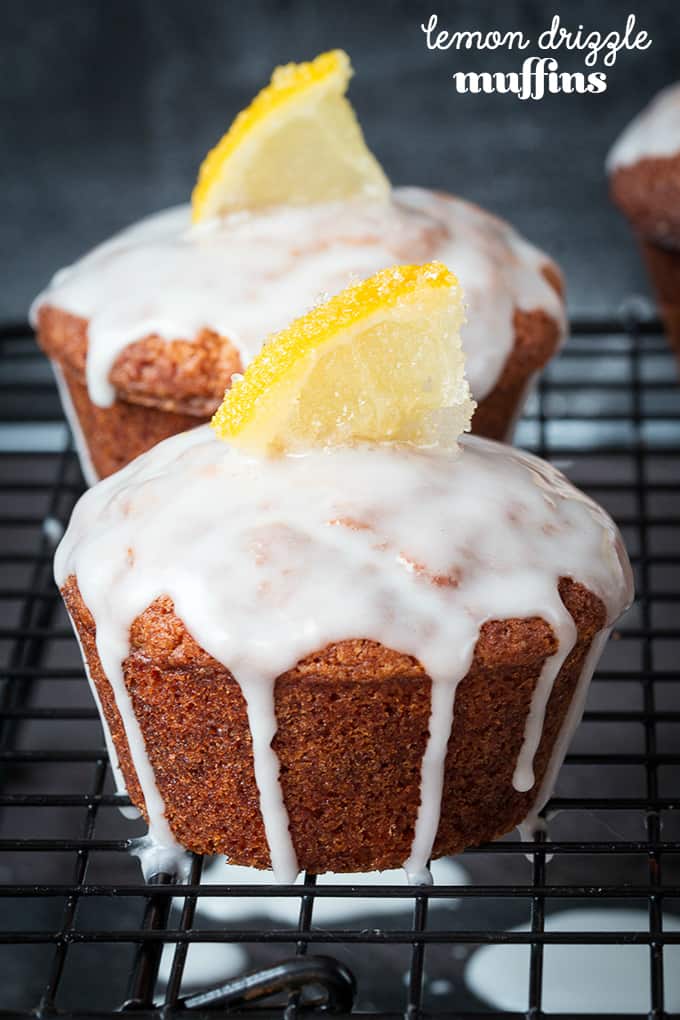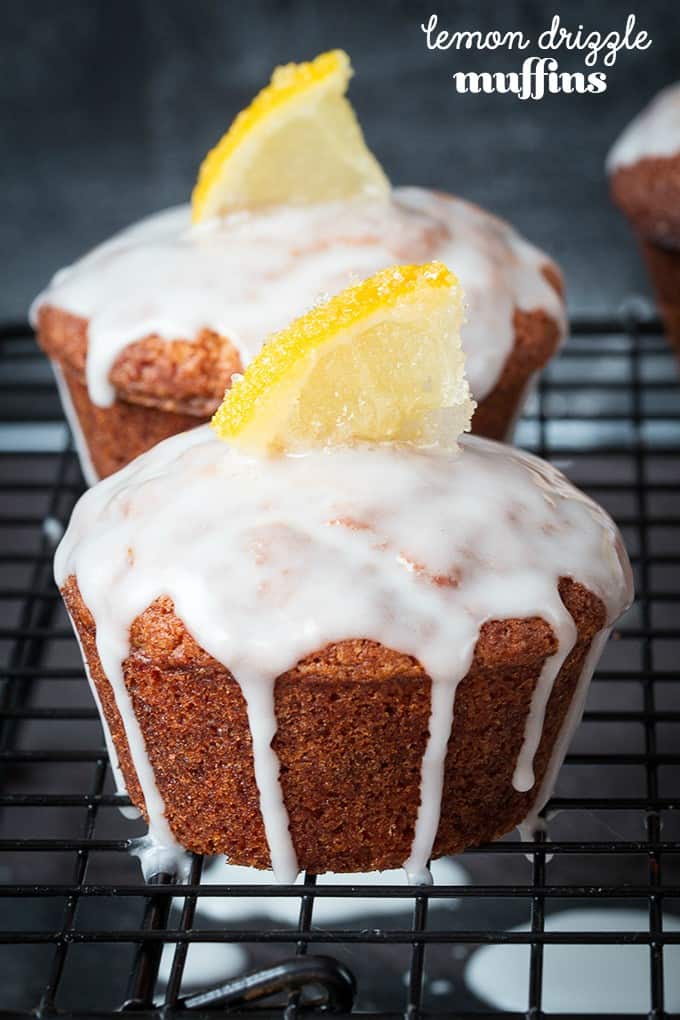 Want more muffin recipes
Pina Colada Muffins | These pina colada muffins are a tropical-flavored muffin. Ultra moist, rich in pineapple and coconut flavor and downright delicious.
Butter Tart Muffins | A classic Canadian dessert that is a tart muffin that is loaded with delicious flavor. These muffins will blow your mind.
Double Orange Muffins | Love orange? These orange muffins will give you a citrus flavor in every rich and moist bite. Great for breakfast or mid-day snack.
Can I Make these Muffins without the Glaze
Absolutely! If you don't want to take the extra time to make the glaze you 100% can make these muffins without the glaze. I love the glaze as it adds a bold pop of lemon to the muffins. But you can it off.
If you leave it off feel free to bake plain or sprinkle some sugar on top of the muffins.
You'll also like this Homemade Lemon Curd.
Are you a lemon fan?

Lemon Drizzle Muffins
Zesty lemon muffins, topped with a lemon glaze and finished off with little slices of sugared lemons. Yum!
Ingredients
Muffins
1 cup light brown sugar
1 large egg
½ cup minus 1 tbsp unsalted butter, softened to room temperature
1 tsp vanilla extract
¾ cup lemon yogurt (or 3/4 cup minus 2 tbsp Greek yogurt mixed with 2 tbsp lemon curd)
2 cups all-purpose flour
1 tsp baking soda
Zest of 1 lemon
Sugared Lemons
¾ cup water
¾ cup sugar
½ a lemon cut into slices, then each slice further cut into quarters
Extra 2 tbsp sugar
Glaze
1 cup confectioners' sugar, sifted
2- 3 Tablespoons fresh lemon juice
Instructions
Preheat your oven to 180c/350f
Add the sugar and egg to a large bowl and mix using a fork or balloon whisk. Add in the butter and vanilla extract, stir, and then add in the yogurt and stir to combine. Next combine the flour and baking soda and add into the mixture along with the lemon zest. Stir everything together using a wooden spoon.
Grease a 12 hole muffin tin and fill the holes almost to the top with the cake mixture (cake cases are optional, but you'll find that the muffins will be lighter in appearance if you use muffin cases). You should get 10-11 muffins from this recipe. Place in the preheated oven and cook for 13-15 minutes until risen and browned. Once cooked, take out of the oven and leave to cool in the tin for 10 minutes before removing and cooling further on a cooling rack.
Whilst the cupcakes are in the oven, make the sugared lemons. Place the water and sugar into a pan, bring to the boil and simmer for 3-4 minutes – until the sugar dissolves. Add the lemon slices and simmer for 5 minutes. Turn off the heat and leave to cool for a few minutes. Place the 2 tbsp sugar in a small bowl, then drain the lemon slices and dredge in the sugar. Place them in a single layer on plate to dry.
When the muffins are cool, make the lemon drizzle by using a balloon whisk or fork to mix the confectioner's sugar with 1 tbsp of lemon juice. You're looking for a drizzle that holds it's shape for a 4-5 seconds after you lift the whisk. Add more of the lemon juice if required until you reach the correct consistency.
Drizzle the icing over the muffins, then top each muffin with a wedge of lemon and serve.
Notes
The lemon wedges will start to turn sticky after a few hours, so it's best to serve the muffins right away, or alternatively you can leave off the lemon wedges, and re-dust them in more sugar right before serving the muffins.
Recommended Products
As an Amazon Associate and member of other affiliate programs, I earn from qualifying purchases.
Nutrition Information:
Yield:

11
Serving Size:

1
Amount Per Serving:
Calories:

282
Total Fat:

2g
Saturated Fat:

1g
Trans Fat:

0g
Unsaturated Fat:

1g
Cholesterol:

20mg
Sodium:

136mg
Carbohydrates:

63g
Fiber:

1g
Sugar:

45g
Protein:

4g