Pretty in Pink Punch is going to be a must make an adult drink for your summer entertaining. Frosty, tangy, sweet, and refreshing to beat the summer heat. A Mix of pink lemonade and a Daiquiri mix! Trust me when I say this pink punch is going to win over a crowd.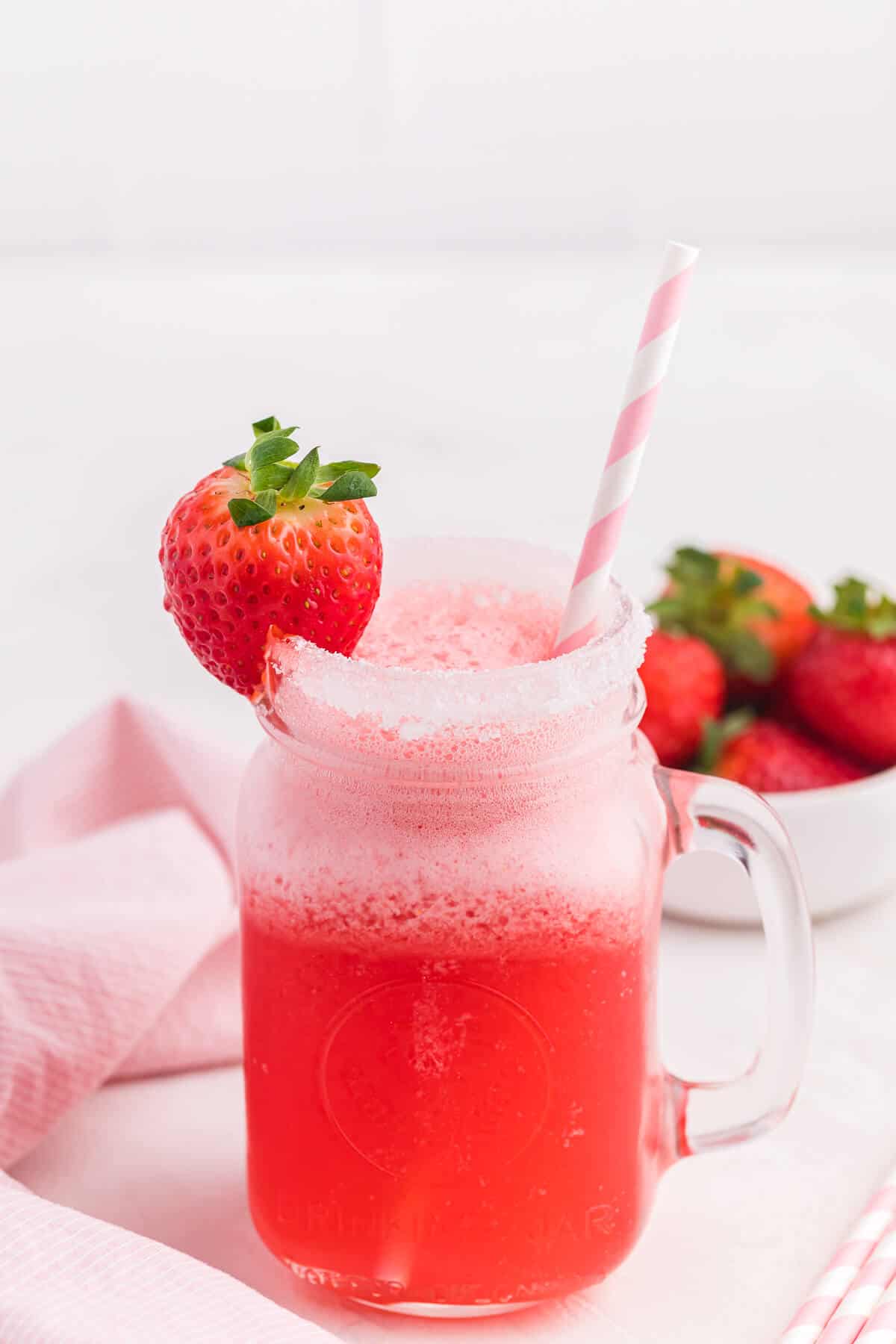 Seriously where does time go? It's crazy to think that it's almost summer! This Victoria Day long weekend, we are getting the barbecue fired up and I'll be whipping up a few drink recipes to serve guest at our next cookouts.
Easy Pretty In Pink Punch
Earlier this week I made Pretty in Pink Punch which was oh so sweet and refreshing! It would be perfect for serving at a shower (wedding or baby) or just as a cold drink to enjoy in the sun. If you wanted to give it a little kick with some alcohol, add some white rum. Or vodka! It is so quick and straightforward to make with only four essential ingredients.
Here are even more refreshing drinks to make
Cranberry Mint Mocktail | Bubbly, fresh and a light drink to sip on. I generally make this in the fall and winter months, cause cranberry fits the season. But, if you are a fan of cranberry give it a try.
Orange Julius | This drink right here is a tried and true. The classic and well known Orange Julius is sweet, tangy, and leaves you reaching for one more sip. Great way to cool down on a hot summer day.
Passionate Sangria Recipe | This sangria takes a handful of ingredients to make, to whip up a pitcher. Serve in glasses and sip and enjoy your evening chatting with family or friends.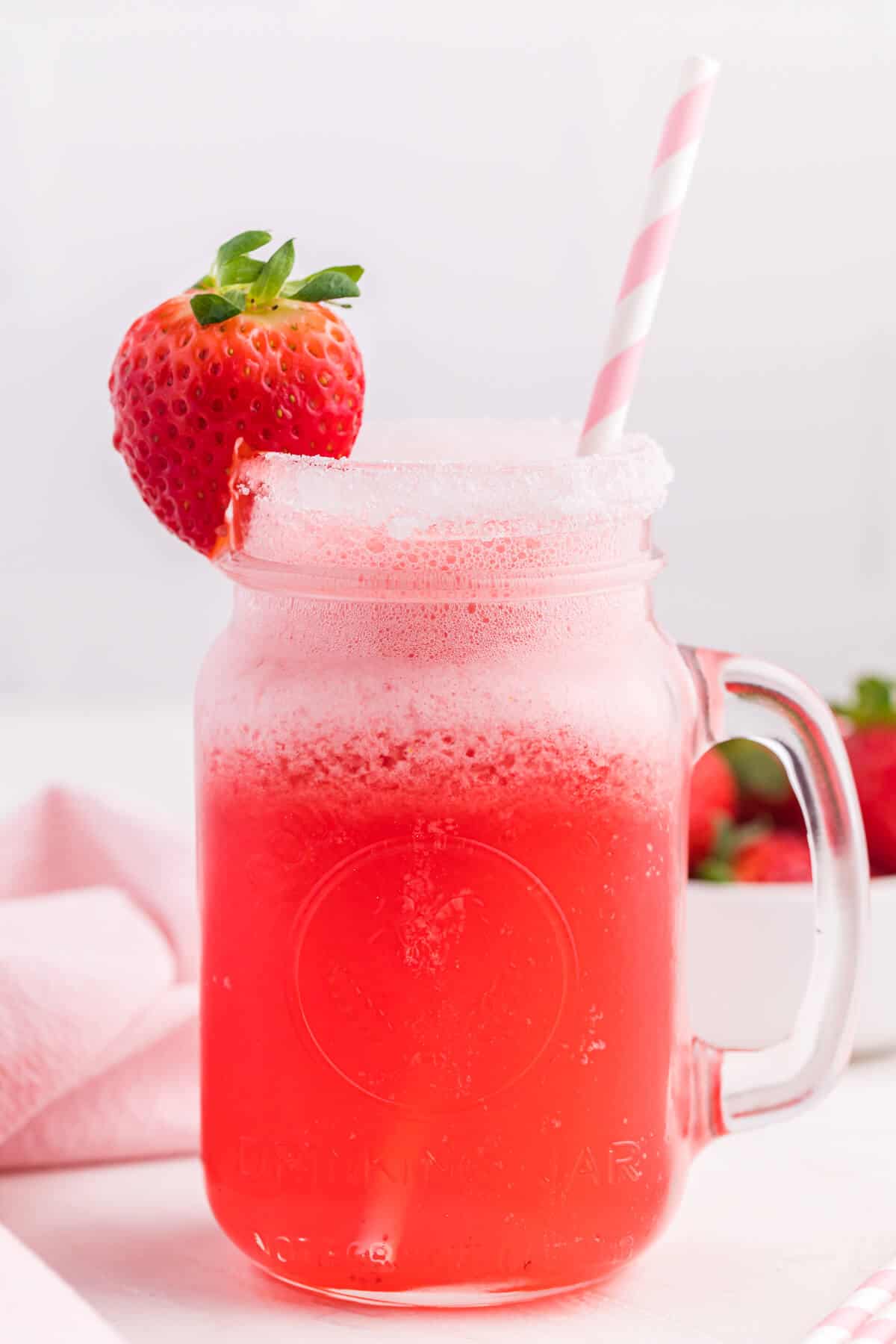 What Alcohol Do You Use for Pretty in Pink Punch
For this recipe, I used Bacardi Superior White Rum. It offers a milder flavor than other liquors. It won't add an extra flavor to the drink, like something more profound in flavor. I would recommend using any brand of your favorite white rum for this recipe.
Can I Make This Pretty in Pink Punch Non-Alcoholic
Yes! Just leave the rum out of the recipe, and mix up the lemonade and strawberry concentrates with the water and ice. It will make it a non-alcoholic version that anyone can enjoy.
How do you make Pretty in Pink Punch
Start by thawing your pink lemonade concentrate and the daiquiri concentrate. Once both are thawed, in a blender toss in all the ingredients. The water is optional, and it will help lessen the sweetness of the drink. So if you want, blend it up until smooth and creamy, try it, and if too sweet then slowly mix in the water.
Pour into a glass and garnish with fresh strawberries and raspberries and serve.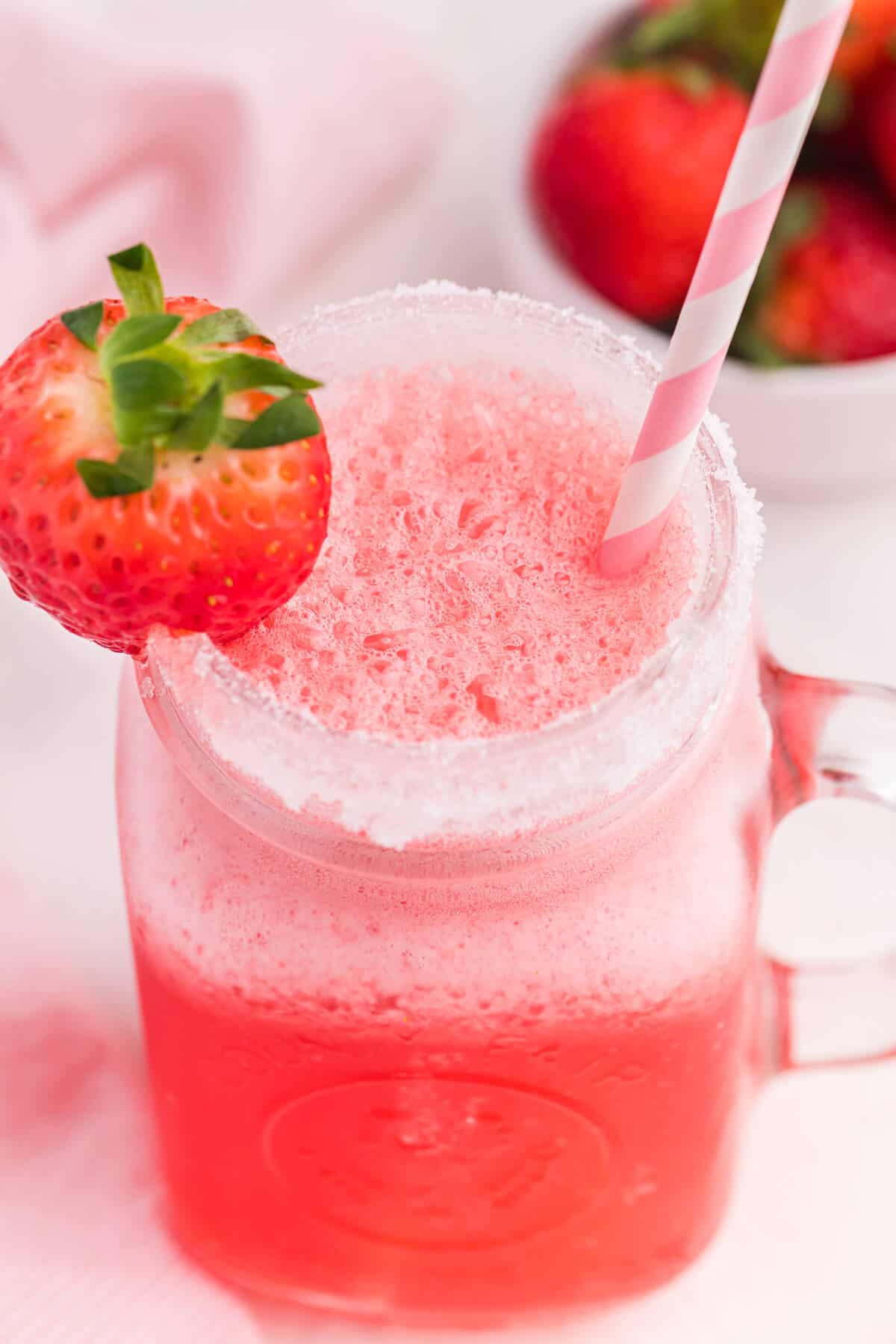 Where Do I Find the Frozen Concentrates
Look in the freezer section in your grocery store. My concentrates were next to frozen concentrated juices and whipped topping. If you can't find it ask a grocer to help you look for them.
Can I Use Regular Lemonade vs. Pink Lemonade
You very well could reach for a regular frozen lemonade concentrate over pink lemonade. It will offer a more tart and tangy aspect, but it should still work well with the daiquiri mix.
What To Serve With Pretty in Pink Punch
You can serve up this drink any time of day. If you are hosting a cookout and want to pair it next to grilled burgers or steaks, go for it. Or maybe you want to opt for a lighter dish and serve finger foods and appetizers. This pink punch is excellent for any meal or appetizer pairing.
You could also make yourself a drink to relax and kick back after a long day at work.
Serve Pretty in Pink Punch Right Away
Once you whip up your pretty punch, you want to serve it up shortly after. The reason I say this is because it will begin to melt a bit and as the ice melts it can get watered down and of course the consistency changes.
Just blend up a batch, pour your cups and what you don't use at the moment keep in the freezer. Then mix well before pouring more glasses. Just don't leave it in the freezer for too long, or it could harden up.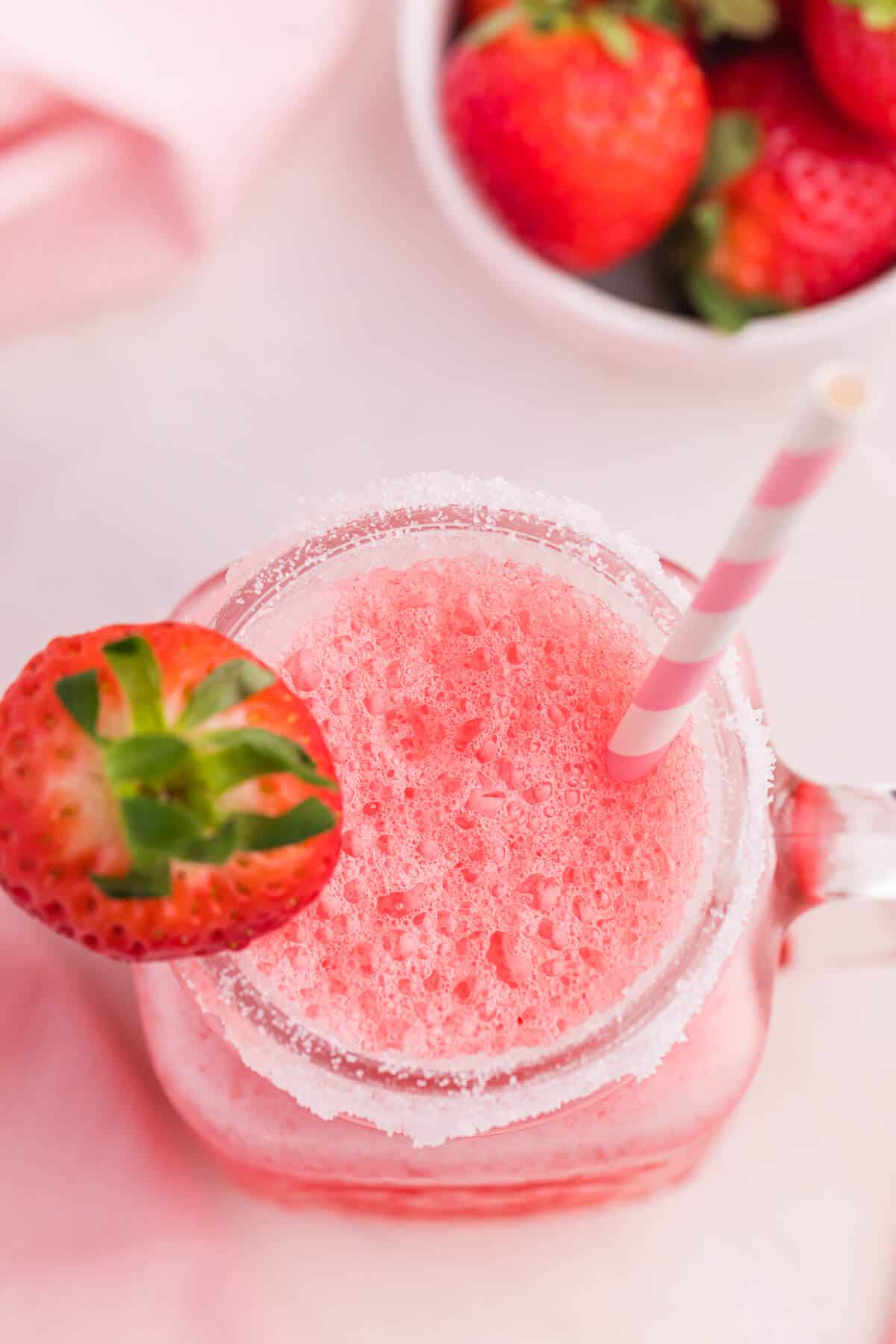 Easy Summer Drink
This recipe is genuinely one simple and easy summer drink recipe. If you like sweet drinks, this punch is right up your alley! Make it today and let me know what you all think below.
You'll also enjoy these Boozy Orange Creamsicle Milkshakes, Pool Party Jello Shots, Shirley Temple, Strawberry Agua Fresca or Sparkling Grape Lemonade.
Have you tried Pretty in Pink Punch before?
Pretty in Pink Punch
This rum-based cocktail is the perfect punch for a bridal shower or bachelorette party. With pink lemonade and Strawberry Daiquiri mix, it definitely lives up to its name!
Ingredients
1 can (12oz/295 mL) pink lemonade frozen concentrate, thawed
1 can (10oz/250 mL) strawberry daiquiri frozen concentrate (thawed)
1 cup BACARDI Superior white rum (optional)
1 cup water
4 cups ice cubes
Instructions
In a blender, combine pink lemonade and daiquiri frozen concentrates, rum (optional) and water. Add in the ice cubes. If you don't like your juice too sweet, then add in some more water.
Pulse until blended and frothy, about 1 minute.
Garnish with raspberries or sliced strawberries to make it look ever prettier!
Recommended Products
As an Amazon Associate and member of other affiliate programs, I earn from qualifying purchases.
Nutrition Information:
Yield:

8
Serving Size:

1
Amount Per Serving:
Calories:

192
Total Fat:

0g
Saturated Fat:

0g
Trans Fat:

0g
Unsaturated Fat:

0g
Cholesterol:

0mg
Sodium:

5mg
Carbohydrates:

8g
Fiber:

0g
Sugar:

7g
Protein:

0g