Caramel Coffee Milkshake is the perfect caffeine boost for your mid-day pick me up. Ice cream, coffee, and caramel collide in a homemade coffee milkshake.
I find the weather much hotter in Ontario compared to Nova Scotia. It's also humid which intensifies my discomfort. Maybe I'm a minority here, but I actually prefer the cold vs. the heat/humidity. I'm always looking for ways to cool down. A coffee milkshake is a decadent treat to beat the heat. Not only do I get my caffeine fix, but it also makes for a cool, refreshing, and sweet drink.
Caramel Coffee Milkshake
There's really nothing to fixing up a few of them. All you need is some brewed coffee, scoops of ice cream, and whatever flavour you want to add in. I chose caramel, but chocolate works too. I didn't cool my coffee before adding it to the blender. I made a cup in my Keurig brewing machine and poured it right into my blender. The ice cream will cool it down and make it a cold drink.
I wouldn't drink these every day since they are not the best for my waistline, but I like to indulge every once in a while.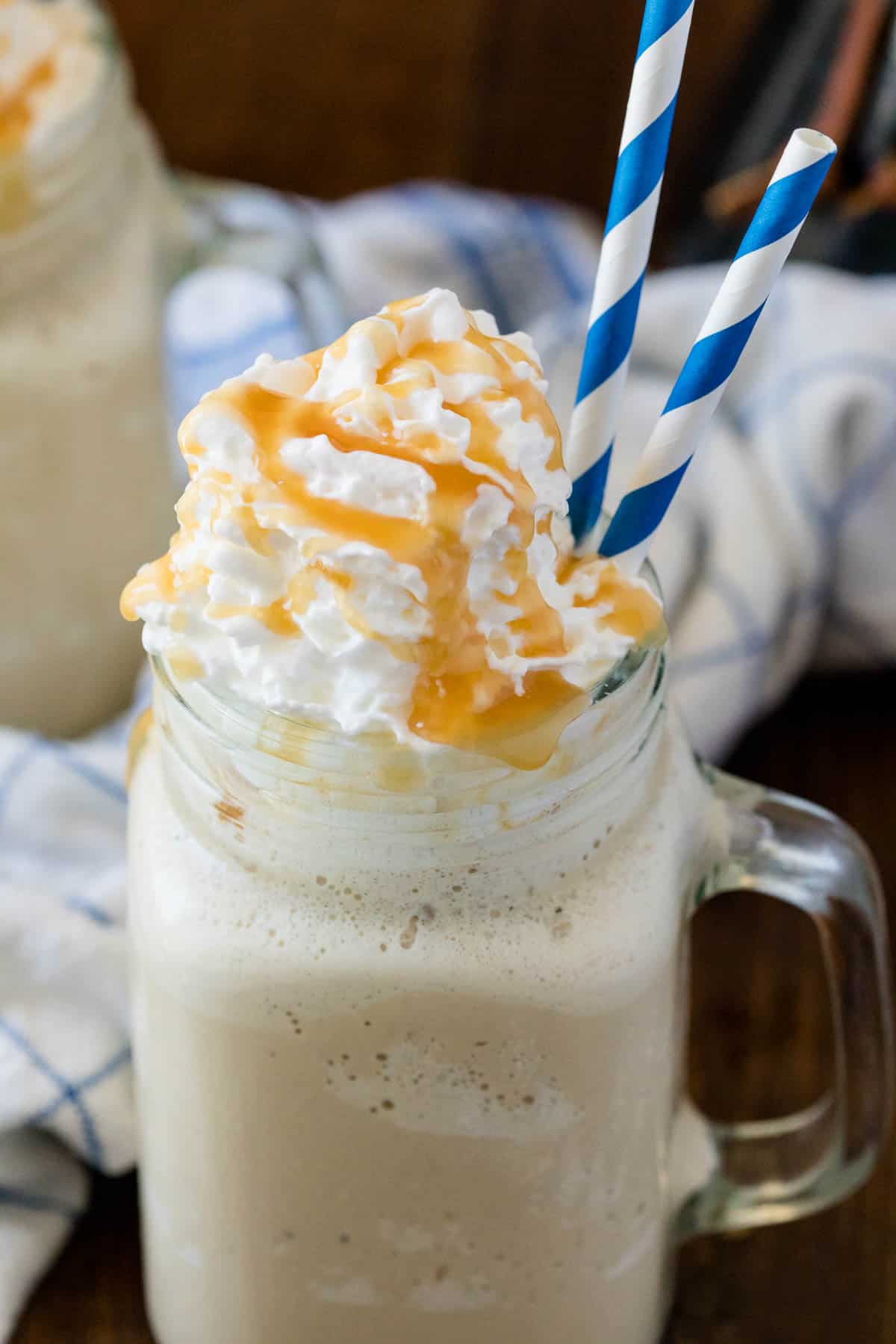 Craving More Ice Cream Drinks
For more ice cream drinks, check out these recipes.
What is the Best Coffee to Use
You can use whatever your favorite coffee is. I recommend a bit of a stronger brewed coffee so the rich coffee flavor can stand out in your milkshake.
You can also reach for decaf if you prefer not to have caffeine. This coffee caramel milkshake will work with whatever you prefer. Just use 1/2 cup of whatever coffee brand and brew you prefer.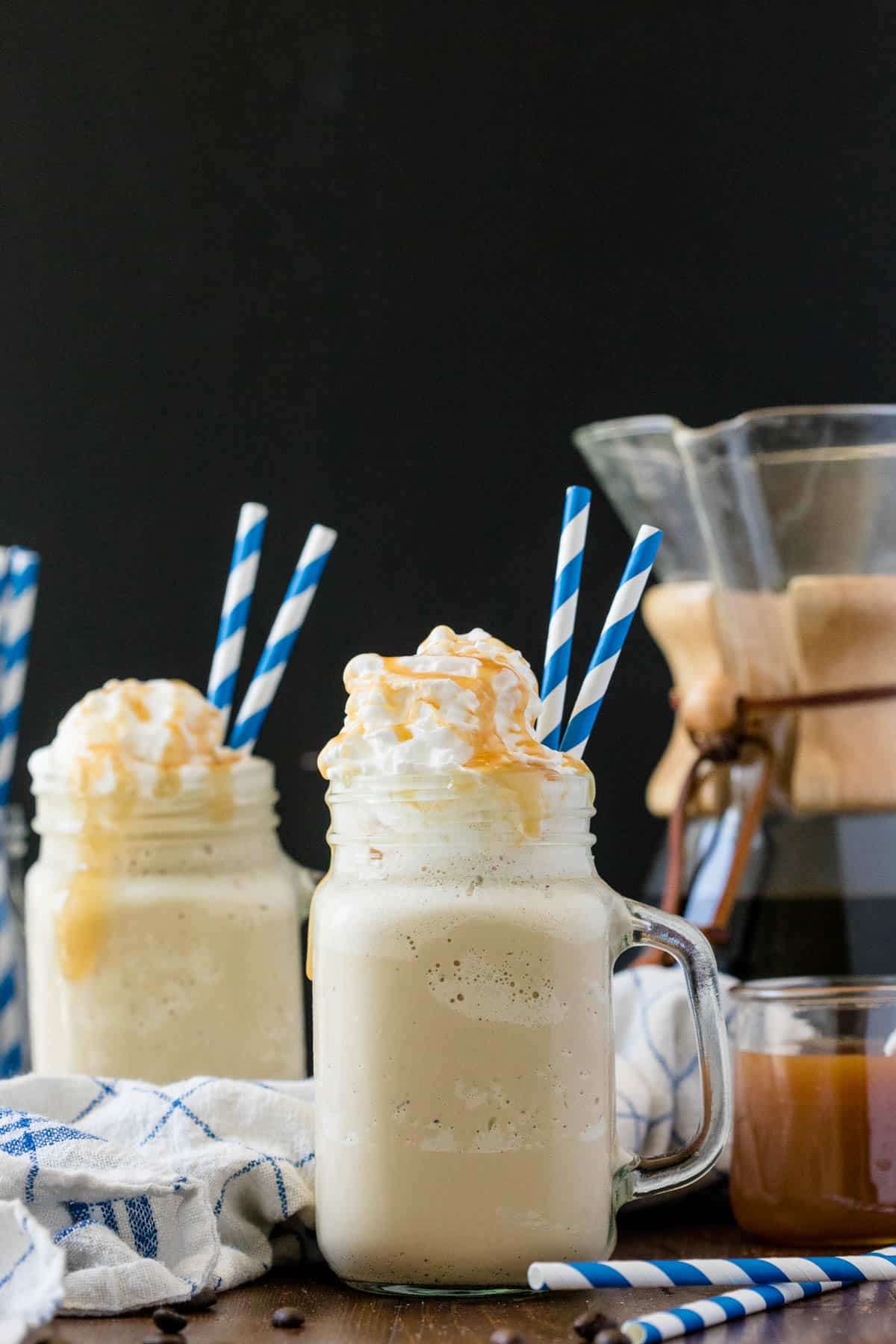 Could I Use a Lower Carb Ice Cream
I don't see why you couldn't. You might find that it changes the texture a bit, as low carb ice cream tends to offer a less creamy texture. Vanilla complements the coffee nicely but you could even use chocolate for a mocha style coffee milkshake if you will.
How to Adjust The Thickness Of a Milkshake
Changing the thickness of your milkshake is easy. I will share a simple way to make your shake thicker or an easy way to thin out your milkshake.
Thinning a Milkshake
Want your shake a bit thinner. All you have to do is add in more coffee, do a tablespoon at a time, or even add in a splash of milk. Doing little increments at a time will ensure you don't get it too runny.
Thickening a Milkshake
To thicken your milkshake simply add more ice cream into the mixture. Then blend up, check consistency, and repeat if needed. Adding ice cream will help thicken and get rid of the excess liquid.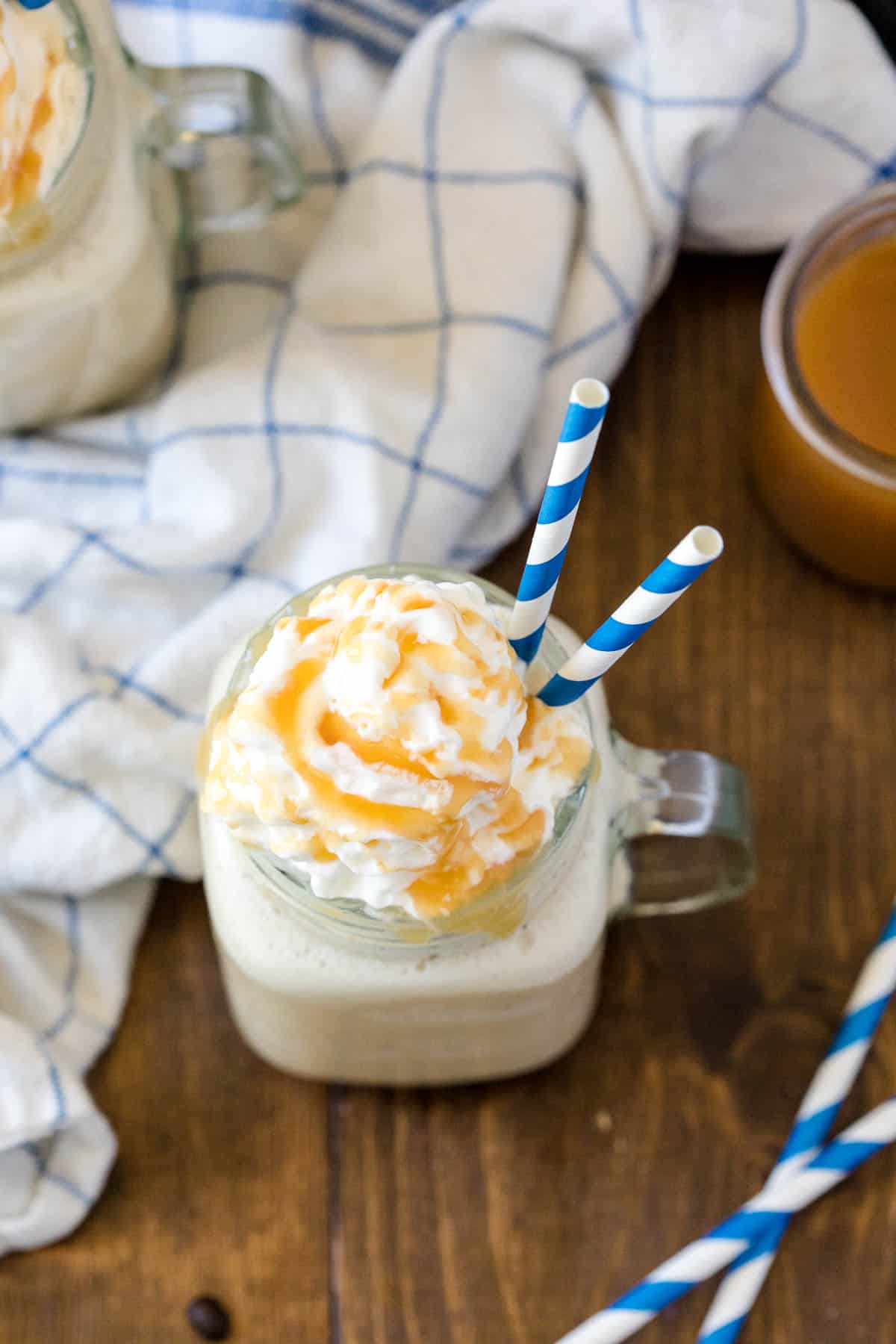 How to Make Your Caramel Coffee Milkshake
Toss your ingredients into your blender and start blending your milkshake. Once it reaches the consistency you prefer, then pour into your glasses. Top with whipped topping, a drizzle of caramel, or dress it up however you would like.
The full list of ingredients is below in the printable recipe card featured below.
Can I Double this Milkshake Recipe
Of course. The thing to remember is as long as it fits in your blender and has room to blend up, then you can do it. Or you are welcome to batch blend your milkshakes if you plan to serve a crowd.
These are so refreshing and a nice mid-day or evening treat.
Can I Use Dulce De Leche
Whether you make your own Dulce De Leche or opt to buy it, you can easily use that over a simple caramel sauce. The biggest thing is the Dulce De Leche is a lot thicker than caramel sauce. It tends to have a deeper and richer flavor as well.
Drizzle over the top, or even blend a little in if you want added richness in every single sip.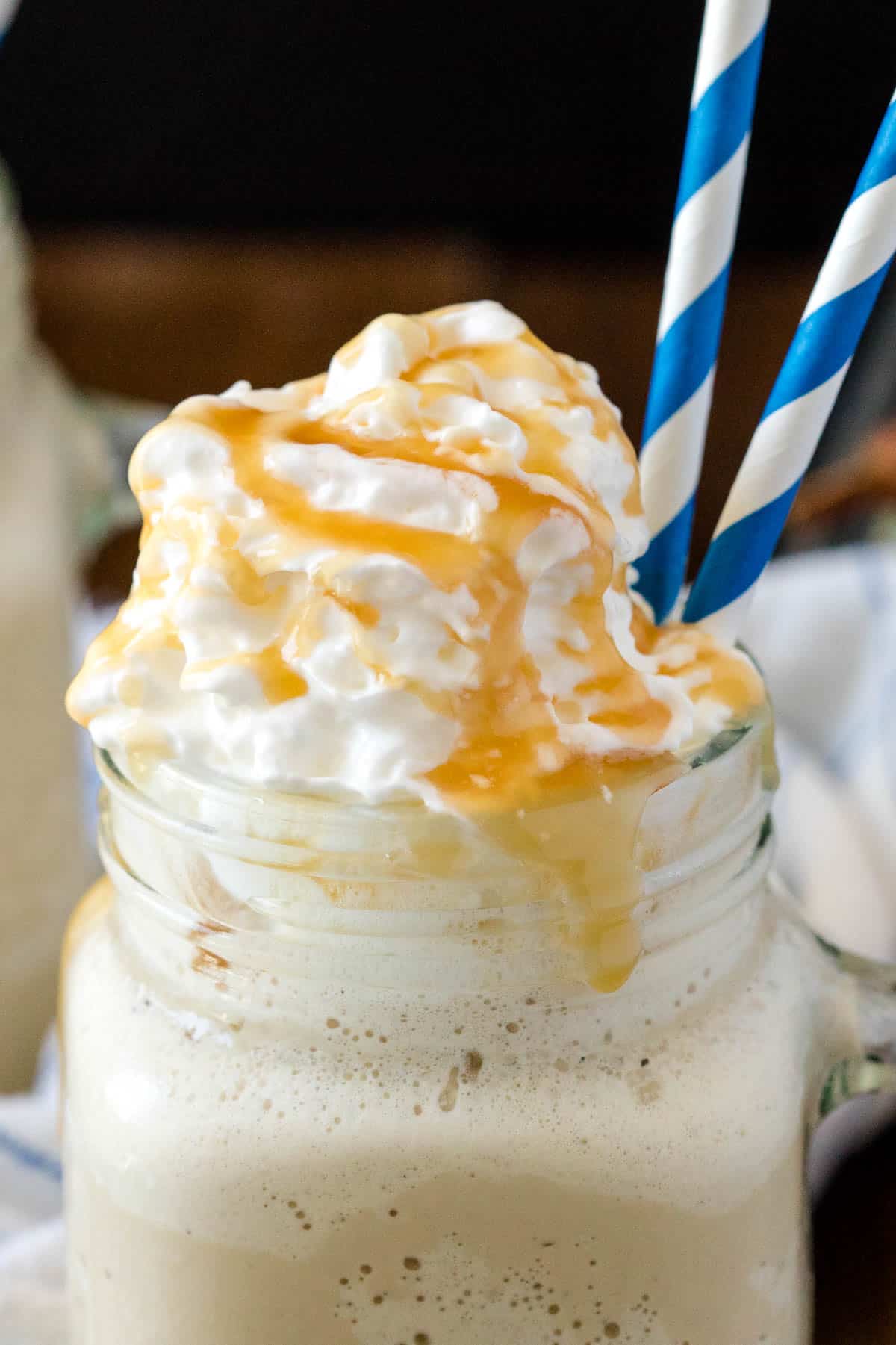 Can You Store a Homemade Milkshake?
Unfortunately, you will find these are best when made fresh and served right up. If you try to freeze a milkshake it will harden up like ice cream the longer it sits in the freezer.
So I suggest only making this when you plan to serve it up. It only takes a few minutes to blend up and pour in glasses so enjoy this refreshing sweet drink.
If you make this drink take the time and let me know. It is one of my favorites. Plus it is a lot cheaper than ordering a blended drink at your favorite coffee shop.
Try my iced coffee and homemade caramel sauce.
Caramel Coffee Milkshake
Freshly brewed coffee, caramel and vanilla ice cream make the ultimate milkshake. This is the perfect sweet indulgence and caffeine jolt, blended into one delicious treat.
Ingredients
1½ cup brewed coffee
3 cups vanilla ice cream
1 tablespoon caramel ice cream syrup
whipped cream (optional)
Instructions
Add coffee, vanilla ice cream and caramel syrup to a blender.
Blend until smooth. If you want it thicker, add more ice cream until you reach your desired thickness.
Pour into individual glasses and top with whipped cream and caramel sauce.
Recommended Products
As an Amazon Associate and member of other affiliate programs, I earn from qualifying purchases.
Nutrition Information:
Yield:

2
Serving Size:

1
Amount Per Serving:
Calories:

545
Total Fat:

23g
Saturated Fat:

14g
Trans Fat:

0g
Unsaturated Fat:

7g
Cholesterol:

92mg
Sodium:

197mg
Carbohydrates:

78g
Fiber:

1g
Sugar:

62g
Protein:

7g