My favourite appetizer when I am out at a restaurant is Mozzarella Sticks! Having a delicious sweet dip on the side, they are a tasty, and ideal appetizer for many! I had never thought about making my own until recently, and I for sure thought when I decided to make this recipe up that they'd be way too hard for me actually to pull off. I decided on Mozzarella balls instead of sticks, as they'd be a great app and small enough for little kids hands!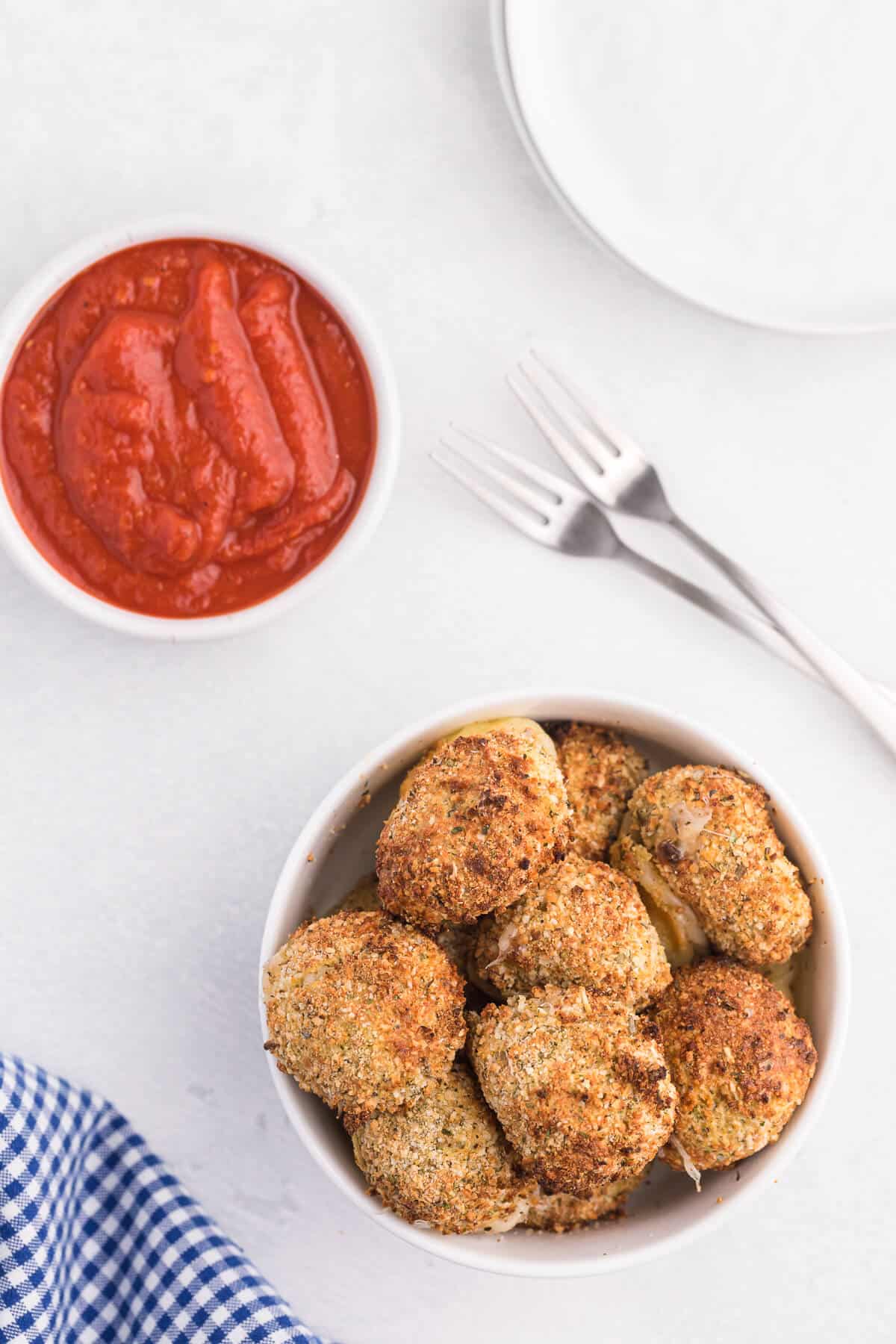 A lot of recipes I had seen people whip up Mozza sticks with use cheese strings. I am not a big fan of cheese strings, so I knew I didn't want to go that route. To me, when it comes to cooking and baking – fresh is best!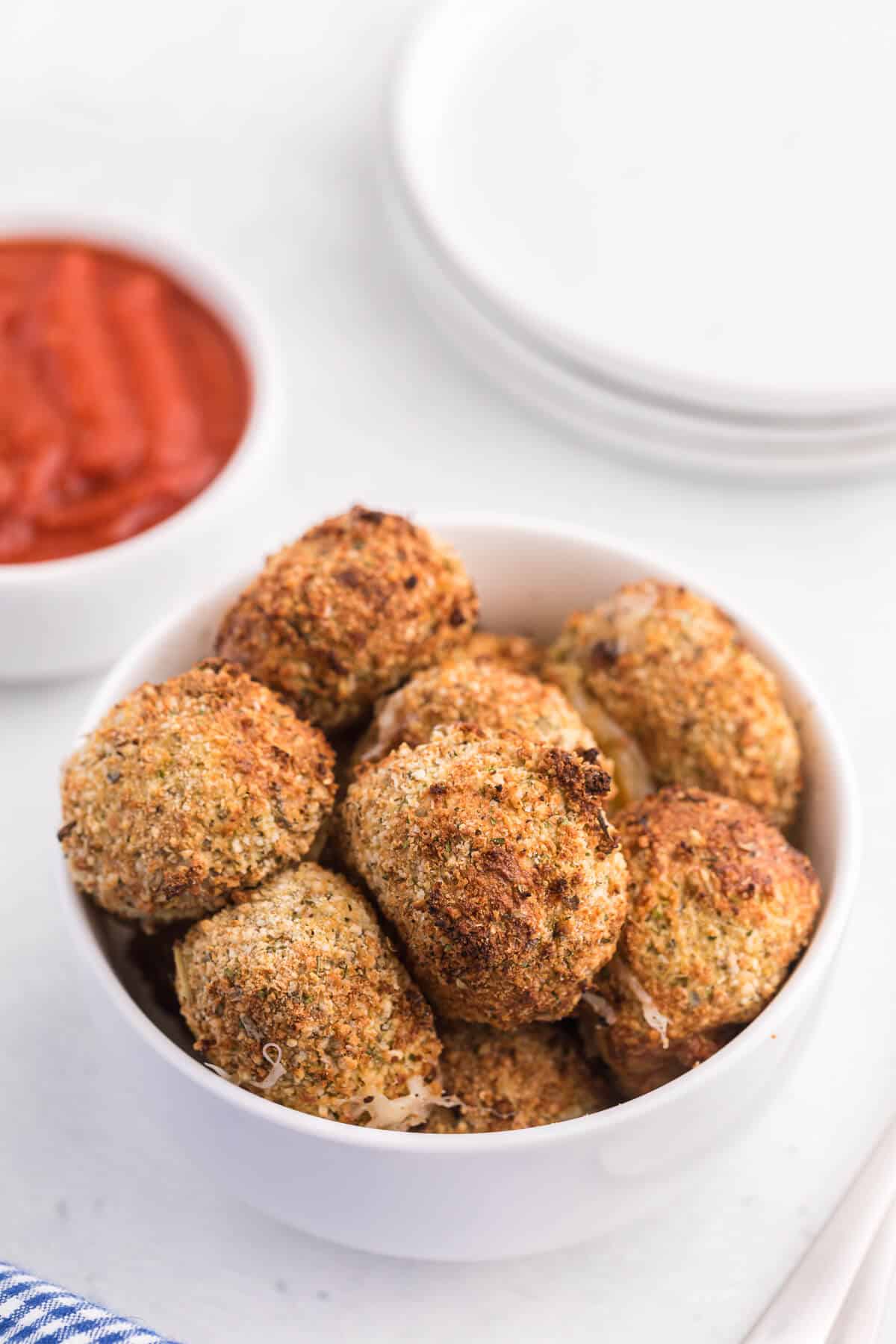 I have also been trying to stay away from fried foods. Although delicious, it's just not as healthy as I'd prefer and the grease can do a number on one's tummy. Air Frying food has been something I have been doing for a few months now and enjoy it. Not only do the foods turn out crispy, but they are just a much better tasting food in my opinion than frying in oil!
These are full of flavour and are easy to make despite my hesitation at first. Kids love them, and they are crispy and have a great crunch to them with a sweet soft cheesy filling! Not using processed cheese I find made them taste that much better. Of course, if you'd like to use cheese strings to simplify the process they'll still taste and turn out amazing, I just prefer using fresh when I can!
You can freeze these and make them the same day, or freeze them up to a week before air frying and they'll still be just as delicious!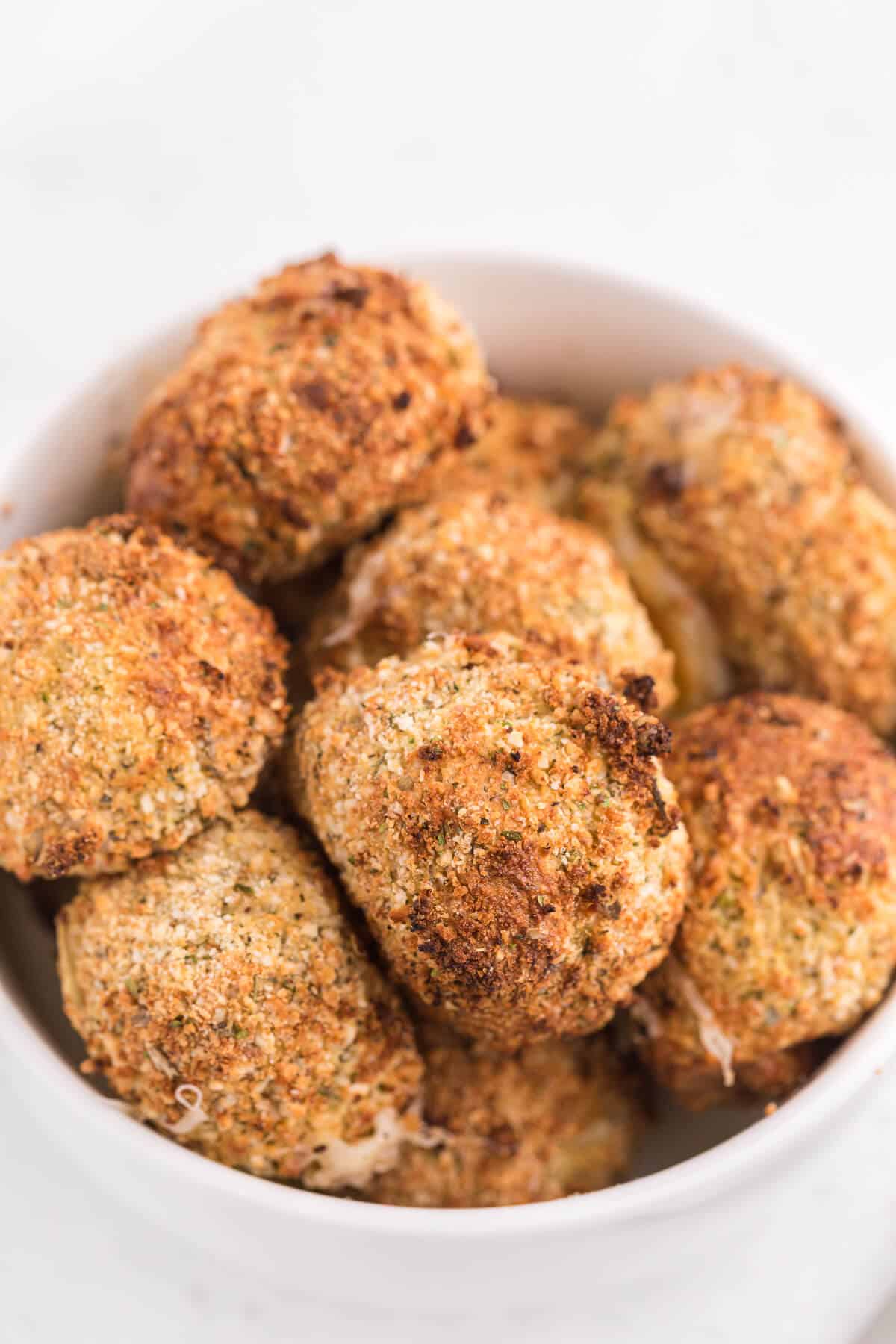 This post contains affiliate links.
Pull out some deliciousness at your next get together or potluck! Take fresh, not frozen and be sure to make it known they were whipped up at home and fried in the air fryer – I bet your guests will be pleasantly surprised and pleased!
Need more air fryer recipes? I have Air Fryer Pizza Buns, Air Fryer Garlic Cheese Stuffed Crescent Rolls, Air Fryer Chocolate Croissants, Air Fryer Cauliflower Bites, Air Fryer Pizza and Air Fryer Oreos – yum!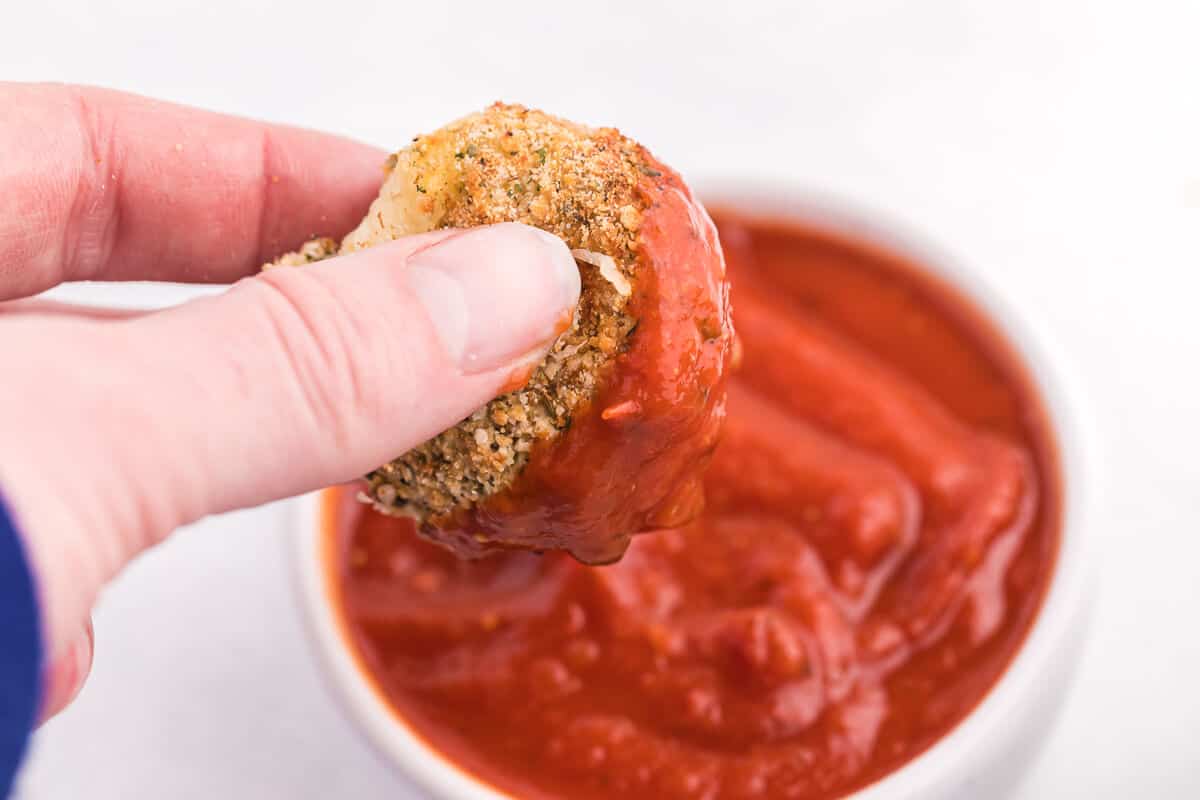 You might also like these Olive Cheese Balls and Bacon Wrapped Water Chestnuts.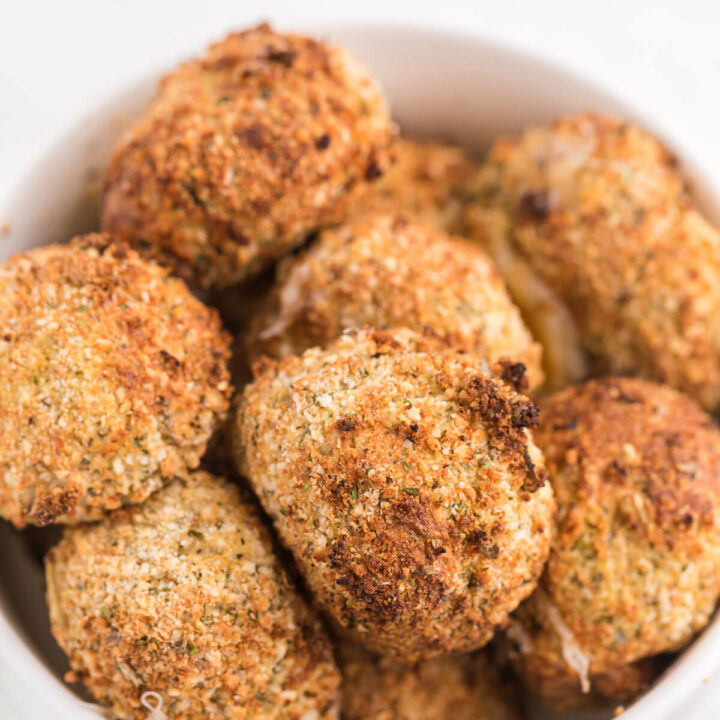 Air Fryer Mozzarella Balls
Prep Time:
1 hour
20 minutes
Total Time:
1 hour
28 minutes
These homemade cheeseballs are bite sized, super seasoned, and air fried in minutes! A great make-ahead snack or appetizer.
Ingredients
2 cups mozzarella, shredded
3 tablespoons cornstarch
3 tablespoons water
2 eggs, beaten
1 cup Italian seasoned breadcrumbs
1 tablespoon Italian seasoning
1 1/2 teaspoon garlic powder
1 teaspoon salt
1 1/2 teaspoon Parmesan
Instructions
Add mozzarella, Parmesan, cornstarch and water to a large bowl. Mix well.
Roll mixture into bite sized balls (about 1 inch) and place on a parchment lined baking sheet. Freeze for 1 hour.
Add beaten eggs to a small bowl. In another bowl, stir together breadcrumbs, Italian seasoning, garlic powder and salt.
Dip cheeseballs in eggs to coat. Roll in breadcrumb mixture to cover completely and place back on the baking sheet. Put back in freezer for 20 minutes.
Remove from freezer and dip cheeseballs in egg mixture and roll in breadcrumbs again.
Preheat air fryer to 360F. Once preheated, add cheeseballs to air fryer basket.
Shake the air fryer every couple minutes to brown evenly. Serve with pizza or marinara sauce for dipping.
Recommended Products
As an Amazon Associate and member of other affiliate programs, I earn from qualifying purchases.
Nutrition Information:
Yield:

12
Serving Size:

1 ball
Amount Per Serving:
Calories:

206
Total Fat:

14.6g
Saturated Fat:

9.1g
Unsaturated Fat:

4.8g
Cholesterol:

66.4mg
Sodium:

627.4mg
Carbohydrates:

5.2g
Fiber:

0.2g
Sugar:

0.8g
Protein:

13.3g