This taco soup is the best low-carb soup! Ditch the beans for this simmered Mexican soup with a homemade taco seasoning.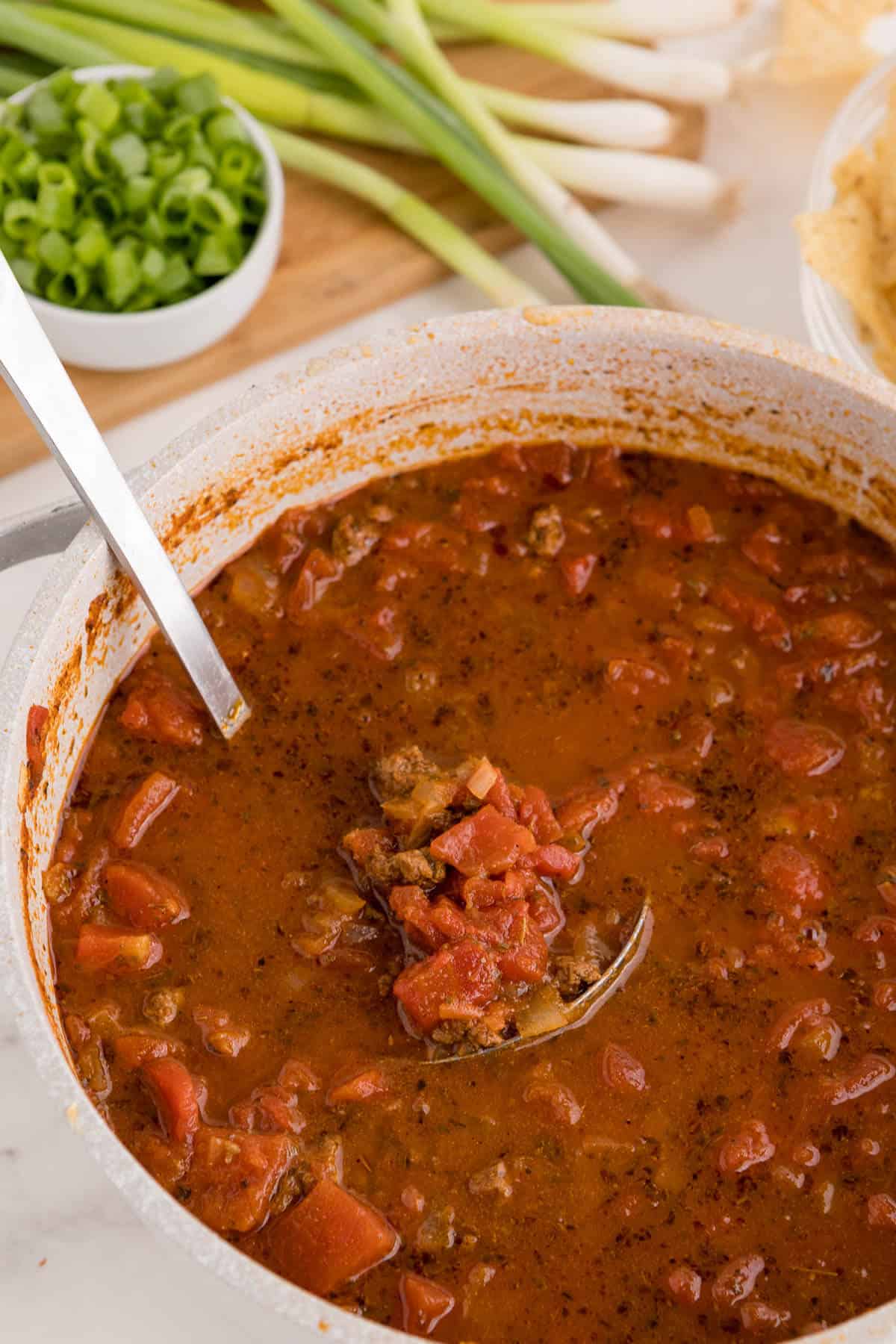 Warm yourself up with this low carb Taco Soup recipe. Tender ground beef in a tomato-based Tex-Mex broth that is packed full of flavor. Top with some shredded cheese, and grab a spoon!
Having a delicious soup like this in your menu rotation is excellent, especially if you are looking for a hearty soup or something that requires minimal ingredients. I almost always have the ingredients in my fridge and pantry. Whenever I'm at a loss for what to have for dinner, this taco soup always comes to the rescue.
With a little prep, you will have soup ready to go for you and your family in just an hour and a half. It's great for serving a crowd or for feeding your family with leftovers to spare for lunch. Either way, this soup is one you will come back to over and over again.
Why You'll Love This Taco Soup
It's a fun twist on Taco night!
Kids and adults alike love this soup.
Great meal prep recipe—it makes 8 servings so you can enjoy some later in the week.
This delicious taco soup freezes beautifully for up to 3 months.
It never gets boring because you can pair it with so many different taco toppings.
Ingredients
Ground Beef: We like lean ground beef for the best results.
Olive Oil: This is needed to saute the onions and garlic, making them tender and fragrant.
Onion: Yellow onion works best, but you can use red onion or white onion if that's what you have on hand.
Garlic: Such an easy way to add flavor! If you don't have garlic cloves, you can substitute 1/8th teaspoon of garlic powder for every clove of garlic that a recipe calls for.
Beef Broth: It further enhances the beef flavor, but you can use chicken broth or vegetable broth, if you prefer.
Canned Diced Tomatoes: This creates the tomato-y soup base. If you want to add a little kick to yours, use two 14.5 ounce cans of mild Rotel for one of the large cans of diced tomatoes.
Oregano, Cumin, and Chili Powder: These ingredients make up the homemade taco seasoning that makes the soup extra delicious! Use it on your taco meat for Taco Tuesdays, too.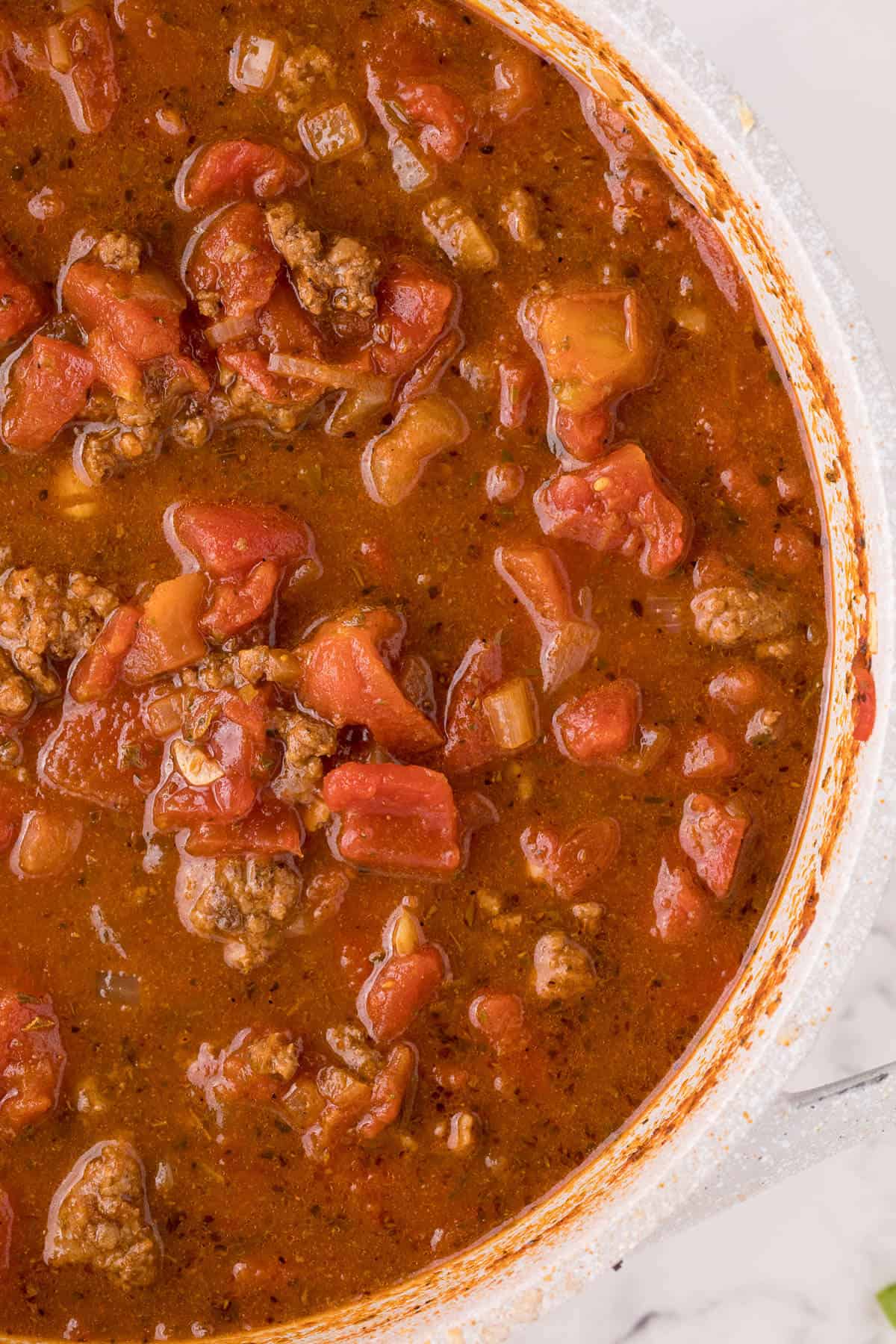 How to Make Taco Soup
Step One: Cook the ground beef in a nonstick pan until fully browned. Place the browned ground beef in a large soup pot.
Step Two: In the same frying pan, add olive oil, onions, and garlic, and saute over medium heat until the onions are softened—about 3 to 5 minutes. Add the sauteed onions and garlic to the soup pot.
Step Three: Deglaze the skillet with one cup of beef broth, and add the broth to the soup pot. Then, add the remaining ingredients—the rest of the broth, canned tomatoes, and spices—to the stock pot.
Step Four: Simmer the soup uncovered for one hour, stirring occasionally.
Step Five: Serve the soup hot with shredded cheese and your favorite taco toppings.
Equipment Needed
This post contains affiliate links.
What to Serve with Taco Soup
We enjoy this soup all on its own, but when we have guests over, we offer a tray of toppings and add-ins. If you need to keep this soup low carb, make sure any toppings are low carb as well. If you don't care about carbs, go wild and pile it on high!
Topping Ideas
Tortilla Chips
Corn Chips
Diced Avocado
Green Onions
Jalapenos
Salsa
Sour Cream
Cilantro
Guacamole
Pico de Gallo
Our Air Fryer Tortilla Chips are an excellent choice to go with this easy Taco Soup recipe. Use low carb tortillas instead of regular ones to keep it low carb.
These Mexican Stuffed Peppers are another yummy option that you can serve alongside this simple soup if you're not worried about the carbs.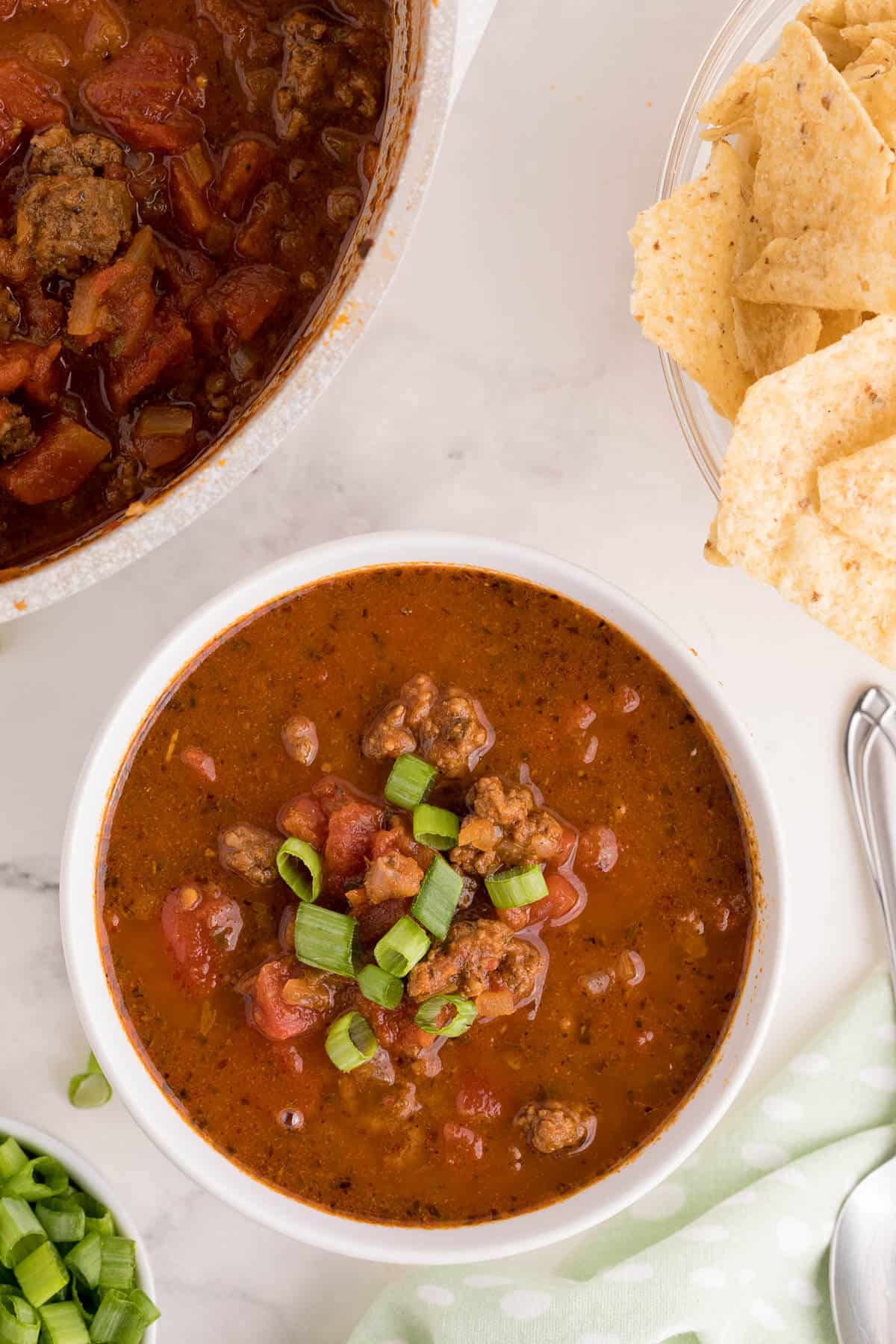 Taco Soup Recipe Tips and Tricks
Use low-sodium broth if you're watching your salt content.
Short on spices? Use a packet of pre-made taco seasoning instead.
Fire-roasted diced tomatoes can add more depth of flavor to this recipe.
Top with freshly chopped cilantro to make it bright and fresh right before serving.
Variations and Substitutions
Sub ground turkey for the ground beef if you're looking for a leaner option.
Add extra veggies like diced bell peppers or mushrooms.
Make the soup a little spicy by subbing a couple of cans of tomatoes with green chilies for one of the large cans of diced tomatoes.
Top with shredded cheddar cheese or a Mexican blend of cheeses instead of mozzarella cheese.
Add a couple cans of beans for a heartier soup.
A cup or two of frozen corn is a tasty addition to this easy soup.
Storage Instructions
How Long Will Taco Soup Last in the Fridge?
You can keep taco soup leftovers in the fridge for up to 3 days. If you plan to keep it longer, it needs to be frozen. Toss any soup that has been left in the refrigerator longer than 3 days in the trash.
Can I Freeze Taco Soup?
This Taco Soup freezes well. Just pour the soup into freezer bags or an airtight container, and place in the freezer for up to three months. When you're ready to enjoy the soup, thaw it in the fridge the night before. Then, warm it up in a pan or in the slow cooker.
One method I use a lot is using individual containers. I ladle the soup into single serve bowls and then freeze them. Then when it comes time for reheating, I can warm up an individual serving and have a quick lunch. This is great if you are single or are looking for quick and easy lunches down the line.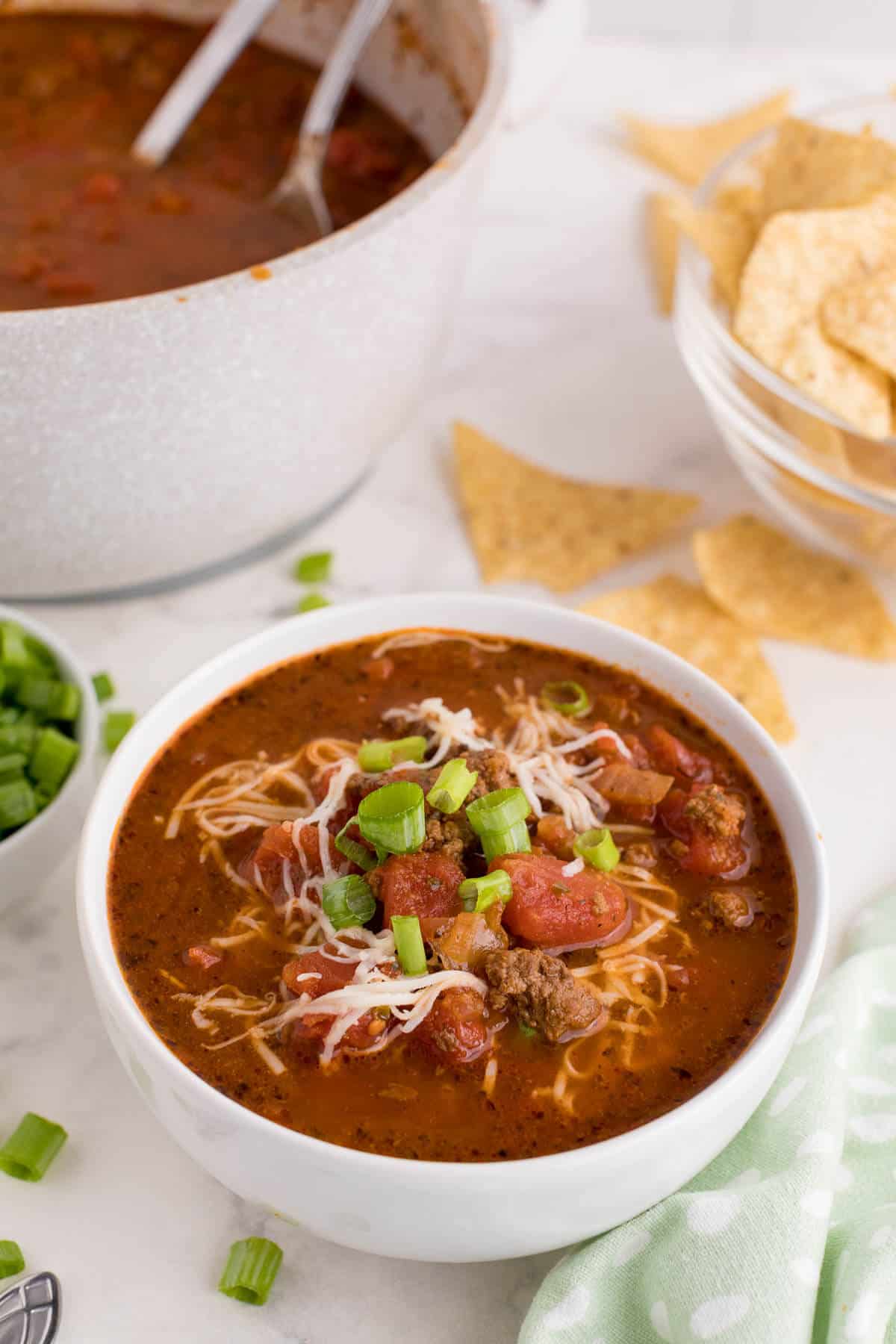 Taco Soup FAQ
Does Taco Soup Reheat Well?
Absolutely. This taco soup recipe will taste even better the next day as the flavors blend and marry through the night. This is great for meal prepping for the week, or reheating for a meal later in the week.
Can I Make Beef Taco Soup in the Slow Cooker?
Yes, you can make this Taco Soup in the crock pot. Just brown the beef in a skillet, as the recipe calls for, add in your onions and garlic, and sauté. Then, pour the beef mixture into your slow cooker, add in the other ingredients, and cook on low for 5 to 6 hours. Or, if you're in a hurry, cook the soup on high for 2 to 3 hours.
Can I Add Beans to My Taco Soup?
Yes! If you want to add some extra fiber and protein to the soup, add a can or two of beans. Black beans, pinto beans, or even seasoned chili beans would add some flavor to the soup.
We chose to leave beans out to keep the soup keto-friendly and low carb, but they make a delicious addition if you're not watching your carbs.
How Do You Thicken Taco Soup?
This soup is nice and thick as it is, but you can definitely make it thicker by adding extra ingredients. To keep it low carb, add extra meat or veggies. If you're not watching your carbs, add beans to thicken it up.
Is It Okay to Substitute Ground Turkey instead of Ground Beef in Taco Soup?
Yes, you can use ground turkey as a replacement for ground beef. Since turkey is a lot leaner, you may need to add a splash of olive oil to the pan so it doesn't burn or scorch as it cooks. Olive oil is a healthy oil to use, but you can use a neutral oil, if you prefer.
What Kind of Cheese Do You Put on Taco Soup?
We enjoy mozzarella cheese on our soup, but feel free to use cheddar cheese, Mexican blend cheese, or pepper jack cheese.
If you are looking for new soup recipes, this Taco Soup is, indeed, a breeze to prepare, and the classic taco flavor is incredible. Let me know how you like this soup if you give it a try!
Craving more Mexican flavor? Try my Taco Chili! It's hearty, mouthwatering, and a quick meal for a busy weekday.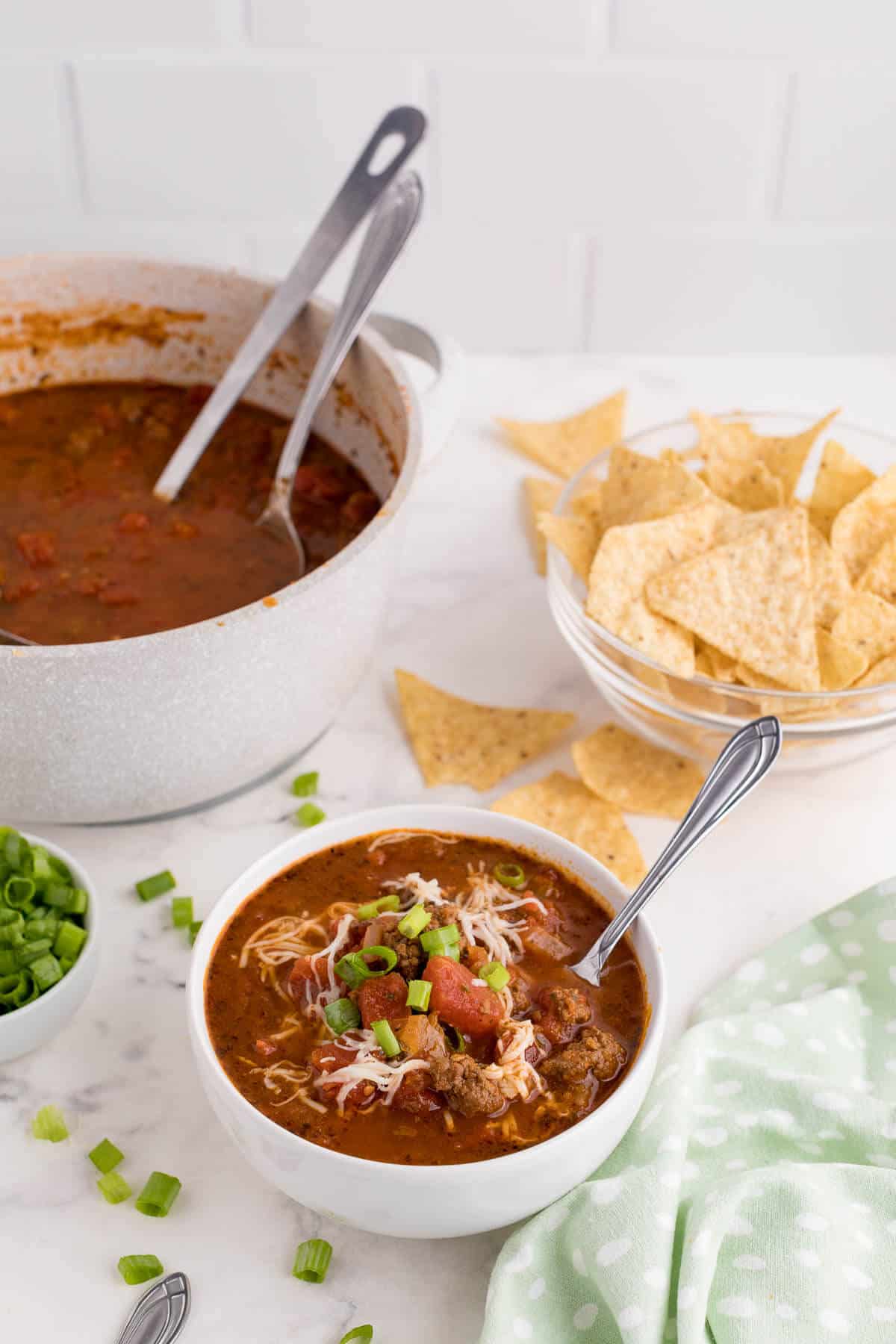 Easy Soup Recipes

Follow me on Instagram @simplystacieblog, Facebook at Simply Stacie, TikTok @simplystacierecipes or Pinterest at @simplystacie and let me know how you liked this recipe and my other recipes.
If you make the recipe, rate it on the recipe card below and tag me on Instagram and use #simplystacie. I like sharing the photos on my Instagram stories!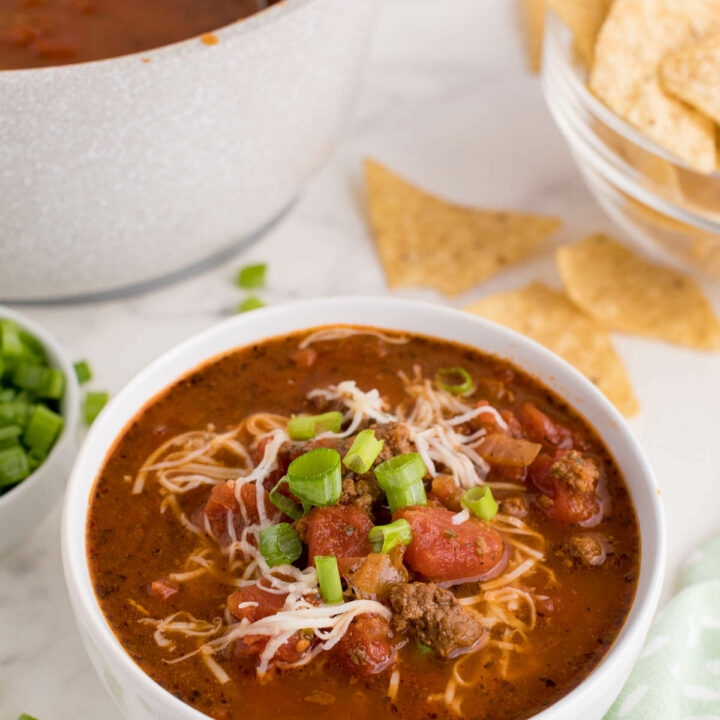 Taco Soup
Cook Time:
1 hour
15 minutes
Total Time:
1 hour
30 minutes
The best low-carb soup! Ditch the beans for this simmered Mexican soup with a homemade taco seasoning.
Ingredients
1 lb. lean ground beef
1 teaspoon extra virgin olive oil
1 yellow onion, chopped small
2 garlic cloves, minced
4 cups beef broth
2 (28 oz) cans diced tomatoes with juice
2 tablespoon dried oregano
2 tablespoon ground cumin
2 tablespoon chili powder
Instructions
Cook ground beef in a frying pan until fully browned. Remove beef to large pot.
In same frying pan, add olive oil and onions and garlic and saute over medium heat until onions are softened (3 to 5 minutes). Add to the soup pot.
Rinse out frying pan with one cup beef broth and add to pot. Add in to pot the rest of the broth, canned tomatoes, and spices.
Simmer soup uncovered for 1 hour, stirring occasionally.
Serve hot topped with shredded mozzarella cheese.
Recommended Products
As an Amazon Associate and member of other affiliate programs, I earn from qualifying purchases.
Nutrition Information:
Yield:

8
Serving Size:

1
Amount Per Serving:
Calories:

182
Total Fat:

8g
Saturated Fat:

3g
Trans Fat:

0g
Unsaturated Fat:

4g
Cholesterol:

50mg
Sodium:

602mg
Carbohydrates:

8g
Fiber:

2g
Sugar:

5g
Protein:

19g