Lemon Herb Slow Cooker Chicken
Disclosure: I am participating in the Chicken Farmers of Canada campaign managed by SJ Consulting. I received compensation in exchange for my participation in this campaign. The opinions on this blog are my own.
I have some happy news to share today! I'm continuing on with my role as a Chicken Farmers of Canada Brand Ambassador for 2015! Last year was my first year as a brand ambassador and I'm looking forward to sharing even more chicken love with you this year. You can follow along on social media with the hashtag #chickendotca to see what recipes myself and the other BA's are cooking up.
One of my goals for the new year is to eat better. It isn't easy with so much temptation around. However, I'm determined to stick with it. Even little changes count!
The Chicken Farmers of Canada website has an amazing selection of delicious chicken recipes. I've already tried a bunch with my family and plan to try many more over the coming year. What is great about their site is how user-friendly it is. You can search by category or dietary need. It makes it very easy to find exactly what you are looking for quickly.
Let's say you want only gluten-free recipes. You would click on Advanced Search and check the box for Gluten Free. It will pull up all the gluten free recipes. You can refine your search even more if you like into specific cuts of chicken and style of dish.
The category where I've been spending a lot of time is Healthy Choices. Check out this Spaghetti Squash & Chicken Au Gratin. Yum yum!
I'm in total slow cooker mode right now. The cold weather brings it on. I love throwing all my ingredients in the slow cooker in the morning and having a delicious meal ready by the time the kids are home from school. Plus, my house smells so inviting! I must force myself to not constantly peek inside.
Last week I made Lemon Herb Slow Cooker Chicken using some fresh lemons and spices from my pantry. I had a whole chicken I picked up just for this meal. I could almost taste it in my mouth as I was getting it ready.
This recipe is almost fool-proof. The only way I've messed up before was not checking to see if there was anything left inside the chicken. I've cooked a chicken and forgotten to look inside in the past. Now I never forget to check. Lesson learned!
Squeeze some fresh lemons over the chicken and sprinkle your dried herb mixture all over. Stuff the lemons inside the chicken. It permeates throughout the meat to make the most divine flavour. It's slight, but you can taste it.
It slow cooks for 8 hours. I used a meat thermometer to check for doneness just to be on the safe side. I timed it perfectly. Serve with veggie side dishes and you have a meal your family will rave about. If you have leftover chicken, use it for chicken salad or chicken sandwiches.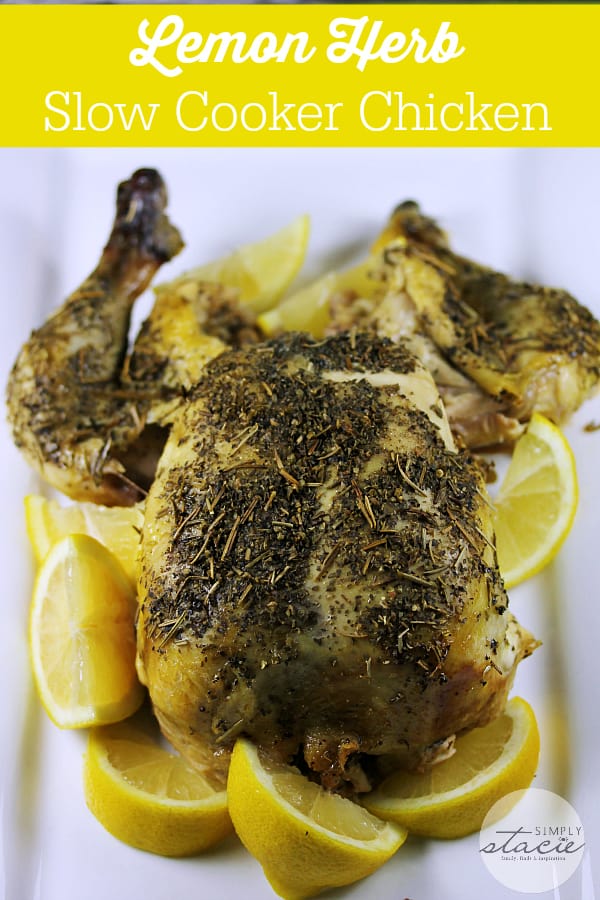 For this recipe, I cooked with the skin on. I also cut up pieces of butter to rub under the skin. I find it really helps to keep the meat tender. After cooking, you can remove the skin and enjoy. Did you know that you can still cook healthy chicken with the skin on? It makes the meat juicier and tender because all the natural juices are kept inside while cooking. The key is removing the skin after you cook it. Read this study by the Chicken Farmers of Canada on how you can still cook healthy chicken with skin on. I learned about this last year and it was like a light switch went off in my head. It makes sense.
Chicken Farmers of Canada represents over 2,800 Canadian chicken farmers of all types. Choice is a good thing! Here is a brief listing of the types of chicken you can find in Canada.
Free Range: Chickens have access to the outdoors.
Free Run: Chickens must be able to move around freely in the barn. Note that all chickens in Canada are free run chickens.
Grain Fed: This term is mainly used for marketing purposes. Chicken in Canada eat a feed that is over 88% grain.
Halal: Halal is a term used by Muslims which means "permitted by Allah". Animals must be well-rested and handled in a way that minimizes suffering.
Hormone Free or Steroid Free: Another marketing tactic since the use of hormones in chickens has been banned since the 1960s in Canada. All Canadian chicken is hormone free.
Kosher: Kosher means "fit" or "proper" and that the food meets the dietary requirements of Jewish law.
Organic: The chicken must met the specific standards of the Canadian General Standards Board and varies from province to province. Generally it means the chicken is raised with certified organic feed with no animal by-products or supplements.
Raised without Antibiotics: The chicken was not treated in any way with antibiotics. Read the Chicken & Antibiotics section for further info.
Vegetarian Grain Fed: The chicken's feed contained no animal by-products. Instead the feed contains soy for a protein source.
Check out Understanding Your Choices for more information on each of the above types of chicken. After learning more about each of them, I feel much more informed when I'm out grocery shopping.
You'll also enjoy this Slow Cooker Cream Cheese Chicken.
What is your favourite way to eat chicken?
Connect with Chicken Farmers of Canada on Facebook, Twitter, Instagram and Pinterest.
Lemon Herb Slow Cooker Chicken
Yield: 6
Prep Time: 15 minutes
Cook Time: 8 hours
Total Time: 8 hours 15 minutes
Lemon Herb Slow Cooker Chicken is such an tasty way to cook a whole chicken. Easy to prep, and then set and forget. This slow cooker whole chicken recipe is loaded with herb flavor, tender meat, and a perfect dish for the family to enjoy.
Ingredients
1 whole chicken, remove giblets if necessary
1/4 cup butter, cut into small pieces
2 lemons, cut in half
1 tsp dried oregano
1 tsp dried basil
1 tsp dried rosemary
1 tsp salt
1/4 tsp black pepper
Instructions
Loosen the skin of the chicken with your clean fingers by sliding it under the skin Place the pieces of butter under the skin.
Place your whole chicken in your slow cooker. Squeeze lemon juice all over the chicken and then put the lemons inside the chicken's cavity.
In a small bowl, mix together the spices. Sprinkle the spices all over the chicken.
Cover and cook on low heat for 8 hours. Use a meat thermometer to test when chicken has reached the proper temperature.
Remove the lemons from inside the cavity and serve hot.
Recommended Products
As an Amazon Associate and member of other affiliate programs, I earn from qualifying purchases.
Nutrition Information:
Yield: 6
Serving Size: 1
Amount Per Serving:
Calories: 343
Total Fat: 22g
Saturated Fat: 9g
Trans Fat: 0g
Unsaturated Fat: 11g
Cholesterol: 191mg
Sodium: 550mg
Carbohydrates: 3g
Fiber: 1g
Sugar: 1g
Protein: 32g