Are you ready to get organized in 2018? I have a bunch of free printables to help you out. I've been writing this post for several years and it's always been one of the more popular ones that people seem to like. Who doesn't love free printables? I use mine on a daily basis to keep my place running smoothly!
I've updated my list for 2018 with several new printables for you to use. I hope they help you as much they have helped me!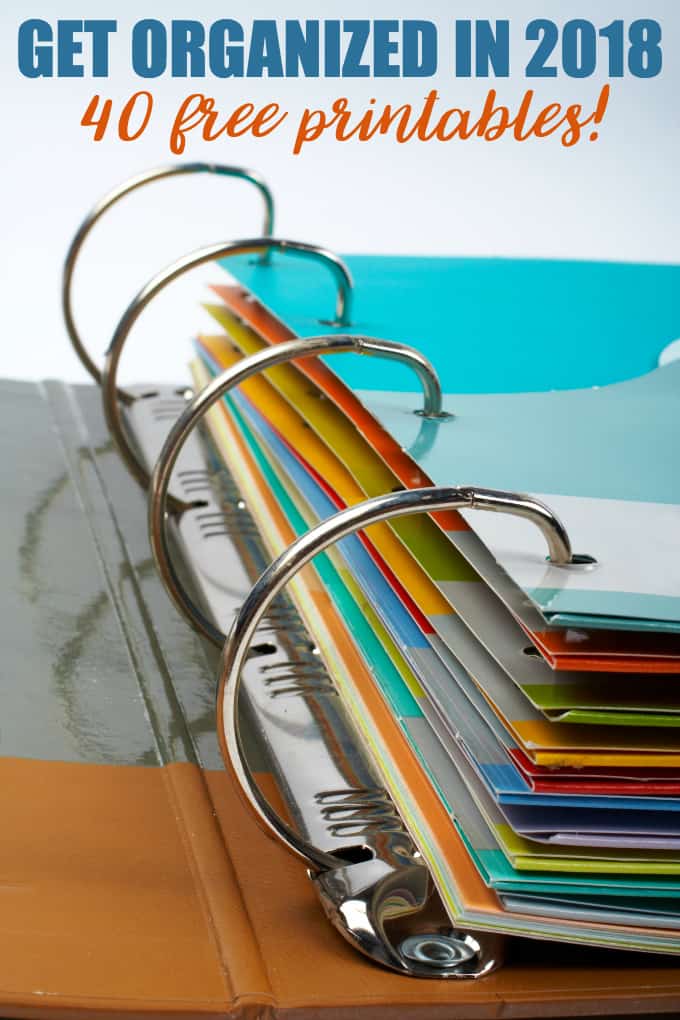 Get Organized in 2018 with Free Printables
Who loves free printables? Wave your hands in the air.
1. 2018 Household Planner: The ultimate planner for staying organized! It includes a Password Tracker, Chore Chart, De-Clutter List, Cleaning Planner and Family Medical Tracker.
2. 2018 Fitness Planner: Ready to get into shape? This Fitness Planner can help you stay on track. It includes a monthly meal planner, workout planner, water intake sheet and more.
3. 2018 Financial Planner: Let's talk money! Get your finances in order with this free printable planner. It includes a savings tracker, debt payoff schedule, bill tracker, monthly budget, daily spending worksheet and more.
4. 2018 Meal Planner: Always know what's for dinner! Meal planning is a time and money saver. This planner includes a calendar plus inventory sheets, shopping lists and a weekly meal planner.
5. 2018 Yearly Calendar: You'll always know the date with this helpful printable. It includes a Weekly To-Do List, Birthday Tracker, Monthly Calendars and a Year at a Glance Calendar.
6. 30 Days to a Clean and Organized Kitchen: Tackle one kitchen task a day and you'll have a new kitchen in a month's time.
7. 31 Days of Decluttering: Use this printable calendar to work on one household cleaning/decluttering task a day.
8. Recipe Card Printable: Store your favourite recipes on this handy recipe card printable. They are great for writing down Grandma's recipes!
9. Spring Cleaning Checklist: This is EXACTLY what you need before you start your spring cleaning. This printable has all the cleaning tasks organized by room. Check each one off as you finish!
10. Fall Cleaning Schedule: All the things you need to do inside and outside in the fall months. As my dad would say, Git er done.
11. Daily Cleaning Checklist: This checklist covers all your basic cleaning tasks. Put it on your fridge to stay organized every day.
12. Password Organizer Printable: Keep track of all your passwords for the sites you visit. I'd be lost without my printable.
13. Weekly Menu Planner: Get a fresh copy of this planner each week and organize your upcoming family meals.
14. Important Phone Numbers Printable: I keep a copy of this printable on my fridge for easy access. I hate using the phone book and I can never remember people's phone numbers.
15. Grocery Shopping List Printable: I love this printable because it's organized into the various grocery store sections. I don't have to run around the grocery store because I forgot something.
16. Debt Repayment Printables: Debt is a fact of life for many of us. These printables will help you know exactly where you stand when it comes to how much you owe. It includes a Debt Overview and Debt Repayment Plan.
17. Kitchen Inventory Printables: Is your kitchen a hot mess? These printables can help. They include a Pantry Inventory, Fridge Inventory and Freezer Inventory.
18. Closet Dividers for Baby: Use these printables to never forget to put an outfit on baby again. They are organized by age.
19. House Hunting Checklist: Shopping for a new home? This checklist can help figure out exactly what you want and help you evaluate the homes you visit.
20. 30 Day Spring Cleaning Calendar: It says spring cleaning, but you really could do these cleaning tasks anytime of year!
21. Measurement Equivalents Printable: This handy printable will help you when you are baking or cooking.
22. Metric Conversion Chart Printable: I love this printable to help me read recipes that are printed in metric.
23. Budgeting Printables: A slew of printables to help you get your family's budget in order.
24. Bill Payment Printables: Always know what is due and when. This set includes a Household Bill Organizer and Bill Payment Organizer.
25. Savings Challenges Printables: Get in the habit of saving money. Choose one of five simple savings challenges to try.
26. Christmas Printables for Kids: Get in the holiday spirit with this list of fun Christmas printables for the kiddos to try.
27. Summer Vacation Packing List for Her: Before you go on your vacation, plan what you are going to bring with this handy packing list printable.
28. Kids' Summer Camp Packing Checklist: Kids going to camp? This packing list can help you get their stuff organized.
29. Printable Valentine's Day Cards: Forgot to buy Valentine's day cards? I got you covered. Print out these cute cards to use.
30. Zone Cleaning Printable: Learn what Zone Cleaning is and how you can do it at home with the help of a free printable.
31. Deep Cleaning Checklist: It's a dirty job, but someone has to do it. Keep track of those big tasks with this printable.
32. Father's Day Printables: Don't forget dad! This handy list has cards and more to celebrate his big day.
33. Spring Cleaning Your Kitchen Checklist: Get your kitchen fresh and clean this spring with this handy checklist.
34. Recipe Binder Printables: Make your own family cookbook with your favourite recipes.
35. Kitchen Printables: You are going to love this list dedicated to all things kitchen organization!
36. Easter Printables: Celebrate this special holiday with cards and other freebies.
37. Baby Shower Games for Girls: Planning a baby shower for someone having a girl? You need to try these fun games!
38. St. Patrick's Day Printables: You're in luck! I have more holiday printables for you.
39. Holiday Meal Planner: You can use this printable set to plan any holiday dinner.
40. Valentine's Day Printables: Love is in the air in the form of free printables.
I always add getting organized to my new year's resolutions. Once the tree is put away for the year, I'm in full on cleaning and organizing mode. I like to think of it as a fresh start. These printables help keep me on track.
I regularly publish printables throughout the year and also have many organization posts in my Household Tips section. Stay and subscribe if you like so you can be the first to know about new content when it's published.
What are you planning to organize in 2018?