You might benefit from a Recipe Binder if you have a ton of recipes all over the place. Maybe you have some on scraps of paper strewn about your home, magazine clippings or bookmarks online. If you'd love to have the organized in one central location, you need to use my free Recipe Binder. You'll be able to put all those great recipes in it and can save yourself some time and stress. Never lose a great recipe again!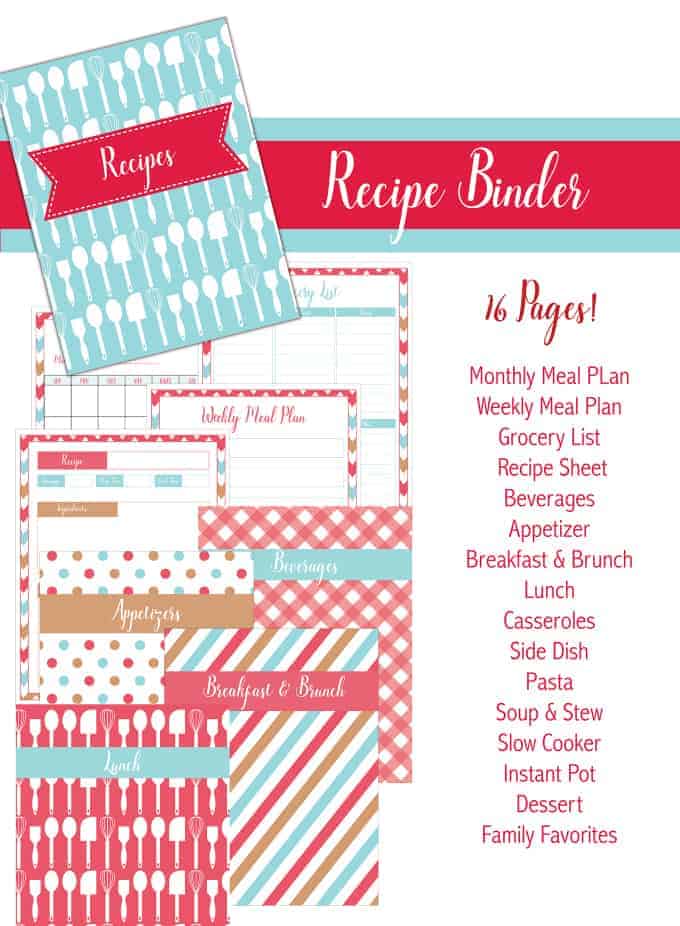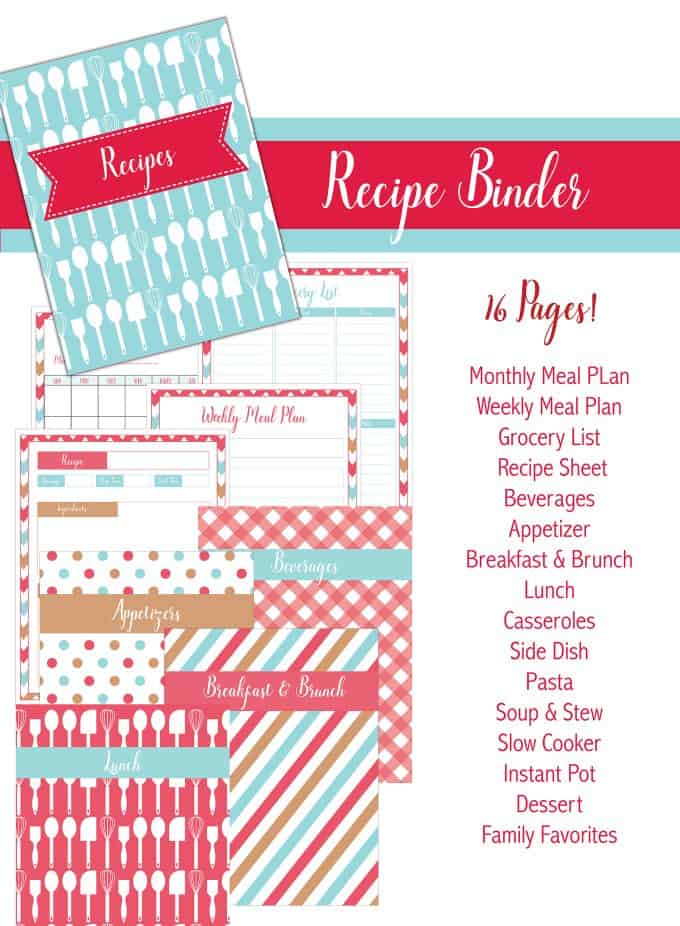 Recipe Binder
This Recipe Binder is packed with 16 pages including spots for all your recipe categories and some worksheets to help you organize your meals. It has meal plan printables, grocery list printable, recipe sheets and title pages to categorize all your recipes. The only thing you have to do is find those recipes and put them into your binder.
Before I had my Recipe Binder, I was throwing scraps of paper into a shoebox. It was an organization system that did not work. I'd be digging through the box to find Grandma June's recipe for Hurry Chicken. By the time I found it, I'd be thoroughly annoyed with myself for creating such a mess that I didn't feel like even making the recipe. Ain't got time for that!
Worse yet, I'd have friends over for a potluck and they'd bring the most delicious dishes and I just had to have that recipe. They'd tell me and of course, I figured my memory would serve me to make it again. Nope. At least with my Recipe Binder handy, I could quickly jot it in.
Monthly & Weekly Meal Plans
This Recipe Binder package is so much more than recipes. All recipes start out with a plan. With the Monthly Meal Plan free printable, you can plan ahead for an entire month with the meals you want to serve your family. I left it blank so you could fill in the month and numbered days.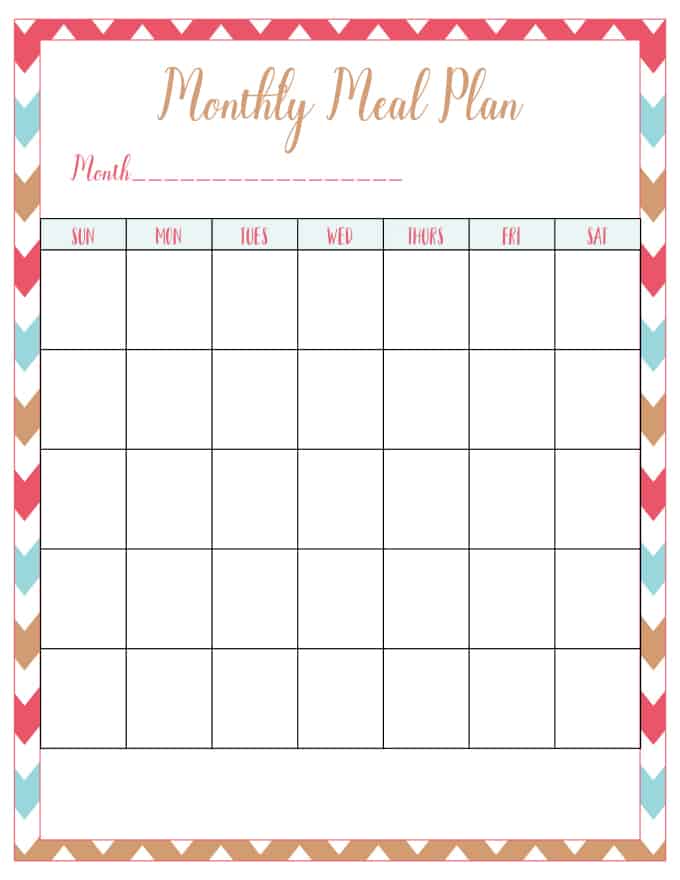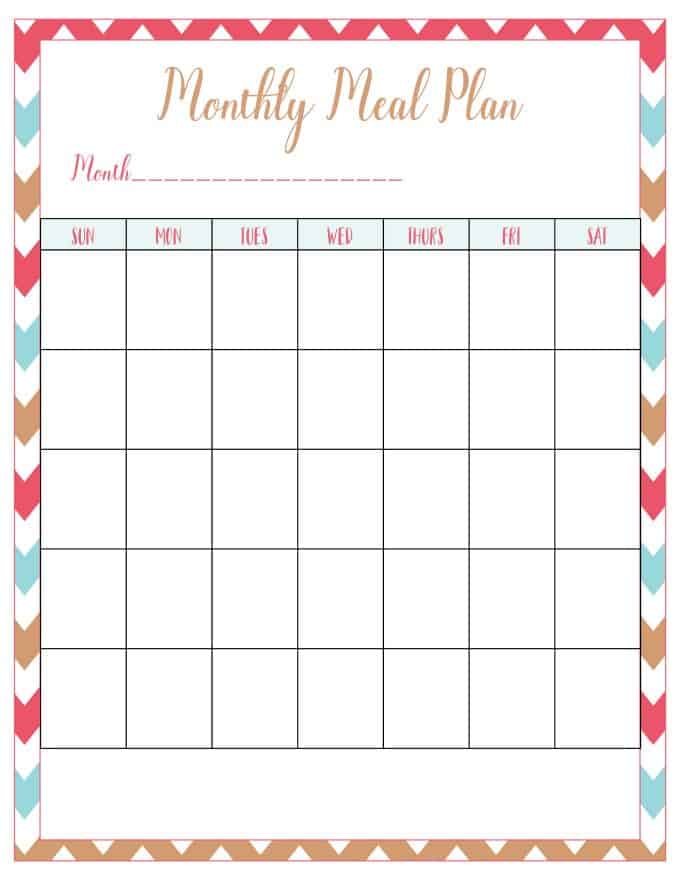 Don't want to go that far ahead? That's fine. I have a Weekly Meal plan printable for you. I personally prefer the Weekly Meal Plan printable because I'm usually not thinking that far in advance. Keep your Recipe Binder in your kitchen so you can quickly grab it when you are planning your family's dinner. I typically take about 20 to 30 minutes each Sunday to map out what I'm making the rest of the week.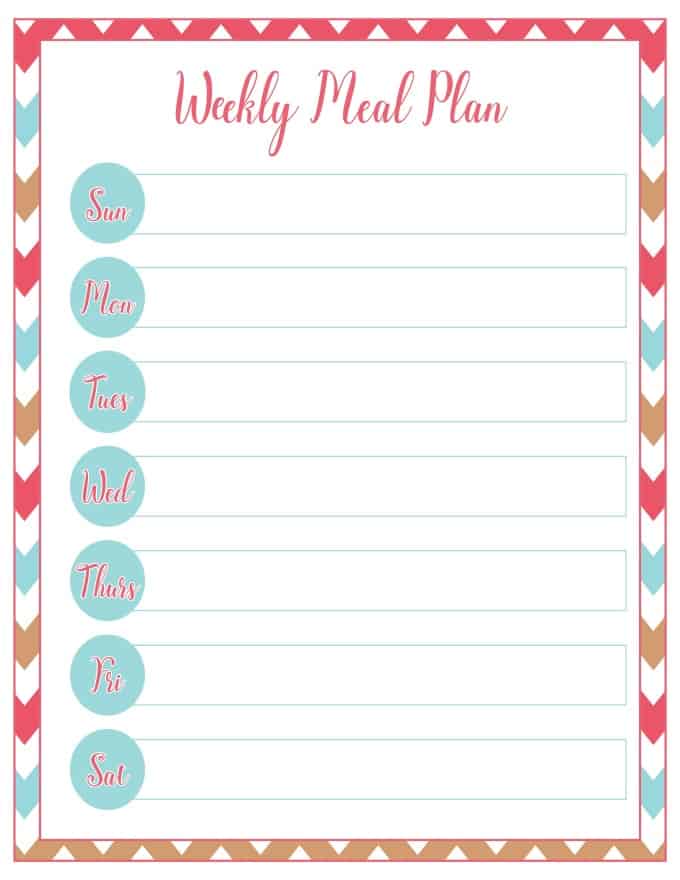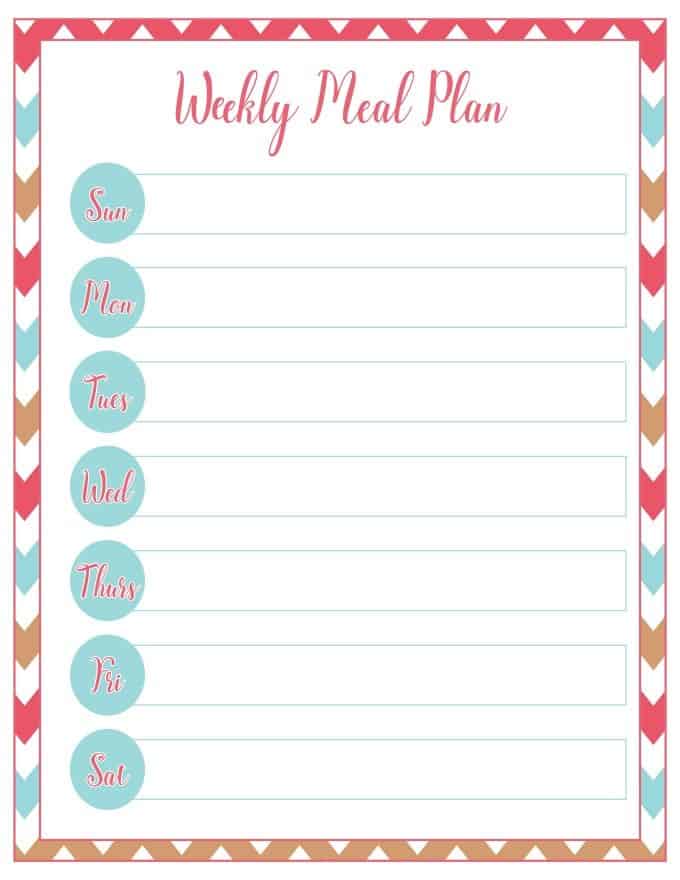 Grocery List Printable
After you've planned out your meals, use the Grocery List printable to make a list of everything you'll need to pick up at the store for that week's meals. I have it categorized so you can quickly shop your list at the grocery store by section and not waste any time.
A pet peeve of mine is running from one end to another in a huge grocery store because my list is out of order. If it's busy, multiple the frustration ten times!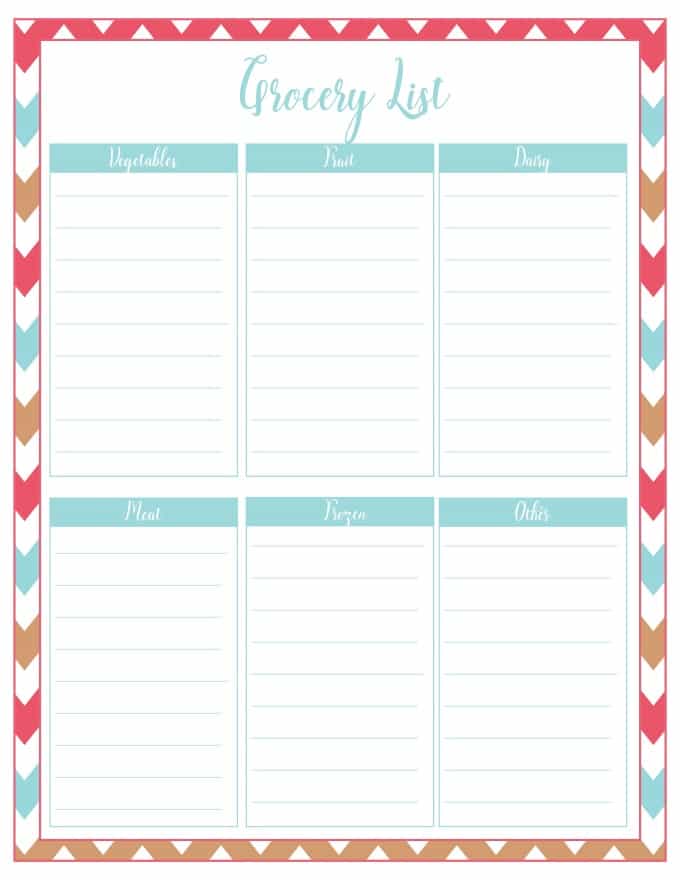 Lastly, the meat of the recipe book binder comes from…you guessed it, the recipes! I have cover sheets in the printable package so you can organize your recipes by type including:
Appetizers
Breakfasts & Brunch
Lunch
Casseroles
Side Dish
Pasta
Soup & Stew
Slow Cooker
Instant Pot
Dessert
Family Favorites
You'll have the most organized Recipe Binder in town, I bet!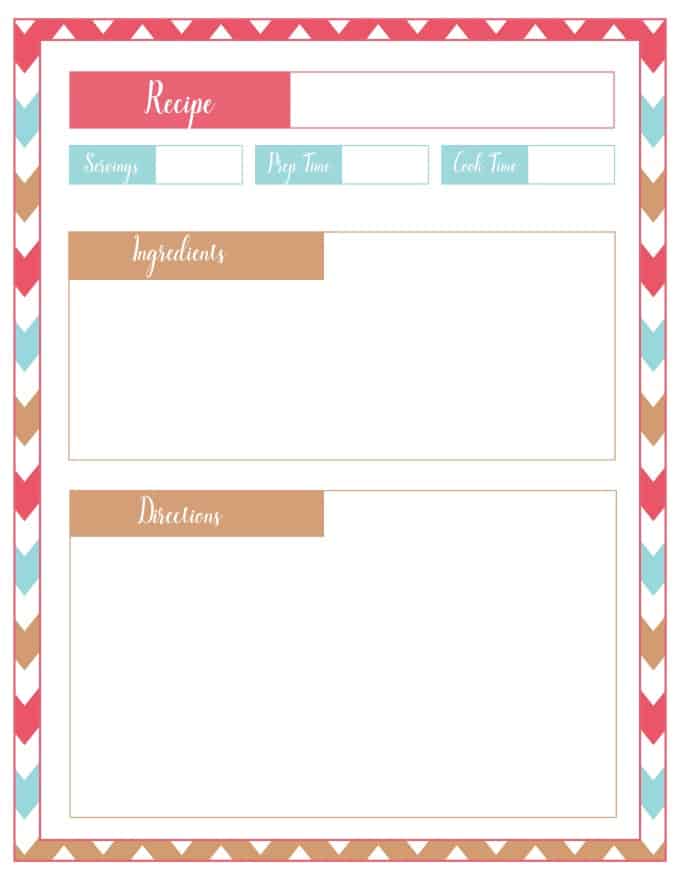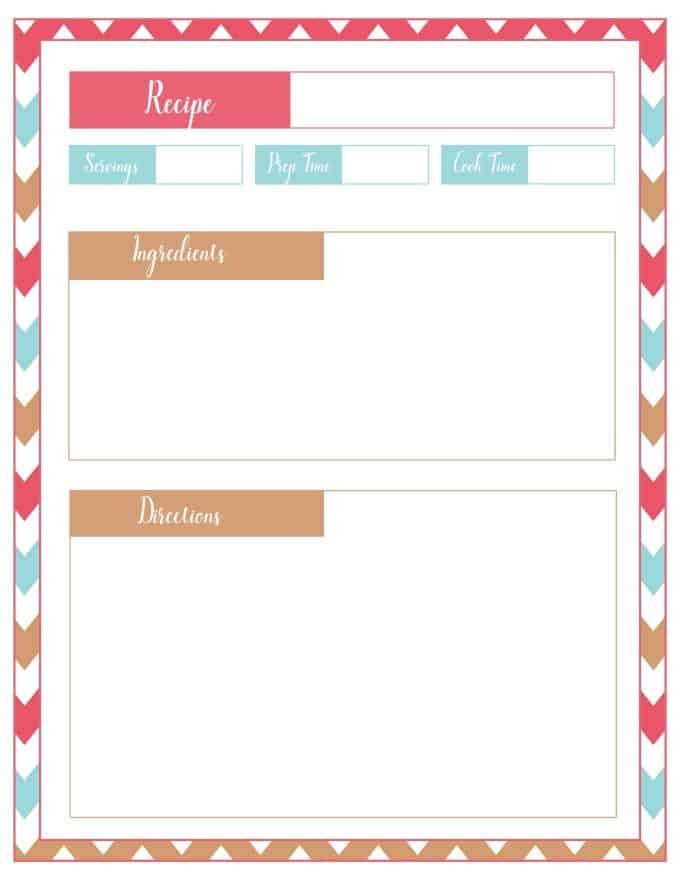 I wish my Grandma June were still here with us. I would ask her to write down all our family recipes. Sadly, I don't have them all – just a few. I didn't think to do it while she was still alive. Naively, I thought she'd be here forever so I wouldn't need to even worry about that. If you can, ask your grandma for her recipes so you'll always have them. I cherish the recipes I do have with me. I think of Grandma each time I make them.
Get it for Free
Did I mention it's FREE? Download your Recipe Binder and get busy filling it up!
Fill out the form below to get your Recipe Binder delivered right to your inbox.

For more free printables, check out my post, Get Organized in 2018 with Free Printables. I regularly publish helpful tips and printables throughout the year.
How do you currently organize your recipes?