Slow Cooker Cranberry Chicken
My task this month was to create a holiday themed chicken recipe. Right away, I knew what I wanted to make. Is there anything more Christmas-y than cranberries? It's a staple at all our Christmas dinners. Plus, cranberries pair beautifully with poultry!
I adore using my slow cooker during the colder months of the year. Scratch that. I use my slow cooker all year round, but it gets a ton of use in the fall and winter. It's so easy to dump your ingredients into it and let it do all the hard work. I find meat comes out more tender and flavourful when it's slow cooked. I made a Slow Cooker Cranberry Chicken and it was divine! I think it's pretty festive too. Do you agree?
The sauce is sweet and savoury with a kick of Christmas spices. I used a can of whole cranberries, onion soup mix, barbecue sauce, ginger and allspice. To finish off, I topped with fresh thyme. It may sound like a mishmash of ingredients, but they blend together beautifully when slow cooked.
I think it even looks the part with with it's rich red hues and green accents. It's a festive feast with tender, juicy flavour!
I love boneless, skinless chicken breasts and tend to use them often in my recipes. The price is right and my family always gobbles them up. This recipe would work still if you want to substitute other types of chicken. Maybe chicken drumsticks or thighs? Whatever your preference is, give it a whirl.
There are many reasons why I support the Chicken Farmers of Canada and it's not just because they are super nice folks! Though they truly are. If you aren't following them yet, you should! They share great stuff. I love Canadian chicken because I know that chickens are raised with top-quality care and food safety standards. I know I'm getting a good product when I buy Canadian chicken.
Another big reason is that it supports the Canadian economy by keeping people employed in Canada. I also like the price. Chicken prices are more reasonably priced at my local grocery stores when compared to other types of meat. Chicken Farmers in Canada use supply management which ensures there are no shortages or surpluses of chicken. Prices are stable and fit into my weekly grocery budget.
What is your favourite chicken recipe to make over the holidays? Hint, hint give mine a try!
You might also like this Brown Sugar Chicken.
Connect with the Chicken Farmers of Canada on Facebook, Twitter, Instagram and Pinterest.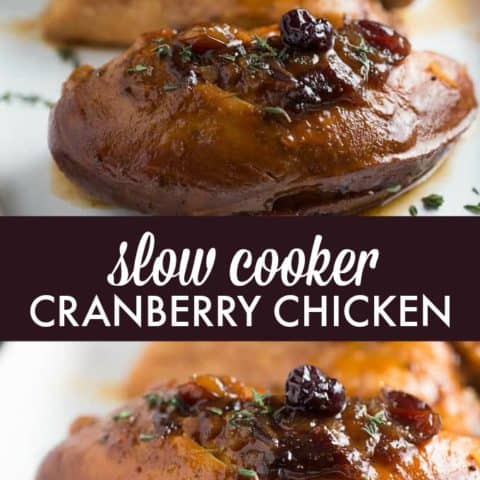 Slow Cooker Cranberry Chicken
Yield: 4
Prep Time: 5 minutes
Cook Time: 8 hours
Total Time: 8 hours 5 minutes
Tender chicken breasts slow cooked with a sweet & savoury cranberry sauce flavoured with ginger and allspice.
Ingredients
4 to 5 boneless, skinless chicken breasts
1 348ml can whole cranberry sauce
1 package onion soup mix
1 cup barbecue sauce
1/4 tsp ground ginger
1/4 tsp allspice
1 tbsp fresh thyme
Instructions
Place chicken breasts in a slow cooker.
In a medium mixing bowl, stir together cranberry sauce, onion soup mix, barbecue sauce, ground ginger and all spice. Pour mixture on top of the chicken in the slow cooker.
Cook on high for 3 to 4 hours or low for 7 to 8 hours. Use a meat thermometer to make sure chicken is cooked to the proper temperature.
Recommended Products
As an Amazon Associate and member of other affiliate programs, I earn from qualifying purchases.
Nutrition Information:
Yield: 4
Serving Size: 1
Amount Per Serving:
Calories: 538
Total Fat: 6g
Saturated Fat: 2g
Trans Fat: 0g
Unsaturated Fat: 3g
Cholesterol: 128mg
Sodium: 992mg
Carbohydrates: 71g
Fiber: 2g
Sugar: 56g
Protein: 48g
Disclosure: I am participating in the Chicken Farmers of Canada campaign managed by SJ Consulting. I received compensation in exchange for my participation in this campaign. The opinions on this blog are my own.