Sweet Chili Chicken Thai Pizza
We eat pizza at least once a week in our house. It's something our gang of picky eaters can all agree on. They normally like the classic pizza toppings like pepperoni, cheese and tomato sauce, but every once in a while, I like to change things up just a bit. Then I hope for the best! I made a Sweet Chili Chicken Thai Pizza with not-so-traditional pizza ingredients. I wasn't sure how my family would react. I think overall it was a success with three out of four people giving it a thumbs-up.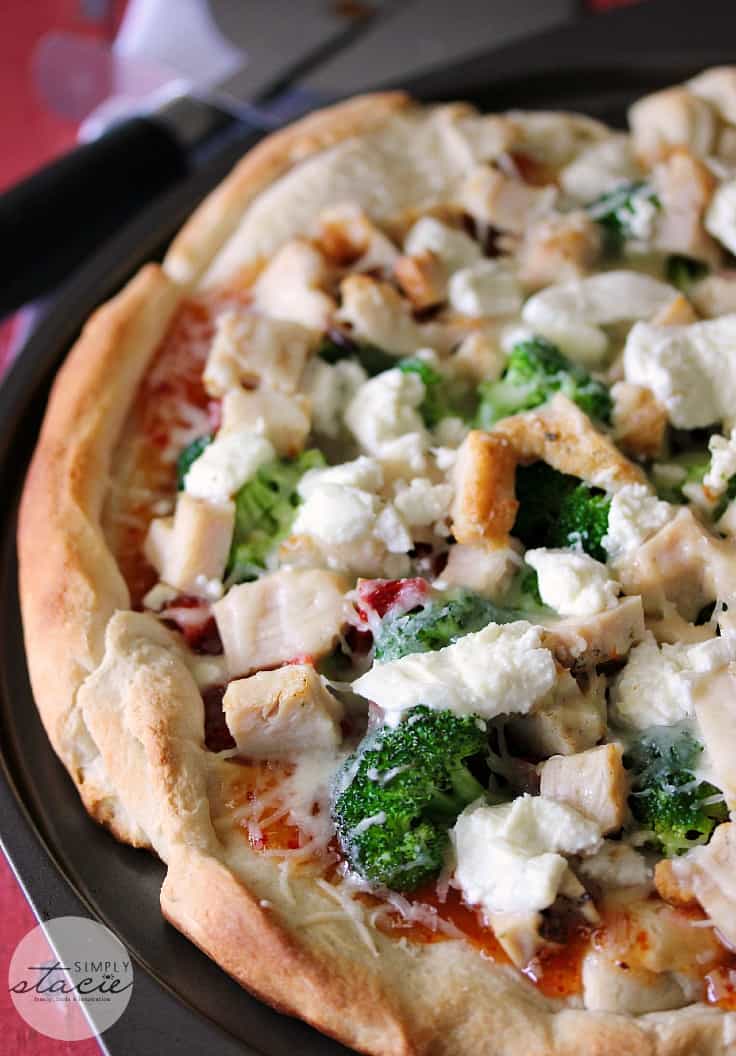 Sweet Chili Chicken Thai Pizza
I like using Pillsbury Refrigerated Pizza Dough to make the crust. I used VH Sweet Thai Chili Sauce to save on time. If time is on your side, feel free to make your own homemade crust and chili sauce. I was looking to get dinner on the table quickly so I used what I had in my fridge and pantry.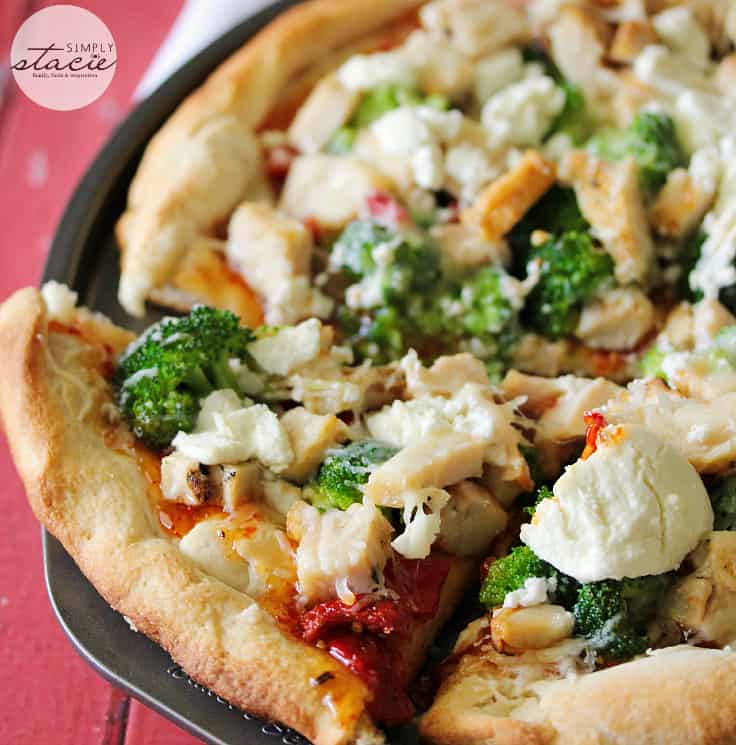 I cooked the broccoli ahead of time rather than putting raw broccoli on the pizza. I prefer the broccoli to be softened and am not crazy about the taste of raw broccoli.
All the flavours go together very nicely and I will be making this again. I hope that my youngest daughter will give it a chance because it's really good. Olivia is more willing to try new things and said it was yummy.
This post is in no way sponsored by Pillsbury or VH Sauces or any of the ingredients mentioned. I just wanted to mention the brand names I actually used in case you want to buy the same as me.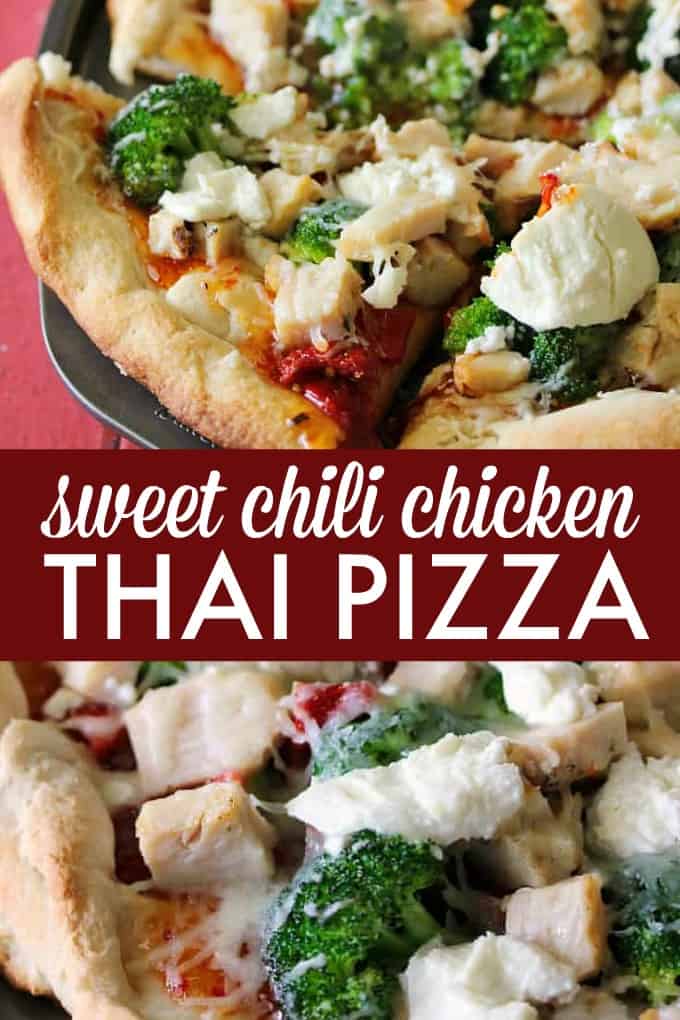 I think I'll try a few more experiments with pizza and see where this goes. I have another fun pizza twist in the works right now! Wish me luck.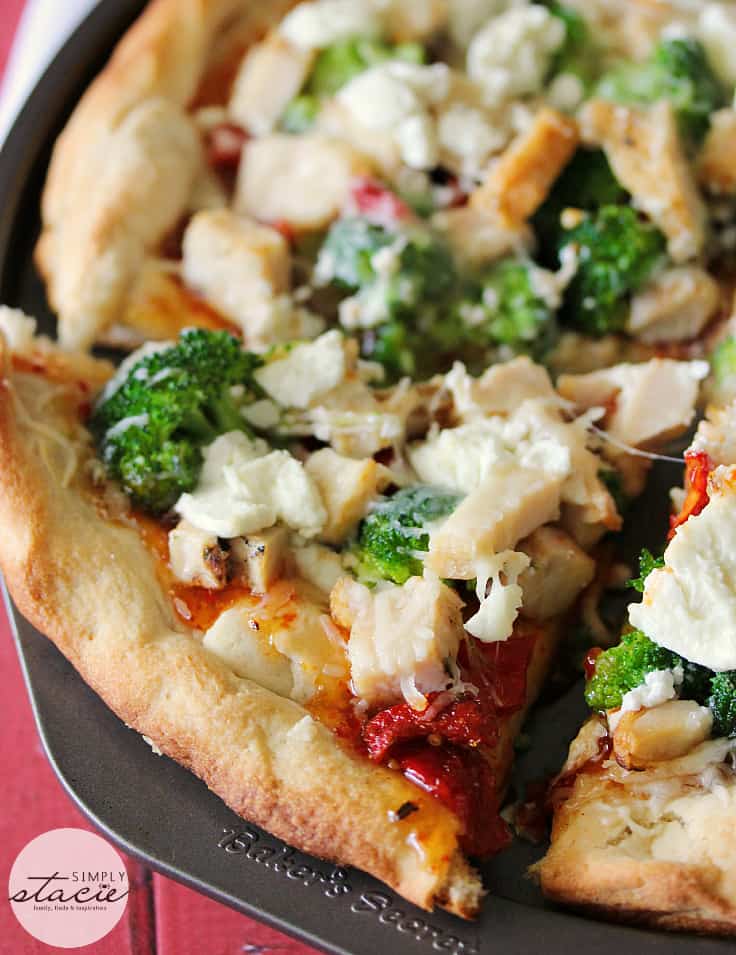 Yield: 6
Sweet Chili Chicken Thai Pizza
This Sweet Chili Chicken Thai Pizza is easy to make and a fun twist on pizza!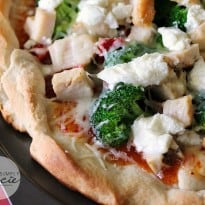 Ingredients:
1 Pillsbury Pizza Crust (or your own homemade pizza crust/other brand refrigerated pizza crust)
1 cup chicken, cooked and sliced into strips
3/4 cups sweet chili thai sauce
1/4 cup sun-dried tomatoes, roughly chopped
1/2 cup broccoli florets
1/4 cup goat cheese, sliced
3/4 cup mozzarella cheese, shredded
1 tbsp extra virgin olive oil
Directions:
Prepare the pizza crust according to package directions. For the Pillsbury Pizza Crust I used, I greased a pizza pan and spread the dough to fit. Then I baked for 8 minutes in a 400°F oven.
Heat olive oil on medium heat in a skillet on the stove. Add broccoli and saute for 3 to 4 minutes, or until tender crisp.
Spread sweet chili thai sauce over pizza crust, leaving a gap around the edge.
Evenly distrubute chicken, sun-dried tomatoes and broccoli over the sauce. Then top with goat cheese and mozzarella cheese.
Bake an additional 9 to 11 minutes or until crust is golden and cheese is melted.