Cauliflower Bites
I used to despise cauliflower with a passion. I couldn't even stand the smell of cauliflower cooking on the stove and there was no way I was eating any. The sad part was that I didn't even try it. I was so picky growing up that I missed out on so many delicious foods, including cauliflower. I didn't actually give cauliflower a try until I was in my mid-20s. I'm still not crazy about the smell, but I love the taste! I can eat them raw with some dip, cooked with a mild cheese sauce or mixed in a recipe. I've even made pizza crust out of cauliflower! Another delicious way to enjoy cauliflower is in this appetizer recipe for Cauliflower Bites!
It may not be the healthiest of ways to eat cauliflower, but it sure tastes good! Add a small dish of ranch sauce for dipping and you have a yummy starter that reminds me a little of something you'd eat at a restaurant. I bet if I'd tried this recipe as a young girl it would have changed my view of cauliflower and I wouldn't have missed out on eating it all those years.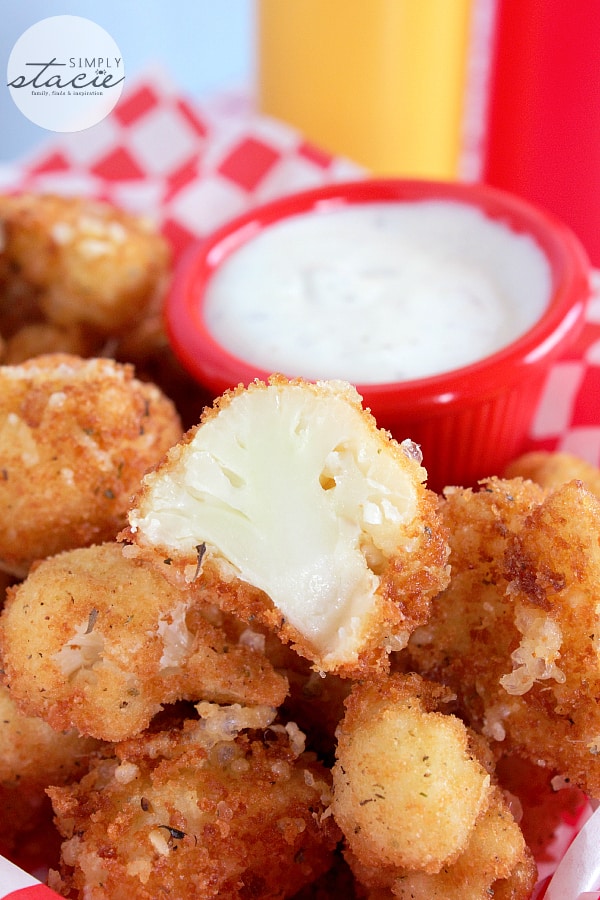 Cauliflower Bites
Yield: 6
Prep Time: 15 minutes
Cook Time: 15 minutes
Total Time: 30 minutes
Get your kids to eat their veggies! Fried cauliflower that's the perfect side dish or appetizer for dipping.
Ingredients
½ head cauliflower, stems trimmed short and cut into bite sized pieces
½ cup flour
2 eggs, beaten
¾ cup Panko bread crumbs
¼ cup Romano cheese, grated
1 tsp Italian seasoning
½ tsp salt
½ tsp garlic powder
¼ tsp black pepper
Oil for frying
Instructions
In a medium sauce pan heat 1½ – 2 inches of oil to 350 ̊.
You'll need three shallow bowls or resealable containers. Put the flour in the first one. In the second one, beat the eggs. In the third bowl, stir the Panko bread crumbs, Romano cheese, Italian seasoning, salt, garlic powder and black pepper.
Take the Cauliflower and place it in the first bowl. Toss to coat, or put the lid on and shake. Working in batches tap the excess flour off the Cauliflower and dip it in the egg.Then place in the Panko Crumbs. Toss to coat or again put the lid on and shake. Remove to a plate and repeat.
When the oil is at 350 ̊ start frying in batches. It's easier if you divide your pieces into large, medium and small. Place a few large pieces in, then a few medium and you guessed it then a few small pieces. Once the small pieces are in cook for 60 seconds. Remove to paper towel lined plate.
Repeat with remaining cauliflower, serve hot.
Recommended Products
As an Amazon Associate and member of other affiliate programs, I earn from qualifying purchases.
Nutrition Information:
Yield: 6
Serving Size: 1
Amount Per Serving:
Calories: 161
Total Fat: 6g
Saturated Fat: 1g
Trans Fat: 0g
Unsaturated Fat: 4g
Cholesterol: 65mg
Sodium: 372mg
Carbohydrates: 20g
Fiber: 2g
Sugar: 2g
Protein: 7g