Caramel Bacon Brownies are going to knock your socks off. A loaded homemade brownie with sweet caramel, bacon, and nuts in every single bite. This brownie recipe will win over a crowd after the first bite. Unique, flavorful, and downright loaded with flavor.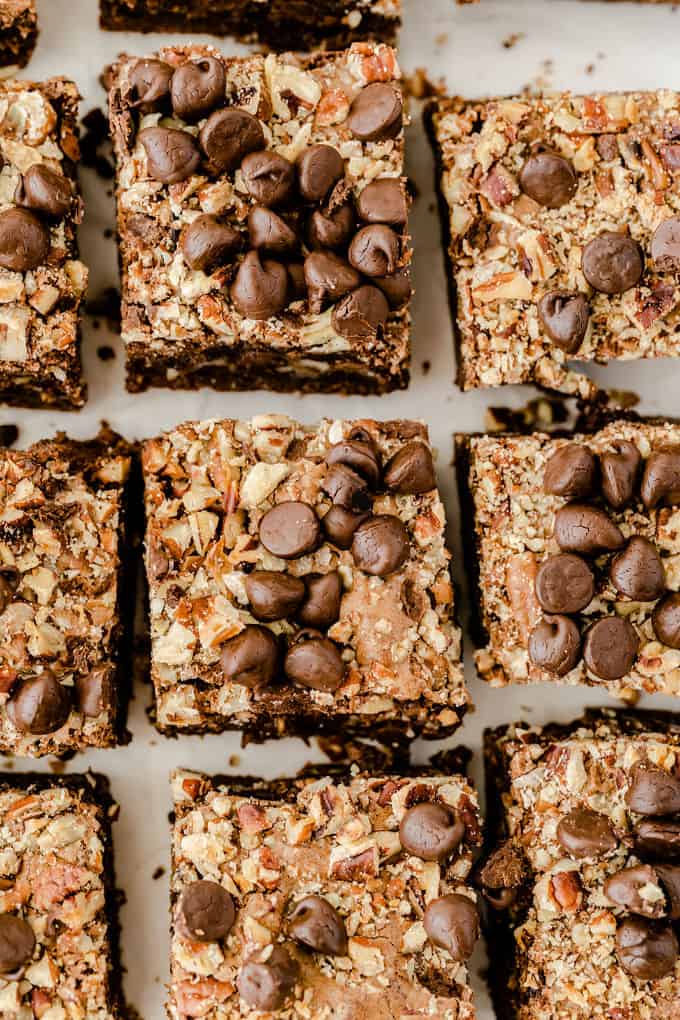 I've been using bacon off and on in dessert recipes for a couple of years. I was first introduced to chocolate covered bacon several years ago. I think it was either via Pinterest or Facebook. I remember being intrigued by the idea.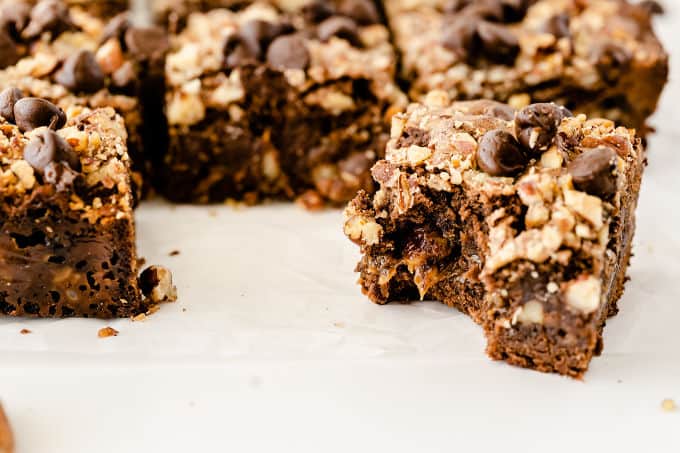 I love eating ham with maple syrup so it wasn't that much of a stretch to combine bacon and chocolate. Nowadays, if you search Pinterest, you will find a ton of bacon desserts! You may even see my guest post from Parent Pretty on there. I made Pumpkin Cupcakes with Maple Bacon Frosting.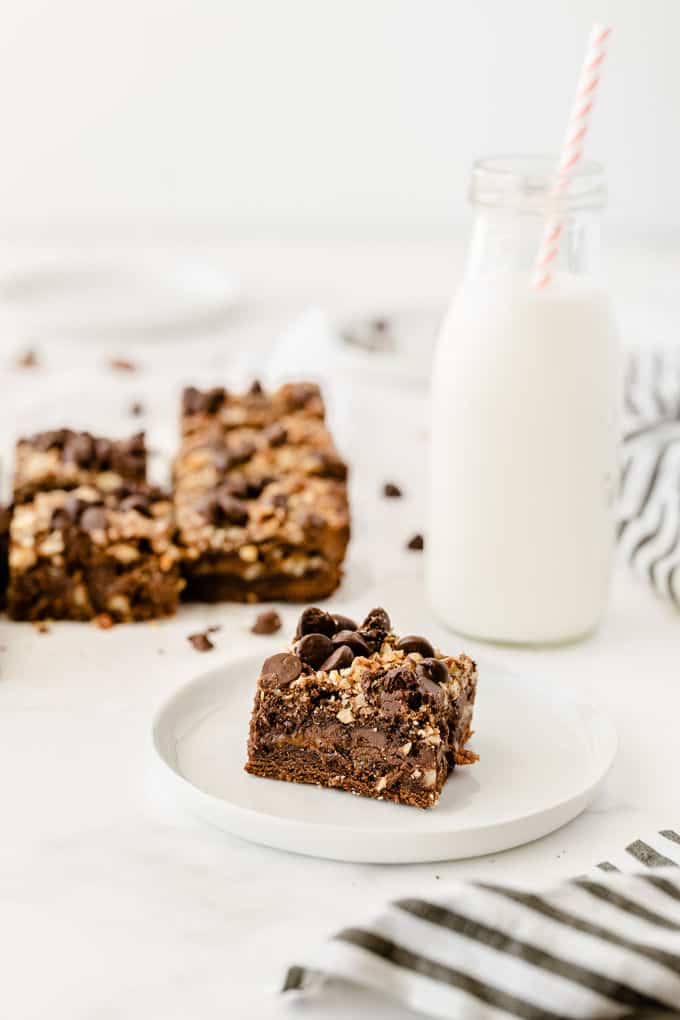 Caramel Bacon Brownies
I took it up a notch and made a batch of Caramel Bacon Brownies. Imagine a fudge brownie base with a layer of sticky sweet caramel, bacon and pecan mixture and then another layer of brownies.
It's finished off with chocolate chips and chopped pecans. It's a wee bit more effort than making a batch of boxed brownies, but it's SO much better! My taste buds could almost not handle all this sweetness. Almost.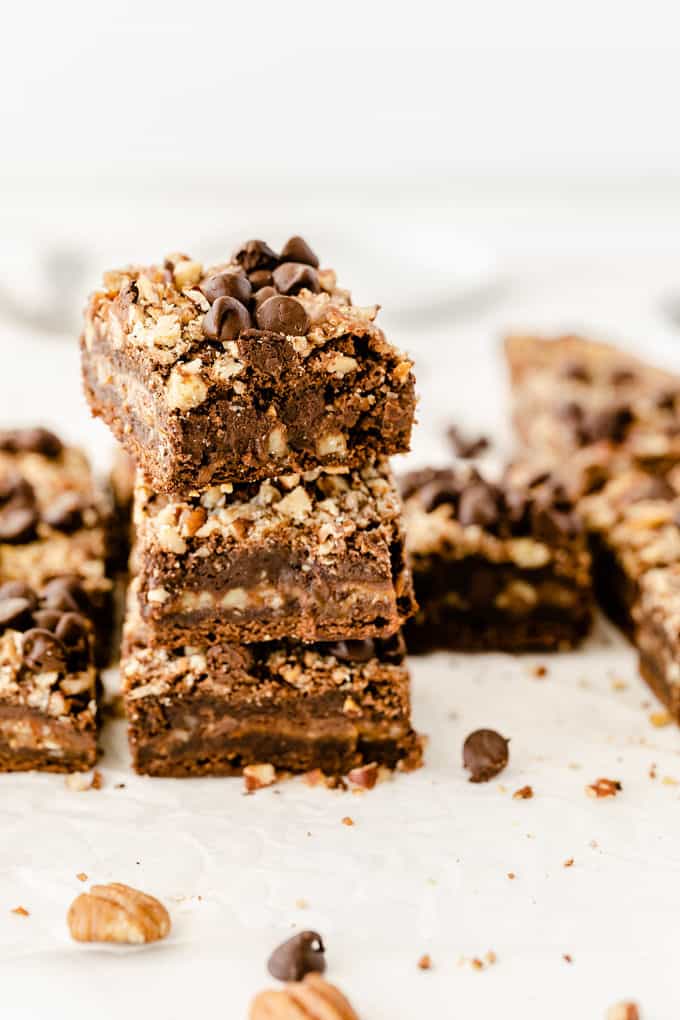 Gooey Caramel Bacon Brownies
My oldest daughter balked when I told her that there was bacon in them. She didn't understand the appeal until she took a bite. Now she gets it.
Chocolate chips are mixed in the caramel layer giving it an extra element of richness. At first, I wondered if it was cooked completely, but then I remember it was the melted chocolate making it ooey gooey.
You might also like these Peanut Butter Cheesecake Brownies, Reese's Stuffed Brownies, Banana Split Brownies, Tiramisu Brownies, Disappearing Marshmallow Brownies, Fudge Nut Bars or Snickers Brownies.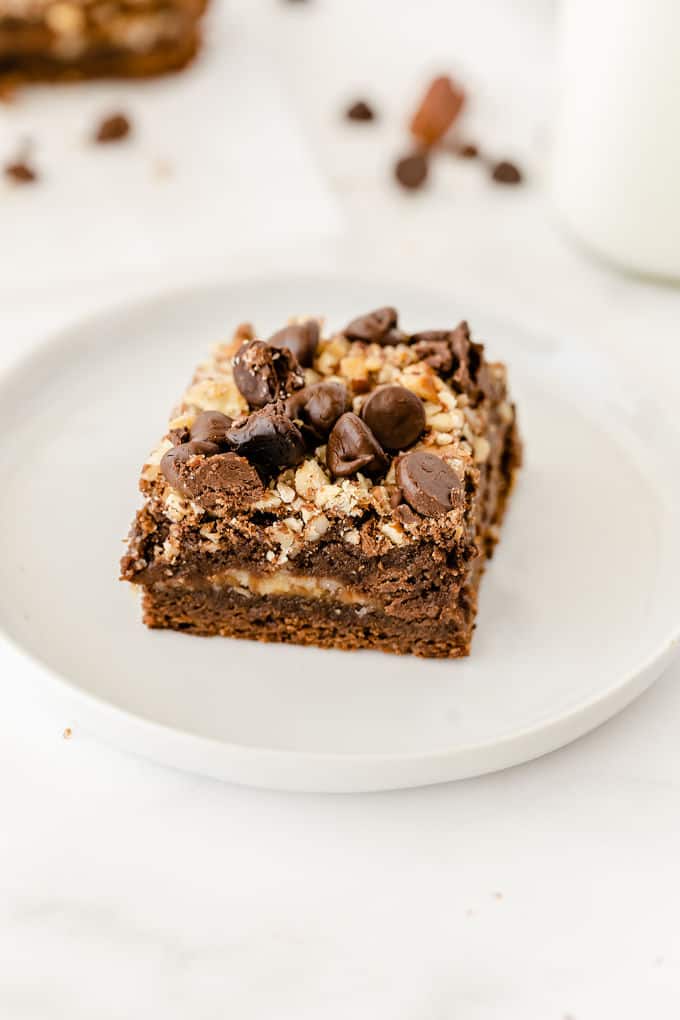 Can I Used Boxed Brownie Mix Instead of Homemade
I think what helps set the brownies over the top is the fudgy homemade brownie mix. But, if you are not wanting to take the extra steps to make homemade brownies you can use a box. Just follow the instructions as is, for baking and then make the filling and such as directed. You will still end up with an incredible brownie.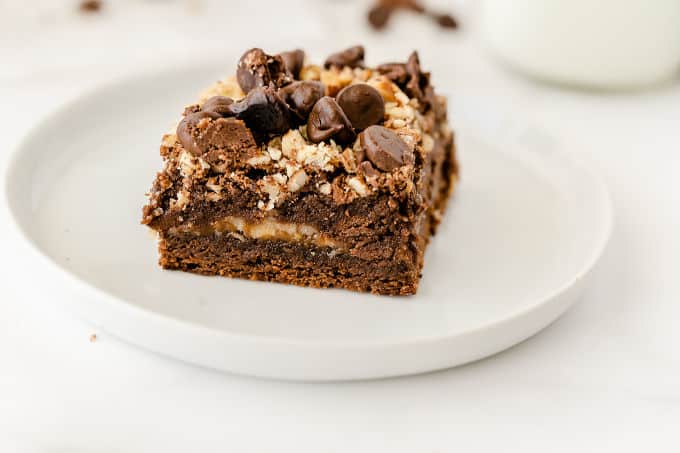 More Brownie Recipes to Try
Peanut Butter Cheesecake Brownies | If you are a peanut butter and chocolate fan serve up these brownies. Incredible flavor, and a delightful dessert.
Banana Split Brownies | Get the flavors of a classic banana split but in a brownie form. This is an incredible recipe that will stand out from any other brownie you have tried.
Reese's Stuffed Brownies | I can never say no to a stuffed brownies recipe. Another peanut butter and fudgy brownie combination that will melt in your mouth.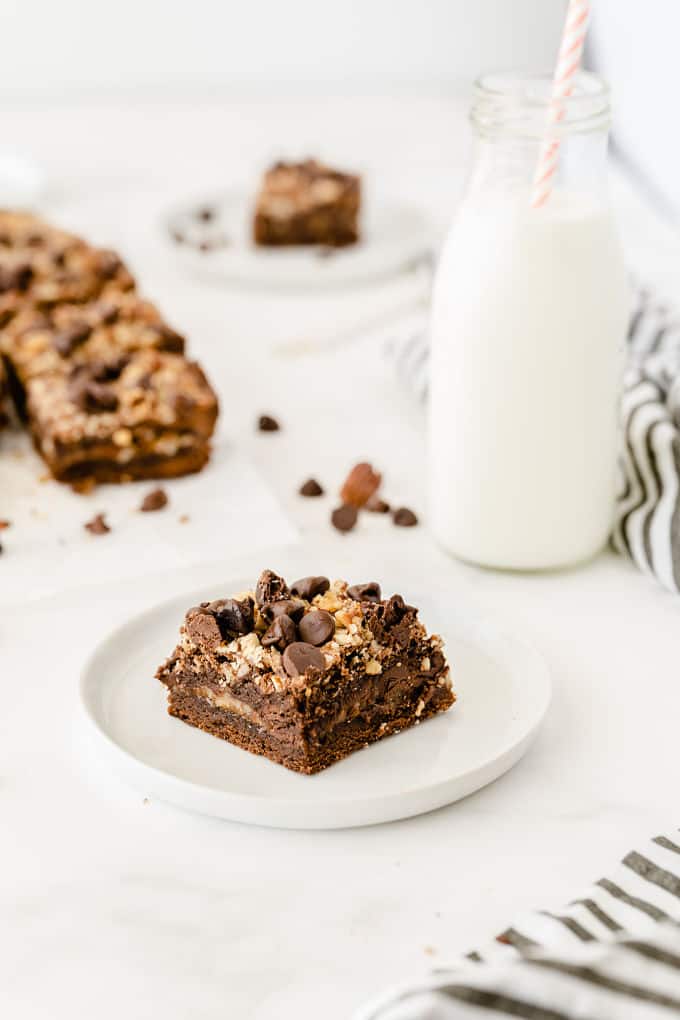 Do You Use Cooked Bacon
Yes, you will want to pre-cook your bacon so it is crispy. Then break into crumbles so it will stir into the mixture fine. Just break the pieces so you can get bacon in each bite without it being too big in size. You don't want the bacon to be soft in texture, or it will make the brownies less than appealing to have rubbery bacon inside.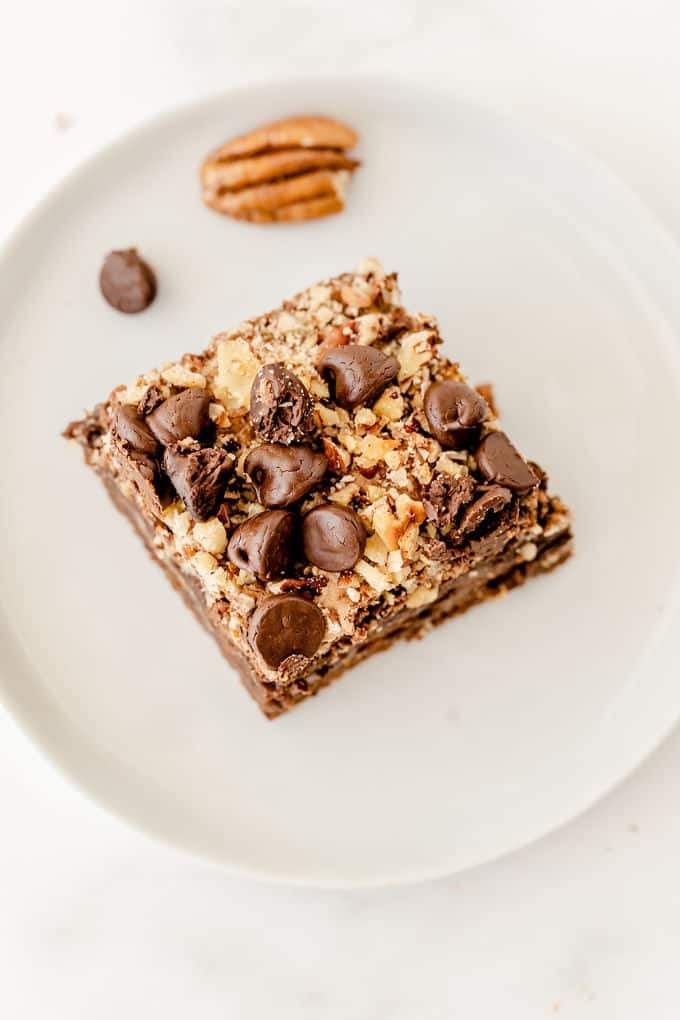 Can I Replace Pecans in Brownie Recipe
Sure, you can leave the nuts out or even replace them with walnuts. I love pecans but feel free to swap out. You could even go as far as slivered almonds or even cashews. I think any nut would compliment the flavors in this loaded brownie recipe.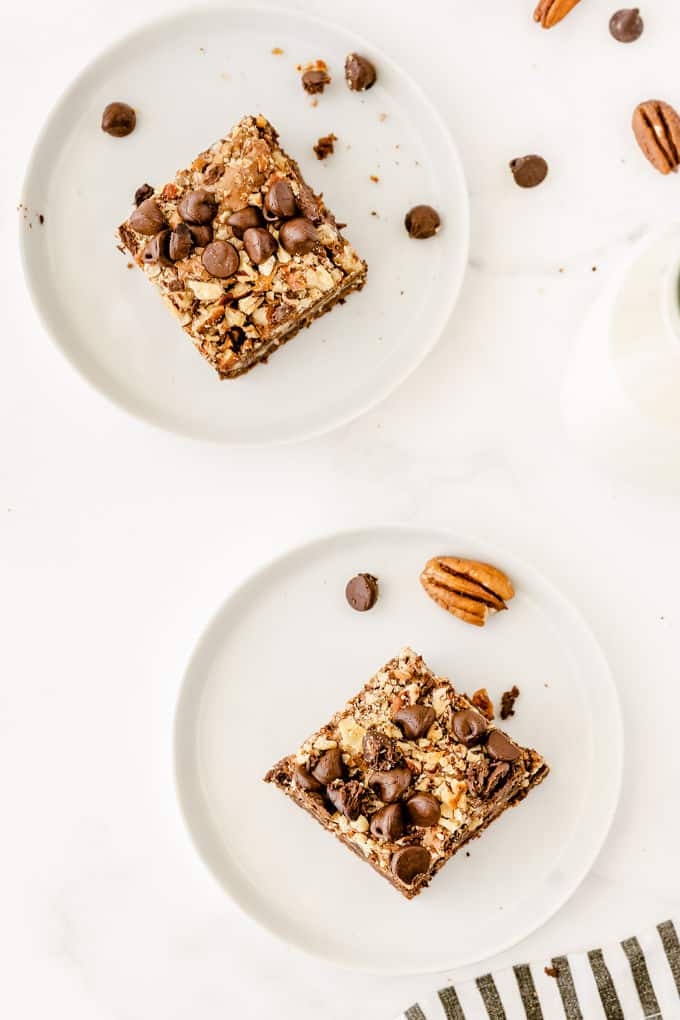 How to Make Caramel Bacon Brownies
First, you want to start by greasing your baking pan and preheating the oven. Then in a bowl, you want to work on creating the batter for your brownies. You will take half of the batter and spread into your baking pan. You will bake for 20 minutes.
Once your brownies are partially baked, you will add in the caramel layer, and then top with the chocolate chips and brownie batter. Continue baking and then allow to cool before cutting.
These will be fudgy and downright a chocolate lovers' dream come true!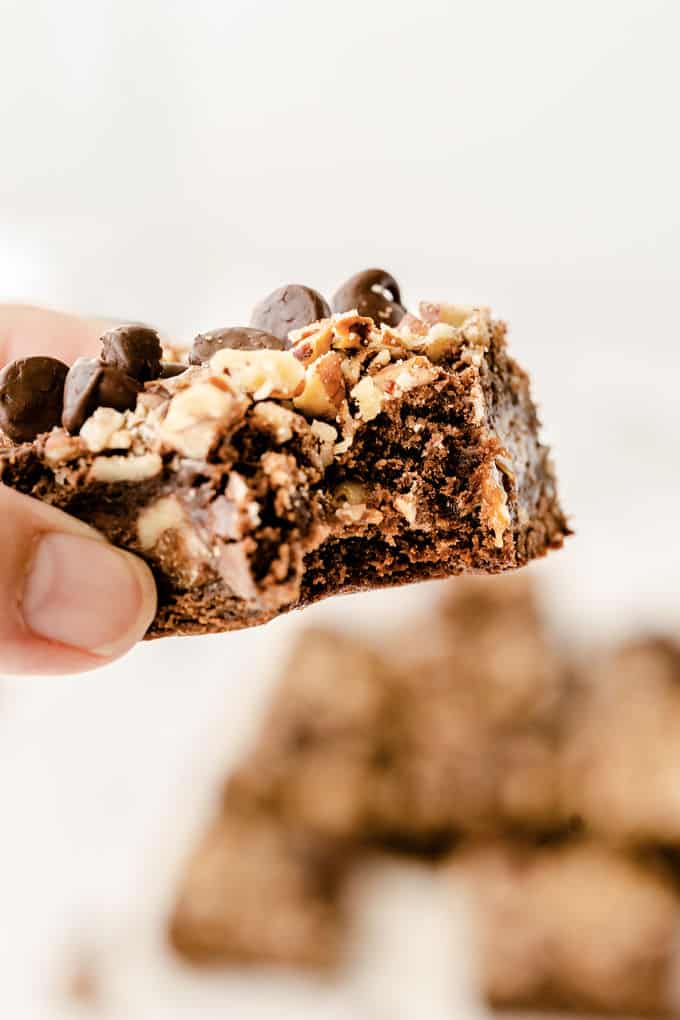 How to Store Leftover Caramel Bacon Brownies
You will want to store any leftover brownies you have in the fridge. I find these brownies store best that way and extend the life of the brownies. Just cover or place in an airtight container.
They will last anywhere from 4-5 days in the fridge.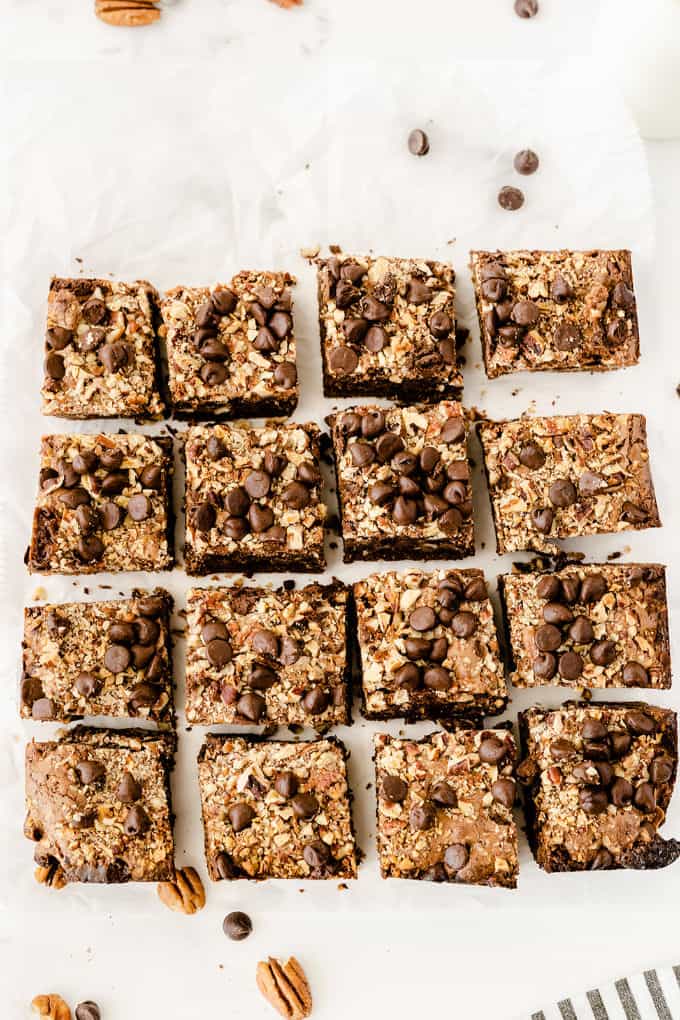 Can you Freeze Bacon Brownies
Sure, you are more than welcome to toss some of these brownies in the freezer for up to three months. I place them in a sealable freezer bag, then pulled one or two out when I wanted a quick dessert. They just need to thaw on the counter or in fridge.
You'll also love these Chocolate Raspberry Brownies and Caramel Rice Krispie Bars.
Have you tried any bacon desserts?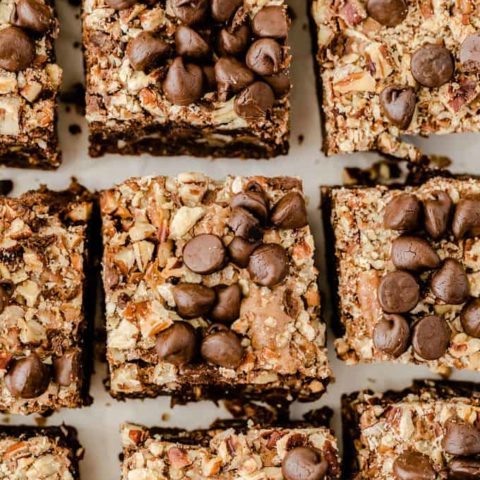 Caramel Bacon Brownies
Salty and sweet are the BEST combination! These decadent brownies are only improved by the salty bacon bits.
Ingredients
3/4 cup butter, softened
4 one ounce squares unsweetened chocolate
2 cups sugar
4 eggs
1 cup flour
1 package (269g) Kraft caramels (about 1 1/4 cup)
1/4 cup whipping cream
2 cups chopped pecan halves
4 slices bacon, crisply cooked and then crumbled
1 1/2 cups chocolate chips
Instructions
Preheat oven to 350F. Grease a 13×9 inch baking pan.
Add butter and unsweetened chocolate squares to a large microwave safe bowl. Microwave on high for 1 1/2 minutes, until melted and smooth. Stir in sugar. Then add in eggs, one at a time, and mix between each addition. Stir in flour. Spread half of the brownie batter in your baking pan. Bake for 20 minutes.
Add caramels and whipping cream to a medium sized microwave safe bowl and microwave on high for 2 minutes. Stir until the caramels are completely melted. Add in one cup of the pecans and all the bacon. Stir.
Spread the caramel mixture over your baked brownies. Sprinkle half of the chocolate chips over top. Pour remaining brownie batter on top and then sprinkle with remaining pecans and chocolate chips. Bake for 25 minutes or until set.
Cool completely before cutting into squares and serving.
Recommended Products
As an Amazon Associate and member of other affiliate programs, I earn from qualifying purchases.
Nutrition Information:
Yield:

12
Serving Size:

1
Amount Per Serving:
Calories:

621
Total Fat:

41g
Saturated Fat:

17g
Trans Fat:

1g
Unsaturated Fat:

21g
Cholesterol:

102mg
Sodium:

188mg
Carbohydrates:

61g
Fiber:

5g
Sugar:

47g
Protein:

9g