I love to cook, but cleaning up afterwards? Not as much. Don't get me wrong, I like the results of a clean kitchen so I don't let the mess sit very long after cooking a big meal. However, it can take a lot of extra effort depending on what you made for your family.
Egg dishes are the worst to clean up. The eggs cook right on the dish and it takes a lot of extra elbow grease to remove it. I used to leave them soak in the sink and then put the dishes in the dishwasher. Even then, the egg mess wouldn't usually come off. I ended up leaving the dishes in the dishwasher for several cycles and only then, would they finally come clean. I only run the dishwasher once a day so it could be a few days before the dish came out clean.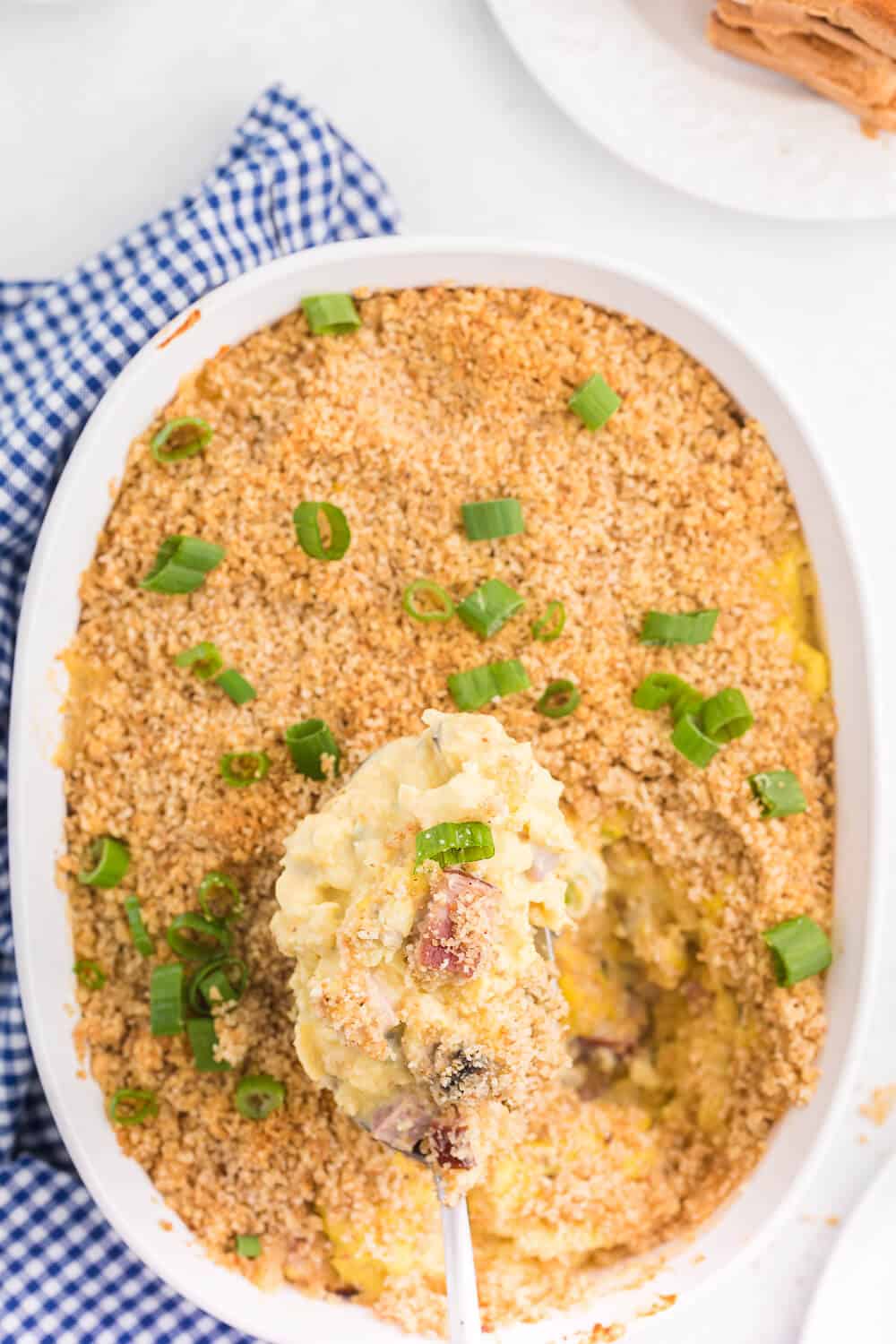 Disclosure: I was compensated for this post. All opinions on this blog are my own.
The good news is that I figured out my problem. I was missing the right tools. I've been using DAWN Scrubtastic and DAWN Power Clean Scrubber Sponges to get my kitchen clean THAT day without much effort. I'm also wearing goodcook Food Prep Gloves when I'm preparing meals that have ickier or hot ingredients (think meat and hot peppers).
I decided to put all three products to the test with an easy to make holiday breakfast, Scrambled Egg Casserole. It may be simple to prepare, but clean up isn't a breeze unless, of course, you have the right tools. I wanted to put them to the test.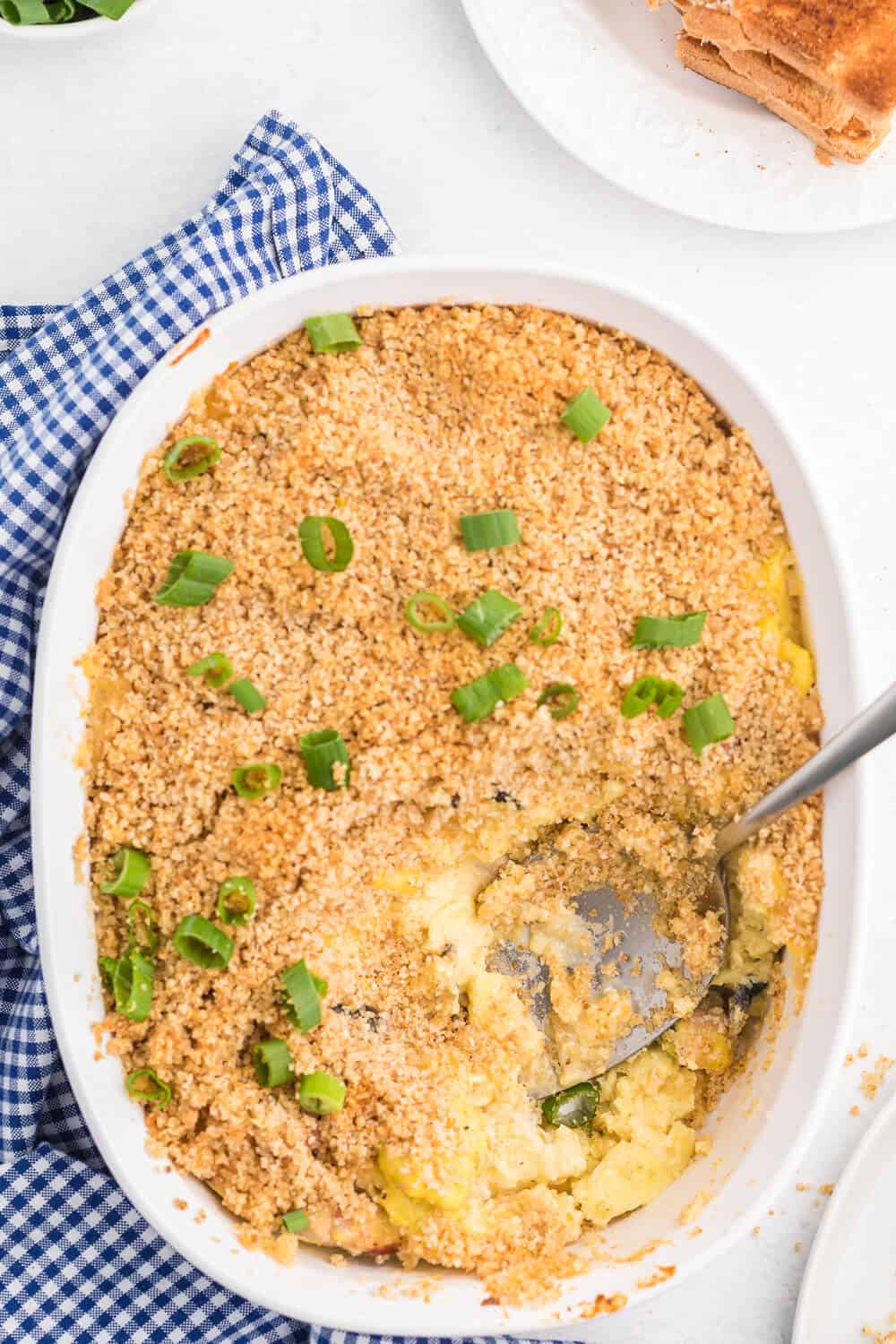 During preparation, I wore the goodcook Food Prep Gloves while I was handling the ham.
I love wearing gloves when I'm handling meat so I can avoid getting bacteria on my bare hands and I don't have to deal with the texture of meat. These gloves are great to wear when you are handling any kind of raw meat, seafood or poultry. I like that they are comfortable to wear and still allow me to move my hands freely as I perform the prepping tasks. They are also latex free which is great since I'm latex-sensitive. They are made from disposable nitrile.
I also wear them when I'm cracking eggs to avoid getting slimy egg whites all over me. I'm a messy cook.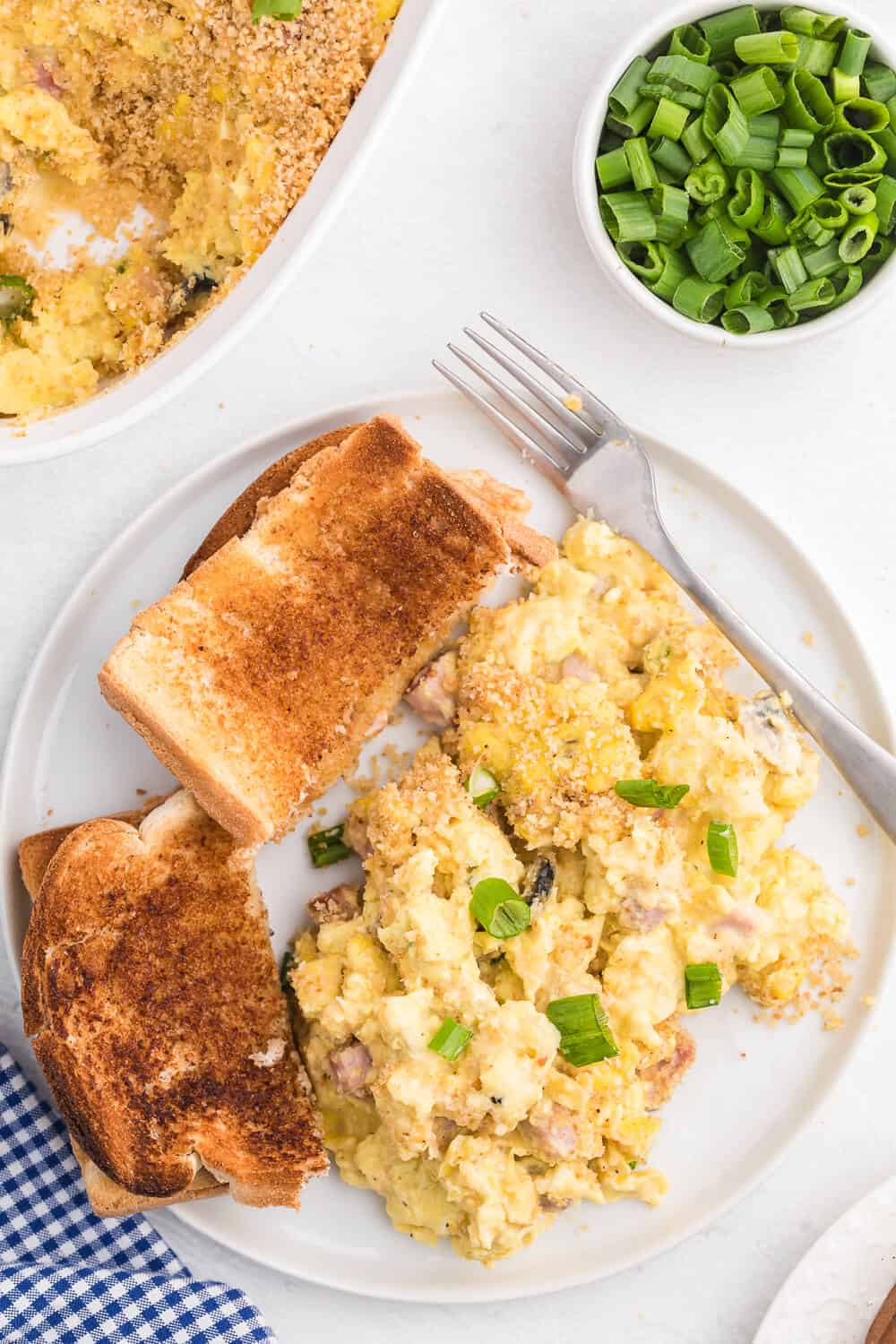 This recipe leaves a lot of dirty dishes. The pan you cook the eggs on the stove plus the casserole dish are the hardest to clean with the stuck-on eggs. Instead of letting the pan soak in the sink for hours, I washed it right away with the DAWN Scrubtastic. Yes, this kitchen sponge is in the shape of a duck!
There is a reason why it's shaped like a duck. You can clean dirty utensils using the wing openings and the back of the neck can be used to clean the rims of bowls and glasses.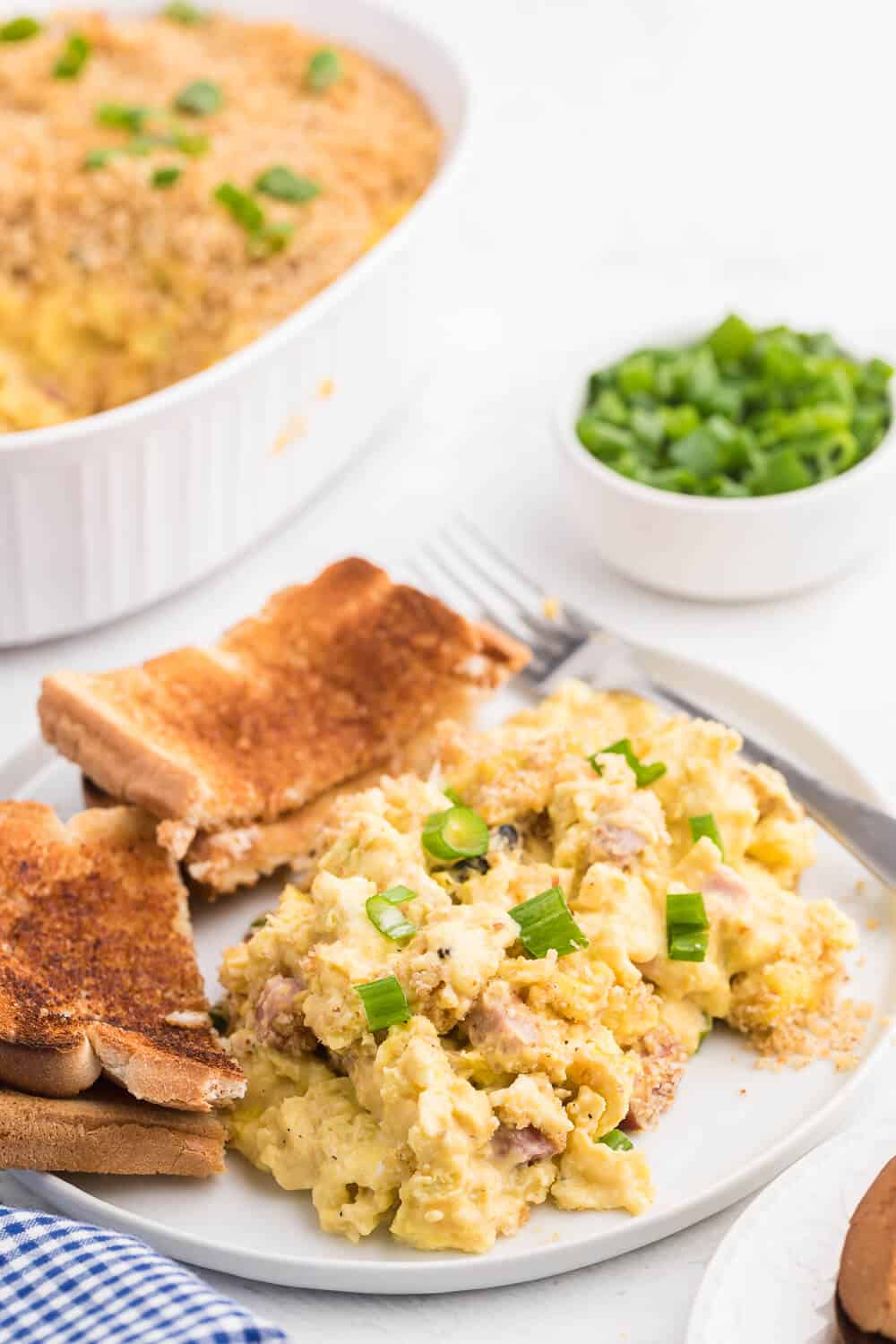 It's firm when it's out of water, but quickly softens in water so it's easy to maneuver around cracks and crevices.
I didn't soak my dishes and immediately started cleaning them using DAWN Scrubtastic. The stuck-on eggs came right off with little effort. I was amazed that the dish was clean after the first try! No more taking days to clean up after one meal. Use it on all your dishes including non-scratch cookware.
To clean my new quartz counters and cooktop, I used the DAWN POWER CLEAN Scrubber Sponges. It's patented wedge shape makes it easy to hold while you tackle your cleaning tasks. Use the narrow side to clean tight spaces and the wide side for larger surfaces like counters and sinks. It easily wiped up stuck on food.
Normally, I'd dread cleaning up after a recipe like Scrambled Egg Casserole. Now, I know I don't have to worry about the clean-up. It's a breeze!
This recipe is perfect to serve as a holiday breakfast or brunch. It's a twist on scrambled eggs – think of it like scrambled eggs with an extra kick of flavor.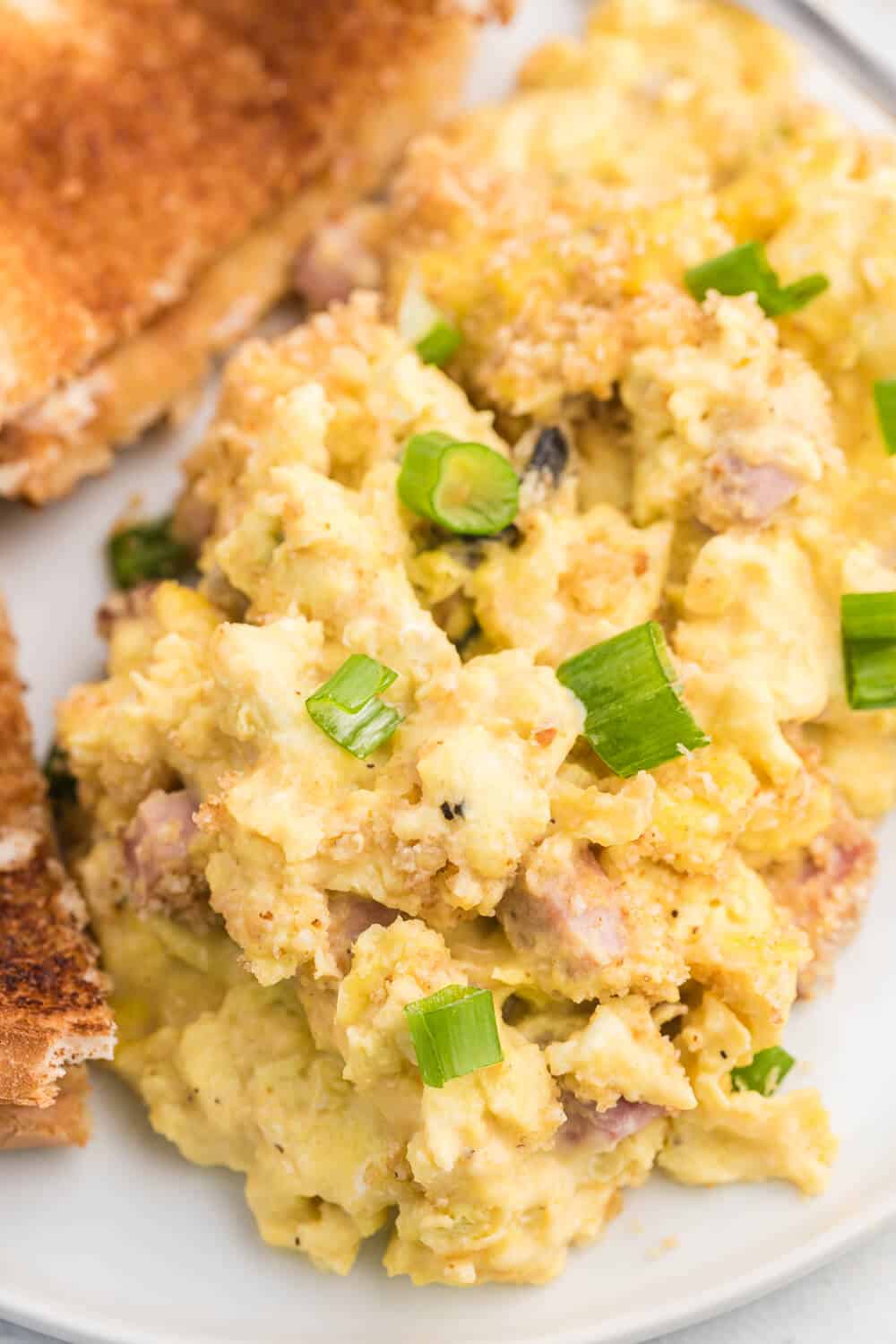 The eggs are creamy and flavored by the addition of ham, onions and mushrooms. The breadcrumbs on top bake to a beautiful golden color and add an extra element of flavor and texture.
I helped myself to a couple servings. It was delicious.
I hope you'll try my recipe and try out my prep and cleaning tips! You can thank me later.
You might also like these Chicken and Egg Ramekins, Strawberry Coconut Breakfast Casserole, Oven Scrambled Eggs, Bacon and Egg Biscuit Casserole, Overnight Bacon Breakfast Casserole or BBQ Eggs.
What food do you find hard to clean off dishes?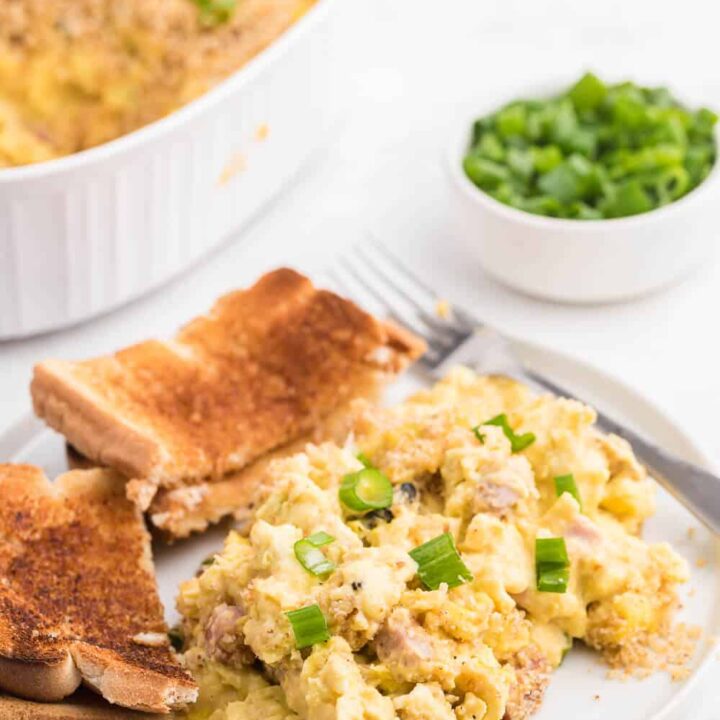 Scrambled Egg Casserole
Soft oven-scrambled eggs with ham, green onion, cheddar and mushrooms are baked under a crispy, toasted layer of bread crumbs. A delicious and decadent change from bread-based breakfast casseroles.
Ingredients
1/2 cup butter, divided
2 tablespoons flour
1/2 teaspoon salt
1/8 teaspoon pepper
2 cups milk
1 cup cheddar cheese, shredded
1 cup ham, cooked and cut into cubes
1/4 cup green onions, sliced
1/2 cup mushrooms, sliced
12 eggs, beaten
3/4 cup breadcrumbs
Instructions
Preheat oven to 350F. Grease a 2 quart casserole dish and set aside.
Melt 2 tablespoons butter in a saucepan over medium heat. Add flour, salt and pepper and stir until it begins to bubble. Gradually, stir in milk. Cook until thick and bubbling, stirring constantly. Remove from heat.
Add cheese to saucepan and stir. Set aside.
In a skillet, melt 3 tablespoons butter over medium heat. Add in ham, mushrooms and green onion and saute until onions are softened. Add eggs. Cook and stir until they begin to set. Add in cheese sauce and stir. Pour mixture into prepared casserole dish.
Melt 3 tablespoons butter and mix with breadcrumbs. Sprinkle over top of casserole.
Bake for 20 minutes or until top is golden brown and eggs are set. Garnish with green onions, if desired.
Recommended Products
As an Amazon Associate and member of other affiliate programs, I earn from qualifying purchases.
Nutrition Information:
Yield:

6
Serving Size:

1 bowl
Amount Per Serving:
Calories:

495
Total Fat:

35.2g
Saturated Fat:

18.1g
Trans Fat:

0.3g
Unsaturated Fat:

14.3g
Cholesterol:

460.7mg
Sodium:

570.4mg
Carbohydrates:

14.1g
Fiber:

0.4g
Sugar:

9.3g
Protein:

30g