Creamy Chicken and Vegetable Soup
Hi Everyone, It's Nicky, calling in from Kitchen Sanctuary.
Soup season is here!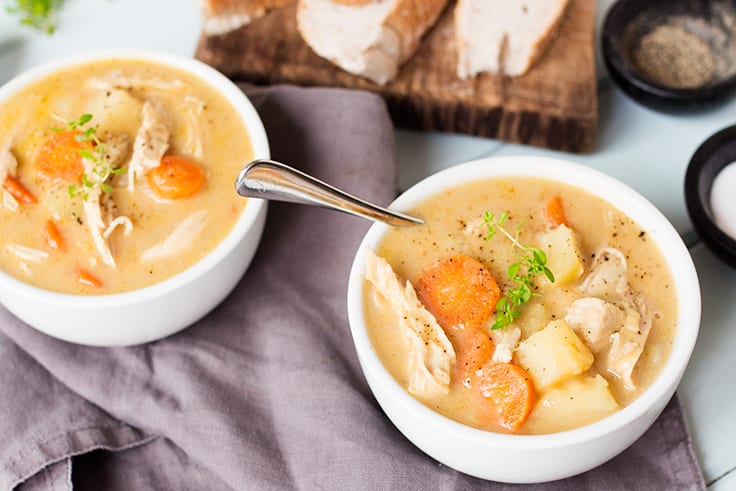 I hate letting food go to waste, and this is the perfect way to make the most out of your leftover roast chicken.
Take off any leftover little bits of meat from your whole roast chicken and then boil up those bones with some onion and carrot for a good few hours.
You'll be left with a deliciously flavourful stock that – with the addition of that leftover chicken, some veg and a splash of cream – makes the perfect autumn lunch.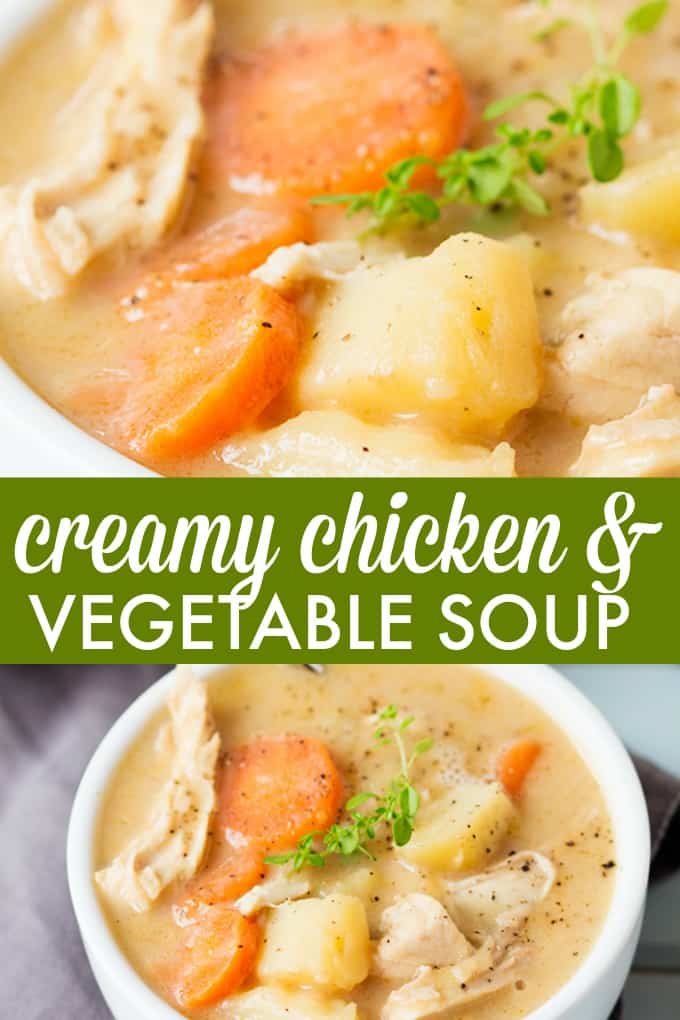 I like to add potato and carrot, but just add whatever you've got in – broccoli, peas, cauliflower, even sprouts work!
This soup takes me right back to my childhood, when my mum used to make it all the time.
It tastes amazing, and it's so healthy and nourishing that you'll be looking forward to those cold evenings, just so you can enjoy a nice big bowl!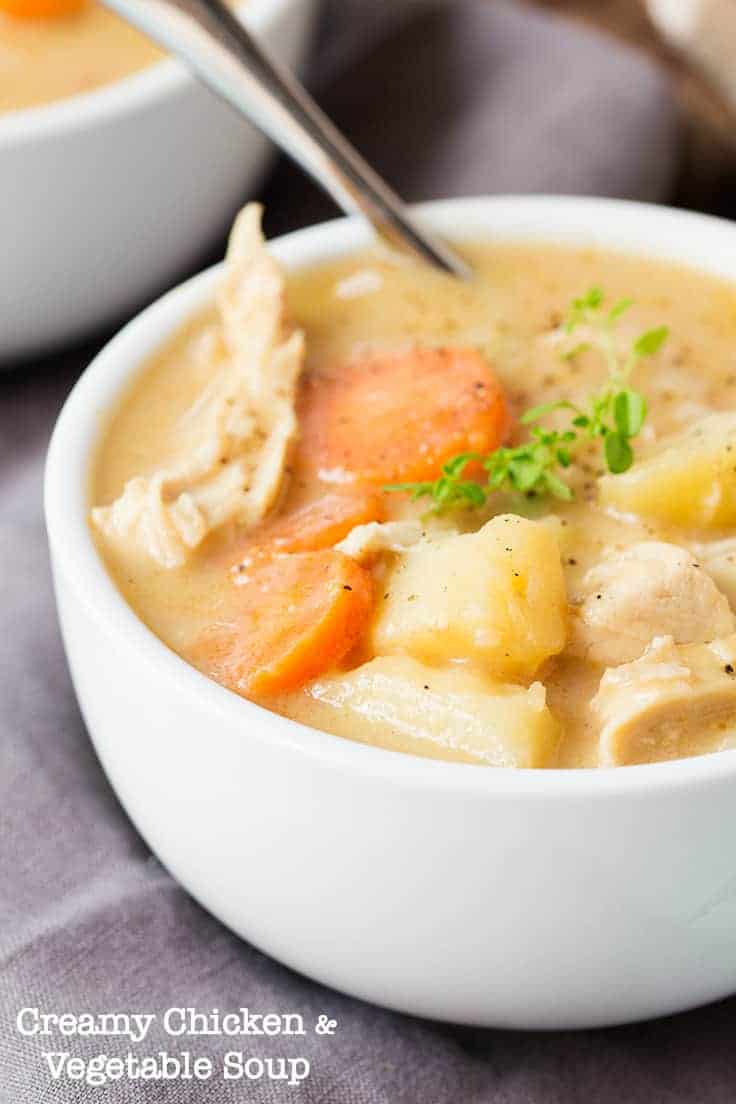 You might also like this Cream of Tomato Soup.

Yield: 2
Creamy Chicken and Vegetable Soup
Enjoy a big bowl of this healthy and nourishing soup. Cold days are welcome when you have soup like this one ready to serve!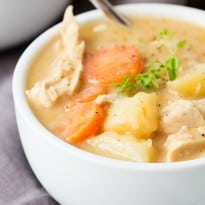 Ingredients:
1 leftover cooked chicken carcass (with a bit of the meat still on)
Cold water
1 onion, chopped into quarters (no need to peel)
1 bay leaf
3 carrots
1 large potato, peeled and chopped into bite-size chunks
¼ tsp each of salt and pepper
2 tbsp heavy cream
Directions:
Place your leftover chicken carcass on a chopping board and pull off any meat you can find on it (pay special attention to the wings and underside of the chicken where you'll find some good pieces). Wrap the pieces of chicken and refrigerate for later.
Place all of the leftover bones and skin from the carcass in a large pan, completely cover it with cold water, so the water comes about 1 inch above the chicken.
Place the onion, bay leaf and 1 carrot (no need to peel or chop) into the water with the chicken. Bring to the boil, then turn down the heat and simmer for 2-3 hours until the water has reduced by at least half.
After 2-3 hours, place a sieve over a large bowl. Strain the chicken and veg and leave for a couple of minutes so that all the juices drip into the bowl. Pour the juices back into the pan*.
Peel and chop the remaining two carrots and place in the pan with the stock. Add in the chopped potato and then salt & pepper. Bring back to the boil, and simmer gently for 20 minutes until the vegetables are soft and tender. Add in the chicken pieces from the fridge and the cream for the last 5 minutes to heat through.
Ladle into two bowls and serve.
*If you find that you don't have much liquid left after boiling up the carcass, you can add in a bit more water. Give the stock a taste, and if it still has lots of flavour then leave as is. If you think that the water has watered-down the flavour too much, you can add in a stock cube (or some bouillon for gluten free