25 Delicious Recipes for Brown Bananas
I buy bananas with good intentions. They sit on the counter waiting to be grabbed for a quick snack. Sometimes they are eaten up quickly. Most often, however, they sit there till they start to turn brown and gross.
I hate to waste food so I'll throw them in the freezer to use in recipes. When they turn brown like this, I can't bring myself to eat one as is, but I don't mind using them up in a recipe. In fact, some recipes require the bananas to be overripe! They have many, many uses.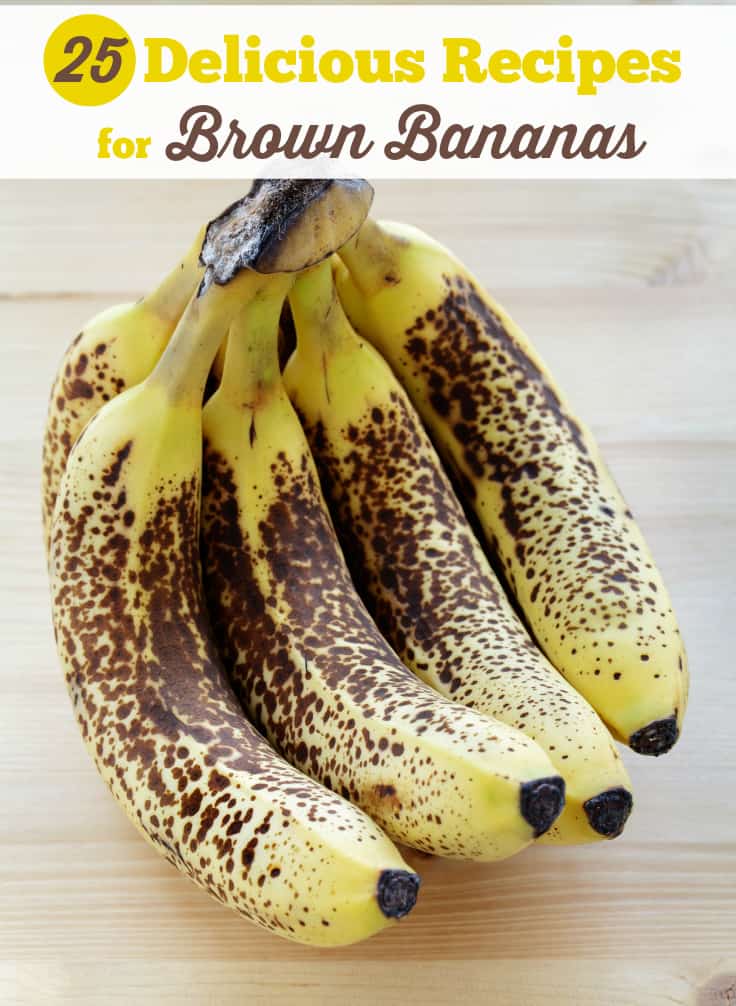 My mom always made banana bread with them. I remember having an after school snack of banana bread warm out of the oven and topping it with butter. The butter would melt and flavour the bread even more. My mouth is watering just thinking about it!
Classic banana bread is one use for your brown bananas, but I've discovered a bunch of other yummy ways you can use them. Don't let those bananas go to waste!
Recipes for Brown Bananas
Here are 25 delicious recipes for your brown bananas.
1. Banana Cake: Sweet, dense and packed full of flavour. The cream cheese icing is the perfect complement.
2. Caramel Banana Muffins: Incredibly moist and flavourful banana muffins topped with a sinfully sweet ribbon of homemade caramel.
3. Banana Chocolate Cake: Rich, luscious and fully of yummy chocolate flavour. You won't be able to stop at just one piece.
4. Banana Split Brownies: Delicious homemade brownies with a hint of banana and topped with strawberry cream cheese frosting. A fun dessert that everyone will enjoy!
5. Cinnamon Banana Pancakes: Add some cinnamon and bananas to your next batch of pancakes. My family gobbled this delicious breakfast up in record time!
6. Banana Bread Breakfast Casserole: Use up your brown bananas and leftover bread in this crowd-pleasing breakfast recipe! It comes together in 10 minutes, bakes for 1 hour and is a recipe you'll find yourself making again and again.
7. Banana Cake with Toffee Frosting: A deliciously moist banana cake with a rich toffee frosting. It's also easy to make and the perfect way to use up those brown bananas!
8. Banana Chocolate Chip Cupcakes with Peanut Butter Frosting: The epitome of decadence! One of the yummiest cupcake recipes yet!
9. White Chocolate Cherry Banana Bread: My version of banana bread with a sweet twist!
10. Peanut Butter Banana Cookies: These peanut butter banana cookies are easy to make and super yummy!
11. Banana Oatmeal Cupcakes: Basically banana bread, but in cupcake form!
12. Paleo Banana Bread: Enjoy banana bread on a Paleo diet.
13. Banana Bread Pancakes: Pancakes fuse together with Banana Bread to create a family favorite breakfast!
14. Cream Cheese-Filled Banana Bread: The bread is soft, moist and the cream cheese layer is like having a layer of cheesecake baked into banana bread.
15. Banana Pudding Ice Cream: A creamy and rich banana pudding ice cream with real banana flavor and wonderful pieces of Nilla wafers mixed in.
16. Banana Caramel French Toast Bake: Filled with ripe bananas, BAILEYS® Caramel Coffee Creamer, and caramel sauce, this Banana Caramel French Toast Bake is an easy breakfast that makes getting up in the mornings just a little bit easier!
17. Banana Yeast Bread: Fragrant and tender bread with a hint of cinnamon. Use ripe bananas for best results. Very easy in the bread machine.
18. Banana Flaxseed Waffles: A delicious combination of sweet, ripe bananas and ground flaxseed, mixed in a batter of just five ingredients, and made into crispy waffles.
19. Chocolate Chip Banana Bread: Super moist and sweet chocolate chip banana bread is the ultimate quick bread recipe!
20. Banana Bundt Cake with Walnut Cream Cheese Frosting: A super moist banana cake recipe that can be made in a bundt pan. Recipe uses one cup of vanilla Greek yogurt which gives it a super moist bite. Use ripened bananas for best flavor, and allow cake to cool before frosting.
21. Blueberry Banana Granola Bar: These soft and chewy homemade granola bars are gluten-free, vegan and refined sugar-free.
22. Banana Bread with Splenda: Perfect for those of you looking for sugar alternatives.
23. Chocolate Chip Banana Muffins: Perfect to take on the go for a quick breakfast or snack.
24. 3 Ingredient Breakfast Cookies: A great way to start your day with an easy recipe.
25. Banana Pancakes: A yummy breakfast twist that your family will love.
As you can see, there are plenty of ways to use brown bananas in addition to banana bread! This is a great list to inspire you to enjoy those bananas at the bottom of your freezer.
Whatever you do, DO NOT throw them away. Put them in the freezer until you are ready to use them.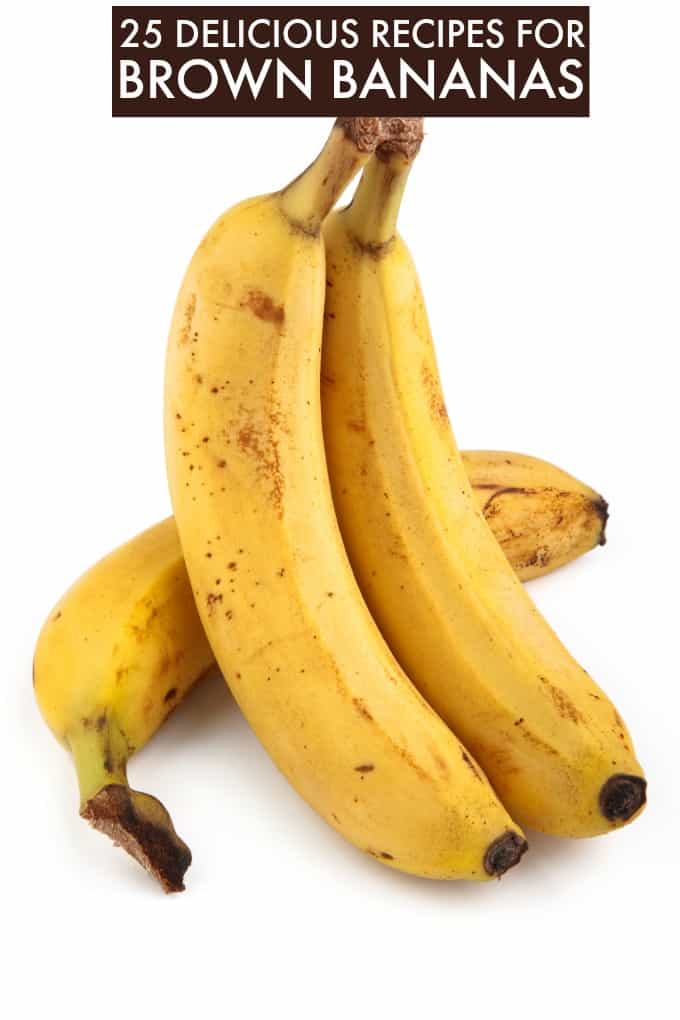 If you don't want to EAT the bananas, here are 8 unusual uses for bananas you might want to try.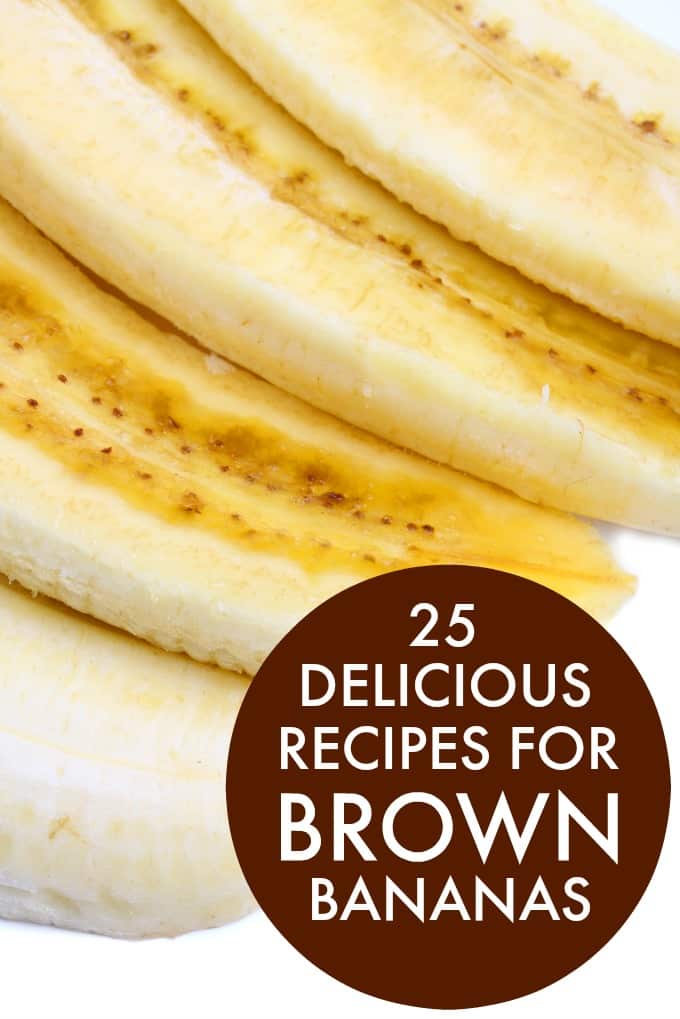 This post contains affiliate links.
Looking for more banana recipes, but in a cookbook? Check out The Banana Cookbook.
What is your favourite way to use brown bananas?