Banana Chocolate Chip Cupcakes with Peanut Butter Frosting
I had two ulterior motives when I made this recipe. One is that I wanted to use up those brown bananas that were sitting on my counter top. They were imploring me to eat or throw away. I chose to eat, of course. The second reason is that I wanted to try out my new artificial light! I've dabbled a bit in artificial light over the years, but never really finding one that I liked. I was hoping this one would be different. If you are curious, this is the artificial light I'm using.

Back to the recipe! It's a pretty basic recipe with nothing that fancy about it. Maybe that's why it's so good? I added in chocolate chips, but it would taste ok without them. They weren't originally going to be in the recipe, but my youngest daughter suggested we add them and I thought why not.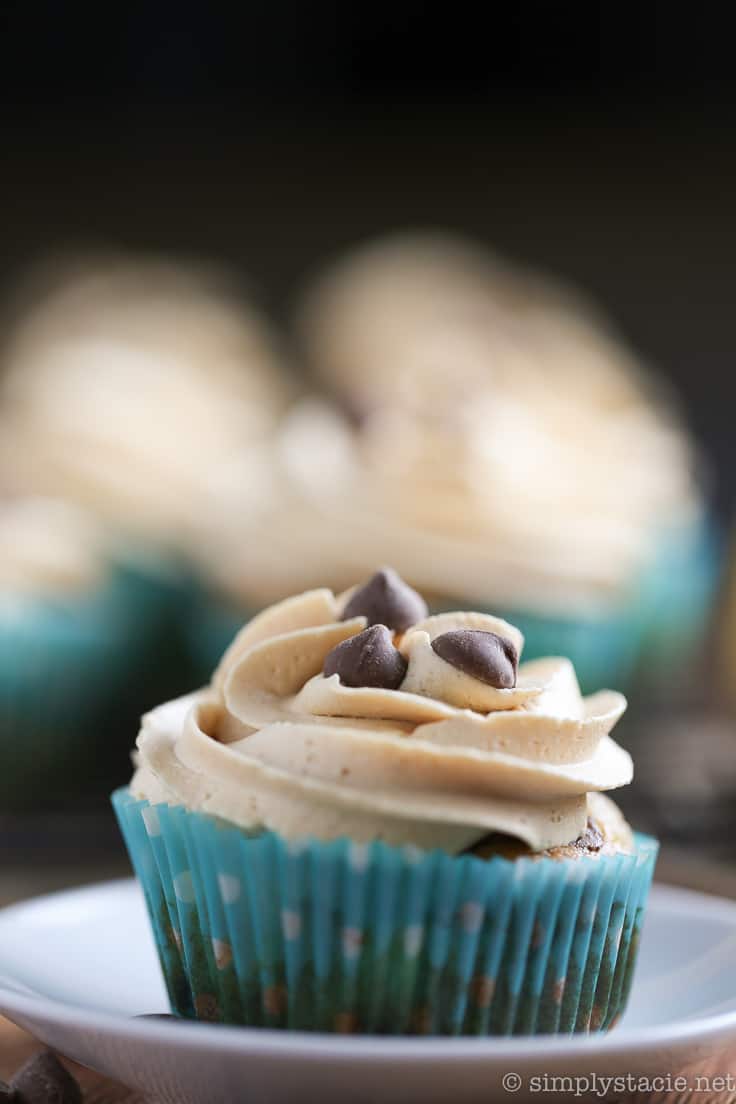 My favourite part was the frosting. I wanted to eat it straight out of the bowl. I'm a huge creamy peanut butter fan and this frosting is ultra decadent! I added a few chocolate chips to the top of each cupcake to make them look pretty.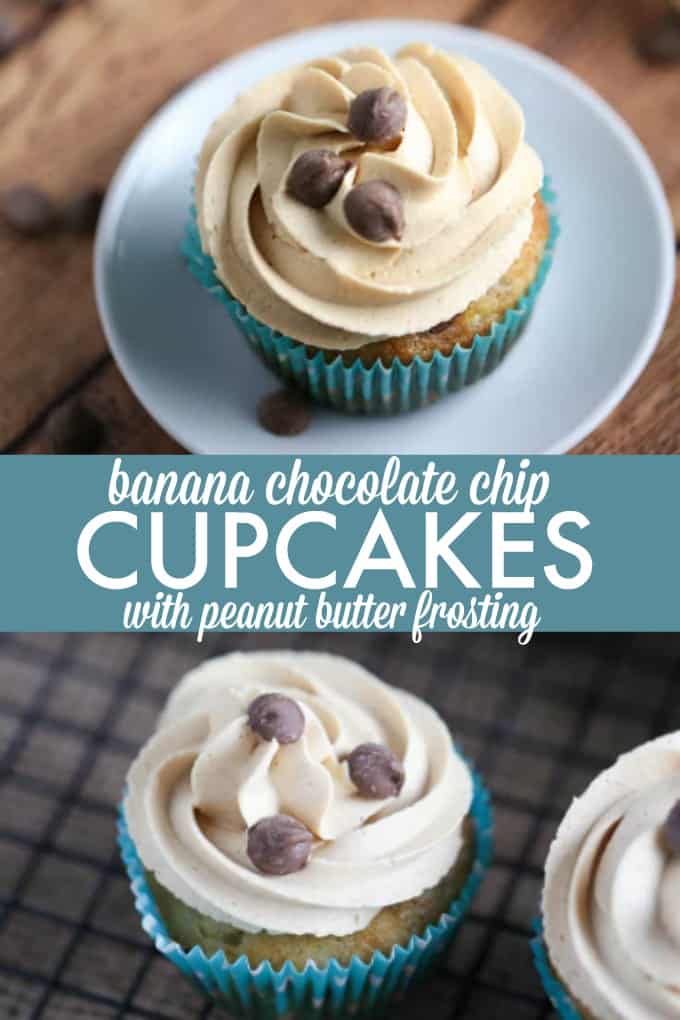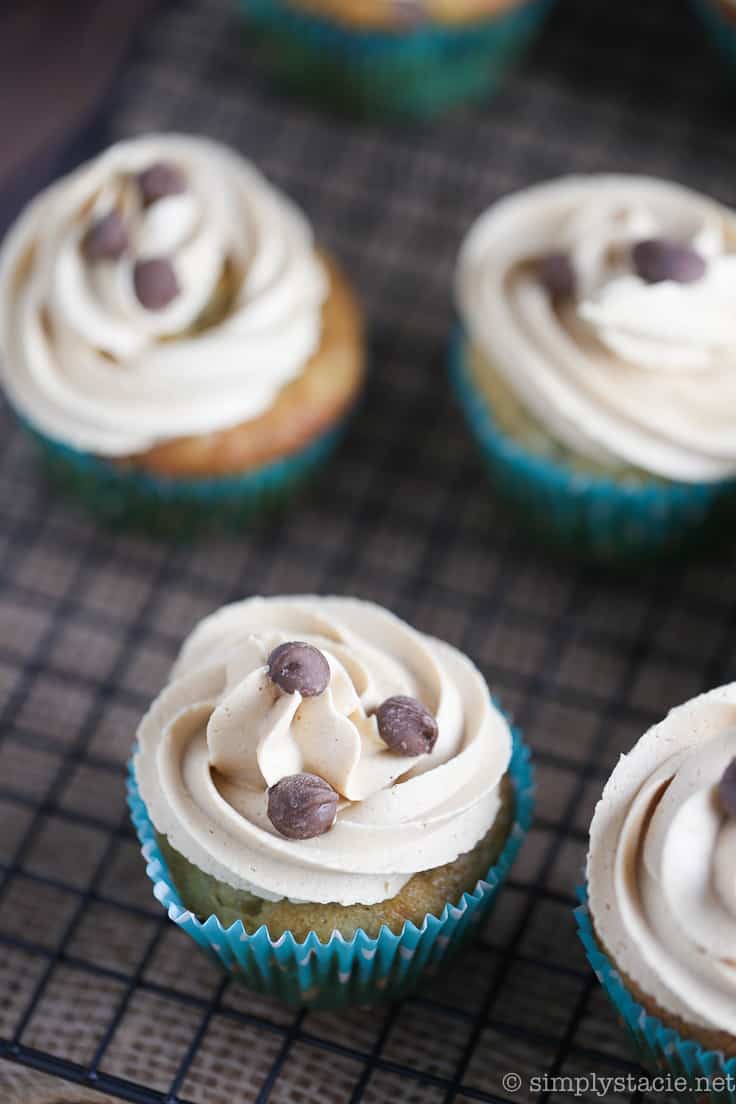 As I was making this recipe, I thought about using the new Reese Peanut Butter Chocolate spread in place of the peanut butter. I filed that idea away for another time. Bridget adores the stuff! I think it's pretty tasty myself.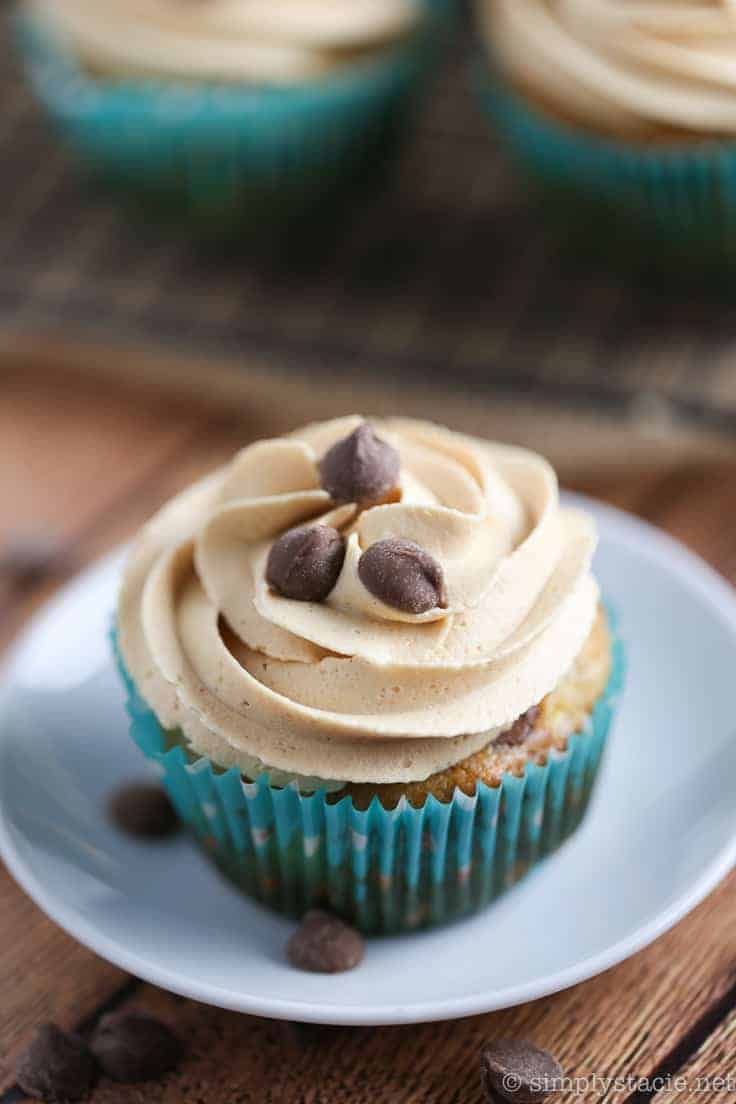 I think my night time baking adventure turned out great! The cupcakes were delish and they made up for the disaster zone that my kitchen became. (It was DOUBLE the mess with all my baking and photography equipment set up!).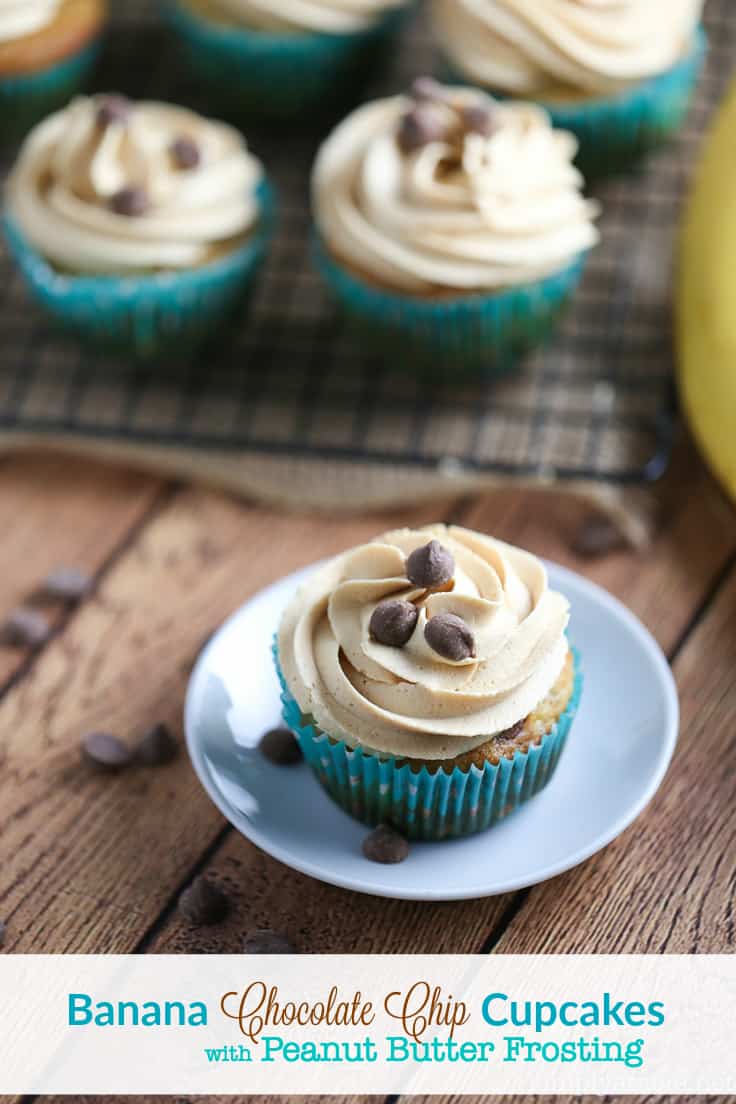 What type of frosting do you like on your banana cupcakes?

Yield: 12
Banana Chocolate Chip Cupcakes with Peanut Butter Frosting
The epitome of decadence! These Banana Chocolate Chip Cupcakes with Peanut Butter Frosting are one of the yummiest cupcake recipes yet!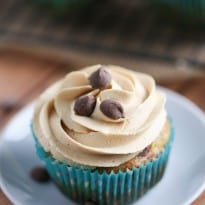 Ingredients:
1 cup flour
1/2 tsp baking powder
1/2 tsp baking soda
1/4 tsp salt
2 ripe bananas, peeled and mashed
1/4 cup sour cream
1 1/2 tsp vanilla extract
1/2 cup sugar
1/2 cup butter, softened
1/4 cup chocolate chips
1 egg
1 egg yolk
Frosting:
1 cup creamy peanut butter
1/2 cup butter, softened
2 cups icing sugar (aka powdered sugar)
2 tsp milk
Directions:
Preheat oven to 350F. Line a cupcake pan with paper liners and set aside.
In a large bowl, mix together flour, baking powder, baking soda and salt.
In another bowl, add butter and sugar and beat with an electric mixer on medium until blended. Add sour cream and vanilla and continue beating. Add the egg and egg yolk and beat after each addition.
Combine the wet ingredients with the dry ingredients and mix together until blended.
Fold in bananas and chocolate chips.
Fill each cupcake about 3/4 of the way full with an ice cream scoop. Bake for 20 to 25 minutes, or until a toothpick comes out clean.
Let cool for 10 minutes before removing them to a wire rack. Cool before frosting.
To make the frosting, beat the butter and peanut butter with an electric mixer on medium until smooth. Add in icing sugar slowly and continue to beat. Add in milk and beat until smooth.
Place icing in a pastry bag with a large tip and frost the cupcakes. Garnish with chocolate chips, if desired.